Last updated on August 27th, 2023 at 02:22 pm
In late summer and early fall, the goldenrod begins to bloom. Consider drying some of these striking golden blooms for dried flowers, as well as for herbal and culinary use. Learn how to dry goldenrod, and preserve these wonderful plants for use throughout the seasons.
We have several species of wild goldenrod growing at the farm. This summer in particular, the plants put on a spectacular bloom.
Goldenrod is often confused with ragweed, which is known to cause seasonal allergies. I must confess that I also confused the two as well, for years.
I always wished it wasn't so, as I was so drawn to the beauty of the flowers when in full bloom.
When I finally discovered that this wonderful plant was not ragweed, but a beautiful and showy wildflower, and beneficial native to boot, I felt very relieved.
It was such fun to harvest and dry the goldenrod blooms this season.
The dried flowers will be used to make goldenrod tea, as well as to make a soothing goldenrod salve.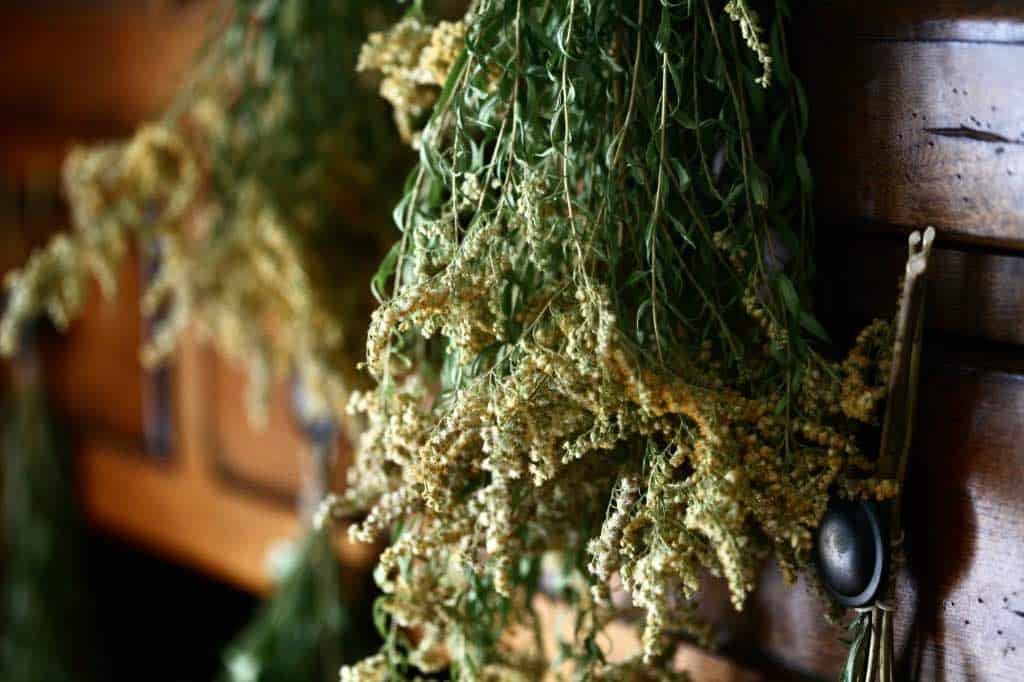 Before we get into the drying process, let's:
review a little background information on the plant
learn how to Identify the plant for harvest
and learn about the herbal benefits, and why we should dry and preserve the plant
What is Goldenrod?
Goldenrod is a native plant, found in North and South America, and throughout Northern Africa, Europe, and Asia.
Most often found growing wild in fields and meadows and along forest edges, the plant often grows in large groupings, and makes quite a statement with it's bright golden blooms.
The goldenrod plant grows via underground rhizomes, contributing to clumps of flowers growing closely together in groupings.
A member of the Family Asteraceae, and Genus Solidago, goldenrod is a member of the daisy and sunflower family. There are approximately 130 different species of goldenrod.
The species have variable differences, from the height of the plant, to flower form and color. The different species have similar properties and herbal benefits.
A popular goldenrod plant is solidago canadensis, also known as Canada goldenrod or Canadian goldenrod. This species grows abundantly in North America.
The name Goldenrod is the common name of this flowering herbaceous perennial plant.
Goldenrod is often confused with the weed known as ragweed, as the two plants often grow in the same locations at the same time of year. Ragweed is known to cause an allergic reaction known as hay fever, although it is often goldenrod that gets the blame.
This goldenrod allergy myth is longstanding.
Goldenrod in fact, is not highly allergenic at all. The plants have large pollen granules, which are too large to be airborne. Rather, the goldenrod pollen is carried away from the plants by different pollinators, who carry the pollen from plant to plant.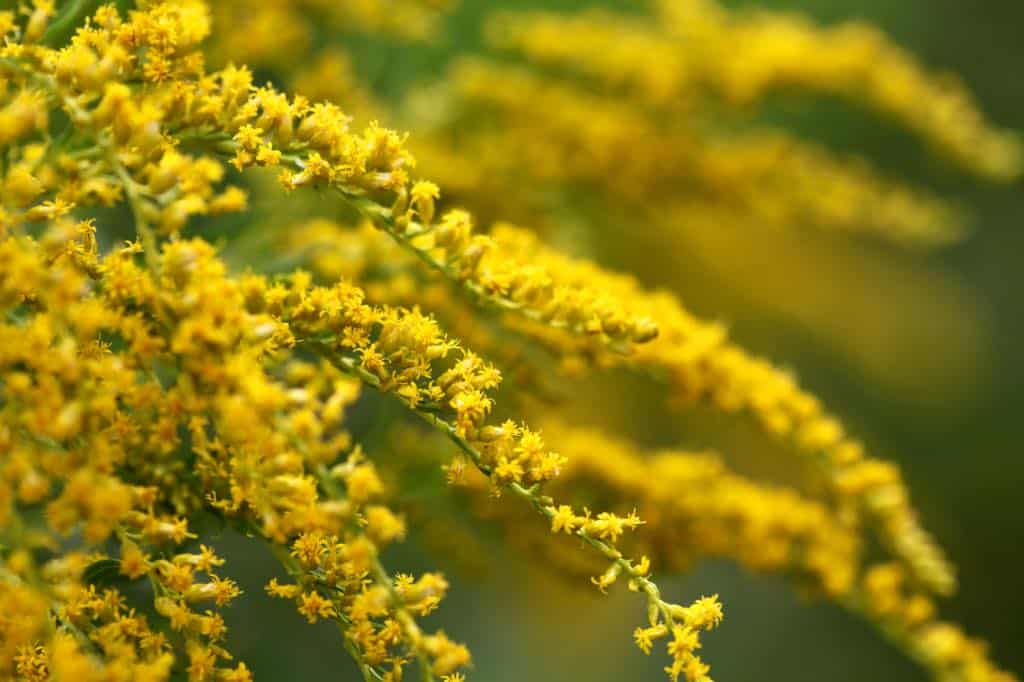 Benefits Of Goldenrod
In The Garden
Goldenrod is a valuable plant, not only for it's beauty in the landscape, but also for the positive contribution it brings to the periphery of the garden, and to the garden itself.
The flowers are an important food source for many pollinators, including the Monarch butterfly and native bees. Wild birds also feed on the seeds in fall.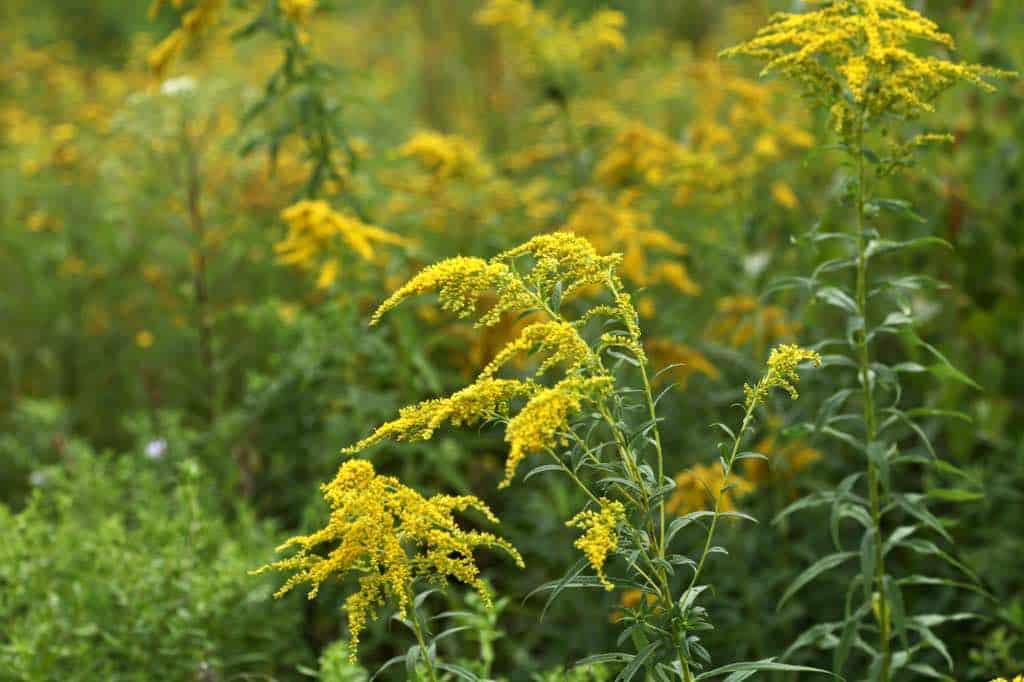 Goldenrod helps to supply important nutrients for honey bees late in the season, when most flowers have finished blooming. These nutrients help to take the bees through the long winter months.
On the farm we have allowed the wild goldenrod seedlings to take root and grow, near our swamp milkweed garden. They grow amongst wild asters, another great food source for the Monarchs.
This allows for the perfect ecosystem for these important butterflies, and makes for a beautiful wildflower garden as well.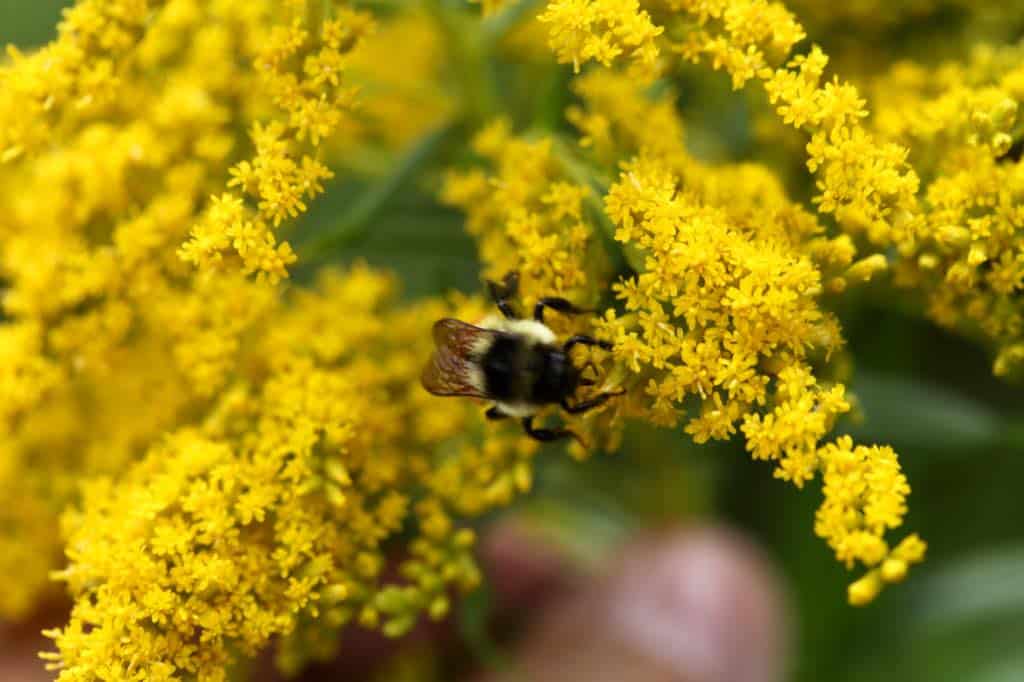 Herbal And Culinary Benefits
Not only is goldenrod beneficial in the garden, it also has herbal and culinary benefits as well.
Long used in both the fresh and dried forms as a tea, or dried to make tinctures and salves, goldenrod is used for both herbal and culinary purposes.
Fresh goldenrod has it's place in the kitchen, and the bright edible fresh goldenrod flowers are great to use as a garnish in salads. The bright yellow flowers can also be used to decorate your baking.
Goldenrod is reported to be a valuable source of bioactive polyphenols. You can read more about it's antioxidant and antimicrobial potential, as well as bioactive compounds in this article from the National Library of Medicine and PubMed Central: Solidago graminifolia L. Salisb. (Asteraceae) as a Valuable Source of Bioactive Polyphenols: HPLC Profile, In Vitro Antioxidant and Antimicrobial Potential.
Bioactive compounds include flavonoids, saponins, tannins, and salicylic acid derivatives, just to name a few.
Traditionally the goldenrod plant has been used in herbal medicine for it's antioxidant, antimicrobial, anti-inflammatory, spasmolytic and diuretic properties.
Cultivation
Although goldenrod is a native wildflower, some species of goldenrod have been cultivated for improved foliage and flowering, and these plants can be grown as garden plants as well.
The cultivated varieties make excellent cut flowers, both in the fresh and dried forms.
The larger varieties are majestic, in both their size, as well as their presentation, with their large and vibrant flower clusters.
All cultivars can be dried and used for herbal purposes.
Goldenrod can also be used as a dried flower for dried arrangements, although some shedding will occur from the dried flowers.
Identification Of The Plant
The Flowers
Goldenrod has striking yellow blooms, that draw your eye from a distance. It's hard not to notice these flowering plants.
Even if the wild varieties have found their way into the garden, I allow them to remain because they are so attractive and beneficial.
The flowers of goldenrod grow in dense clusters along a spiked flower head. Some species have upright disc shaped flower heads, while other species have blooms which cascade and flow downwards.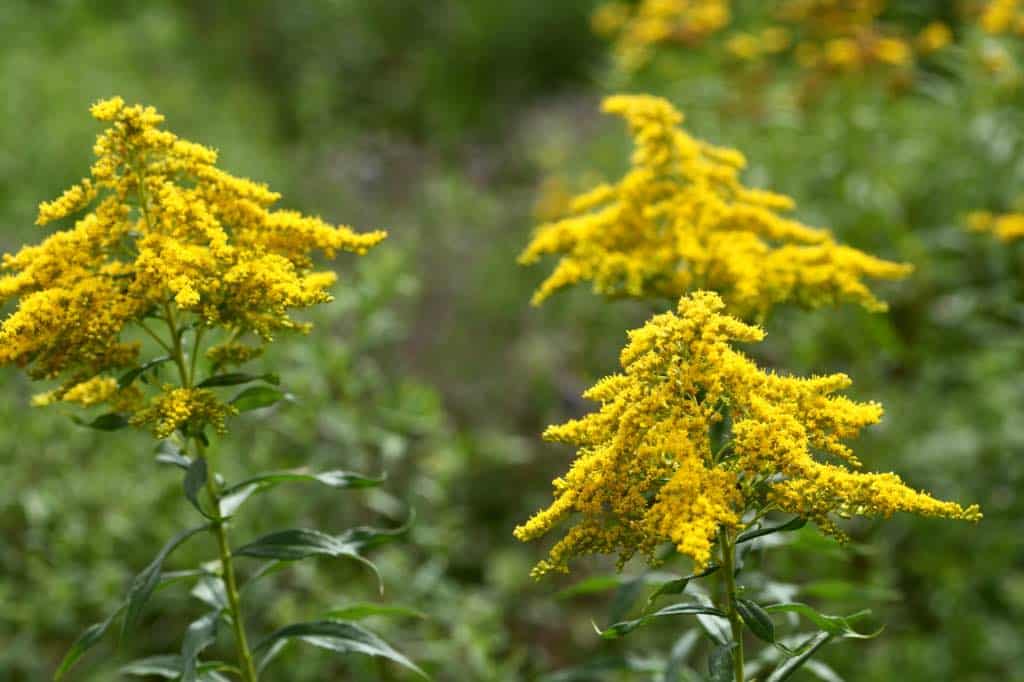 If you look closely at the flower clusters, you will see many tiny individual daisy-like flowers making up the whole flower head.
Although goldenrod flowers are usually golden yellow in color, one species, Solidago bicolor, has white flower clusters.
The flowers attract loads of pollinators to the garden, and are beneficial for this purpose. Goldenrod is an important source of nectar for bees and butterflies.
Stem height is dependent on the goldenrod species. Height of the flowers varies from less than 2 feet, to 5 feet in height or more, depending on species and growing location.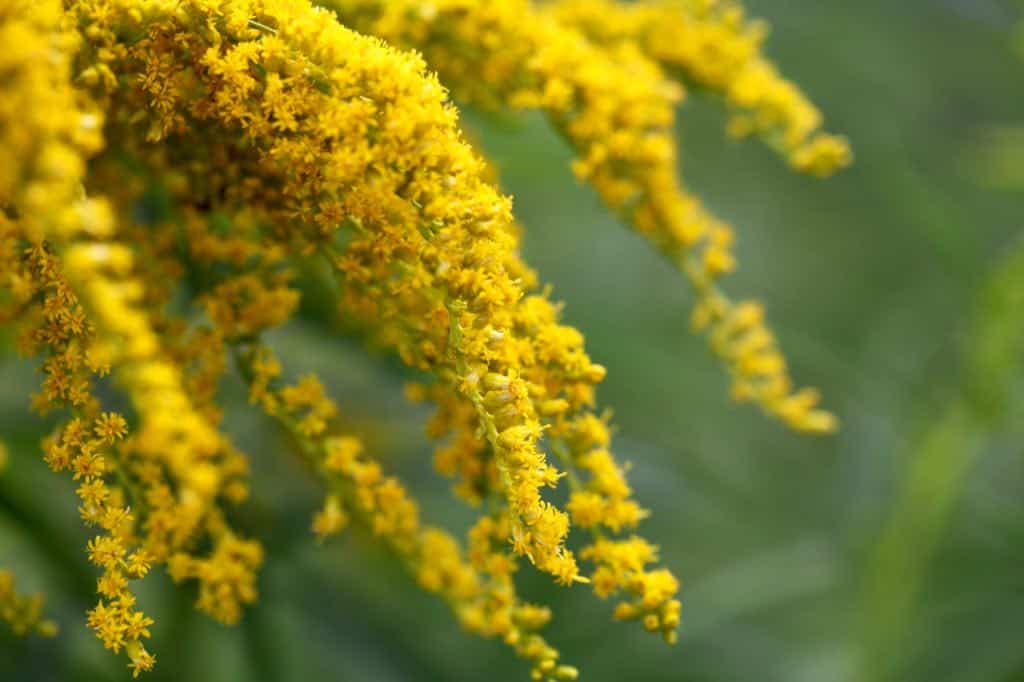 The Leaves
The leaves of goldenrod are varied, depending on the species that is grown. Most leaves are lance shaped with serrated edges, and medium green in color.
Goldenrod leaves also have fine hairs on the underside of the leaf surface.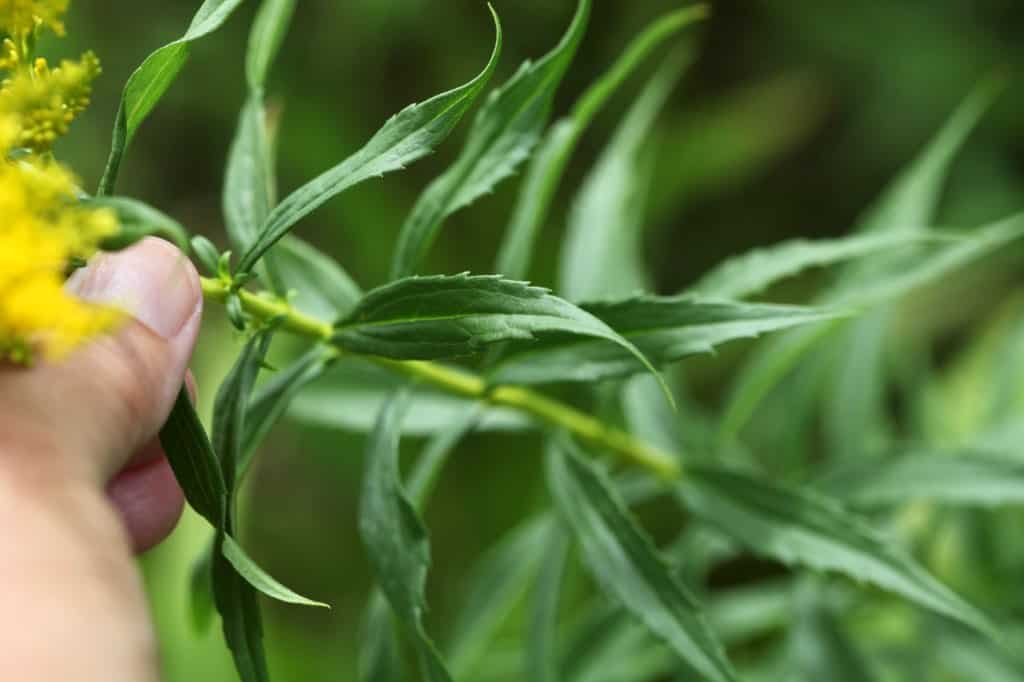 The Root System
Even the root system of goldenrod can be harvested and dried.
The roots are harvested at the end of the growing season, cut into small pieces, and dried for later use.
Why Dry Goldenrod?
Goldenrod can be used in both fresh and dried forms, however drying preserves the plant for later use.
If you have the dried flowers and leaves, you will be able to use them long after the plant has disappeared from the garden for another season.
As well, certain herbal applications such as oils and salves require that the herb be used in it's dried form. This helps to prevent the oils from turning rancid, which can occur from the moisture in the fresh plant parts.
I wrote about this same thing in another post, where I discussed the importance of using of dried flowers versus using fresh, for making an oil infusion. In order to have a long lasting product, using the dried plant parts will reduce moisture content, and prolong self life.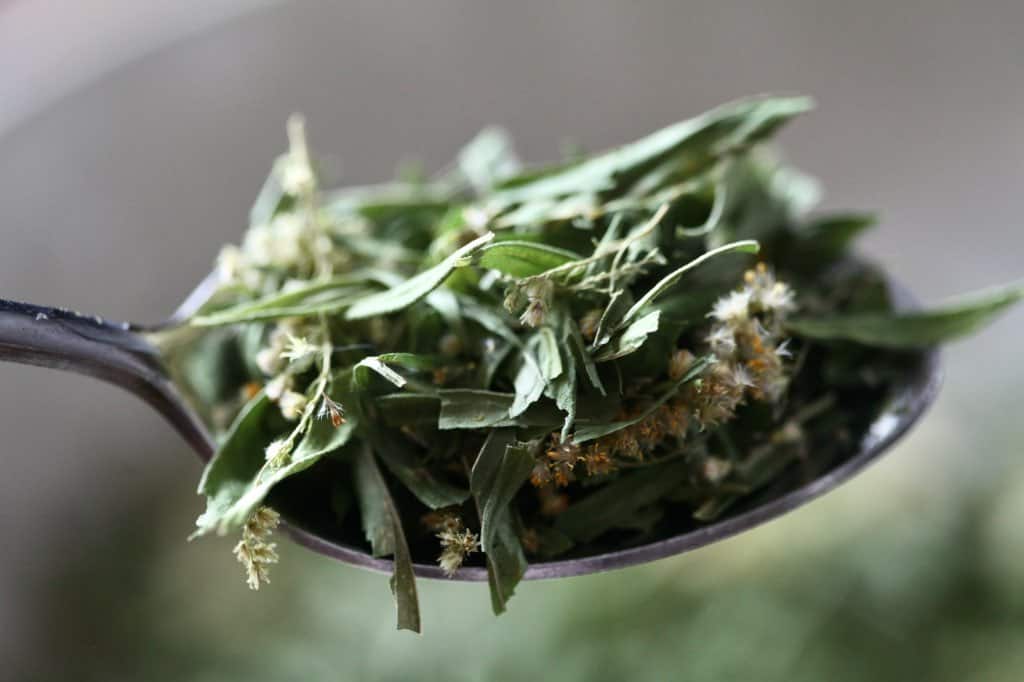 How To Dry Goldenrod
Harvesting Goldenrod Blooms And Leaves
Harvesting goldenrod flowers is fairly easy. All you have to do is make sure that you harvest these wild plants at the right time, in the right place, choose plants on their prime, and leave some of the plant behind.
Make sure to harvest from safe growing areas that have not been sprayed with chemicals, or likewise have road runoff. Choose organic locations for the safest collection.
Consider the plants that you are harvesting from. These flowering plants are herbaceous perennials, and will return to the garden year after year.
They will require their leaves to make energy for survival, so be sure not to strip all the leaves from any one plant. Leave some flowers behind as well, to allow the plant to set seed.
A good foraging rule is to only take up to 30% off any one plant, and only take as much as you need. Take from multiple plants if you plan to gather more.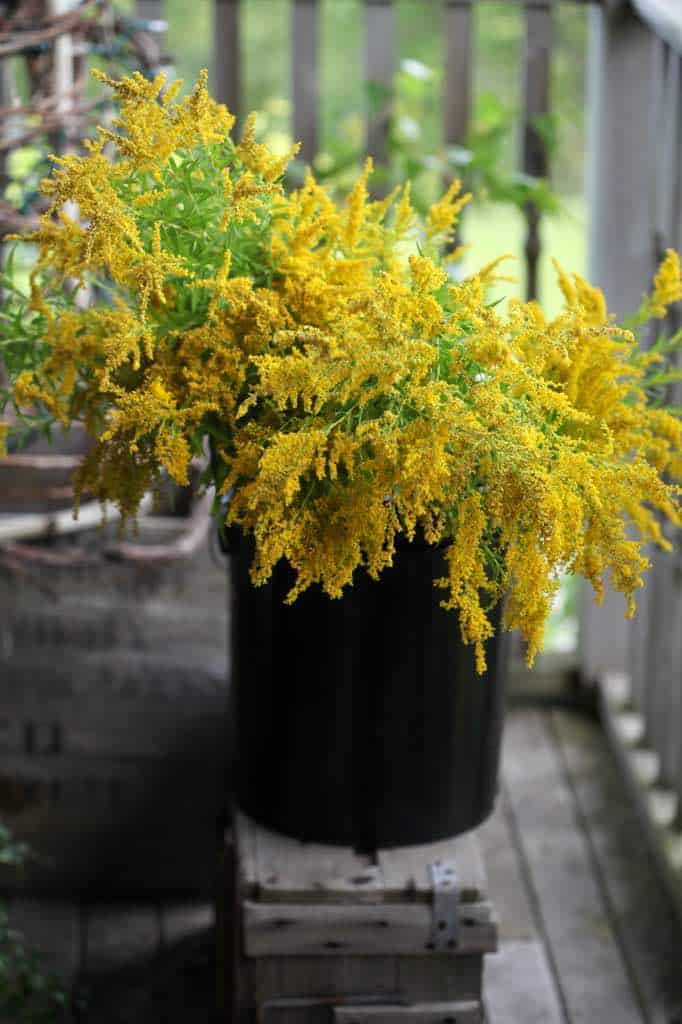 When To Harvest
Choose to harvest from flowers which have just opened, and are in their prime state. This is easy to see when you look at the goldenrod bloom.
As the flowers become spent, they will become brown as the tiny flowers start to dry.
Harvest on a dry day, to help prevent dampness of the blooms. Dampness can lead to molding of the flowers.
Time of day also makes a difference. The best time of day to harvest is in the morning when the plants are the most hydrated. Wait however until the morning dew has dried from the plants, before cutting them.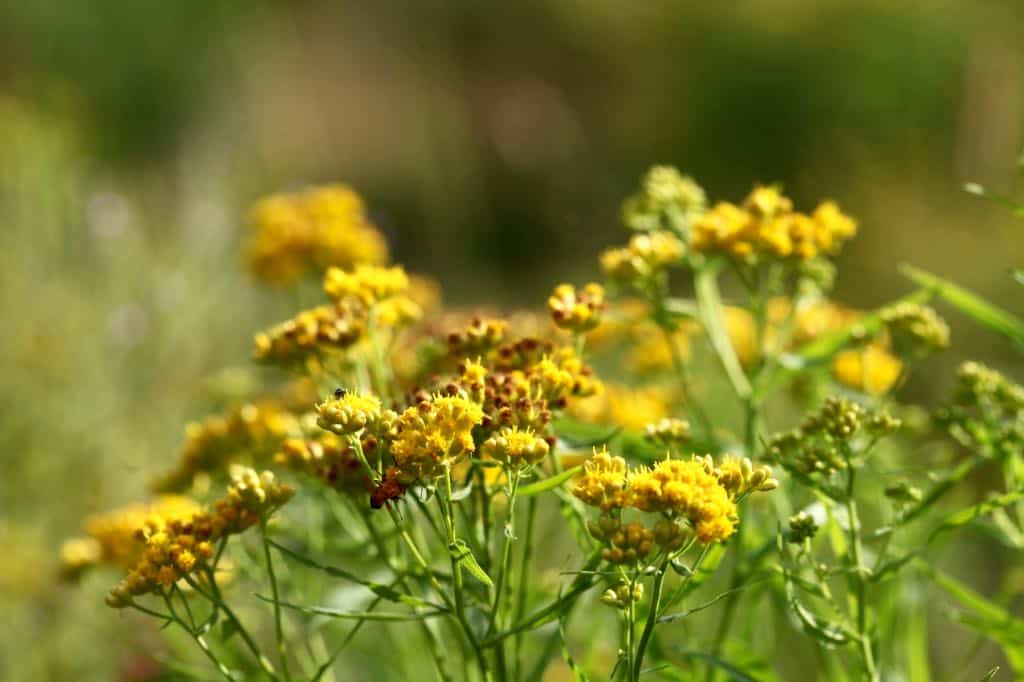 How To Harvest
With a clean sharp pair of clippers, follow the flower stem to the base of the plant stem, and cut.
This will allow you to harvest both the flowers at the top of the stem, as well as the leaves along the sides of the stem.
Remember not to strip any one plant, but rather to take stems from multiple plants.
Place the stems into a clean basket or container, and bring the plant material inside to dry.
Drying The Flowers And Leaves
Air Drying
One of the easiest ways to dry goldenrod flowers and leaves is to air dry by hanging them upside down. Air drying will allow you to dry many bunches at once.
Using this method is how I dry lots of flowers and herbs, and it's essentially a hands off technique.
It does take a little more time, however this drying method is very effective.
To Air Dry:
Gather a bunch of stems in one hand.
Secure in place with a rubber band. This will allow for shrinkage of the stems, and will still maintain a grip on the bunched stems after they have dried.
Use the rubber band to hang the bunches of goldenrod.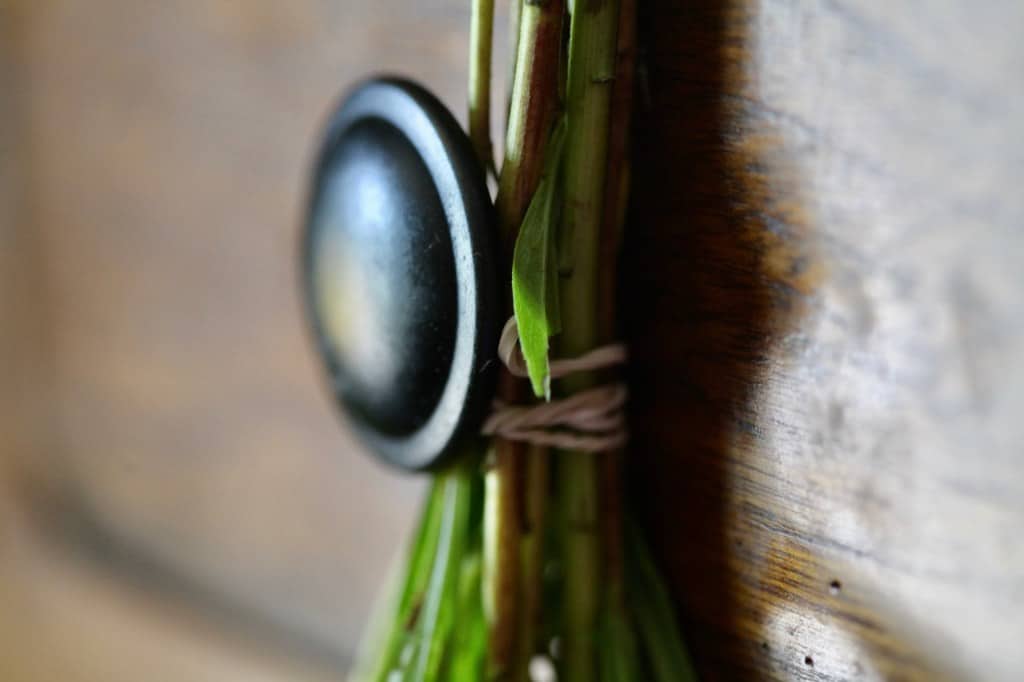 Hang on a drying line, a hook, a knob, or anywhere that you determine is a good drying spot. If hanging on a drying line, use a clothespin looped through the rubber band to hang onto the line.
I often dry on the knobs of a hutch in my kitchen.
Make sure that your drying location is dry and warm.
Allow to dry for several weeks, until the flowers and leaves are dry and crispy.
The large bundles of dried goldenrod can be stored in a clean cardboard box or in brown paper bags, in a dry place for the short term, until ready to use or process for longer storage.
They can also be processed for long term storage, and placed into an airtight container, such as a mason jar.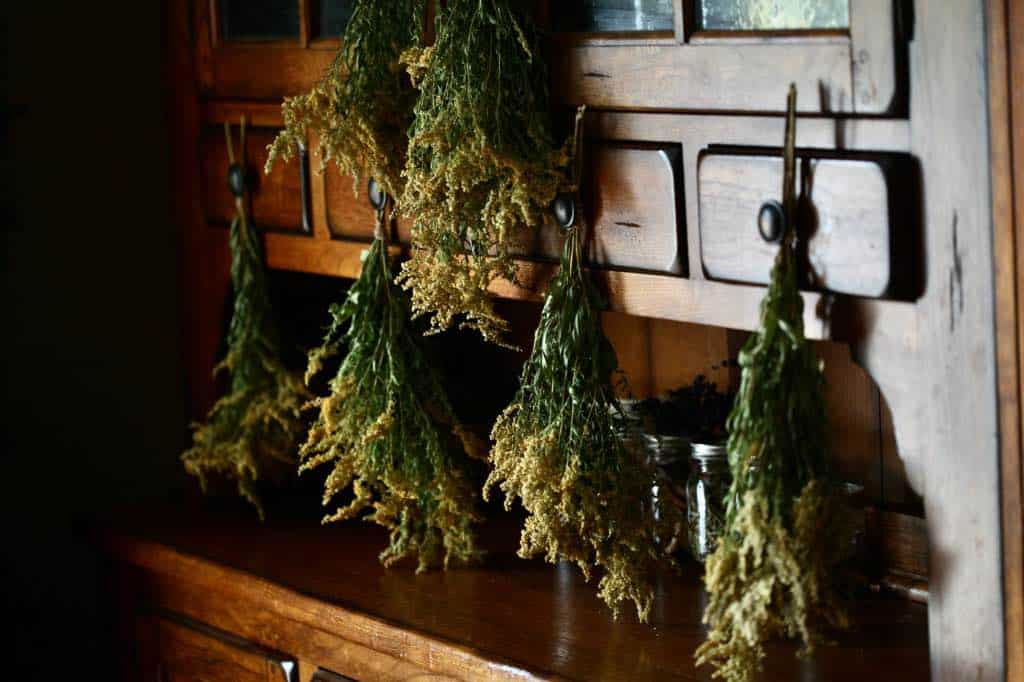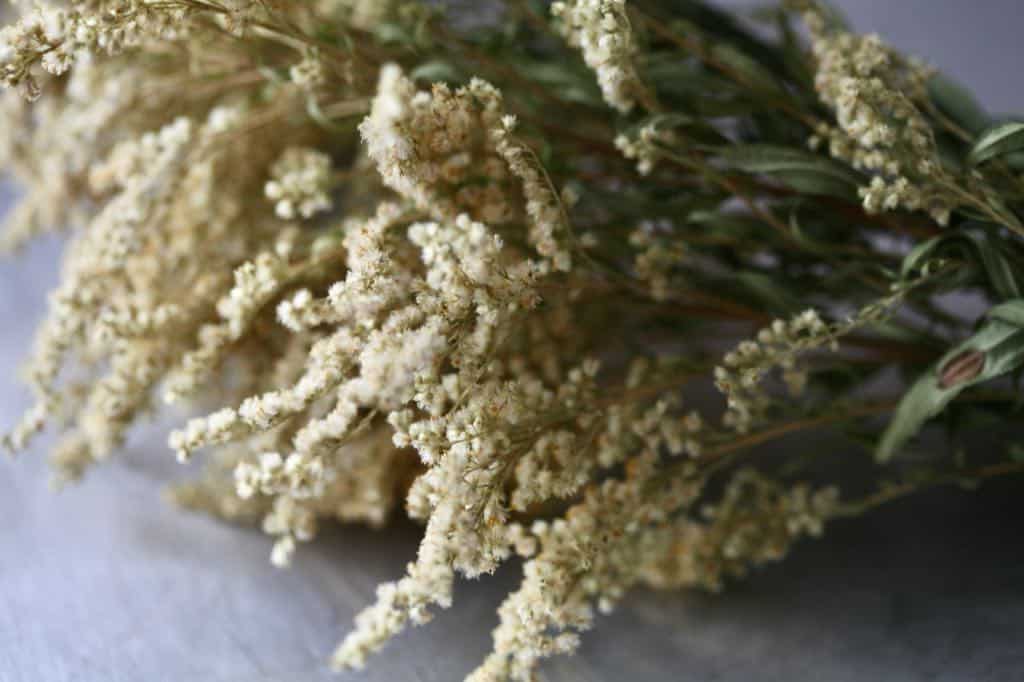 Dry In The Food Dehydrator
Drying goldenrod in the food dehydrator is a faster drying method.
Cut pieces of flowers and pieces of stems with leaves to fit onto the dehydrator racks.
Place the goldenrod pieces in a single layer on the dehydrator racks, to allow for good air flow for drying.
Once full, stack the racks into the dehydrator, and cover.
Set the temperature to 125°F. Dry for up to 4 hours, until completely dry and crispy.
Remove from the dehydrator when the goldenrod is completely dry.
Allow to cool to room temperature, then store in an airtight container.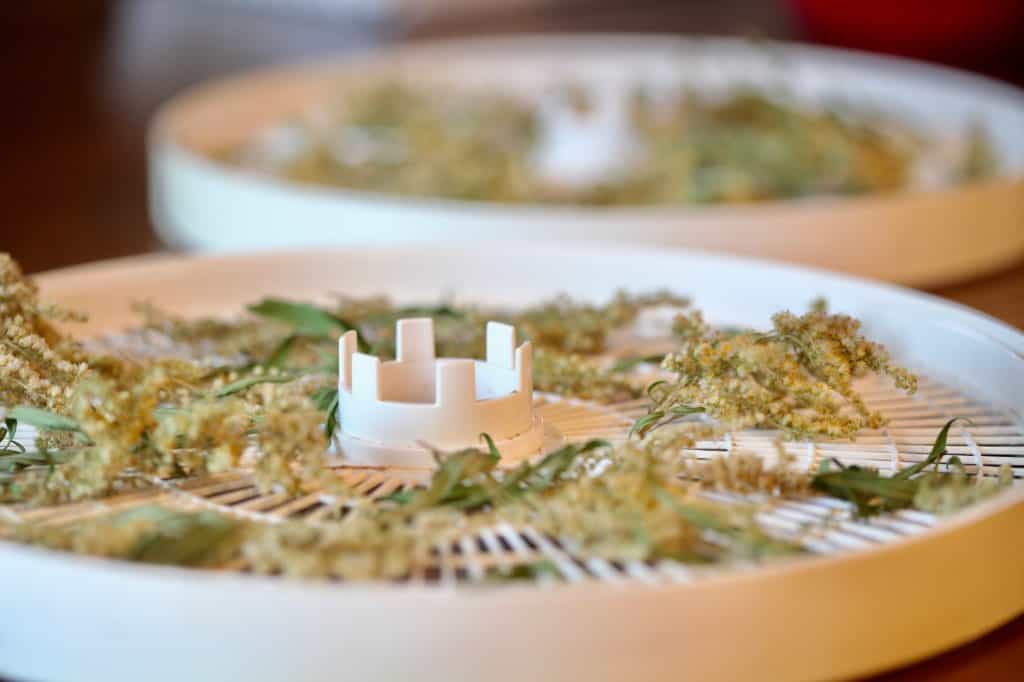 Storing Dried Goldenrod
Store dried goldenrod flowers and leaves in an airtight container, such as a glass jar with an airtight lid. A glass mason jar is a perfect storage container.
If storing for tea, you can crush the leaves and flowers together into fine pieces, just by using your hands.
Another way of doing this is to place the pieces into a plastic bag, and crush the contents within by putting pressure on the outside of the bag.
You can also use a mortar and pestle, however this is probably not necessary as the dried pieces crumble so easily.
The leaves and flowers easily strip from the stem, by gripping the stem and running your finger and thumb along the stem, pinching as you go.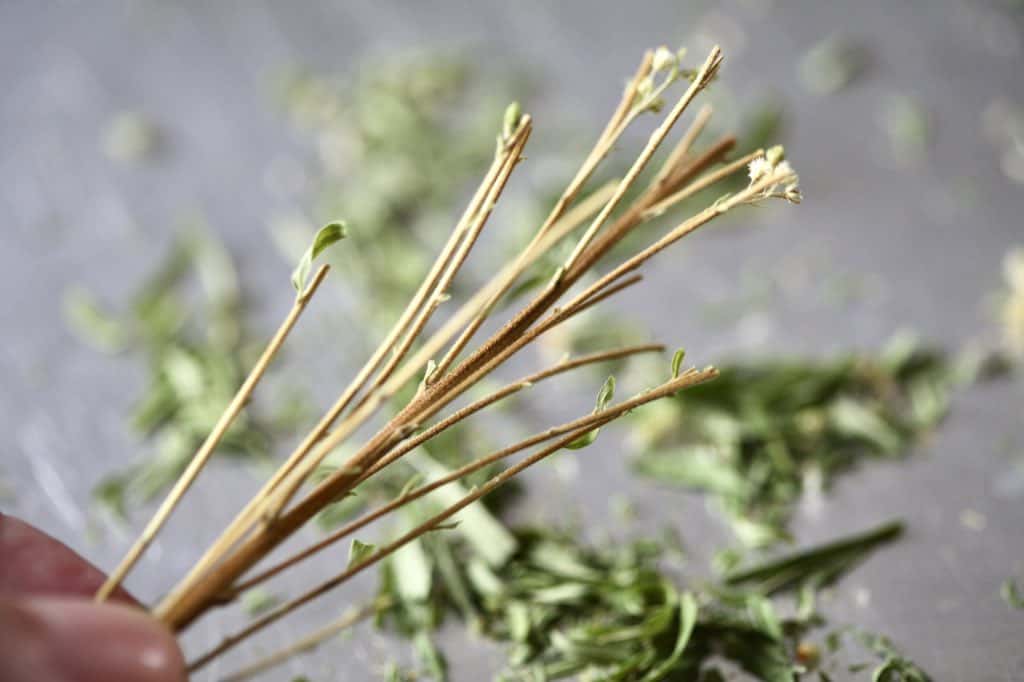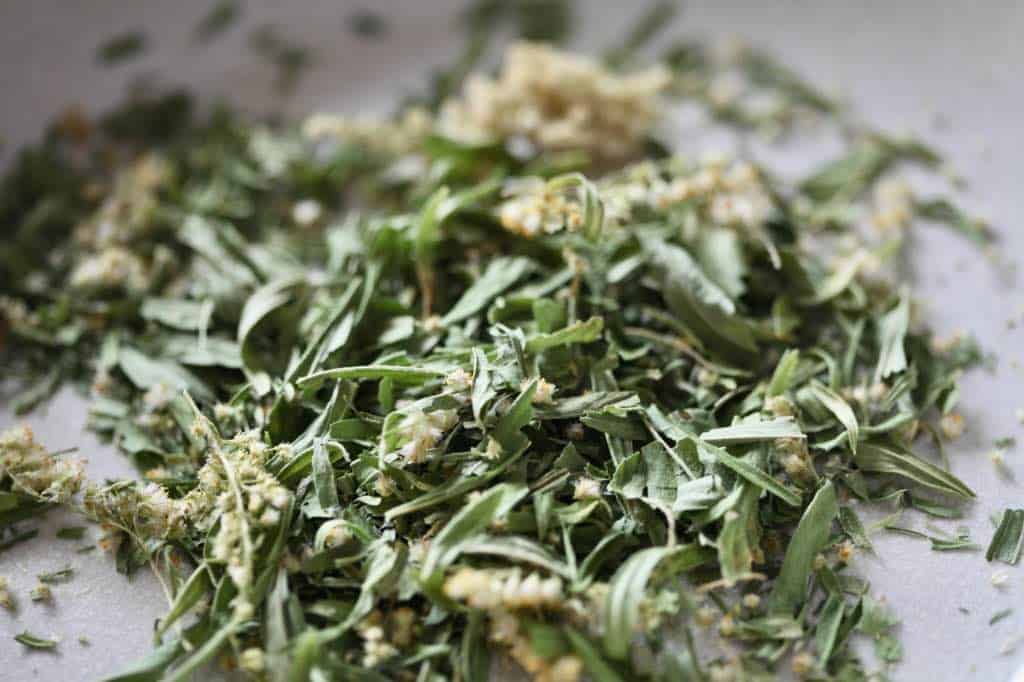 Remove the goldenrod stems from the crushed parts.
Place into the storage container, and tighten the cap.
Label the jar with the storage date.
Store in a cool dark place.
Dried goldenrod should store safely for up to a year with the right storage techniques.
How To Use Dried Goldenrod
Dried goldenrod flowers and leaves can be used to make a goldenrod tea. Add one heaping teaspoon to a tea bag or tea ball, add to a cup of boiling water, and allow to steep for 5 to 10 minutes.
Dried golden rod can also be used to make a goldenrod tincture or an infused oil.
For the oil infusion, the dried flowers and leaves can be infused into a carrier oil of choice to make a goldenrod oil. If an edible oil is used, such as extra virgin organic olive oil, the final product will also be edible, and can be used for culinary purposes.
Use edible goldenrod oil for culinary purposes anywhere you would drizzle olive oil. Use on salads, in sauces, and on pastas.
The oil can also be used to make salves, soaps, and lotions, which can be used topically on the skin for minor irritations and soothing effects.
Dried leaves can be added to soups and stews for an added nutritional ingredient.
Conclusion
The beautiful goldenrod plant is easy to harvest, dry and preserve.
Goldenrod is a fabulous native wildflower, with many beneficial characteristics. There are many varieties of goldenrod, and they all have similar qualities.
Goldenrod plants not only add value to the garden, they are medicinal herbs as well.
Although you can also use the fresh flowers and leaves, which are beneficial as well, drying the plant will preserve it for longer use.
The dried herb is also best to use to make different formulations, due to reduced moisture content.
If you have lots of goldenrod growing in your area, consider harvesting and drying some, to preserve it for use, in all it's herbal goodness.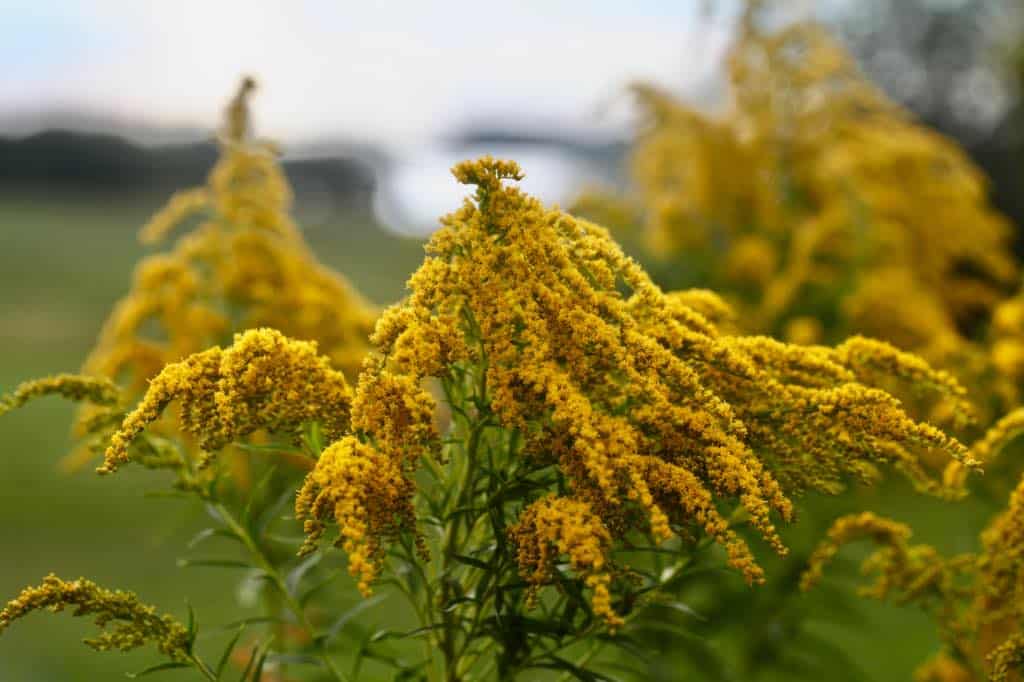 Have you ever tried to dry goldenrod? Be sure to leave a comment below to share your experience!
Other Posts You May Like
See the Web Story on Drying Goldenrod- How To Harvest And Dry!
PIN IT FOR LATER!