Last updated on October 22nd, 2023 at 12:35 pm
In the cold and dreary winter months, forcing flowering branches can help to brighten up the last days of winter. It's hard to believe that dormant branches can come magically alive within a few weeks, and burst open with beautiful blooms. All you need to do is cut them, bring them inside and place them in water.
Forcing flowering branches is a simple process. Cut branches from early spring flowering trees and shrubs in late winter, and bring them inside into a warmer location. Place the branches in water, provide some humidity and a bright location, and the branches will break dormancy and bloom early.
The forcing process allows us to have a beautiful display of spring blooms inside in vases, at a time when we would not usually have these flowers available.
In this post I'll discuss specific flowering branches great for forcing, with techniques to use to bring them inside to bloom successfully, for a beautiful spring display in winter.
What Are Flowering Branches?
Flowering branches are branches of flowering trees and shrubs, such as magnolia, red maple, eastern redbud, quince, crab apple and cherry, just to name a few.
In the winter months these deciduous trees and shrubs become dormant, and are bare branched without leaves or growth. These trees require this period of dormancy for their normal growth cycle.
Inside these dormant branches are flower buds, just waiting to develop into beautiful flowers once their dormancy breaks in early spring.
Many flowering shrubs and trees will set their buds on the previous years growth. This usually occurs in the early spring flowering trees.
When the weather warms up, as part of the life cycle, the buds begin to swell with anticipation of new growth.
If you cut flowering branches early, and bring them inside before the buds open, something extraordinary will happen.
Exposing the flower buds to warm temperatures and moisture causes them to break their dormancy, and bloom earlier than they would have naturally done in the garden.
Bringing the branches inside will allow you to enjoy the flowers earlier in the year, even before spring actually arrives.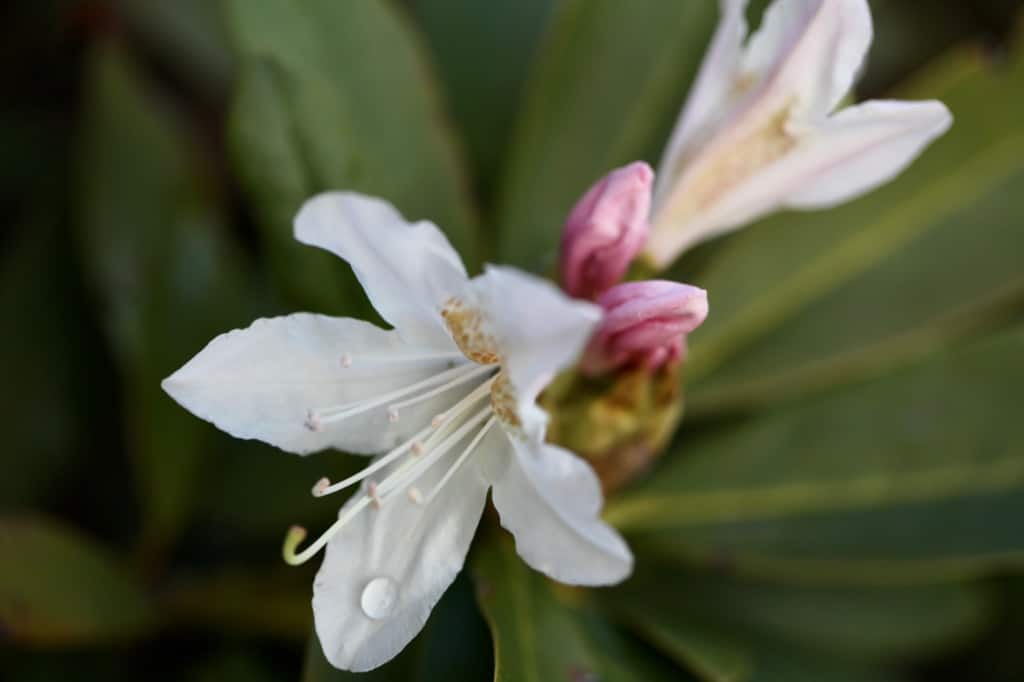 What Are Forced Flowering Branches?
The process of "forcing branches" means getting flowering branches to bloom ahead of their natural bloom time in the garden.
By cutting the dormant branches of flowering shrubs and trees and bringing them inside into the warmth, you are speeding up the natural blooming cycle.
Flowering branches need a period of cold dormancy for at least six to eight weeks for their buds to open.
It is important to leave the branches in the garden until they have had this important cold period and exposure to cold temperatures.
Good candidates for forcing include ornamental trees, and fruit trees. Any flowering tree or shrub with early spring blooms are good choices for forcing.
In many areas, you can start to force branches in late February or early March, especially in warmer locations.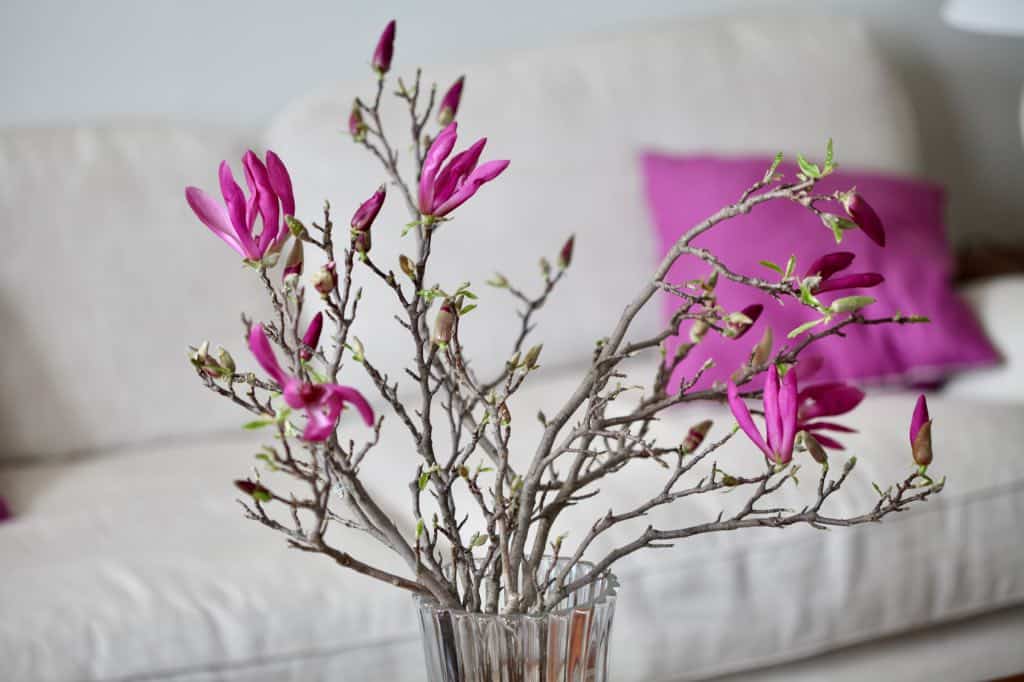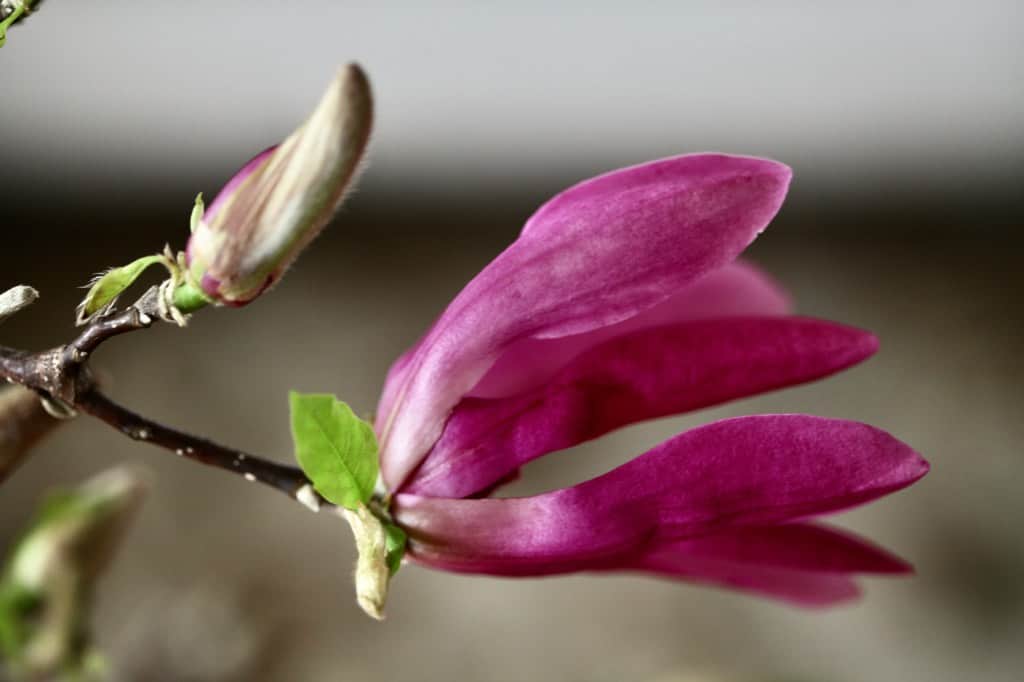 When To Cut Flowering Branches For Forcing
Before cutting, make sure that your flowering branches have had at least six to eight weeks of cold dormancy.
Take a walk through the garden and observe the stems on your flowering trees.
When you see the buds on the branches start to swell and colour, it is time to cut.
This time period will be different for different growing zones, so let your branches guide you.
Here in usda growing zone 5b, we are forcing branches in mid March.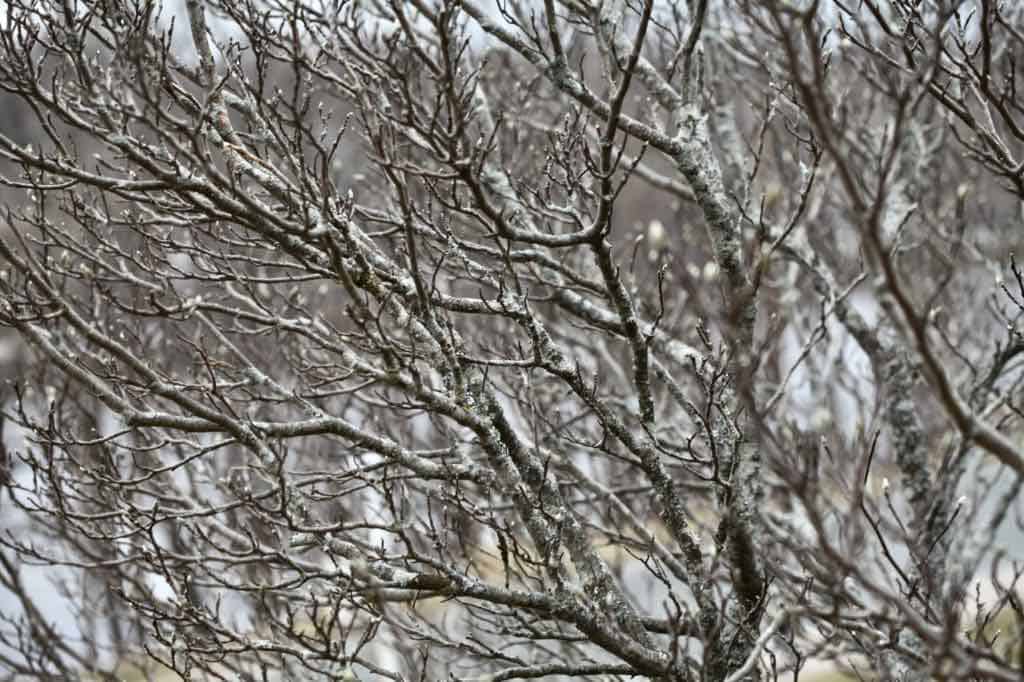 How To Cut Flowering Branches
It's important not to cut your shrubs or flowering trees to the point where you would notice missing branches.
So consider the flowering branches as those that you would prune out anyway, or those at the back of the tree or shrub that would not be missed.
Selectively cut stems from crossing branches, and from those that might be getting in the way. Take from the stems that you might cut from the tree or flowering shrub anyway.
Many flowering shrubs benefit from a spring pruning, so use these stems for forcing rather than discarding.
When choosing flowering stems for forcing, select branches from the backside of the bush or tree first.
Look for the stems with lots of plump flower buds, which will force better.
Another consideration is the shape of the branches.
Not only will you be able to enjoy the blooms when they open, you will also be able to enjoy the architectural shapes of the stems themselves. Some branch forms can be quite beautiful.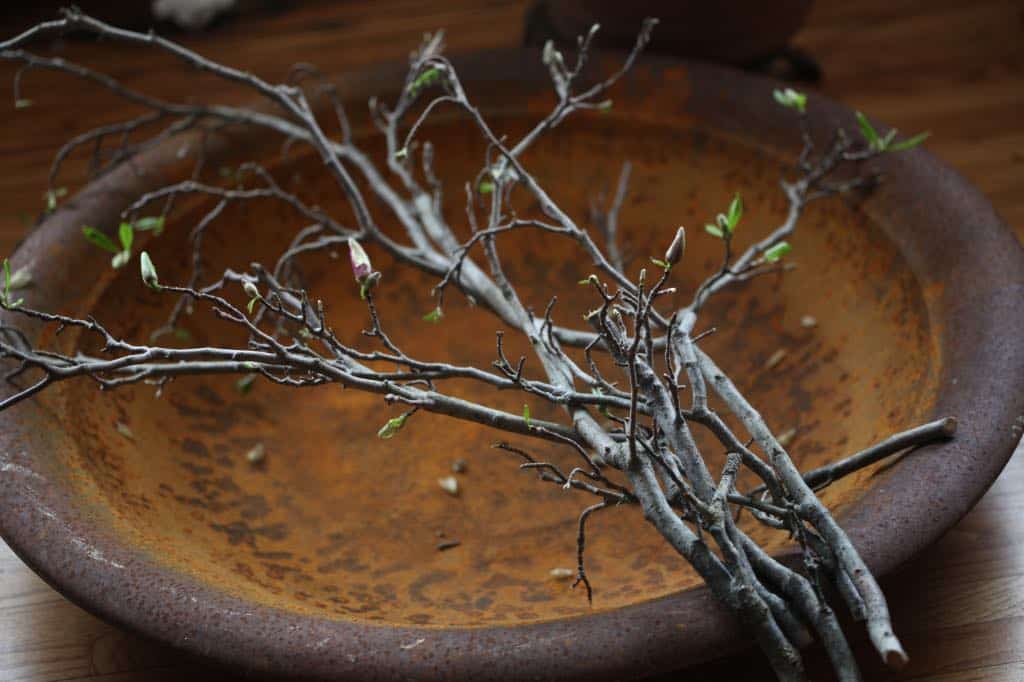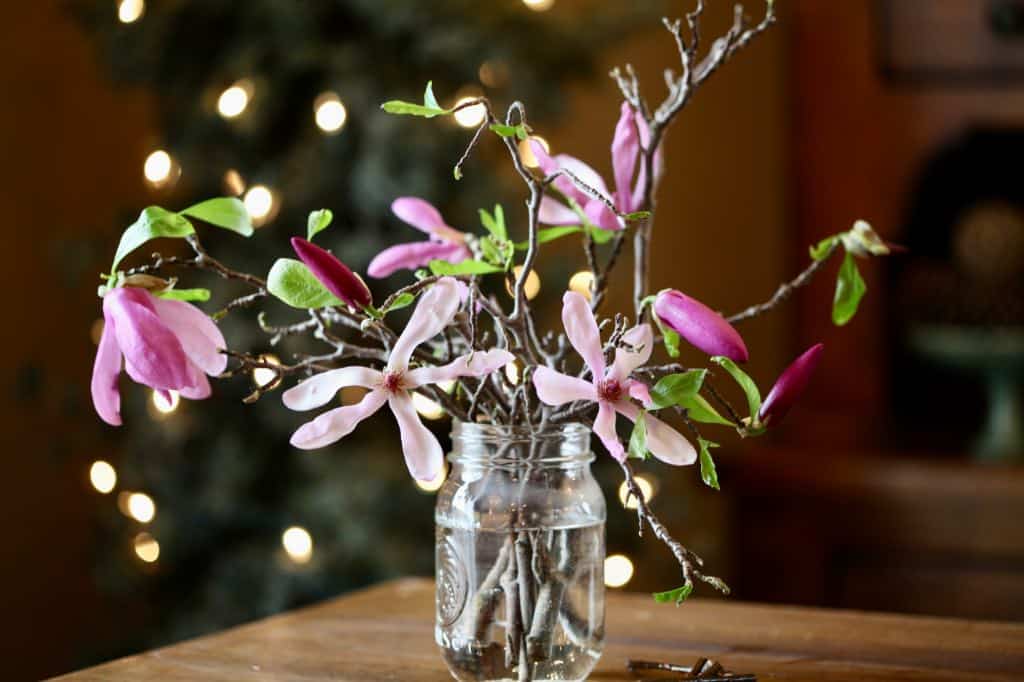 Do You Put Flowering Branches In Water?
Yes, flowering branches are placed in water as part of the forcing process.
The water uptake, and the brightness and warmth of the indoor environment, will stimulate the stems to begin the flowering process.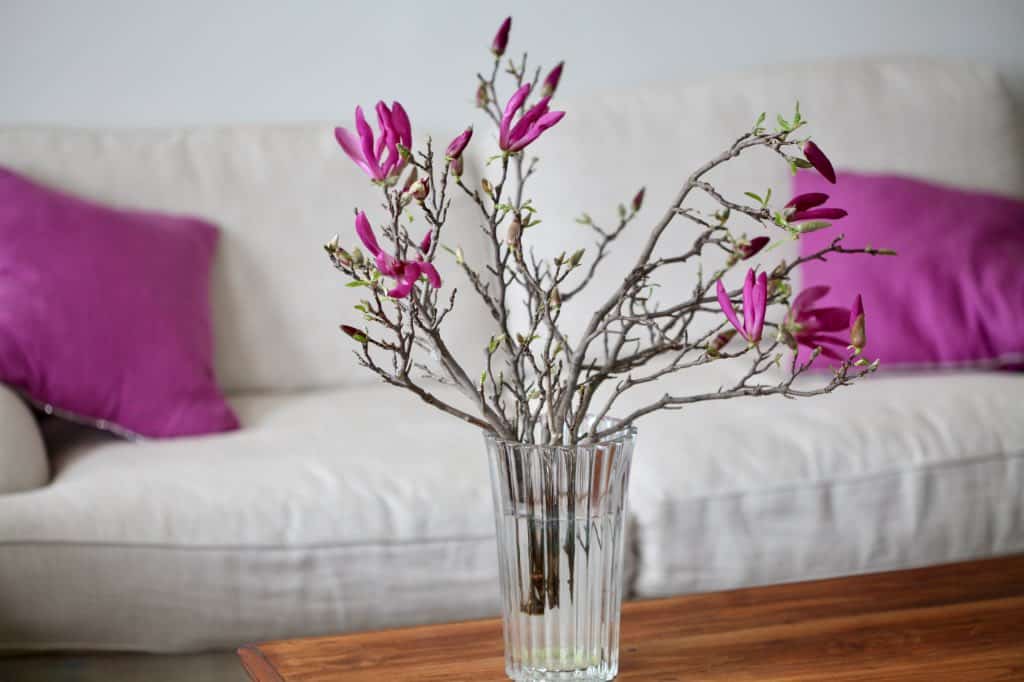 How Do You Force A Flowering Branch?
The best trees or shrubs to force are those that flower or bloom early in spring.
Early blooming shrubs and trees can be forced into blooming very easily.
Cutting Flowering Branches From The Garden
Go out to the garden on a mild winter day, when the temperature is around 30°F to 40°F. A milder day is easier on the branch's transition to a warmer environment.
Choose branches with lots of buds if possible.
Sometimes it may be difficult to differentiate between flower and leaf buds. The flower buds are usually larger, and may have some swelling and wrinkling, depending on the type.
Cut some branches from your flowering trees or shrubs with clean sharp pruners, and bring them inside.
Choose lengths that are of manageable size, with a desired length of about two to three feet.
You can recut them again inside, to get the right sized branches for your vase.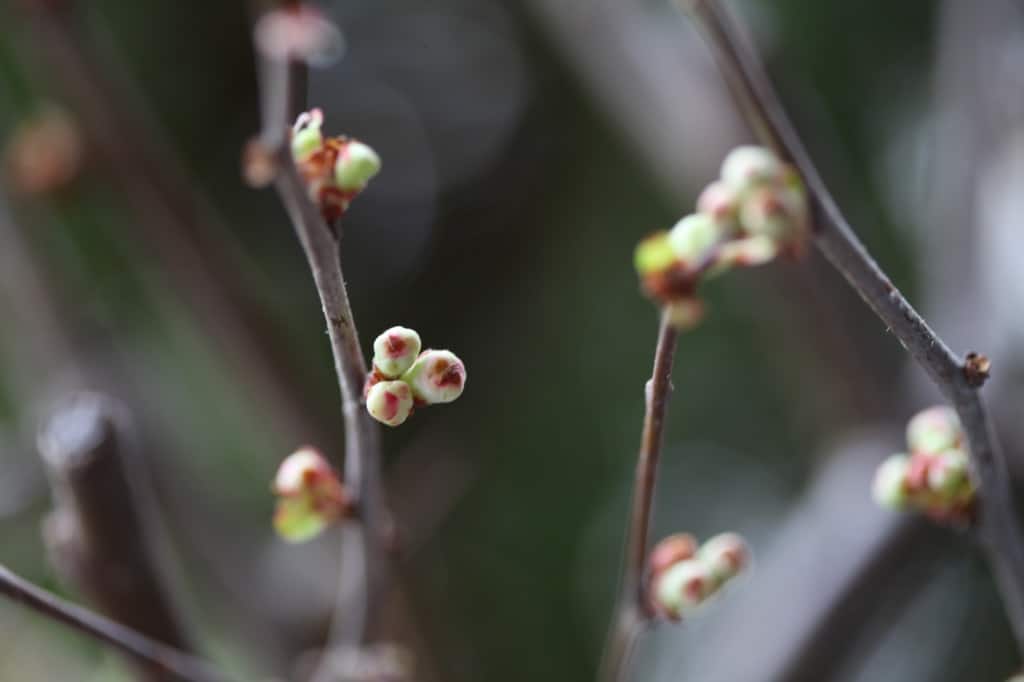 Enhancing Water Uptake Of Flowering Branches
Cut the bottom of each branch at an angle to increase the surface area for water absorption. The angled cut also prevents the stem from laying flat against the bottom of the container, blocking water uptake.
Another option for cutting woody stems for improved water uptake is to make several vertical cuts at the cut end of the stem, cutting approximately an inch or so upwards.
This extra cutting opens up the branch's vascular system and allows for better water absorption.
I tend to do this with thicker stems.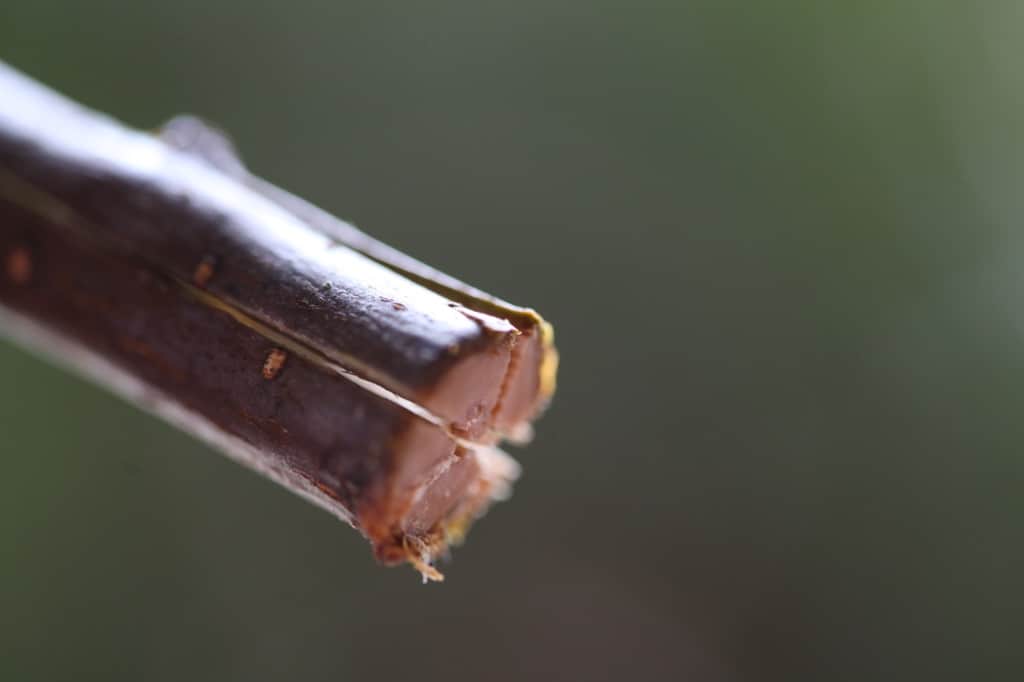 Forcing Flowering Branches
Place the stems in either fresh warm water, or water with a floral preservative or conditioning solution added, which will also encourage flowering.
Place the containers in a bright room, in indirect light and out of direct sunlight if possible. The bright space will encourage flowering.
Ideally the stems should be placed in a cool rather than warm location at first.
Consider that the branches have just been brought inside from a very cool location, and that the buds will need time to gradually develop and bloom.
Keep the branches away from heat sources, to allow them to slowly wake up from their dormancy.
Definitely do not provide bottom heat, such as placing on a warm radiator, as this can cause damage to the developing blooms.
Placing the branches in a cool room at night is also a good idea, as it simulates what would normally be occuring in the outdoor environment.
Change the water in the containers at least every three or four days, or earlier if needed.
A tip to help the forced blooms bloom more quickly is to provide some humidity through misting with water. Misting will help to break the dormancy of the branches.
Spritz with a spray bottle to get them to bloom a bit more quickly.
After a couple of weeks you should have flowers, depending on the variety of tree or shrub that you are forcing. Some branches may take up to four weeks to bloom.
What Do You Do With Cut Branches?
Trim the flowering branches down to fit into the different vessels that you have.
If you have a large vase, you may want long architectural branches. A smaller vase or even a mason jar will need to have shorter stems.
Make arrangements of every size to place in different areas of your home.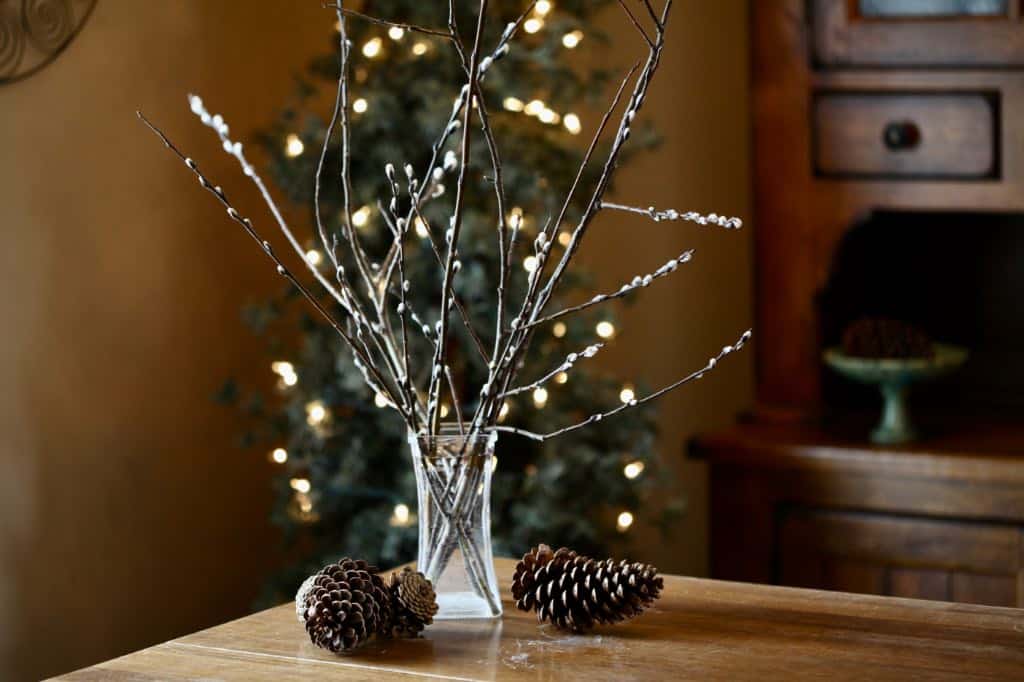 Types Of Flowering Branches To Force
The best trees and shrubs for forcing are those that bloom early in spring. These early bloomers are the best candidates for forcing.
Some flowering branches bloom much more quickly than others. Some can bloom within a week, while others make take two to three weeks or even longer to force blooms.
Here are some examples of early flowering branches commonly used for forcing.
Forsythia Branches
Forsythia branches only need about six to eight weeks of chilling before they can be forced and brought inside.
The blooms on forsythia branches come out fairly quickly, and often open in about seven to ten days after forcing.
Flowering Magnolia Branches
When magnolia buds start to swell, it's time to cut the flowering branches.
Cut the branches with the buds at the tips for best results.
Magnolia buds are easy to force, and the blooms can be amazingly large and beautiful.
Serviceberry Branches
The flowers will generally open up within approximately three weeks.
Quince Flowering Branches
When the buds start to grow and take on a coloured hue, it is time to cut them and bring them inside.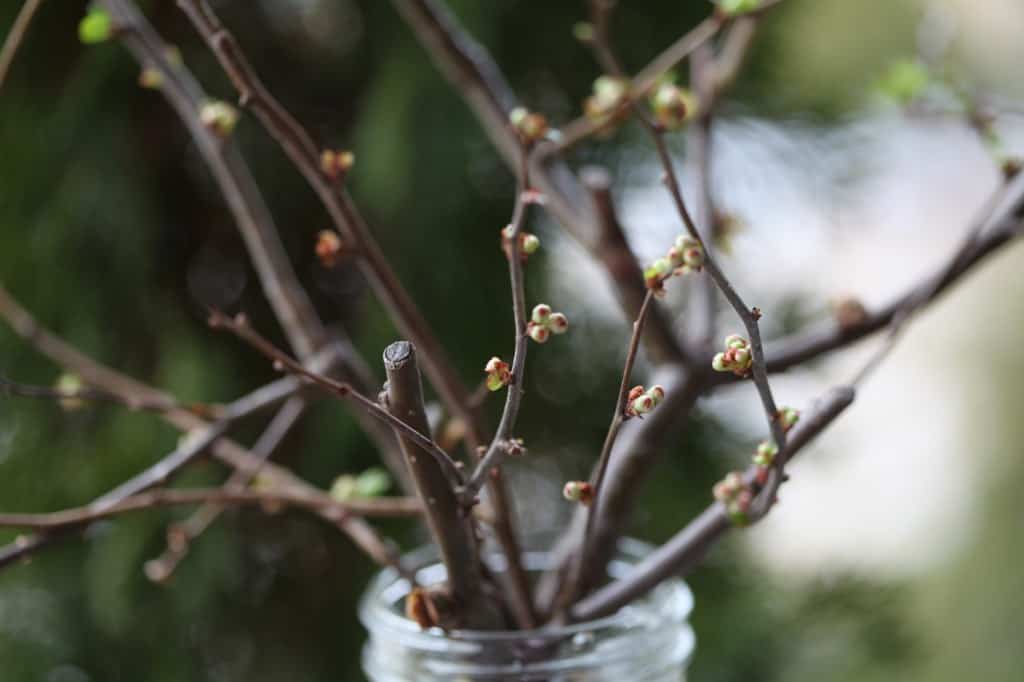 Pussy Willow Branches
Pussy willows are so easy to grow, and the catkins are so well loved. They are also easy to force.
These stems can be preserved and dried once the pussy willows have opened.
Cut the branches at the proper time, place them in water, and then remove them from the water when the pussy willows are the size that you want.
Place the stems into a dry container at this stage to dry.
If left in the water, the pussy willows will continue to mature, and develop pollen. They will continue to mature past the stage where they are good to keep.
Flowering Plum Branches
Plum branches are easily forced as well.
Flowering plum branches will generally take about three to four weeks to force into early bloom.
Crab Apple Flowering Branches
Crab apple branches may take up to four weeks to flower but are well with the wait.
These sweet blossoms are reminiscent of springtime on our farm, and are always connected to the beginning of the growing season.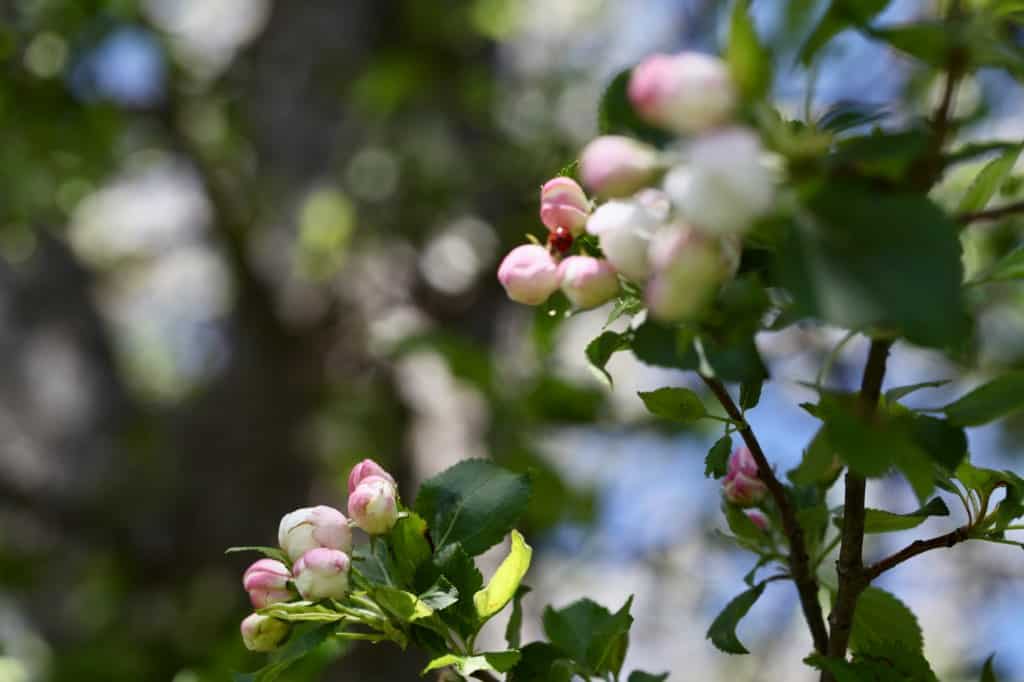 How Long Do Blooming Branches Last?
Once the flowering branches are in bloom, the flowers should last for several weeks.
The vase life of forced blooms can be long lasting with the right care.
What To Do If Forced Branches Do Not Flower?
If the branches have not flowered by four weeks, just discard them and take more cuttings.
You may have chosen branches that would have been best cut a little later in the season.
By experimenting with your own flowering branches, you will learn more about the different types of flowering trees and shrubs, and the best time to cut each one.
The best time for cutting each type of flowering branch may change from one year to the next as well.
Observe the buds on your branches for swelling to help guide you in this process.
How Do You Keep Cut Branches Fresh?
First and foremost, clean your containers well, right at the beginning.
Just like with cut flowers, a clean vase or container will help prevent bacterial growth from forming, which can clog the stems and prevent hydration of your flowering branches.
Adding flower food or a holding solution to the water can also help.
If you do not have these additives, fresh water will do just fine.
Remember to change the water every three days or so, and even sooner if you notice any water discolouration.
Also remember that some of these flowering branches may take up to four weeks to bloom, so try to keep the water fresh if you can in the long run for best blooming results.
Conclusion
Isn't it amazing that in the dead of winter, you can pick some flowering branches from the garden, bring them inside, and then watch them wake up and bloom?
This year I am forcing magnolia, plum, crab apple, serviceberry, quince and pussy willow. Next year I will be trying lilac, mock orange, honeysuckle and hawthorn.
Forcing branches can help to brighten up the winter blahs.
Remember to treat your forced branches just as you would cut flowers in the vase. Provide bright light but no direct sunlight, keep them out of the heat, and change the water regularly.
By doing so you should be rewarded with beautiful early spring blooms.
Forcing flowering branches is a great way to experience spring a little earlier than expected.
It gives us just a little taste of the beauty to come, just around the corner.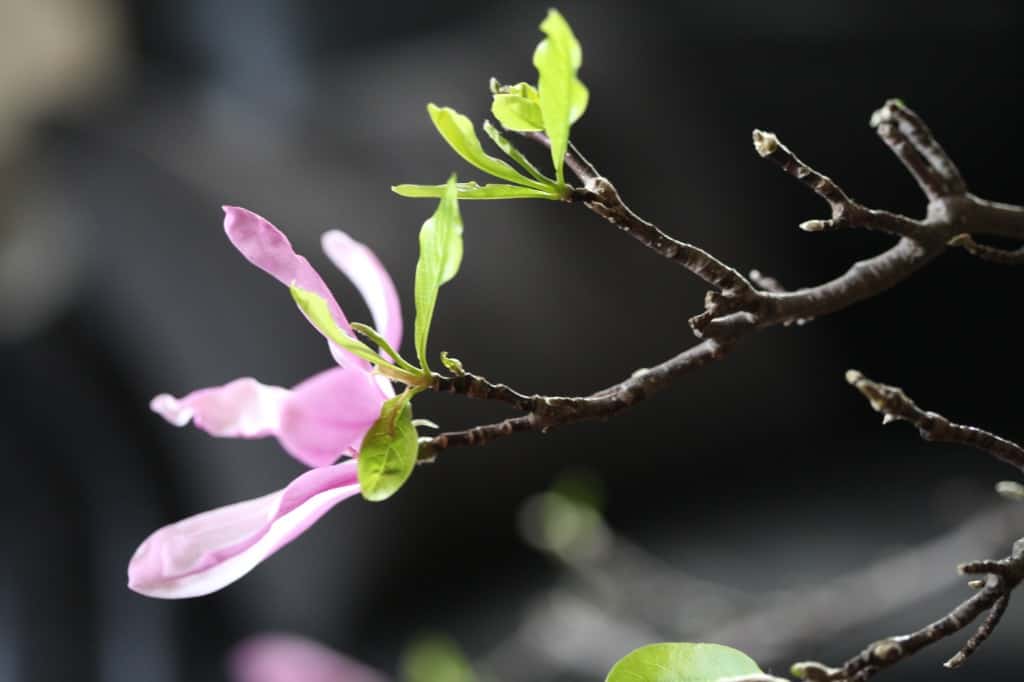 Have you ever forced flowering branches? Be sure to leave a comment below to share your experience!
Other Posts You May Like:
PIN IT FOR LATER!