Teddy Bear sunflowers are dwarf sunflower plants, which produce fuzzy double blooms. The flowers are soft in appearance, and make wonderful cut flowers. Learn the right Teddy Bear sunflower care, to grow these sweet sunflowers from seed to bloom.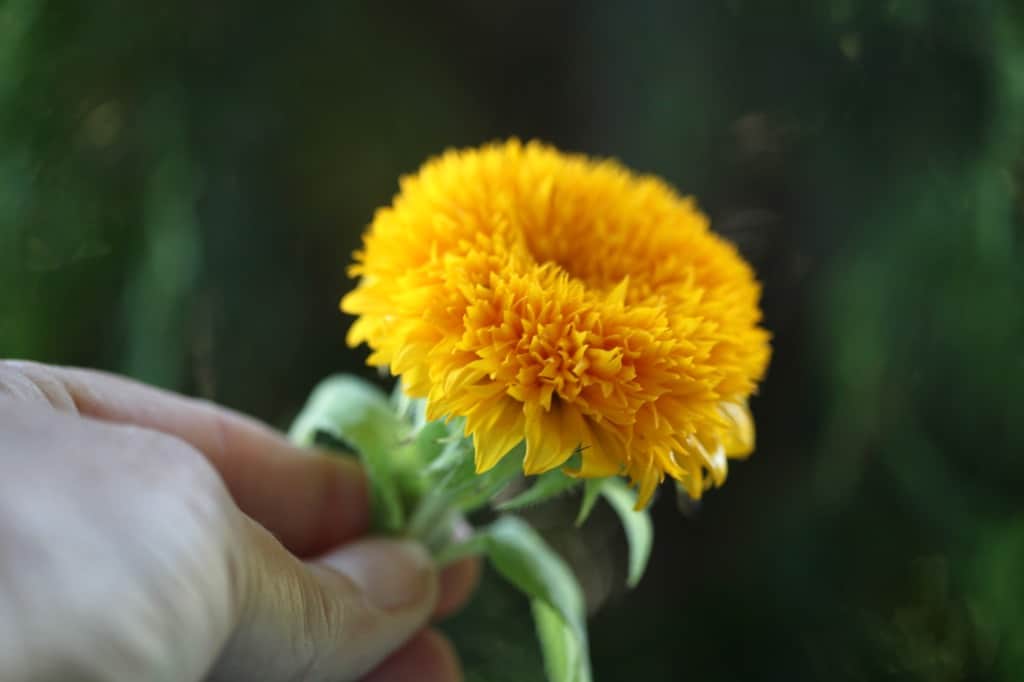 Darling little Teddy Bear sunnies exude fun and joy. This beautiful plant has golden-yellow blooms, and fun shaggy pom-pom flowers.
With their soft and fuzzy texture the plants are popular with all age groups, especially with little children. This is a perfect dwarf plant to grow in a children's garden.
These are great beginner plants, and are easy to grow, especially since they can also be grown in containers.
What Are Teddy Bear Sunflowers?
Teddy bear sunflowers are annual flowering sunflower plants, which are smaller than the standard sized field grown sunflower. They are considered to be dwarf sunflower plants.
Although these sunflowers can be grown in the field and garden, they are often grown in containers due to the dwarf size of the plants.
The average number of days between germination and bloom for teddy bear sunflowers is about 65 to 75 days.
The flower heads are fully double, and the blooms are soft and fluffy in appearance, with petals covering the entire surface of the sunflower face when fully mature.
Stem height can be as short as 8 to 12 inches when grown in pots or containers, due to the restricted growth of the roots when contained. As a result Teddy Bears look great when grown in a pot, with a bouquet-like appearance.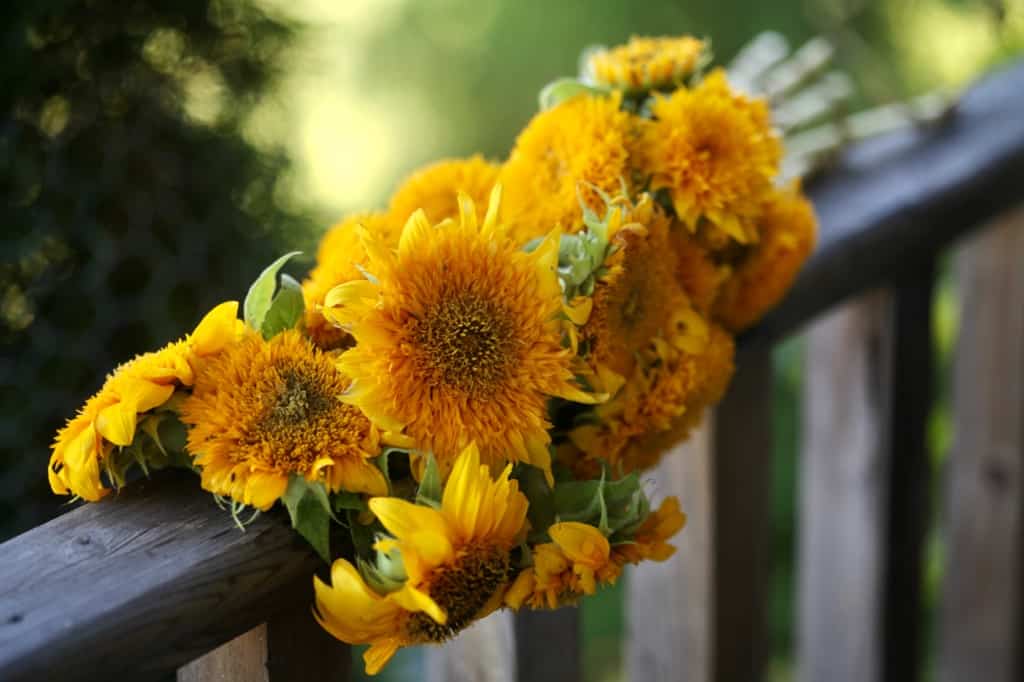 These sunflowers are members of the Family Asteraceae, and the Genus Helianthus.
The plants belong to the species Helianthus annuus. The common name for sunflowers within this species is common sunflower.
The Teddy Bear sunflower is just one of many different varieties or cultivars within the species of h. annuus.
Believe it or not, these little sunflowers are related to the giant sunflowers or mammoth sunflowers, along with many other sunflower hybrids, which also belong to this same sunflower species.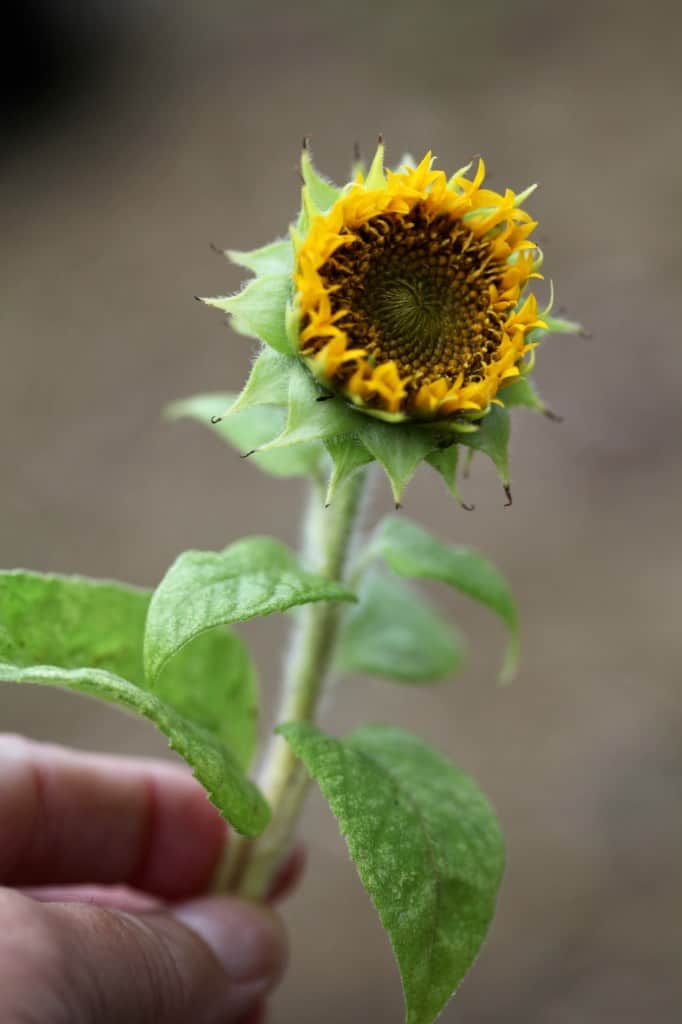 How To Grow Teddy Bear Sunflowers
Teddy Bear sunflowers are easy to grow from seed.
The flowers look great when planted en masse, as well as when potted up into containers.
Direct Sowing
For best growth results, direct sow teddy bear sunflower seeds into the garden or container, after the danger of frost has passed in your usda hardiness zone.
Space plants 8 to 12 inches apart.
Make sure that the newly planted seeds receive some moisture, and do not allow to dry out during the germination stage.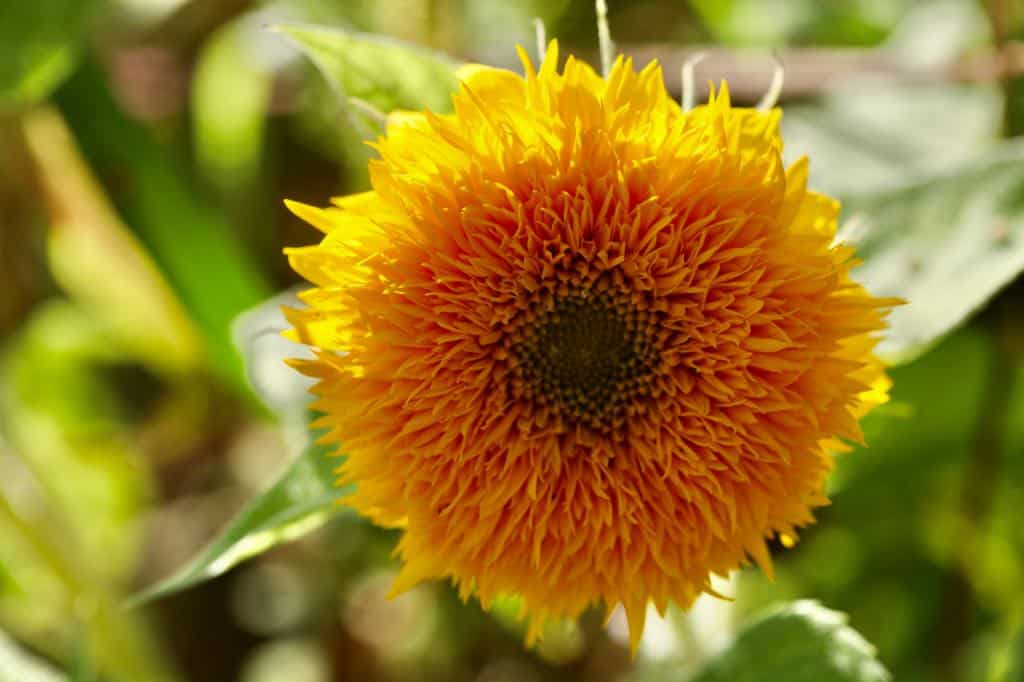 Starting The Seeds Indoors
Some gardeners in colder growing zones may start their sunflower seeds early indoors, before the weather warms up, to give them a head start on the growing season.
When starting indoors, be sure to provide the young plants with lots of light, such as growing under lights, until the plants can be planted outside, after the last frost. Always harden off any seedlings grown indoors before transplanting into the garden.
From my experience indoor grown sunflower seedlings often struggle after they are finally transplanted out. Although they will grow, they tend not to grow to their full height or maximum growth potential, due to the stress of the transplantation process.
One of the reasons for this is that sunflower plants as a whole tend not to transplant well. The transplantation process may interfere with root development, and cause stress to the plant.
Sunflowers tend to not like root disruption from transplanting, and therefore generally do better if directly sown into the spot where they will grow, either in the garden, field, or growing container.
For this reason, here in zone 5b, I direct sow all sunflower seeds after the last frost date, and plant the sunflower seeds after the soil warms up in the garden.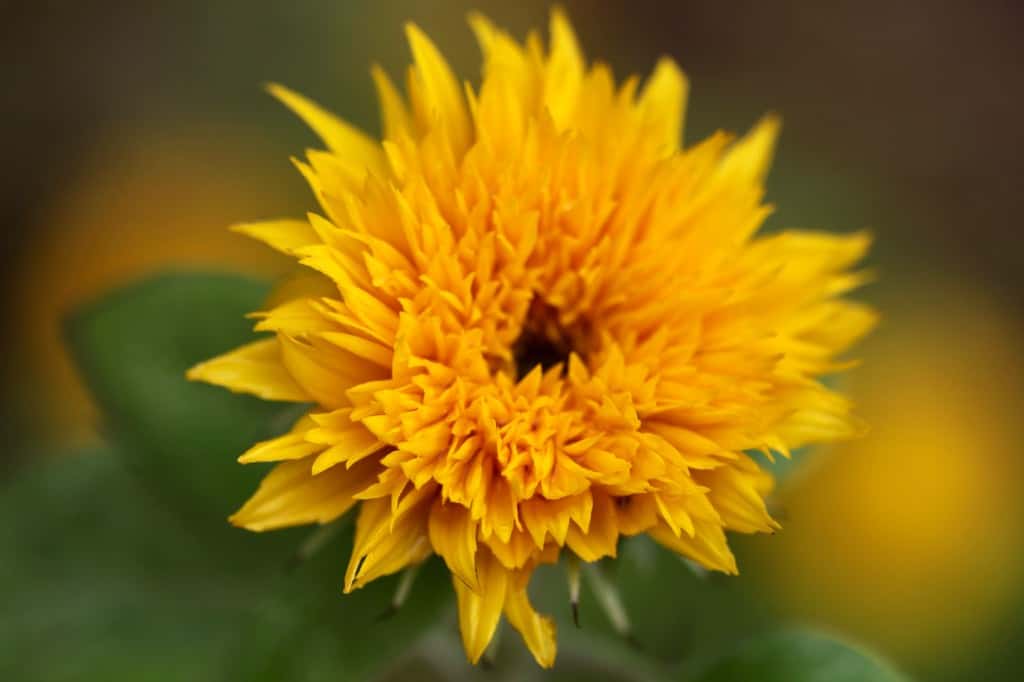 Growing In Containers
If you have ever tried to grow sunflowers in containers, you may know that they sometimes do not grow well when grown in this manner.
This is because sunflower tap roots grow deep, and often the chosen planting container is just not deep enough.
Sunflower plants do well when grown in the field or in the garden. In these locations their long tap roots are able to grow deep into the soil.
However when grown within the constraints of a container, the root growth becomes restricted, preventing the plants from growing to their full potential.
Sunflowers also like some space between plants, and if they are grown too closely together they will have smaller blooms.
Spacing between plants is not an issue when grown in the garden. In a container however, depending upon the container size, it's fairly difficult to do the ideal spacing when planting your sunflower seeds.
Plant height is shortened, and blooms are often smaller.
Fortunately for dwarf sunflowers, including the Teddy Bear sunflower, root constriction when planted in pots or containers is not as significant. As well, although the flowers may be slightly smaller, they are still attractive when grown in pots.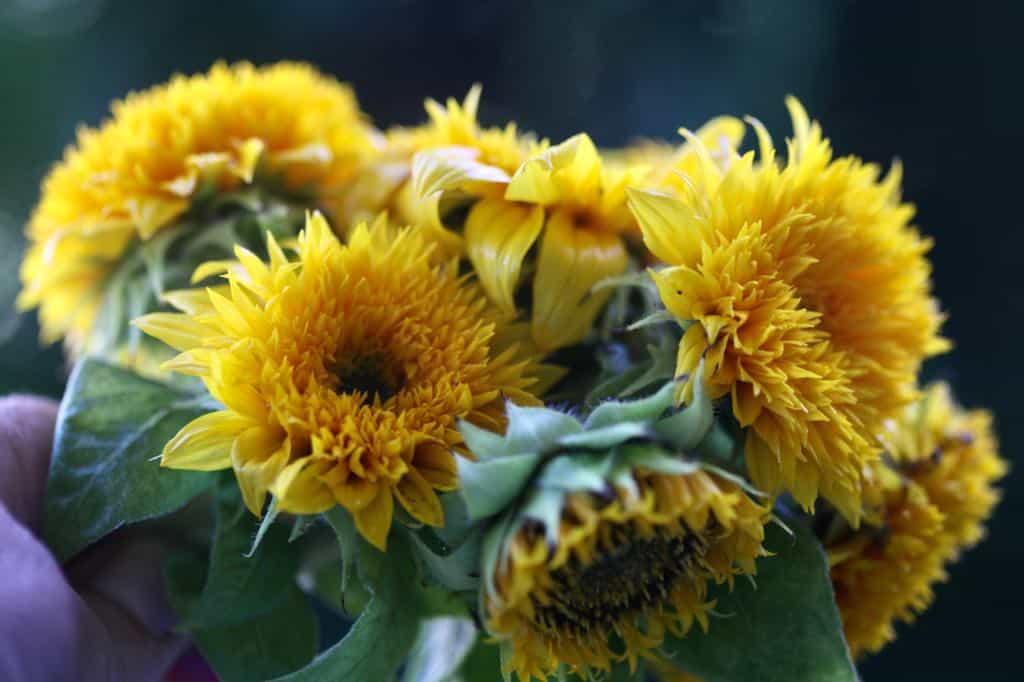 To Plant In A Container:
The best time to plant out into containers is when the weather warms up, and the risk of all frost has passed.
Choose a container with good depth, and make sure that there are drainage holes.
Fill the container with a good seed starting mix.
Sow seeds 1/4 to 1/2 inches deep, and at least 6 inches apart.
Water in well after planting.
Keep the soil moist until germination occurs, within 7 to 14 days.
Make sure to place your pot in a sunny location for good strong stems and flowering.
Flower height will still be shortened within the container. However the stem height will look still good and proportionate in the pot.
Stem height will be up to 12 inches in the pot, versus up to 42 inches in the garden or field, in ideal conditions.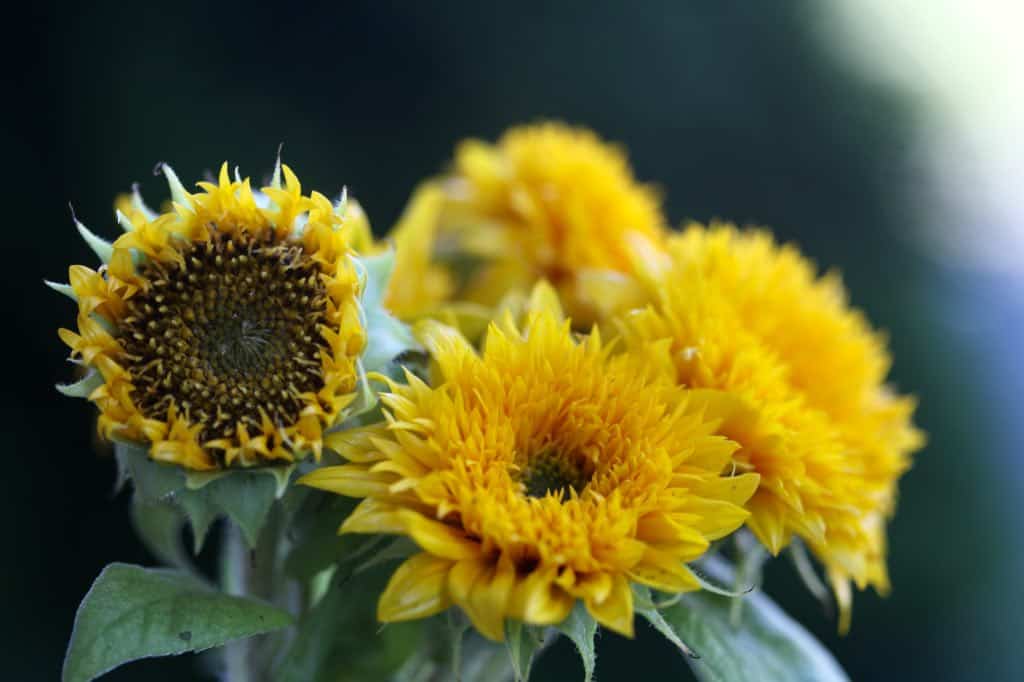 Teddy Bear Sunflower Care
Now let's take a look at some aspects of Teddy Bear sunflower care.
Growing Zone
Since Teddy bear sunflowers are annual plants, they are able to be grown in usda hardiness zones 2 to 11.
The plants are best started outside when the soil temperatures warm up, and after the risk of frost has passed.
Consider row covers with frost cloth for early spring plantings in areas at risk for late spring frost.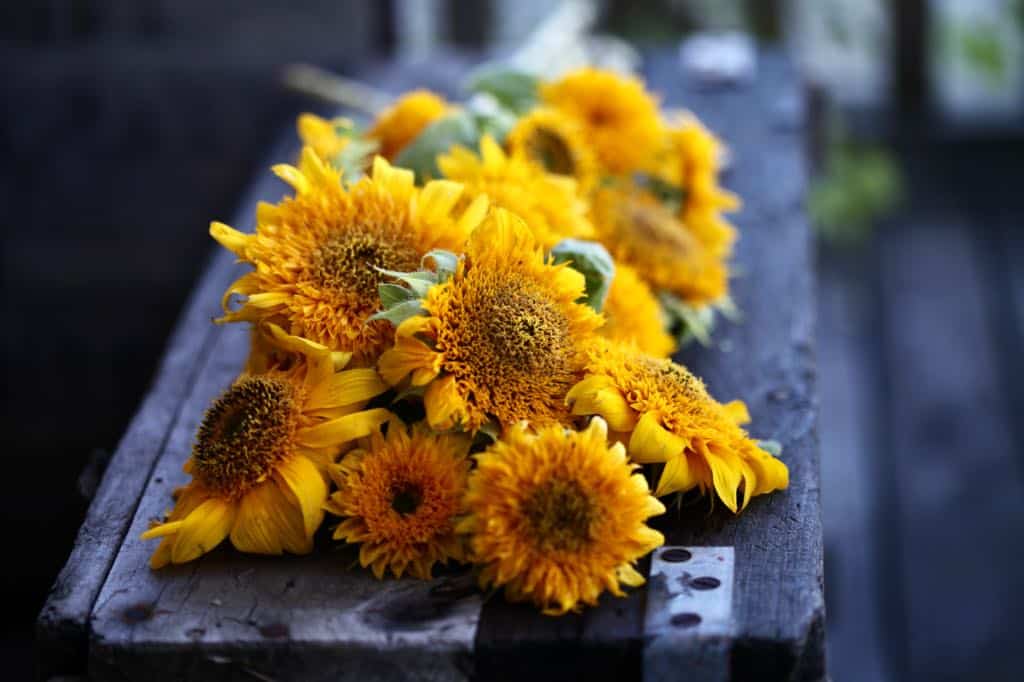 Soil Requirements
These sunflowers will grow in many different soil types, however prefer a light soil type with moderate fertility. The plants will grow in clay soil, sandy loam, and loamy soil, to name a few.
When grown in rich soil, full of organic matter, sunflowers will produce their best growth.
Always ensure that there is good soil drainage.
Soil temperature is also important when planting sunflower seeds. Germination is more successful in warm soil.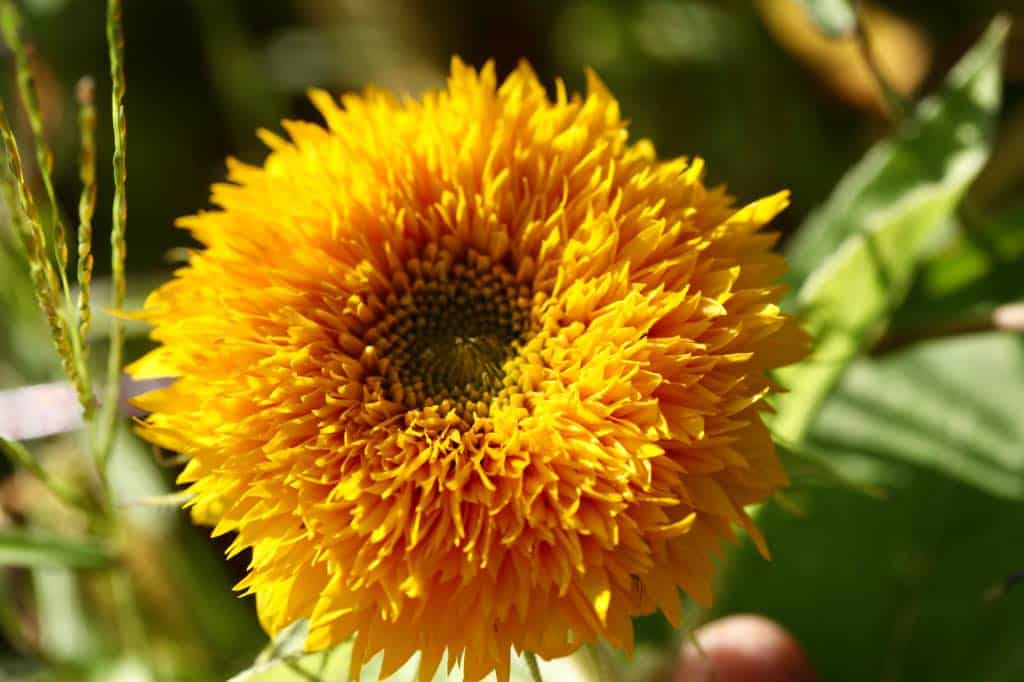 Moisture Requirements
Sunflowers benefit from regular watering, especially while the plants are young and establishing.
Make sure that the seeds receive plenty of water when they are germinating, and do not to allow the soil to dry out at this time.
Once the long taproots have formed, the plants are more drought tolerant.
If growing in containers, make sure not to allow the soil in the container to completely dry out.
Water when the surface of the soil feels dry to the touch. If you see evidence that the plants are wilting, make sure to give them a good watering.
A light layer of mulch, especially in containers, will help to maintain some moisture in the soil.
Light Requirements
Teddy Bear sunflowers, as with all other sunflowers, prefer a full sun location and direct sunlight.
The plants grow best in full sun, and have best flowering potential in this location.
Deadheading
By deadheading branching sunflowers, you will help the sunflower plant to conserve it's energy.
This energy can then be used by the plant for growth and further flowering.
Deadhead each sunflower as it becomes spent.
This allows the plant to conserve the energy it would have otherwise used for seed production. Rather than using this energy to make seeds, the plant's energy is then diverted back to the plant.
To Deadhead A Teddy Bear Sunflower:
This technique applies to sunflowers actively growing in the garden or in containers.
As each flower becomes spent, remove the flower from the plant. Evidence of a spent bloom is when the ray florets begin to wither and fall away from the flower,
Simply cut the sunflower head, as well as the branch that it is growing on.
Cut the branch back to the main central stem of the sunflower plant, using a clean and sharp pair of garden clippers.
Discard the flower and stem, by placing in the compost.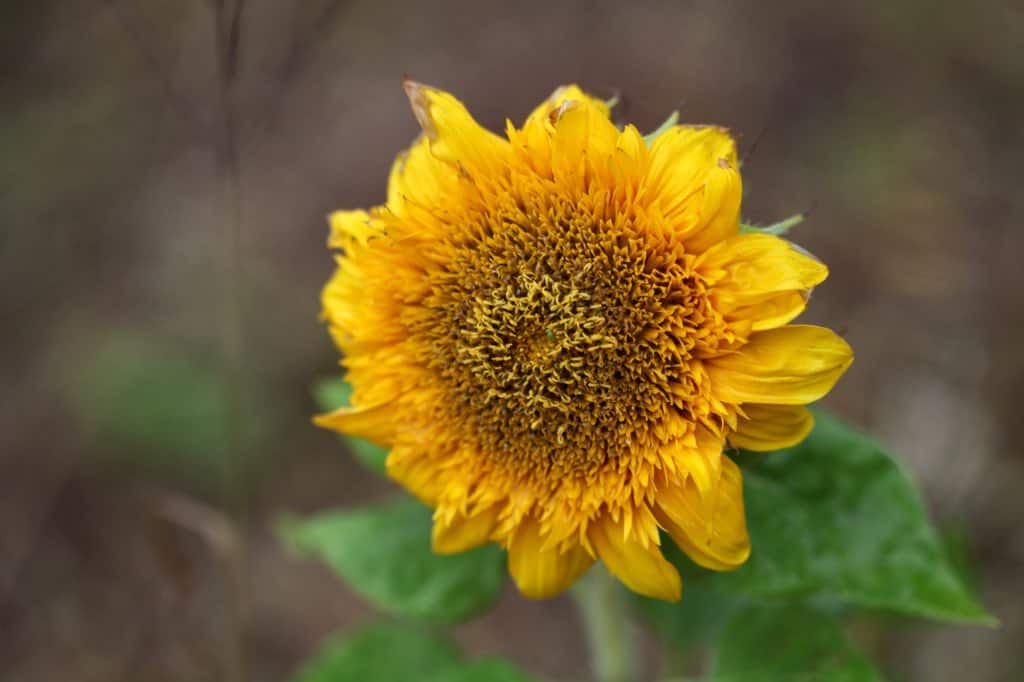 Frequently Asked Questions
Are Teddy Bear Sunflowers Edible?
Teddy Bear sunflowers are edible flowers with edible petals.
You can use the bright yellow petals as an edible garnish, sprinkled over salads and other fresh recipes.
You can also use the individual petals for edible baking projects, such as decorating cookies and cakes.
Are Teddy Bear Sunflowers Annual Or Perennial?
These sunflowers are annual flowers, with a timeframe of 65 to 75 days between germination and maturity. Teddy bear sunflower plants will require planting each year.
There is minimal pollen on this cultivar, however the flowers may still produce some seeds, if left in place on the stem to mature, and allow for seed formation.
Seeds collected will produce plants that look the same or similar to the parent plant, as these are considered to be open pollinated cultivars.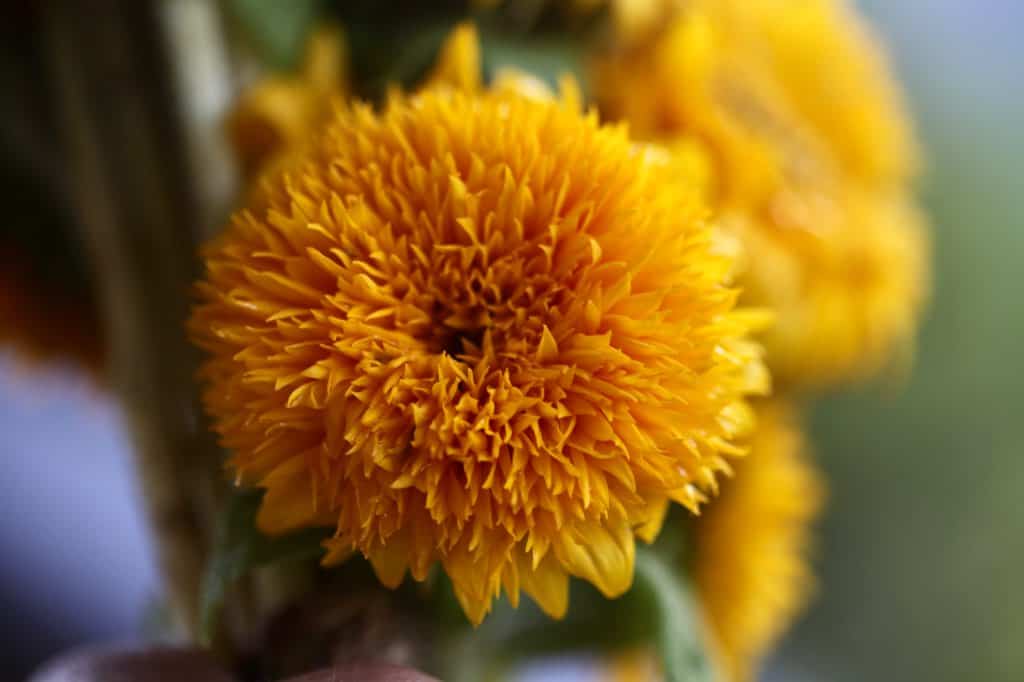 Are Teddy Bear Sunflowers Cut And Come Again?
Teddy Bear sunflowers are not considered to be cut and come again flowers.
Teddy Bear sunflowers are a branching type of sunflower, meaning that more than one flower will be produced on each plant.
Each plant forms multiple branching stems off the main stem. The branching stems coming from the main stem will each produce an individual sunflower.
If you plan to use these sunflowers as cut flowers, you may be able to use multiple stems from each plant over the course of the entire season.
Although the sunflowers are branching, and will often produce more than one sunflower per stem, they are not in the category of cut and come again.
Teddy Bear sunflowers generally produce about three to five blooms per stem. The flowers will bloom in succession, and as the first blooms fade, the next will become mature.
Cut and come again flowers on the other hand produce a multitude of flowers, all season long. The more they are cut from, the more flowering stems are produced.
For these sunflowers, bloom time is generally about 65 days from germination. Once all the flowers have finished blooming, the plants will be finished blooming for the season, since it is an annual plant.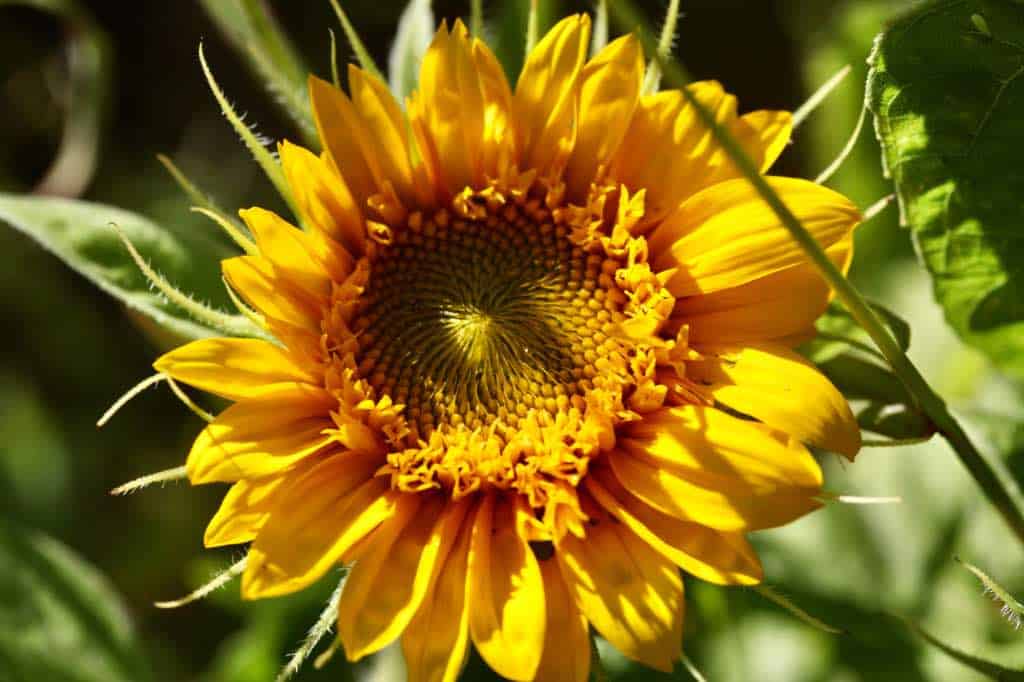 How Long Do Teddy Bear Sunflowers Last?
Each Teddy Bear sunflower bloom will last for up to several weeks, whether used as cut flowers, or enjoyed in the garden.
Proper conditioning of your cut flowers, as well as proper stage of harvest, will extend the life of the blooms.
If harvesting for cut flowers, make sure to harvest at an earlier stage, before the entire face of the bloom is full of flower petals. This will extend the life of the sunflower bloom in the vase.
Do Teddy Bear Sunflowers Rebloom?
Teddy Bear sunflowers do not rebloom per se, although there are multiple blooms on each plant, which bloom in succession, and are in various stages of bloom at any one time.
There are approximately 3 to 5 blooms on each Teddy Bear plant.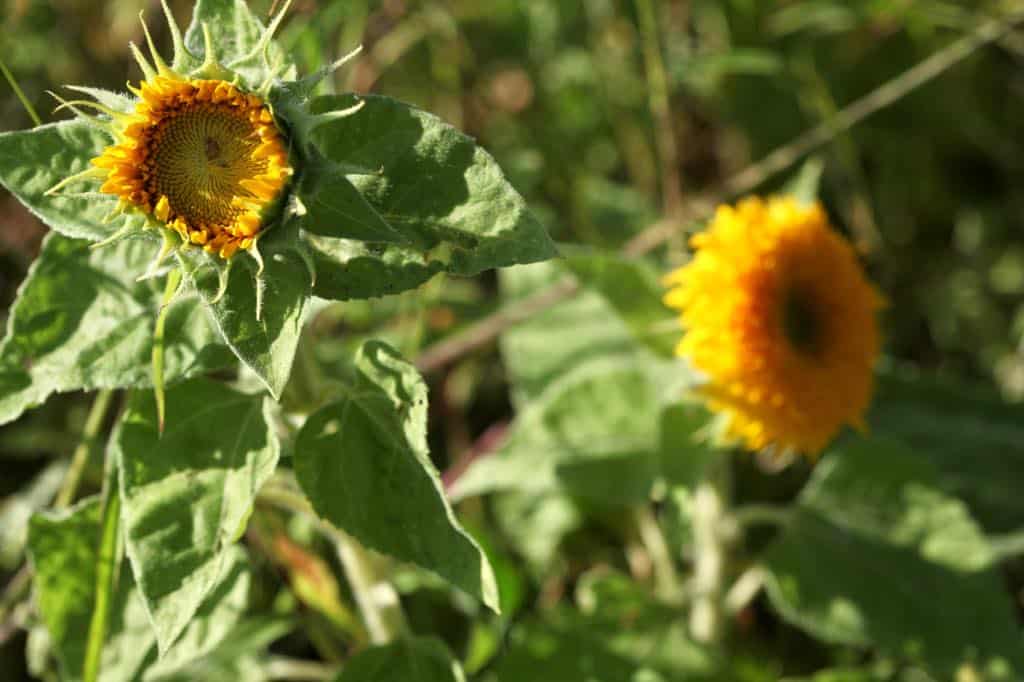 Conclusion
Growing Teddy Bear sunflowers is a fun gardening activity.
Little children especially love the soft and bright blooms on these delightful sunflowers. The double-petaled blooms, and pom pom shape make these flowers so cute.
This open-pollinated dwarf cultivar of helianthus annuus is best grown by direct seeding, and the plants can be grown in the garden or in containers.
Teddy Bear sunflower care is easy, even for the beginning gardener. Try your hand next year at growing some of these delightful sunflower plants, to enjoy both in your garden, and in your vase.
Have you ever provided Teddy Bear sunflower care? Be sure to leave a comment below to share your experience.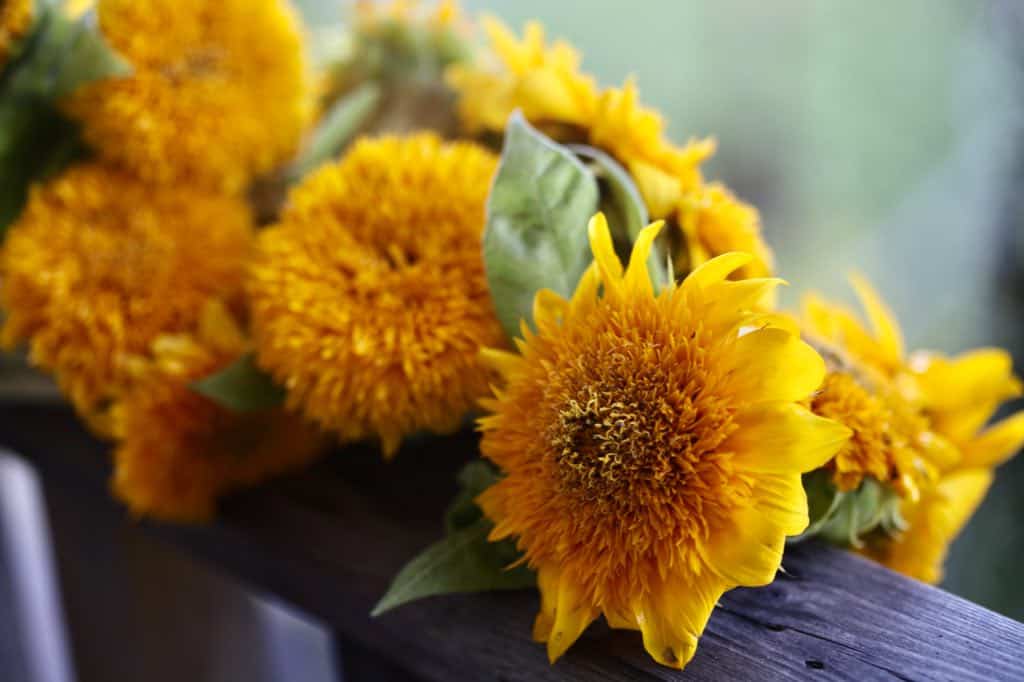 Other Posts You May Like:
PIN IT FOR LATER!