Last updated on August 19th, 2023 at 02:56 pm
Comfrey is a perennial herb, grown for use as an ornamental garden plant with many beneficial uses. The plant has a long history of use in herbal medicine, as well as use as a natural fertilizer. Learn how to propagate comfrey, and multiply the comfrey plants in your herb garden.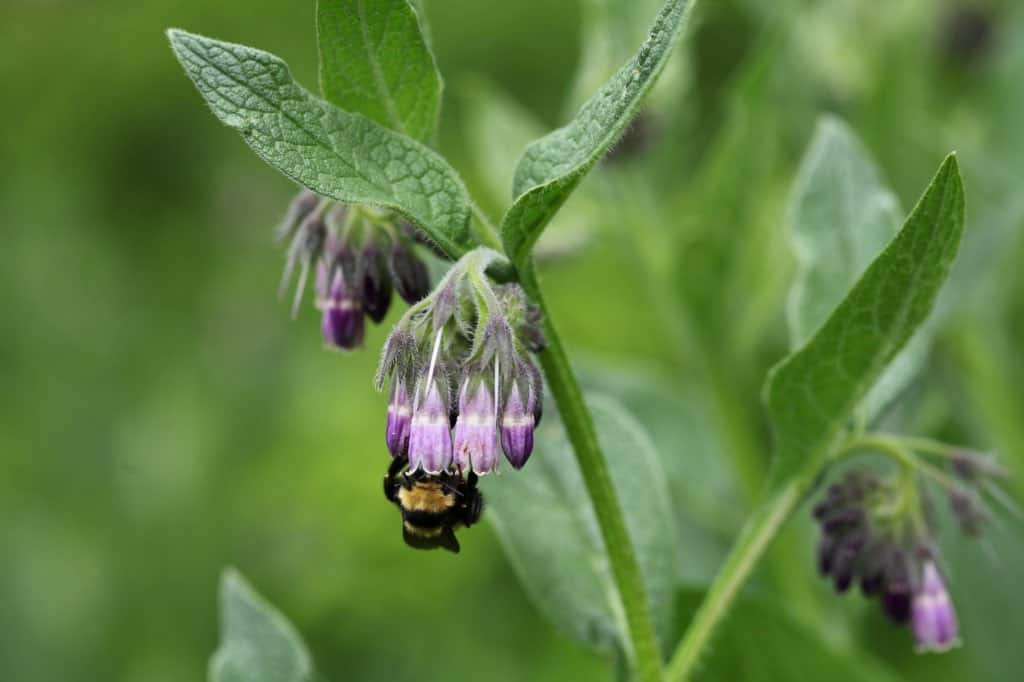 You can't go wrong with growing a patch of comfrey. This rather large herb has a number of beneficial uses for the garden, and is a versatile plant to have in the garden space.
One important thing to know about growing comfrey however, is that you should decide it's final growing spot before it is actually planted. This is because once it takes hold, it will likely be there for a very long time.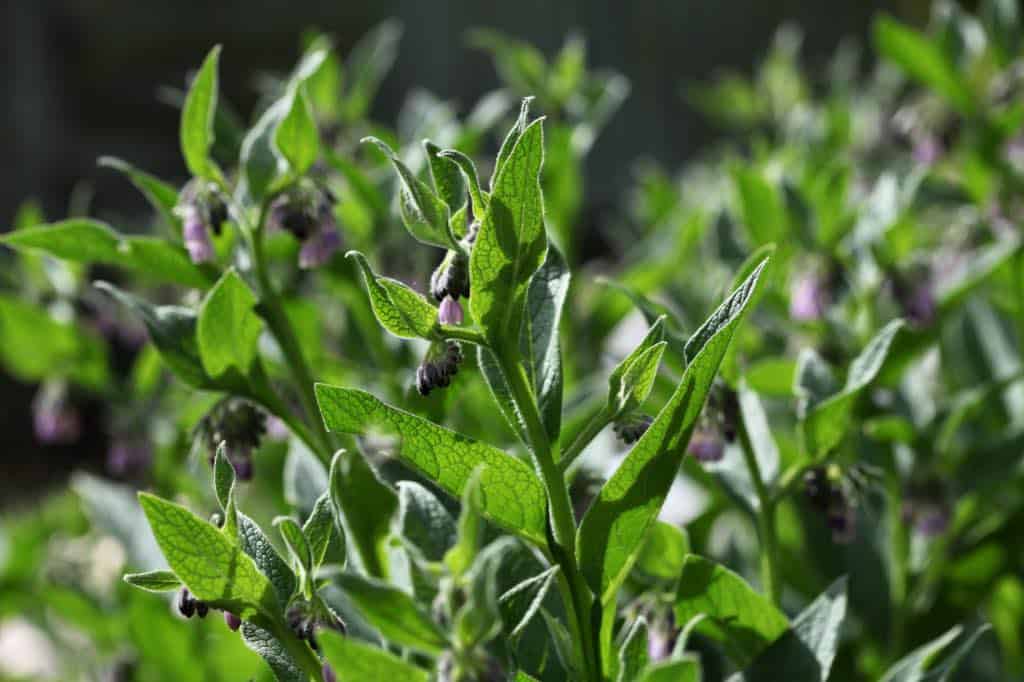 Comfrey And It's Uses
The Comfrey Plant
Common comfrey, or Symphytum officinale, is a popular variety of comfrey. This plant, also known as "true comfrey", is an herb native to Europe, that is now grown in many different parts of the world.
Comfrey is a fast-growing plant, and in ideal conditions the plant can grow to be 3 to 5 feet in height.
The comfrey plant produces large leaves which are lance shaped, and covered with coarse hairs.
The plant also produces an abundance of unfurling bell-shaped flowers beginning in late spring and throughout the growing season.
Depending on the variety, these beautiful flowers can be found in different shades of pink, white and lavender.
The plant is most valued for it's deep root system with a long taproot, and it's ability to draw nutrients from deep within the ground.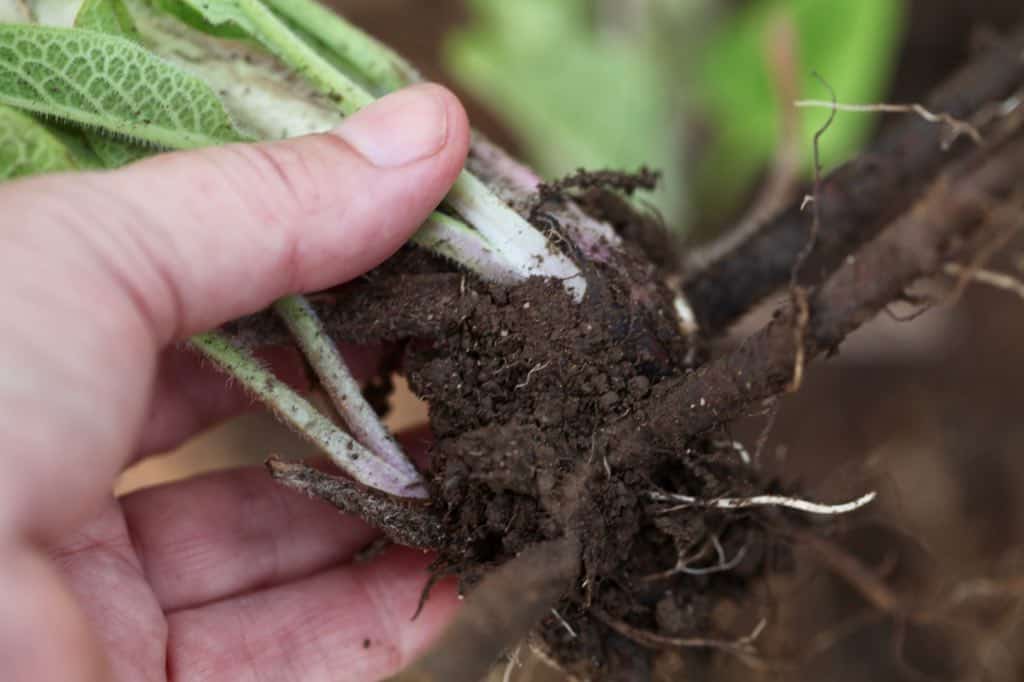 The History Of Use
Comfrey has a wide range of uses, from herbal applications, to permaculture and organic gardening applications.
Herbal Use
Traditionally, in herbal medicine, comfrey has a long history of medicinal use. The plant has been used to treat skin wounds, and inflammation from sprains and bone fractures.
One of it's common names is in fact "knit bone".
Comfrey roots are a rich source of the compound allantoin, which is known to promote cell growth. This makes the comfrey plant well suited for herbal use, such as in a topical treatment for wound and bone healing.
Internal use of the herb is not recommended however, due to it's content of pyrrolizidine alkaloids. These alkaloids can cause liver injury, and even death, if used in large amounts over time.
As well, comfrey products should not be used on any open wounds, and should only be used for a short duration, up to 10 days at a time. The comfrey can be absorbed through the skin, and therefore may present a risk.
Comfrey is not recommended for use on children.
It's always recommended to consult a healthcare professional before using any medicinal herbs as a treatment for medical conditions.
For more information on comfrey and it's herbal use, refer to this article from Mount Sinai on the comfrey plant.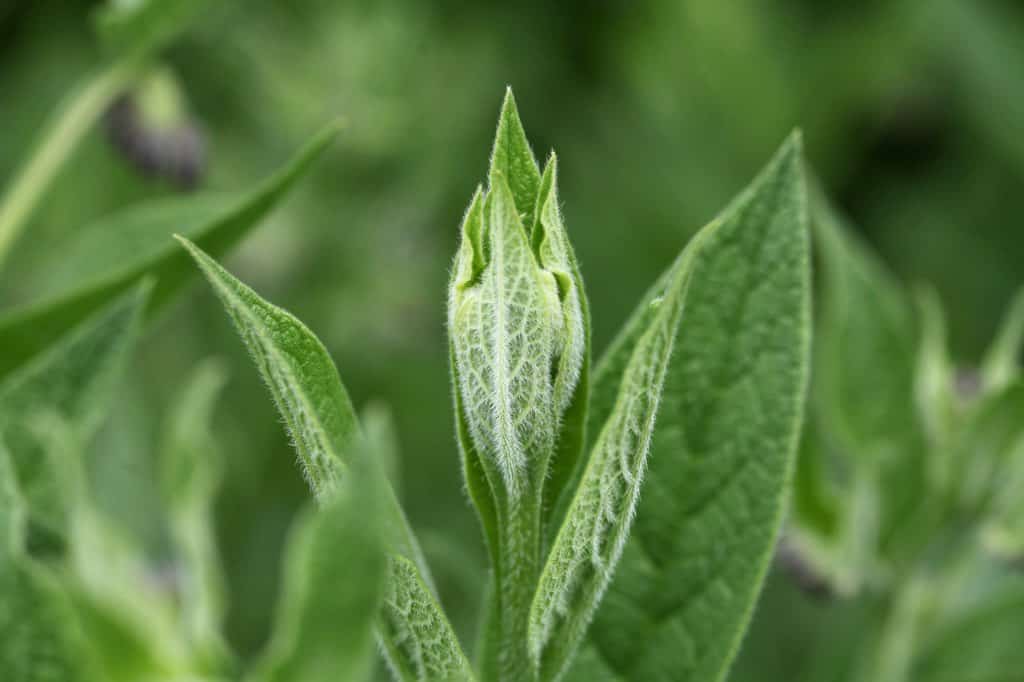 Use As A Natural Fertilizer
Comfrey has long been used in permaculture and organic gardening due to it's ability to draw nutrients from deep within the ground. These same nutrients are eventually released back into the soil, contributing to soil fertility.
The plant is known to be a dynamic accumulator of important nutrients, such as nitrogen, phosphorus, and potassium.
The deep roots draw these nutrients from deep within the ground, and then deposit the nutrients into the leaves of the plant.
These nutrient rich plant parts make an excellent choice for composting. To use for compost, add a layer of comfrey leaves to the compost bin on a regular basis.
The hairy leaves can also be used around the garden as a natural fertilizer, contributing to soil health and fertility.
The leaves make an excellent mulch, which quickly turns brown and crispy.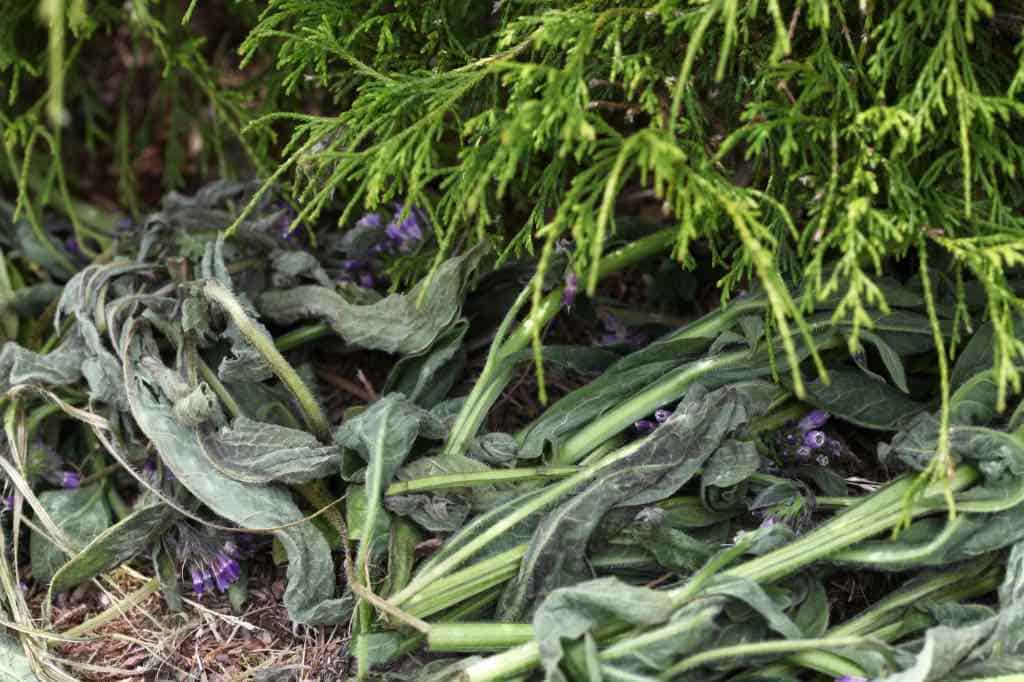 As a green mulch the leaves can be placed directly on the soil, where they will quickly decompose and add all their goodness to the soil. Place the leaves right onto the garden, or on the ground under fruit trees for some additional fertility.
You can also make a comfrey tea from the leaves, to use as an natural fertilizer for the garden.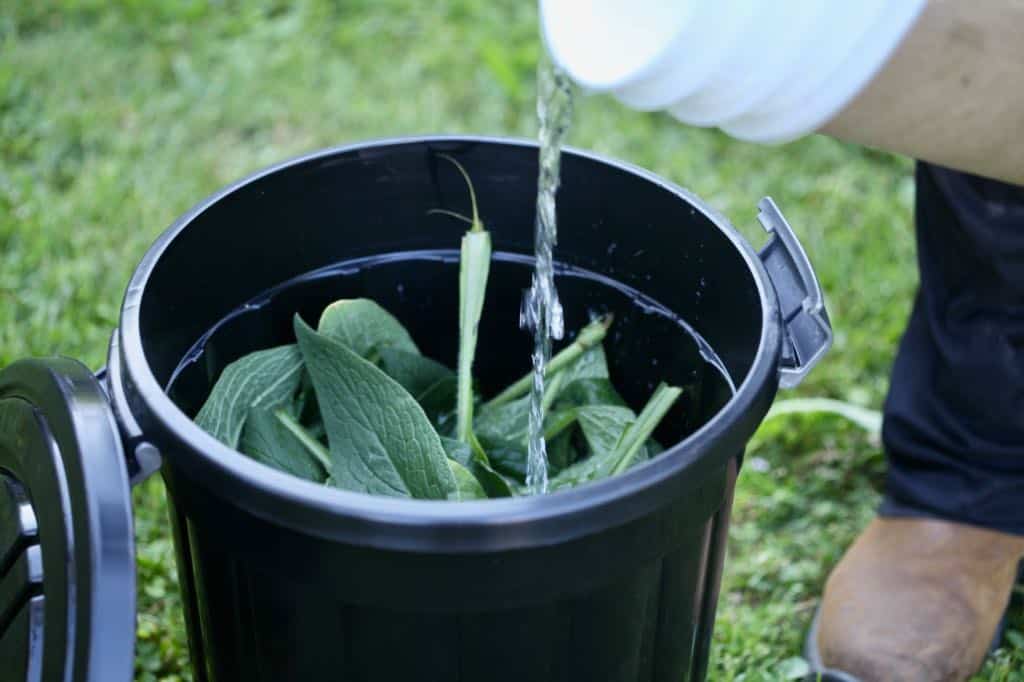 Great Companion Plant
Comfrey attracts bees and beneficials to the garden space.
The flowers are rich in nectar and pollen. When in full bloom, the comfrey patch is absolutely buzzing with pollinators and beneficial insects.
The plant can also help to deter some garden pests, with it's strong scent.
Comfrey brings those nutrients to the surface of the soil, that more shallow rooted plants may not have access to. These other garden plants therefore benefit from the goodness stored within the comfrey plant.
At the end of the season, all that nutritious foliage composts back into the soil, making the space around the comfrey plants fertile and healthy.
Sustainable Choice For The Garden
Comfrey is a sustainable choice for the garden.
This hardy plant is relatively low maintenance, thrives within many different types of environments, and is a drought tolerant plant.
The nutrients which it brings to the surface of the soil are returned to the garden at the end of the season, when the comfrey plant decomposes. This nutrient cycling makes comfrey a sustainable garden plant.
The deep roots of the comfrey plant can also help to break up compacted soil, and over time contribute to improvement of the soil's structure and fertility.
Keep in mind that these deep roots will also make the plant difficult to remove once it becomes established, so choose your planting spot carefully.
It may be best to make a separate comfrey bed, to give the plant it's own space in which to grow.
The Benefits Of Propagating Comfrey
When you propagate comfrey, you are essentially increasing the number of comfrey plants, and making more plants for the garden.
Considering the benefits of the plant and it's multiple uses, the more comfrey plants that you grow will increase your access to all of the great things that comfrey can do.
I like to use comfrey as a natural fertilizer in the garden. I tend to use the leaves throughout the season as a green mulch, which is just so easy to do.
The more plants in the comfrey patch, the more comfrey foliage that is accessible for use.
So let's have a look at different methods for propagating comfrey.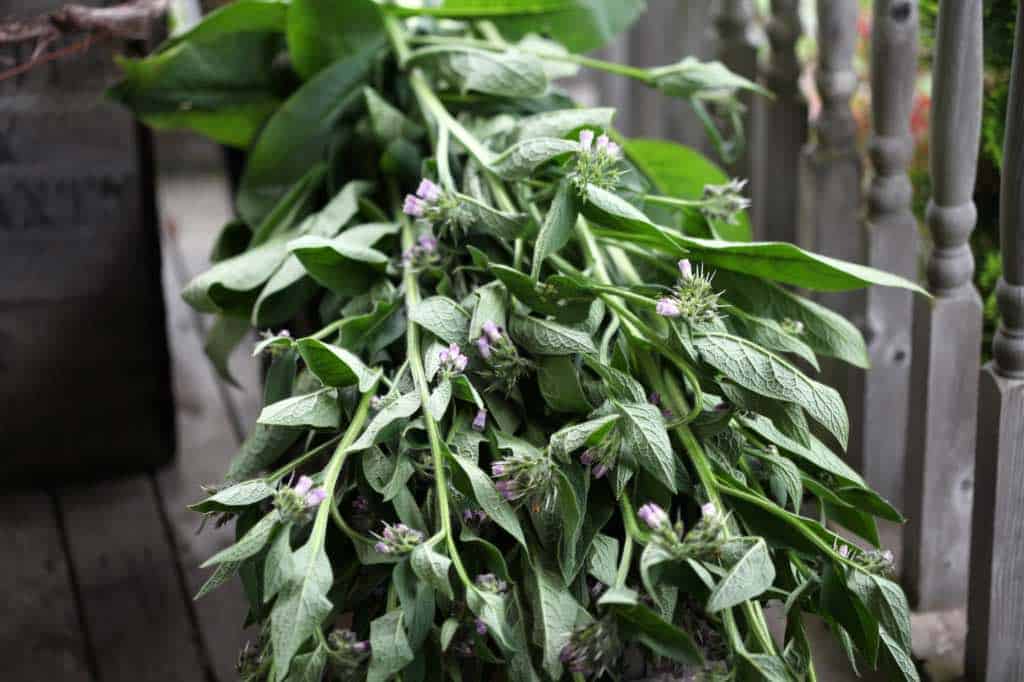 Methods For Propagating Comfrey
Comfrey is quite easy to propagate from division, root cuttings, and from seed.
The plant can be easily propagated from root offsets as well as crown offsets.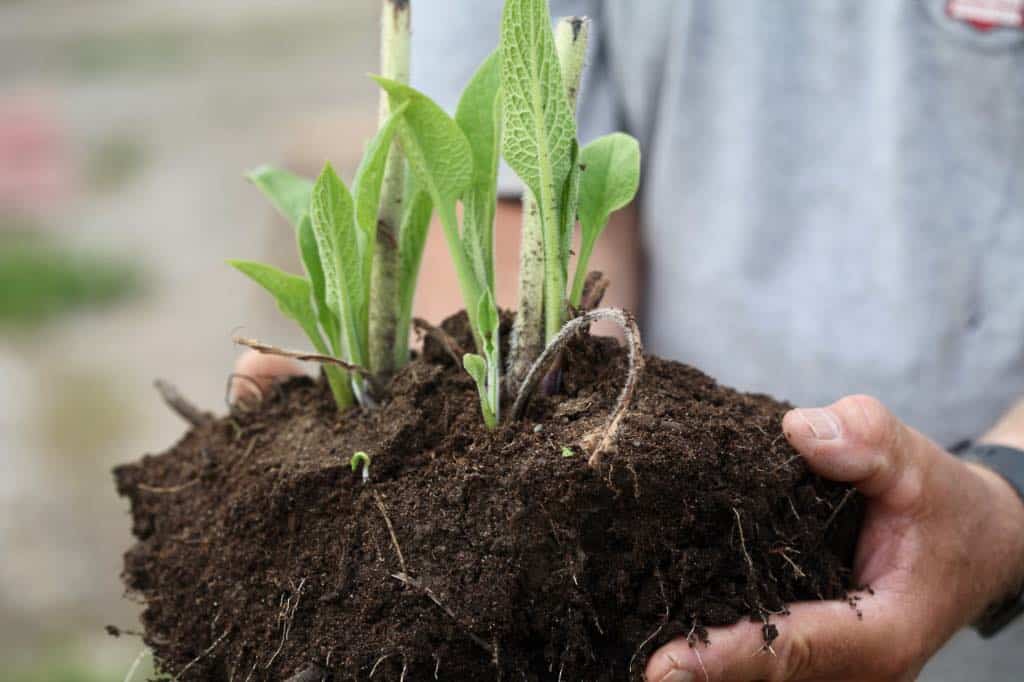 Propagating From Division And Root Cuttings
Root cuttings or root offsets are sections of the parent comfrey plant's root system, that can be used to propagate new plants.
Crown offsets are portions of the plant that include part of the crown, which is the area where the stem and root meet.
Division of a comfrey plant involves division of the plant by digging up a piece of the growing plant with the roots intact.
Division of a comfrey plant and taking root cuttings can occur at the same time. This is because sections of roots will be exposed at this time.
The same goes for crown offsets, which can be taken when the comfrey is lifted and divided.
The best time to propagate the comfrey plant by division is in early spring when the plant is still dormant. However, the plant can also be divided during active growth, and will generally quickly bounce back from the stress of the procedure.
To divide a comfrey plant dig around a shoot of the plant with a sharp clean shovel. Push downwards on the handle of the shovel, working around the plant until it is released from it's growing location.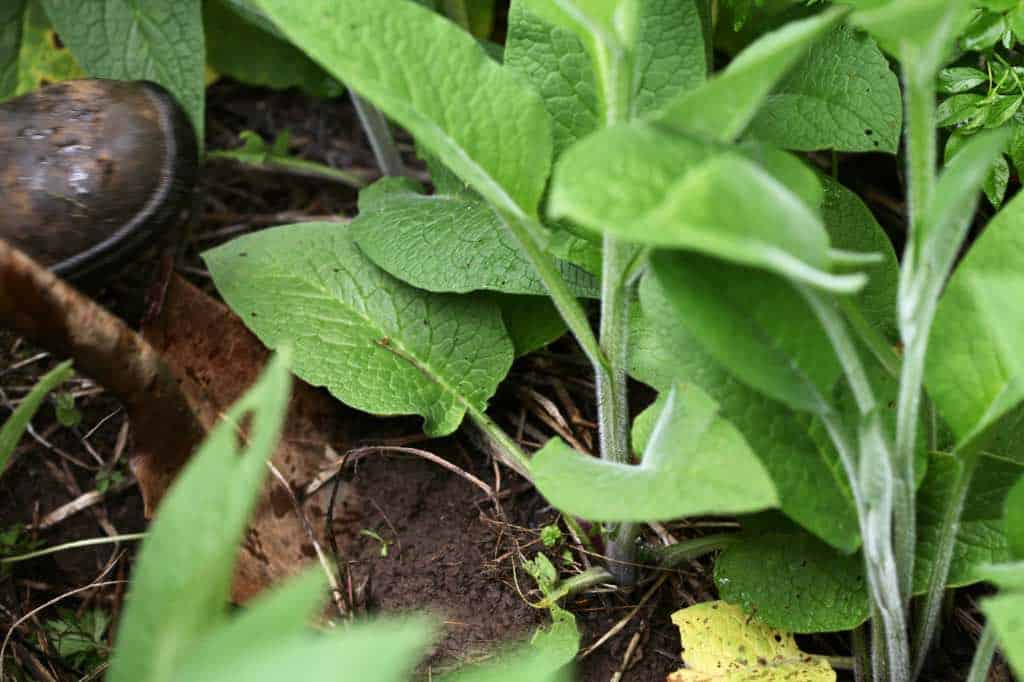 You will likely also break some larger roots of the plant in the effort to separate the plant from the clump. This is completely normal.
The divided piece can be divided even further into smaller pieces, and then planted accordingly.
You may also have some small pieces of roots exposed during the division process.
To take root cuttings, cut the roots into 3 to 6 inch pieces, and plant each piece horizontally approximately 3 inches below the level of the soil.
Pieces of the comfrey root with part of the crown attached will have a great chance for successful propagation.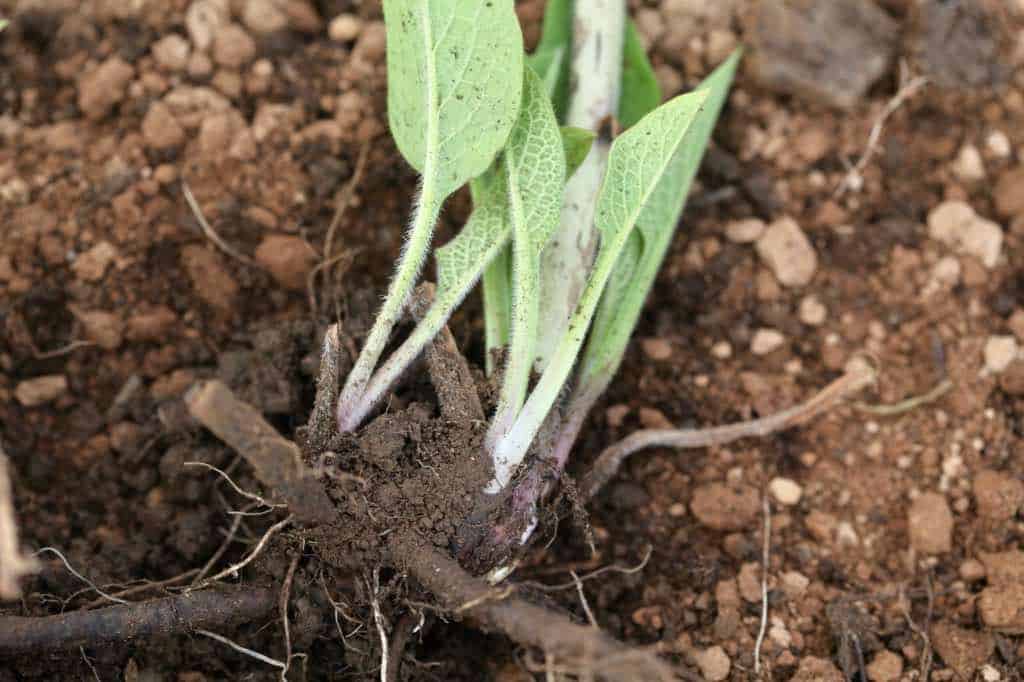 Growing Comfrey From Seed
Growing comfrey from seed will take longer to get a mature sized plant than when grown from division or cuttings. However there are always benefits with growing from seed as well.
If you have no comfrey in your garden to take pieces or cuttings from, growing from seed is a good way to get started.
Seed will also allow you to grow different varieties of comfrey, especially if you are looking for a specific cultivar which may be difficult to access at your local nursery.
Russian comfrey however, will not be able to be grown from seed, as these varieties of comfrey are sterile.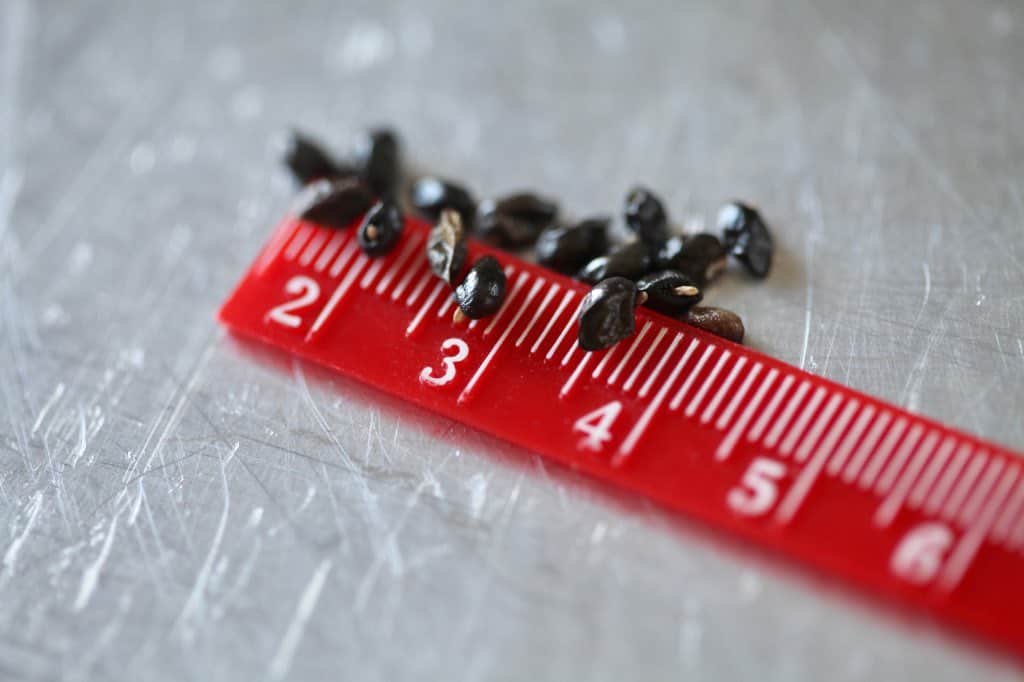 Comfrey seed can be started indoors in cell trays, directly sown into the garden, or winter sown during the winter months in protected containers.
Sow the seeds 1″ deep, and cover with soil.
Before planting indoors make sure to stratify the comfrey seeds in the fridge, providing a period of moist cold chill.
I used the winter sowing method in milk jugs to successfully propagate my comfrey seeds this season. This sowing method naturally stratifies the seeds, and gets them off to a great start.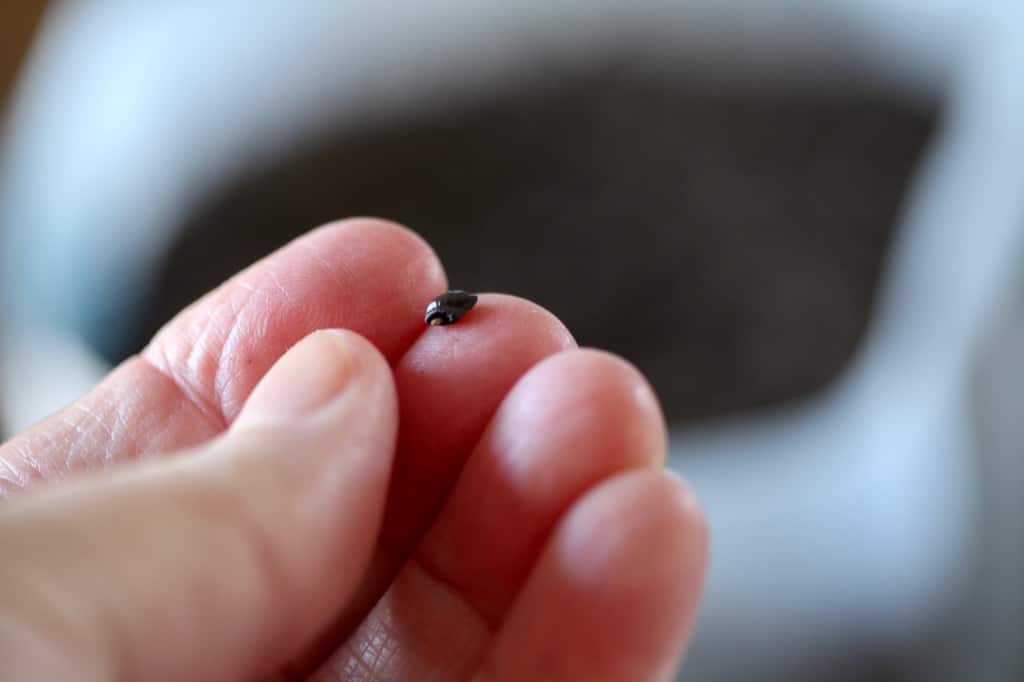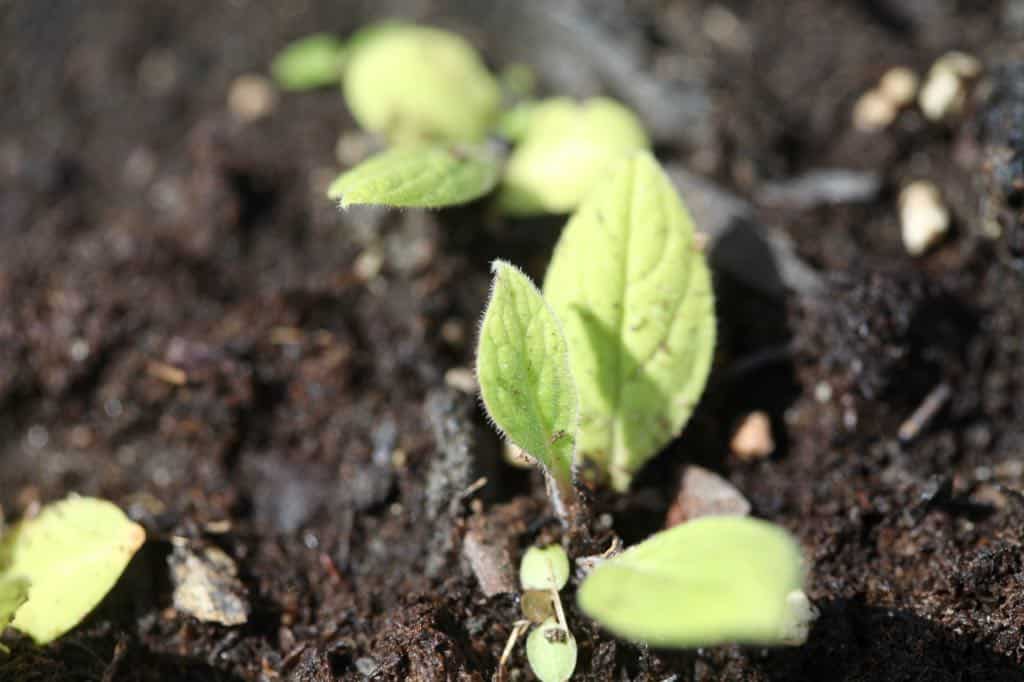 Planting Comfrey In The Garden
Once you have taken the comfrey cuttings, or divided the clump into smaller pieces, the comfrey divisions or cuttings can then be placed directly into the garden.
Plant the plant divisions and live root cuttings approximately 2 to 3 feet apart. Water in well after planting, and maintain a moist soil if possible while the new plants are establishing.
The plants will eventually spread and fill in the open spaces.
Be sure to plant at the same soil surface level in which the plants were removed from the garden.
Do not be surprised if the comfrey leaves on the plant divisions turn brown and fall off shortly after planting. This is normal, and the plants will bounce back.
Within a few weeks you will see evidence of new growth and fresh leaves at the base of the plant. The plants will generally recover fairly quickly.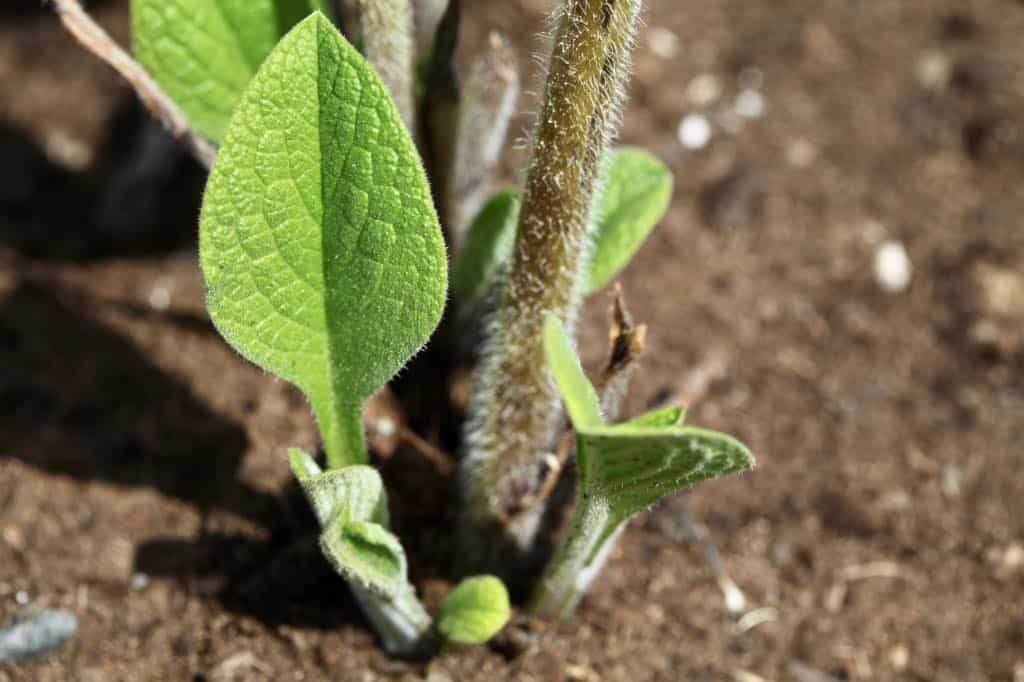 Plant comfrey seedlings grown from seed in the same manner, with the same spacing.
During the first year these seedlings will grow and establish good root systems.
As with most herbaceous perennials, it will take a few years before the young plants which were started from seed, become mature plants and begin to flower.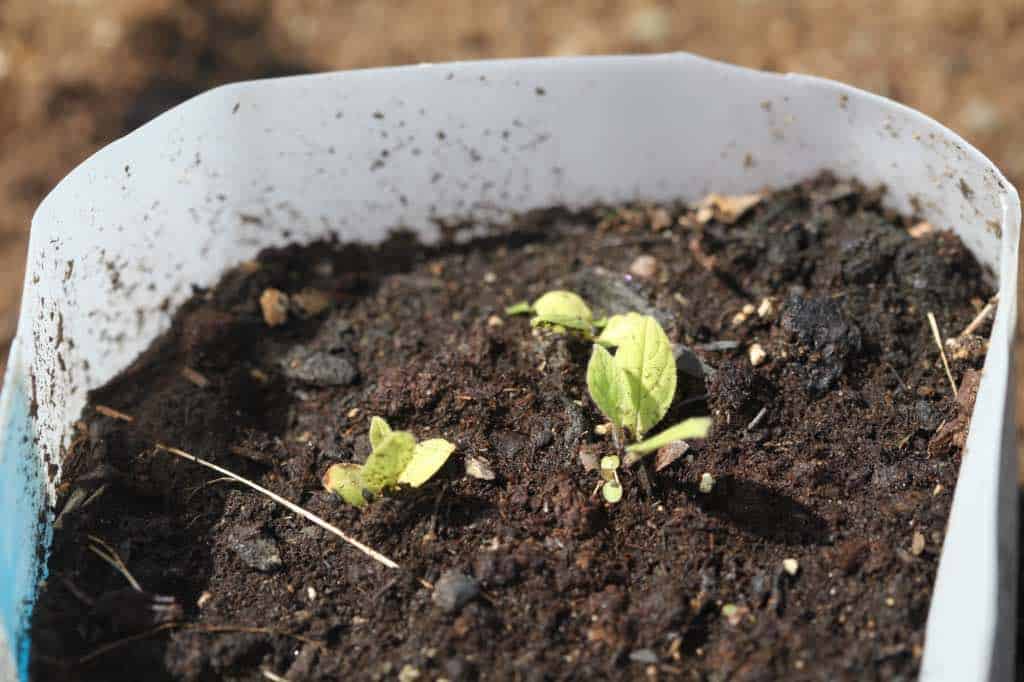 Optimal Conditions For Growth
Growing Zone
Light Requirements
Comfrey will grow well in full sun to partial shade locations.
In warmer growing zones, afternoon shade is preferred to avoid the hot midday sun.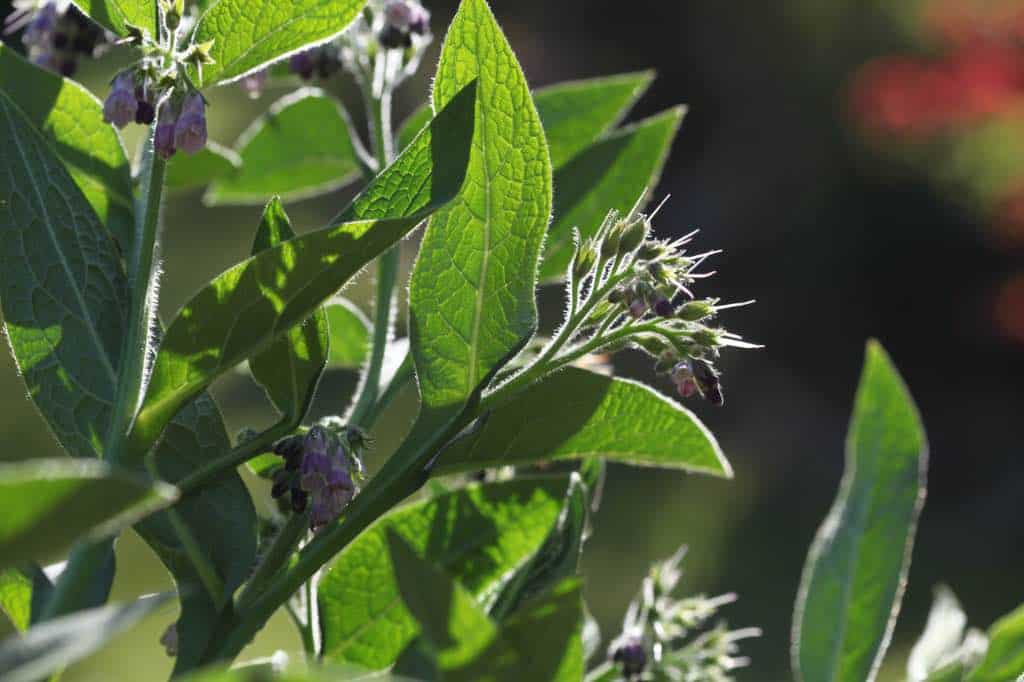 Moisture Requirements
Comfrey can easily be grown in both wet and dry soil conditions.
The plant grows best however, in moist soil.
Comfrey will tolerate drought-like conditions once it is well established.
Soil Requirements
Comfrey can adapt to a wide variety of soils, but prefers a rich soil.
The plant thrives in moist clay soil, sandy soil, and rich fertile soil which is full of organic matter.
Frequently Asked Questions
How Long Does Comfrey Take To Grow From Cuttings?
Comfrey grows quickly, and will become established in it's new growing location within several months.
You may see new plant growth within several weeks after planting.
What Does Comfrey Do For The Soil?
Comfrey enhances the fertility of the soil when it breaks down and decomposes.
The deep roots also help to break up hard compacted soil, adding to soil health and aeration.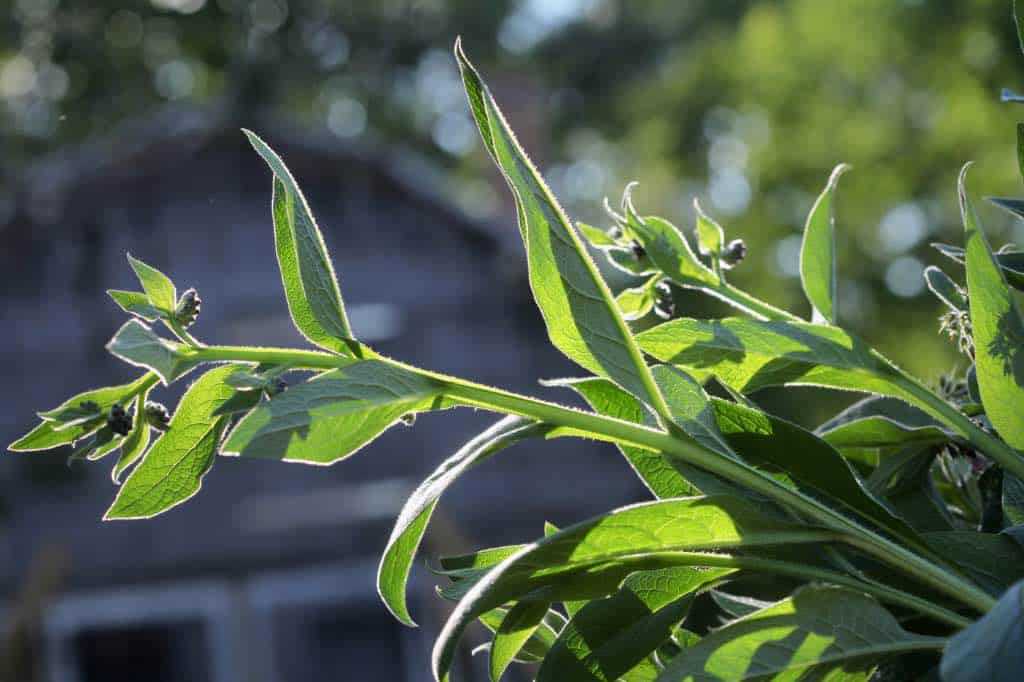 Is Comfrey Invasive?
Comfrey is known to be invasive in some locations, such as the Eastern US (as noted by Washington State University County Extension), and Western Canada (as noted by Invasive Species Council Of BC), so check for invasiveness in your area before planting.
In those areas, comfrey has been known to escape the garden. Comfrey can be toxic to livestock if it makes it's way into pastures where livestock graze.
In these cases the plants are likely spread through seed distribution.
There is a variety of comfrey known as Russian Comfrey ( Symphytum x uplandicum), which is a sterile hybrid and does not produce viable seeds.
Also known as "Russian Bocking", this plant is a hybrid between common comfrey (Symphytum officinale) and prickly comfrey (Symphytum asperum).
There are several strains of Russian comfrey, all of which are sterile.
One cultivar of Russian comfrey is known as Bocking 14.
This comfrey variety is a preferred cultivar, because it's sterility prevents reseeding and spread. This cultivar of Russian comfrey can be propagated by root cuttings.
The plant also produces a larger biomass with larger leaves than many other types of comfrey. This makes it an ideal choice for mulching and composting purposes.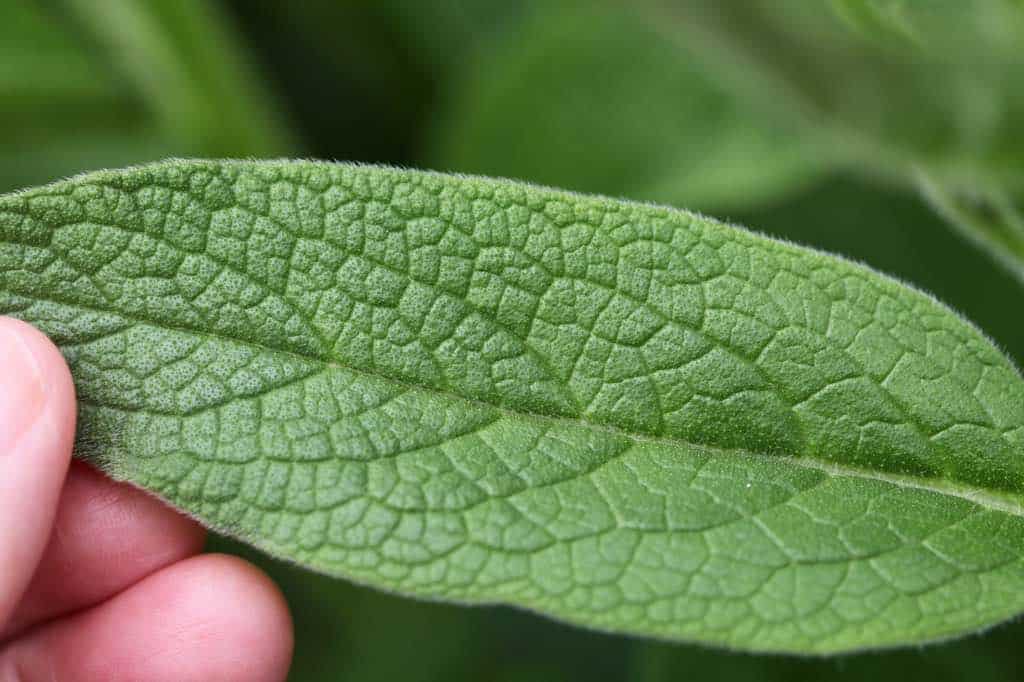 Conclusion
The comfrey plant is easy to propagate to create new plants.
Comfrey can be used as a soil amendment, and this is how I use it in my own garden. Growing more plants using these propagation methods has given me more access to this natural and low cost fertilizer.
The plant also brings lots of pollinators into the garden, which is a bonus.
Just be aware that the comfrey plant is considered to be invasive in some locations. As well, due to it's deep root system and ease to grow from root cuttings, the plant may be difficult to remove from the garden once it is well established.
If you've got the green light for propagate and grow comfrey, consider propagating this wonderful herb, and bring this beneficial plant into your garden.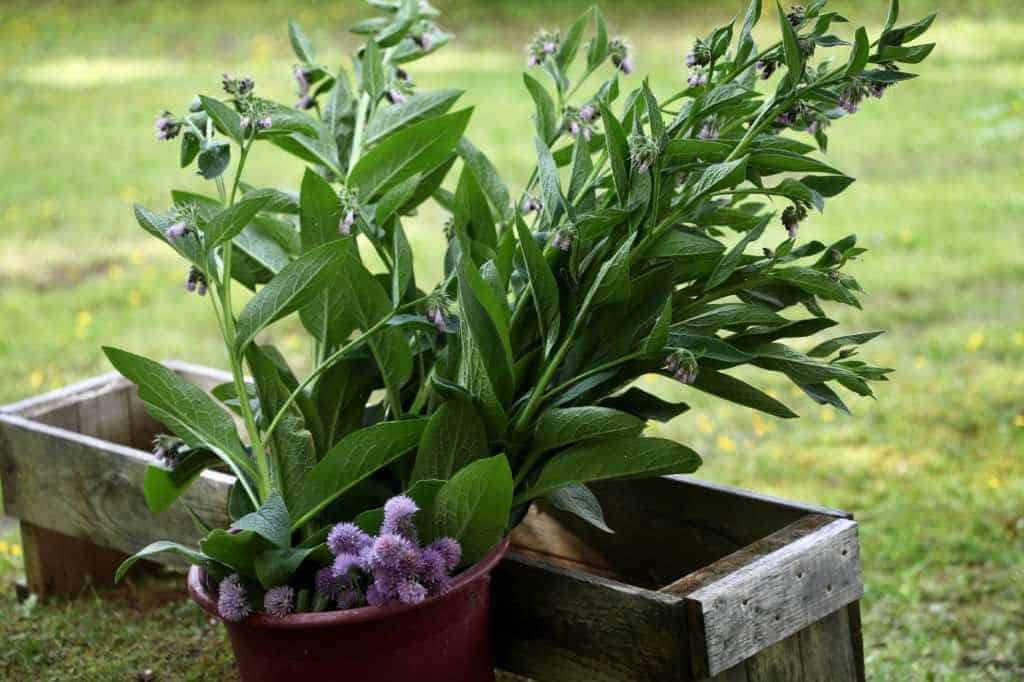 Have you ever tried to propagate comfrey? Be sure to leave a comment below to share your experience!
Other Posts You May Like:
PIN IT FOR LATER!