Last updated on October 22nd, 2023 at 06:10 pm
In this post we will look at how to grow comfrey and how to use it as an amazing fertilizer in your garden.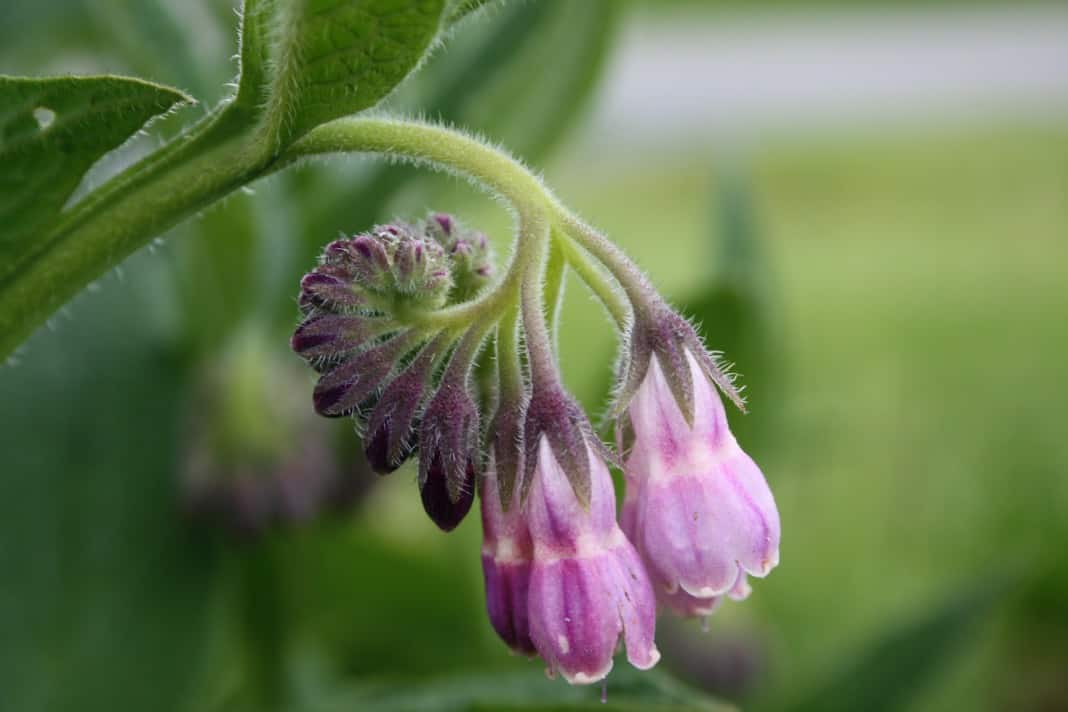 We have grown comfrey for many years in our garden. It is an interesting plant with valuable benefits for the garden.
Let's first take a look at the characteristics of the plant, which is helpful in understanding how to grow it.
What Is Comfrey?
Comfrey ( Symphytum officinale ) is an ancient, healing perennial herb in the borage family, that has been used for many centuries for medicinal purposes. Today comfrey is used as a soil enhancer and fertilizer for the garden. The leaves are nutrient rich in phosphorous, potassium, calcium, and nitrogen, and contain all the essential nutrients for plant growth.
Comfrey was cultivated in monastery gardens in ancient times, and used by monks who provided care for the ailing.
The old common name for comfrey was "knitbone". The plant was used as a treatment for musculoskeletal problems such as sprains and fractures, as well as other medical ailments.
Comfrey should never be taken internally, and is considered to be poisonous if ingested. The toxic substances in comfrey are called pyrrolizidine alkaloids.
The FDA banned oral products containing comfrey in 2008.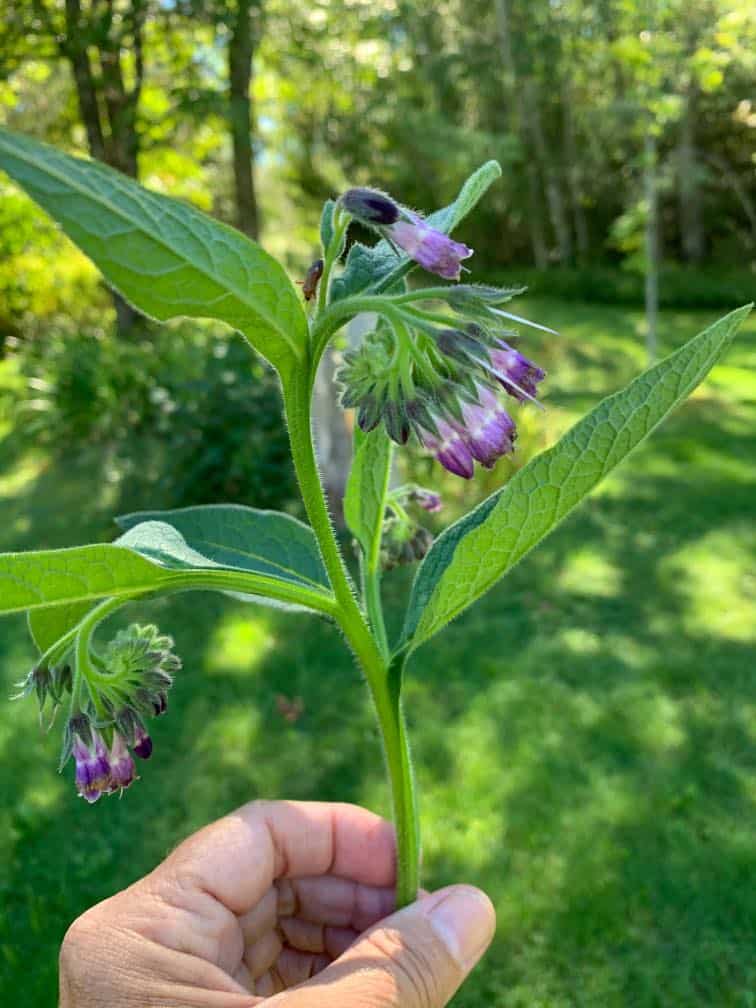 It should be noted that there are many plants and flowers in our gardens that should not be ingested.
These all have their place in the garden, including comfrey.
Comfrey remains a wonderful garden herb . It's spiralling florets are magnets for bees and pollinators.
I have always appreciated the artistic form of new comfrey flowers as they unfurl, and have taken many closeup shots of these pretty flowers.
We use comfrey as a fertilizer in our garden, and for the beneficial effect of drawing pollinators into the garden.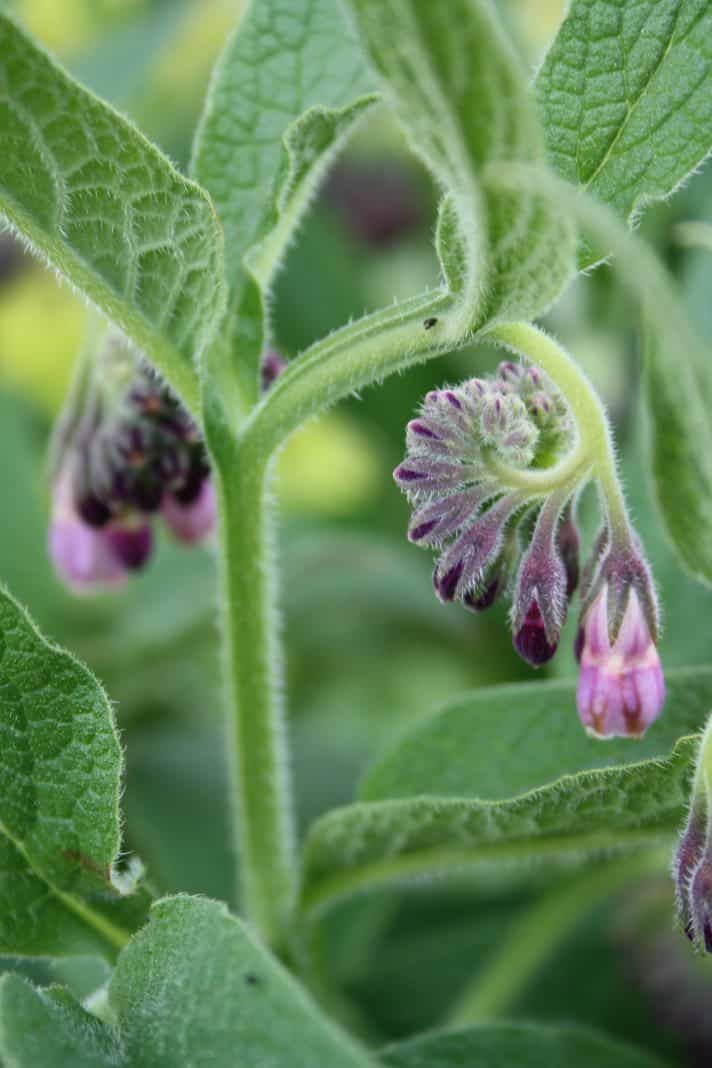 How To Identify Comfrey:
You can identify comfrey by looking closely at the flowers and leaves of the comfrey plant for certain characteristics. Mature plants can grow up to three feet tall and three feet wide.
Comfrey Flowers:
Comfrey flowers grow in clusters. The colour of the flowers are pink, purple, or creamy white.
These flowers are bell shaped, and fairly small at approximately two to three centimetres in length.
The flowers attract bumbles bees, and the plant blooms all summer long.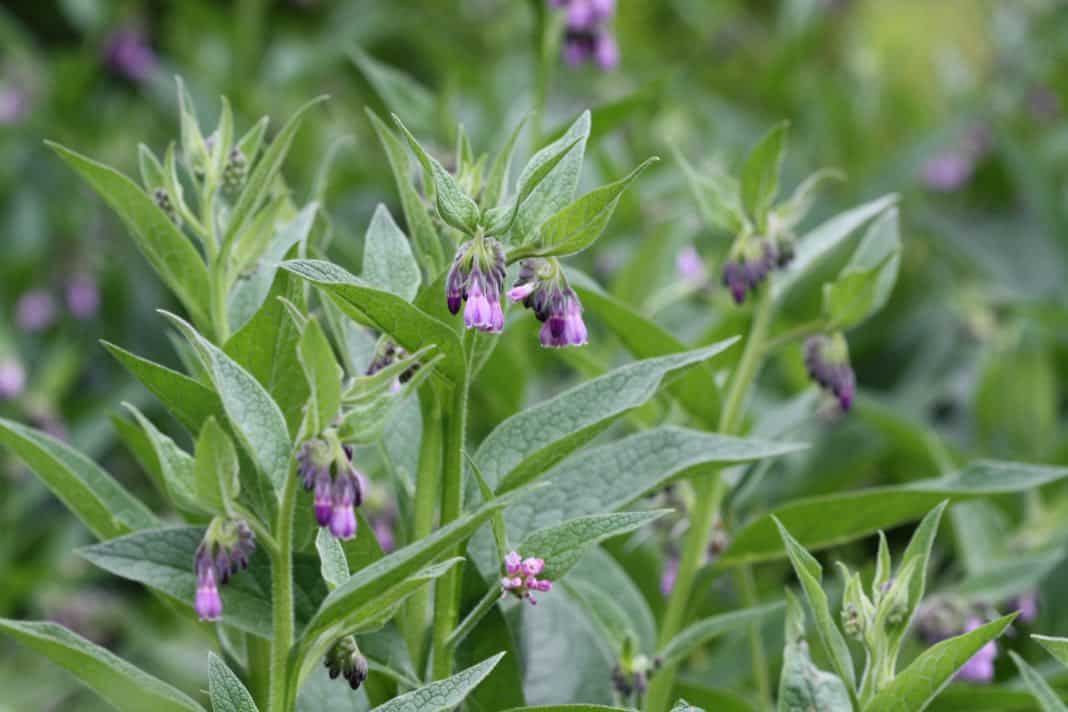 The Comfrey Leaves:
Comfrey's lance shaped leaves are green with a deep veining pattern.
The leaves are rough and course with hairs on both surfaces of the leaves.
It is interesting to see how the comfrey leaves grow in a spiral pattern around the main stem of the plant
Comfrey Roots:
The comfrey plant has a long taproot that extends deep into the ground.
These roots can grow up to three metres long.
The roots mine for nutrients, and bring those valuable nutrients up to the surface, into the foliage of the plants.
Comfrey leaves are full of the beneficial nutrients phosphorous, potassium, calcium, and nitrogen.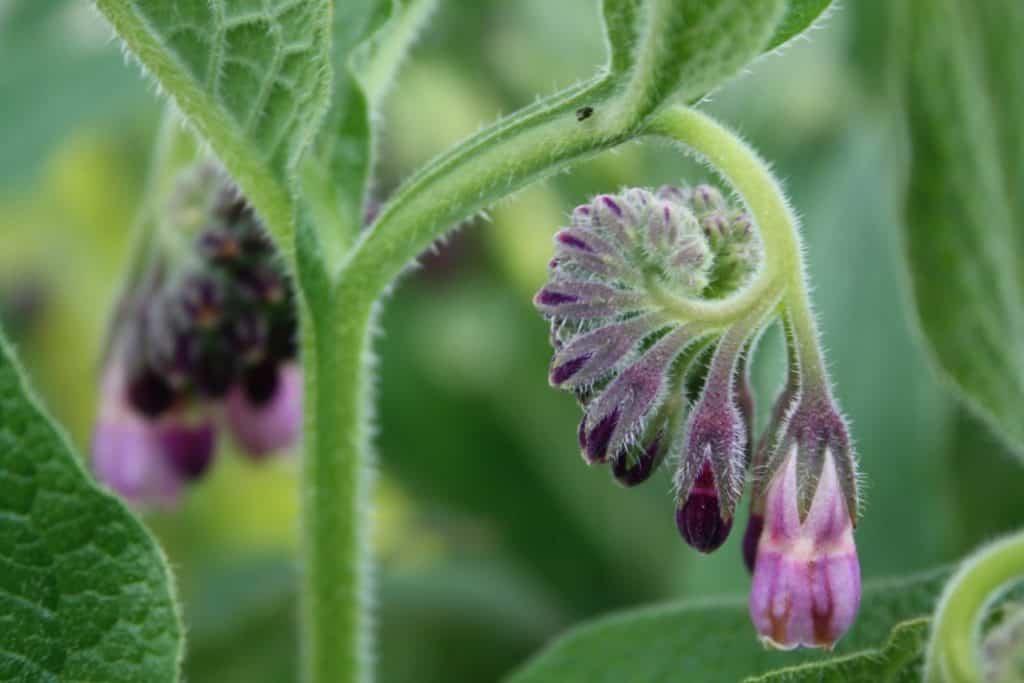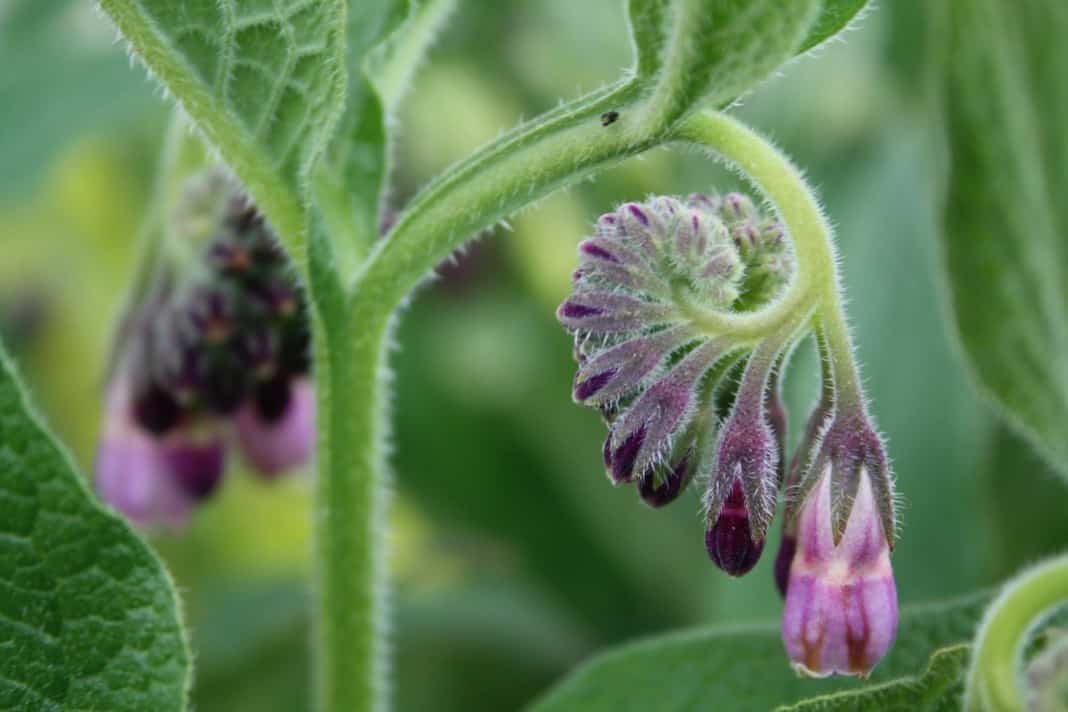 How To Grow Comfrey
Comfrey can be grown easily from seed, division, or cuttings.
Growing comfrey from seed:
You can grow comfrey from seed.
Comfrey ( Symphytum officinale ) will produce seed.
Plant the young seedlings in spring to allow good growth of root systems before winter.
Grow comfrey from divisions:
To grow comfrey from division, just dig around the existing comfrey plant with your spade or shovel.
Cut the plant in half with your implement.
Some of the roots will break during this process but the plant will be okay.
Fill in around the original plant with the garden soil. The plant will recover from the division and will regain it's original size within a year.
Plant your new division in your predetermined location.
Wherever you plant your comfrey, it will be remains for years to come, so choose the location wisely!
Growing comfrey from cuttings:
Just dig up a piece of established comfrey, and take some of the roots. Cut the roots into two inch sections.
These root pieces can be potted up, and hopefully will develop into a new comfrey plant.
Plant your new rooted plants into the garden when they are established and growing leaves.
When planting your comfrey into the garden, make sure that you water your plant in well.
Where Does Comfrey Grow Best?
Growing location:
Comfrey prefers to grow in full sun to partial shade.
Plant in a loamy well drained soil.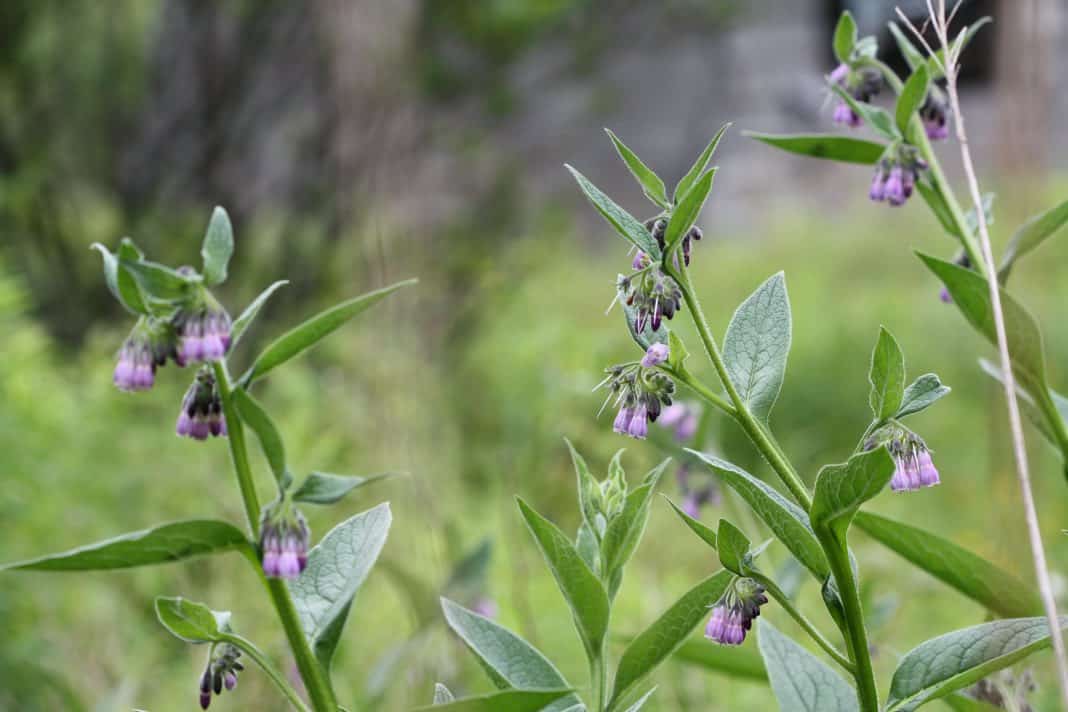 Comfrey Uses In The Garden
Wear gloves when harvesting comfrey, because the leaves can cause skin irritation.
Comfrey can be used as a soil enhancer and fertilizer for the garden.
It will also attract bees and beneficial pollinators into the garden.
Comfrey's leaves are full of macro and micro nutrients, which makes it an ideal garden fertilizer.
Comfrey can be used as a mulch in the garden by placing the leaves around your plants.
Compost your comfrey leaves in your compost bin, and use the compost to help nourish your vegetables and flowers .
Make comfrey tea from the leaves of the comfrey plant, and nourish your plants with a liquid feed.
Comfrey can be planted as a permanent rhizome barrier to prevent the creeping of other plants from one location to another.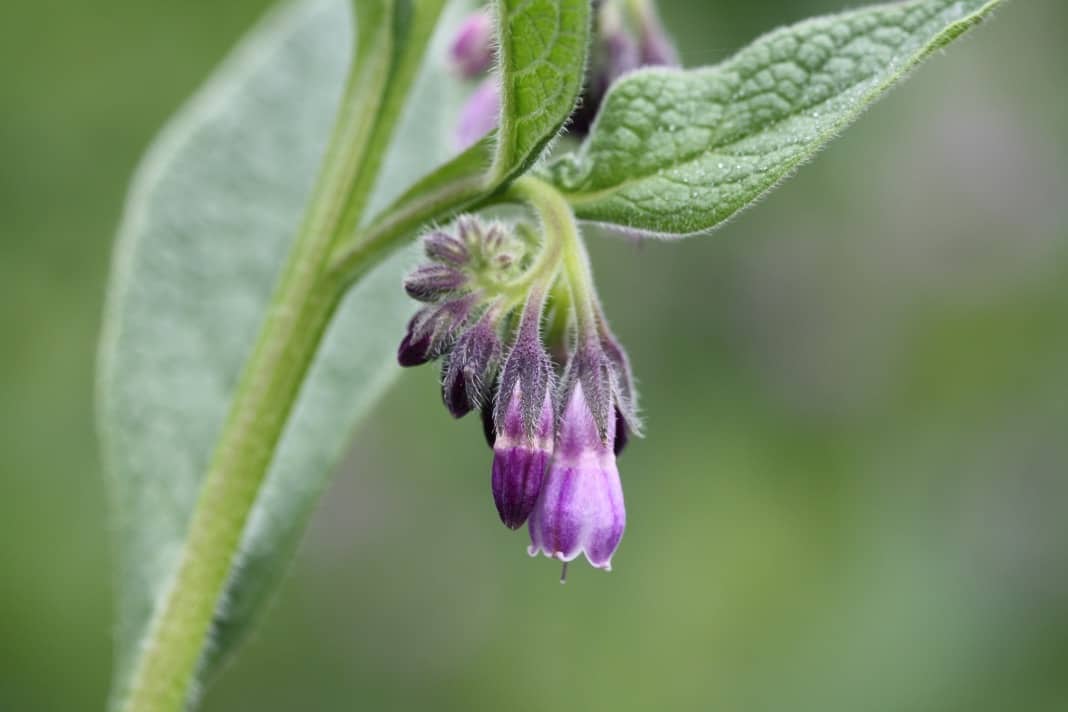 How To Make Comfrey Tea
It's very simple to make comfrey tea.
Fill a five gallon bucket with freshly harvested comfrey leaves.
Next fill the bucket with water and cover tightly.
Set aside for three to four weeks in a sunny location to allow the leaves to break down and decompose.
The tea should be ready in three to four weeks. Strain the remaining comfrey leaves from the tea.
You can add those leaves to your compost pile!
Place the finished tea into a container or jug with a lid.
Beware, the comfrey tea will have a very strong odor!
Dilute the comfrey tea by mixing it with water in your watering can.
Dilution strength of the tea is one part tea to three parts water.( ie. fill can 1/4 tea to 3/4 water). Further dilute the mixture to half that strength to water young plants and seedlings (ie. fill can 1/8 tea to 7/8 water).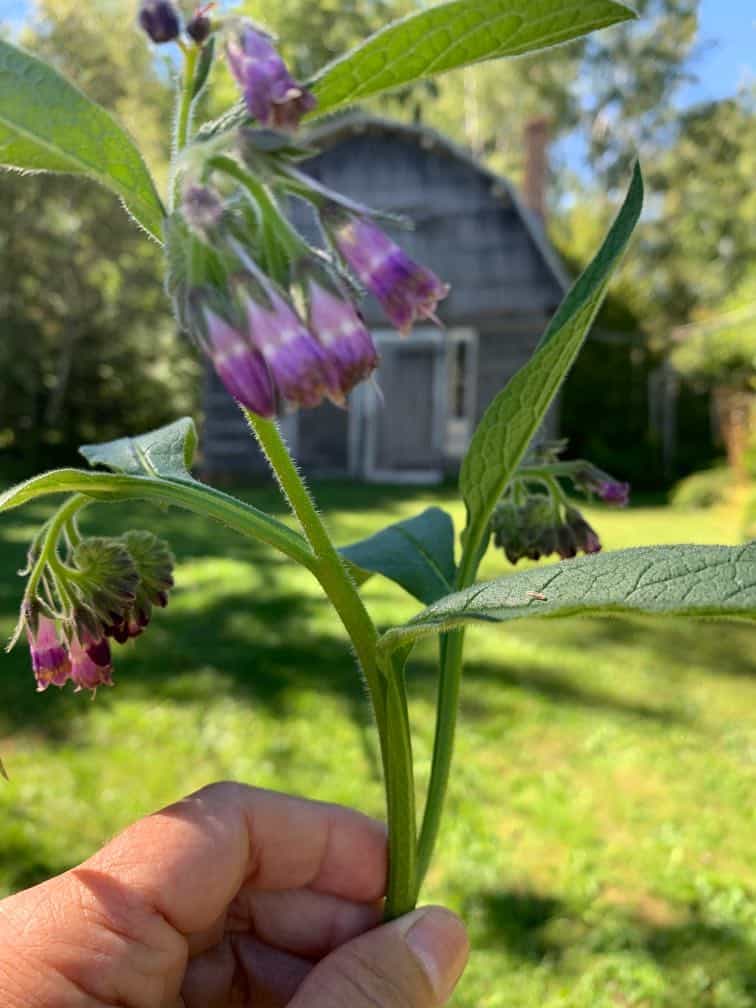 Is Comfrey Easy To Grow?
Comfrey is very easy to grow and transplant.
We dug up plants from my mom's garden, and transplanted them into our own. They tolerated the transplanting process well, without issue.
Comfrey can establish incredibly well, no matter where you plant it.
Remember to choose your planting location wisely:
The long tap root of comfrey grows deep into the ground, and the plant will remain where you put it for a very long time.
Is Comfrey Deer Resistent?
Comfrey is deer resistant.
Deer are smart and tend not to eat plants that are toxic or bitter.
We are always happy to find a plant that the deer don't eat!
Have you planted comfrey in your garden? Do you use it to fertilize your garden plants?
PIN IT FOR LATER!