Last updated on November 24th, 2023 at 09:22 pm
Scabiosa, also known as Pincushion flower, has an adorable flower that is shaped just like a pin cushion. The blooms appear to be covered with tiny pins with beaded heads, just like the pins in an old fashioned pincushion. Learn how to grow scabiosa, and enjoy these sweet blooms in your own garden.
Scabiosa is an easy to grow flower that's perfect for the cutting garden.
We have been growing several different cultivars of scabiosa over the past few years, and really enjoy the interesting look of the blooms.
One of the cultivars, Scabiosa Stellata, not only produces beautiful muted creamy blooms, but also very intriguing pods that have an other-worldly look.
These plants are also known as Starflower, and deep inside the seed pod segments you will find tiny star shaped formations in the centre of the individual discs.
We have also grown Scabiosa atropurpurea Black Knight as a complimentary planting with our Black Button Bachelor buttons.
Another name for this dark coloured Scabiosa is Mourning Bride, which I found quite fitting.
These blooms are so dark that they are almost black in colour, and the dark purple flowers are very attractive in bouquets.
Another variety of Scabiosa atropurpurea that we have grown in our garden is Fata Morgana, grown for it's vintage cream coloured blooms. I absolutely love the old fashioned appearance of this flower.
All of these varieties are attractive hardy annuals that grow well in our zone 5b location.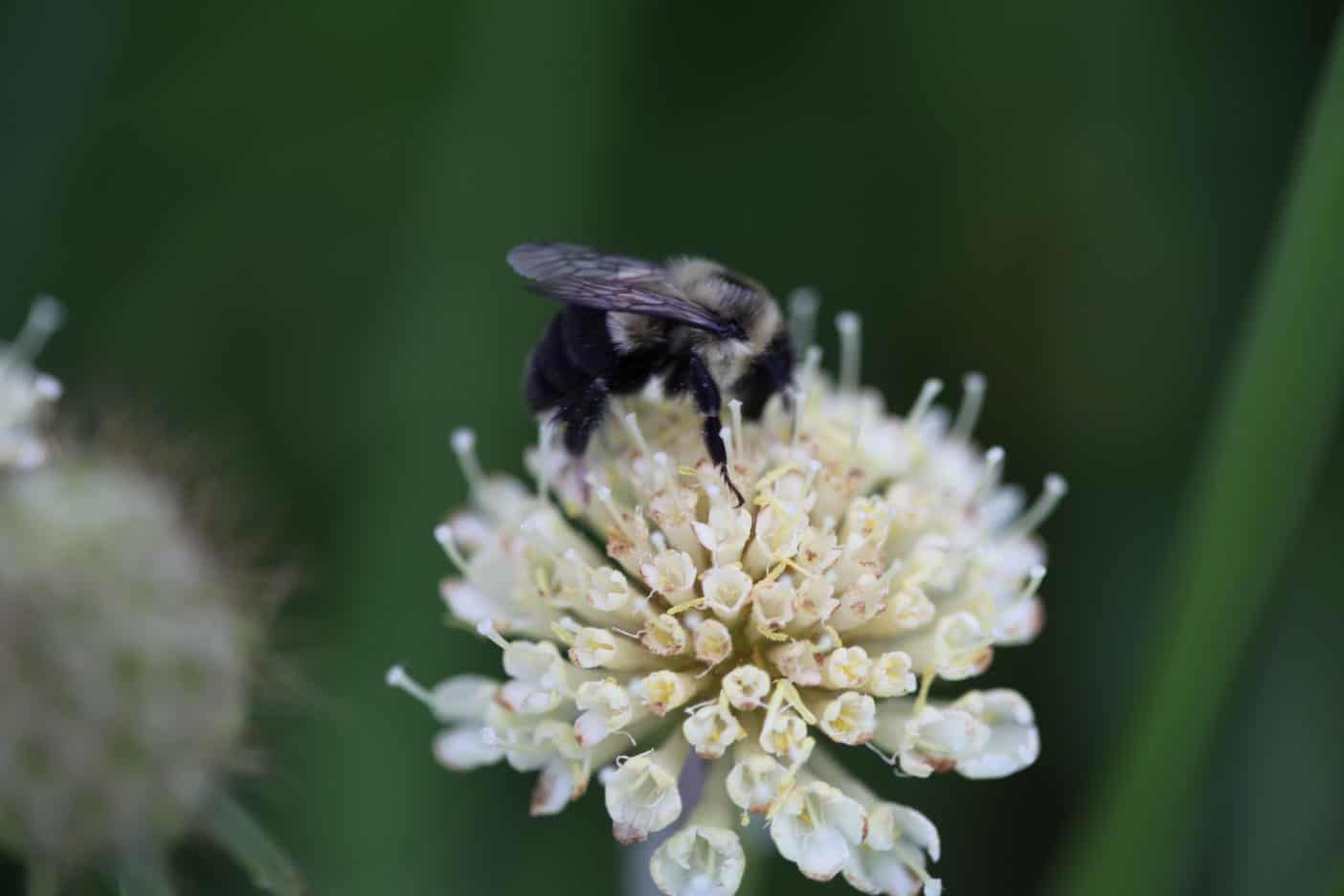 What Is Scabiosa?
Scabiosa is a flowering plant in the Genus Scabiosa, that belongs to the Subfamily Disacaceae in the Family Caprifoliaceae. This is the honeysuckle family.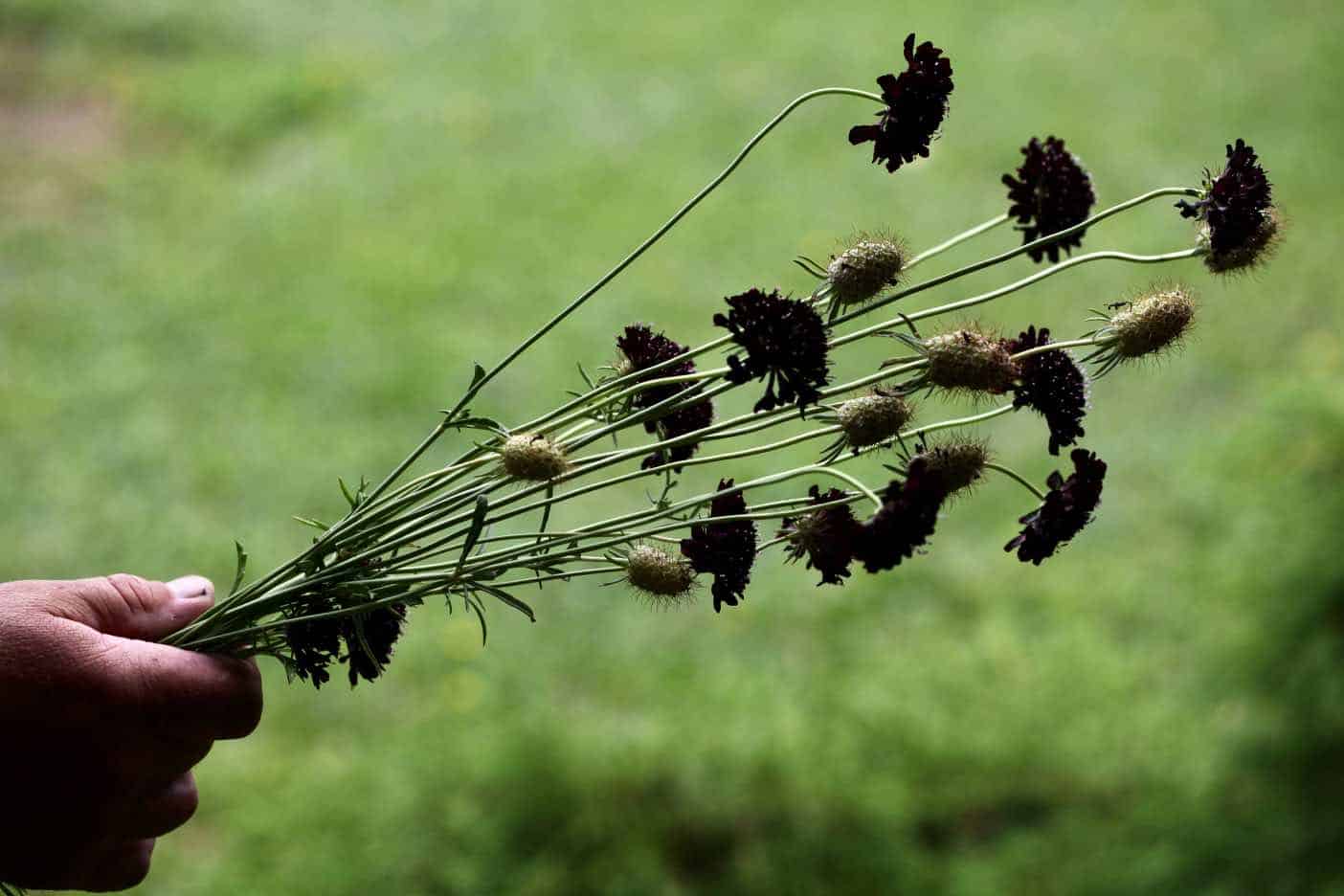 Within the Scabiosa genus there are a number of species which include both annual and perennial flowering plants.
Scabiosa has a number of common names.
One of the common names is Pincushion Flower, due to it's resemblance to a pincushion. Another common name is Scabious. This name comes from the plants history of traditional use as an herbal treatment for scabies.
Scabiosa is also called drumstick flower, which is another common name for these interesting flowers.
The plant has long stems and can grow to be two to three feet tall in ideal locations. Our Scabiosa stellata did not reach it's maximum height the first year we grew it, and was less than a foot tall without the proper soil conditions.
Scabiosa species are most often found in shades of blue, purples and creams.
Annual blooms are generally about 1.5 to 2.5 inches in diameter, while their perennial counterparts can be a bit larger with flower heads at 2.5 to 3.5 inches in diameter..
Scabiosa has nectar-rich flowers which are great for the pollinators and beneficial insects, and can attract many different pollinator types into your garden.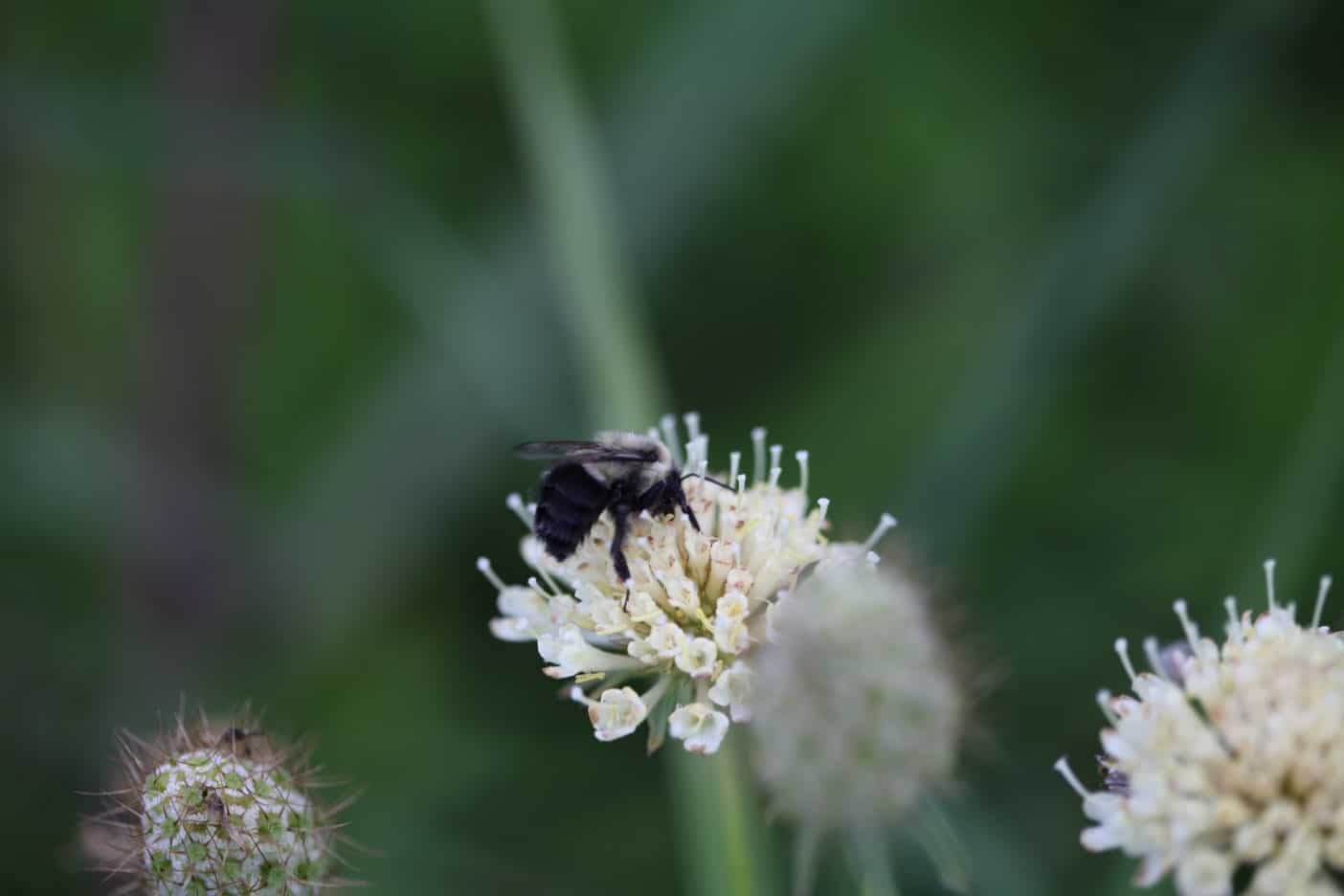 Do Scabiosa Come Back Every Year?
Annual pincushion or Scabiosa will not return again each year, unless of course the plants have reseeded. Then they will return as new plants which will germinate and grow for one season only.
Perennial scabiosa species can come back every year. Some perennial varieties are herbaceous perennials, and others are woody perennials.
One favourite to grow in the perennial garden is Scabiosa caucasica 'Fama', a herbaceous perennial plant.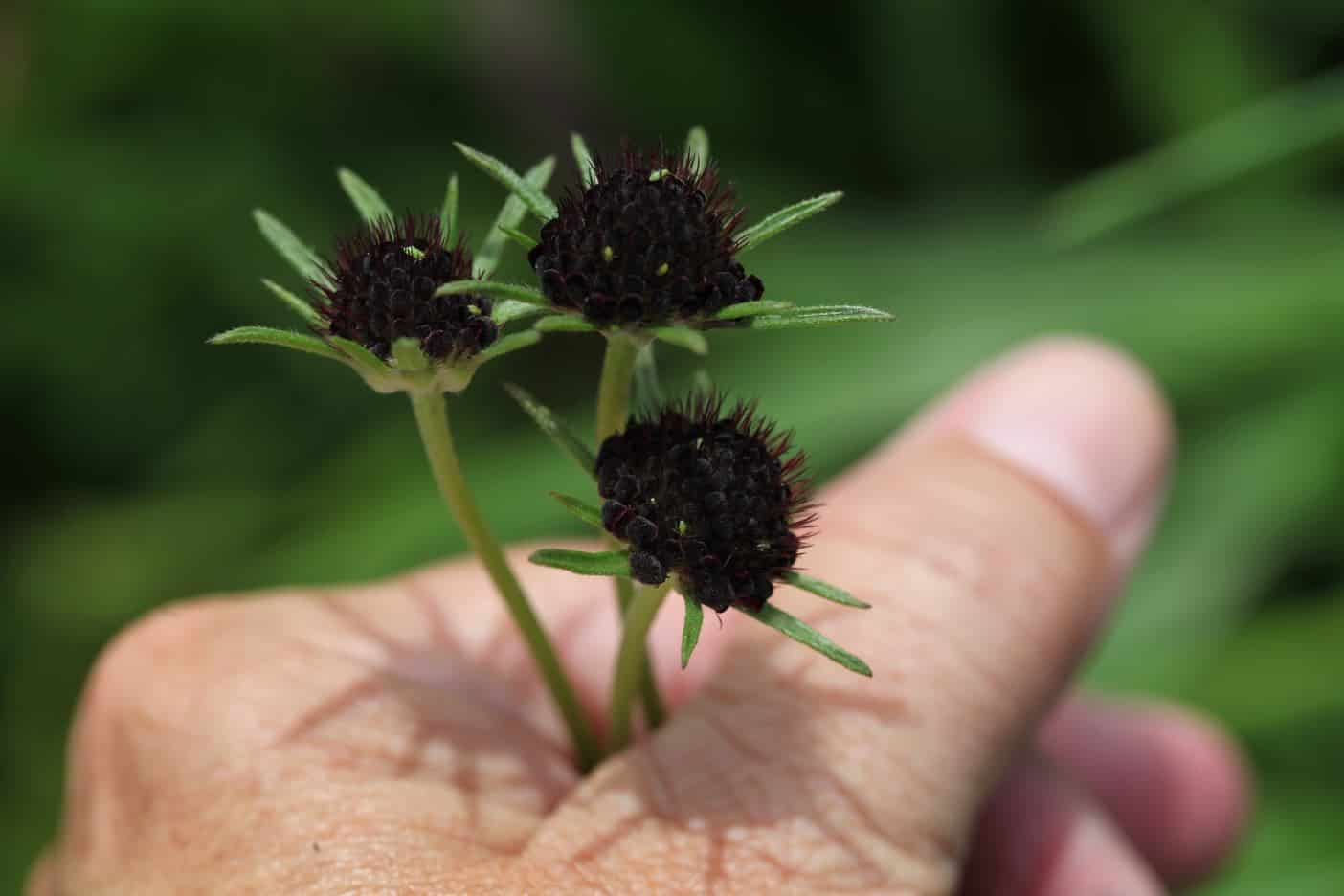 How To Grow Scabiosa
Scabiosa is a great choice for a cut flower garden, as the plants will grow throughout the growing season and continue to produce many useable stems.
Is Scabiosa Easy To Grow?
Scabiosa is very easy to grow, even for beginner gardeners.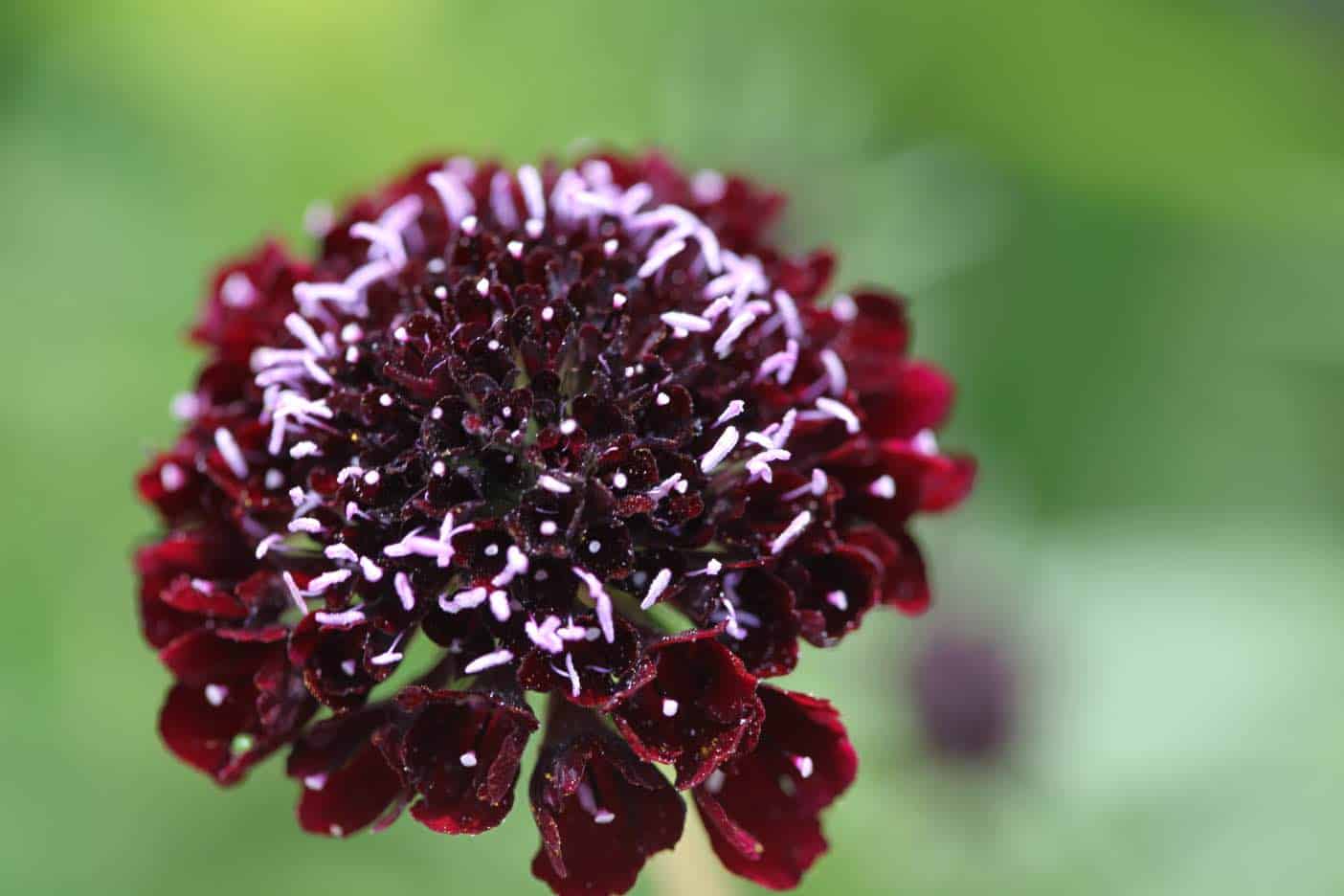 How To Grow Scabiosa From Seed
We start our scabiosa flower seeds indoors in late winter or early spring to give them a good head start on the growing season. The seedlings are then transplanted out into the garden when the weather warms up.
Transplanting is the choice method of growing and planting scabiosa plants, although direct sowing is an option as well.
You can direct sow seeds into the garden if you live in a warmer zone with a longer growing season.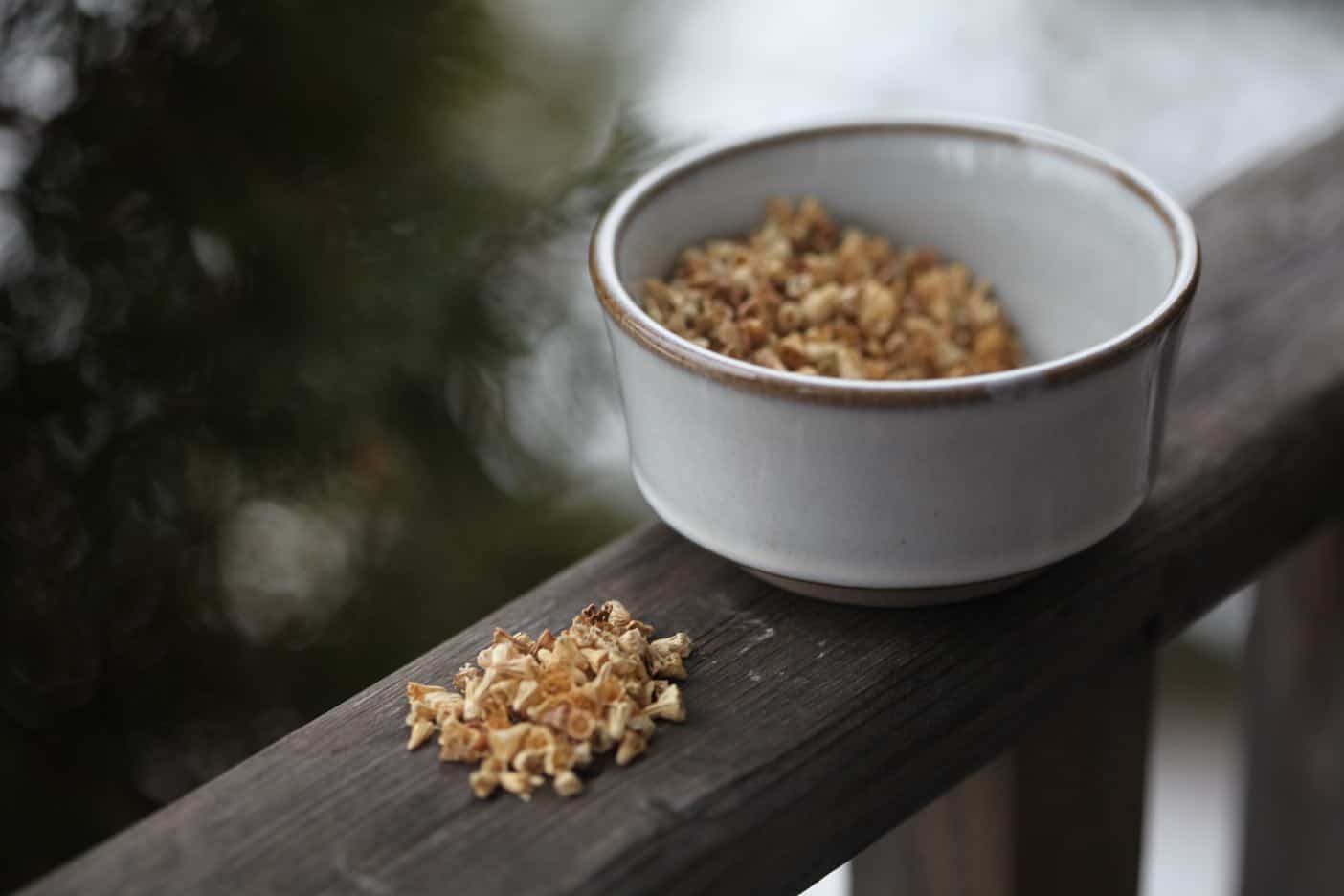 When Should I Start Scabiosa?
In zone 5b where our growing season is shorter, we start most of our flower seeds indoors.
To get a head start on the season, it is best to start Scabiosa indoors in cell trays approximately 8 to 10 weeks before the last spring frost in your area.
This is especially important in colder growing zones, where we often don't start planting out until mid May, depending on the growing season itself.
Every year can be a little different, but we generally follow the same principles.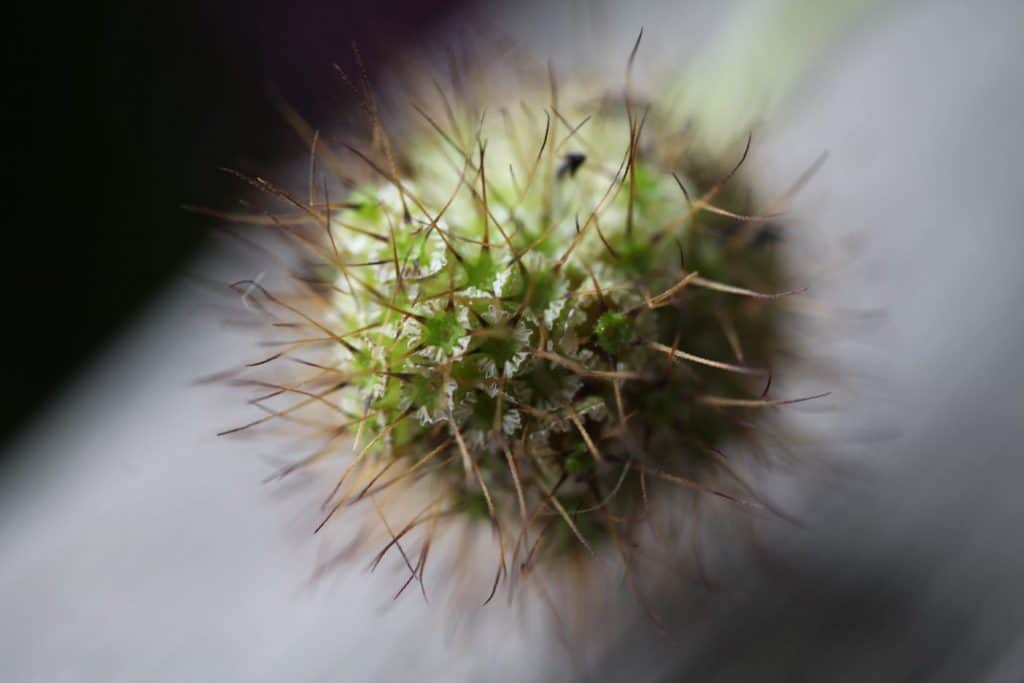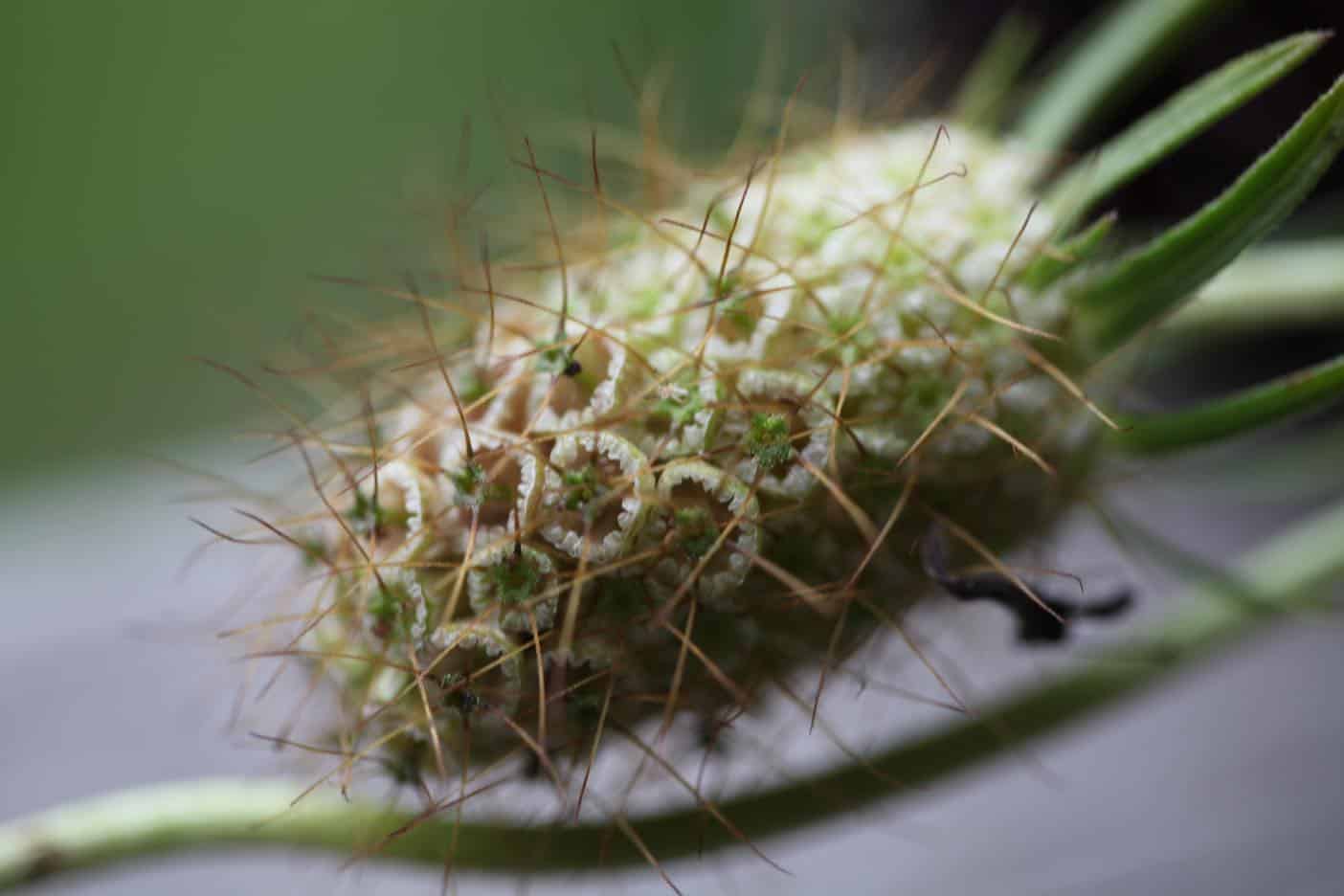 Supplies Needed:
Method For Starting Seeds Indoors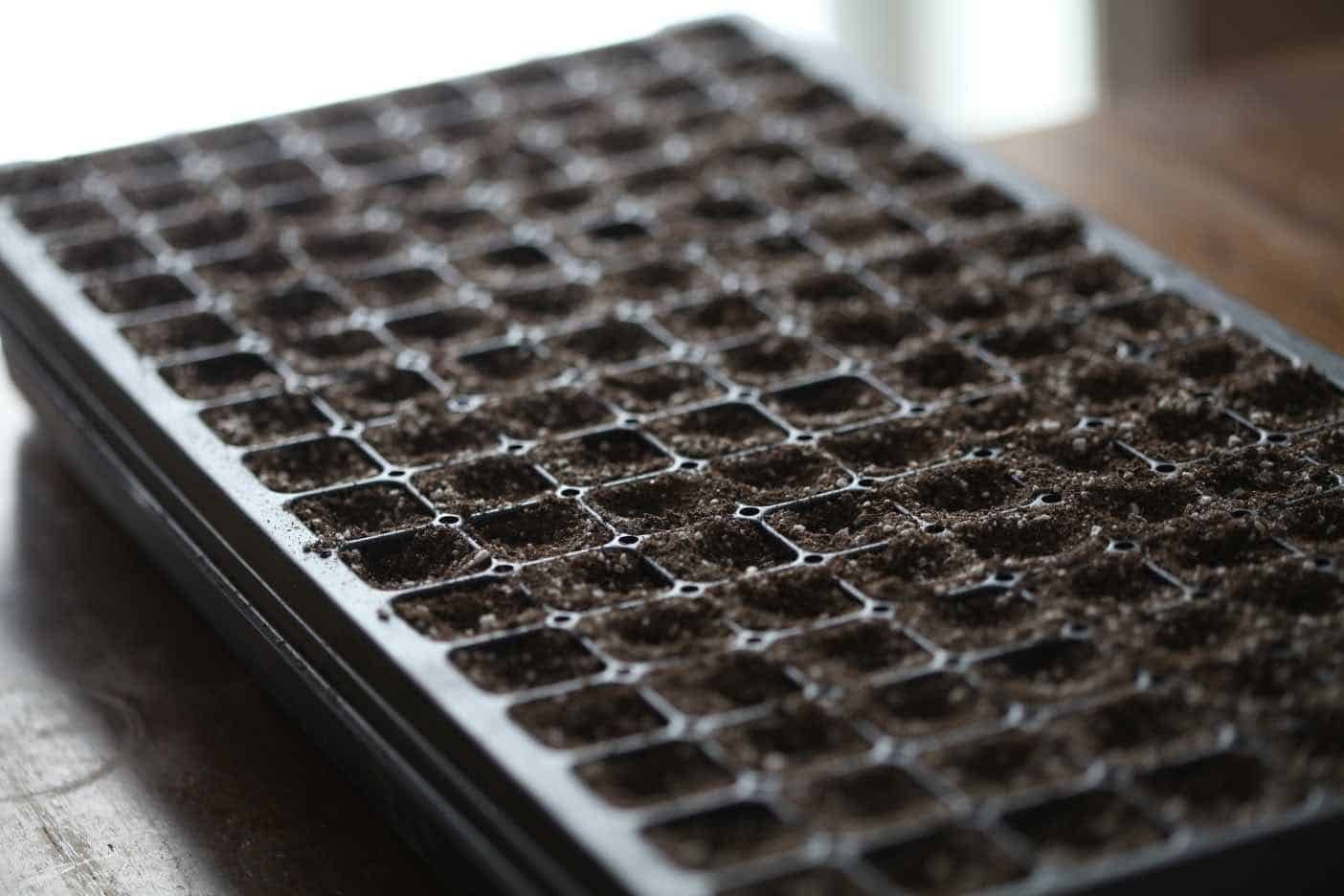 Fill your cell trays or cell packs with your seed starting medium.
Give the trays a good tap on a hard surface to reveal any air pockets and refill these cells with the medium.
Make a small dent in the surface of each cell, in which to place the seeds.
Sow scabiosa seeds by placing a seed into each cell.
Lightly cover with a dusting of soilless medium or vermiculite. Vermiculite will help to keep the soil moist while the seeds are germinating.
Scabiosa seeds benefit from light during germination. A light covering of soilless medium or vermiculite will not interfere with this process.
Bottom water the cell tray after planting, and then keep the soilless medium moist throughout the germination process.
Place on a heat mat. Keep on the heat mat until sixty percent of the seedlings have germinated.
After sixty percent germination, place under grow lights and grow on until ready to be planted out in spring.
Remember to water as needed, and do not allow the soilless medium to dry out while the seeds are germinating.
Planting Scabiosa Into The Garden
Plant the seedlings into the garden in early or late spring after the last frost, and once the threat of frost has passed.
Make sure to harden off the young plants before transplanting them into the garden.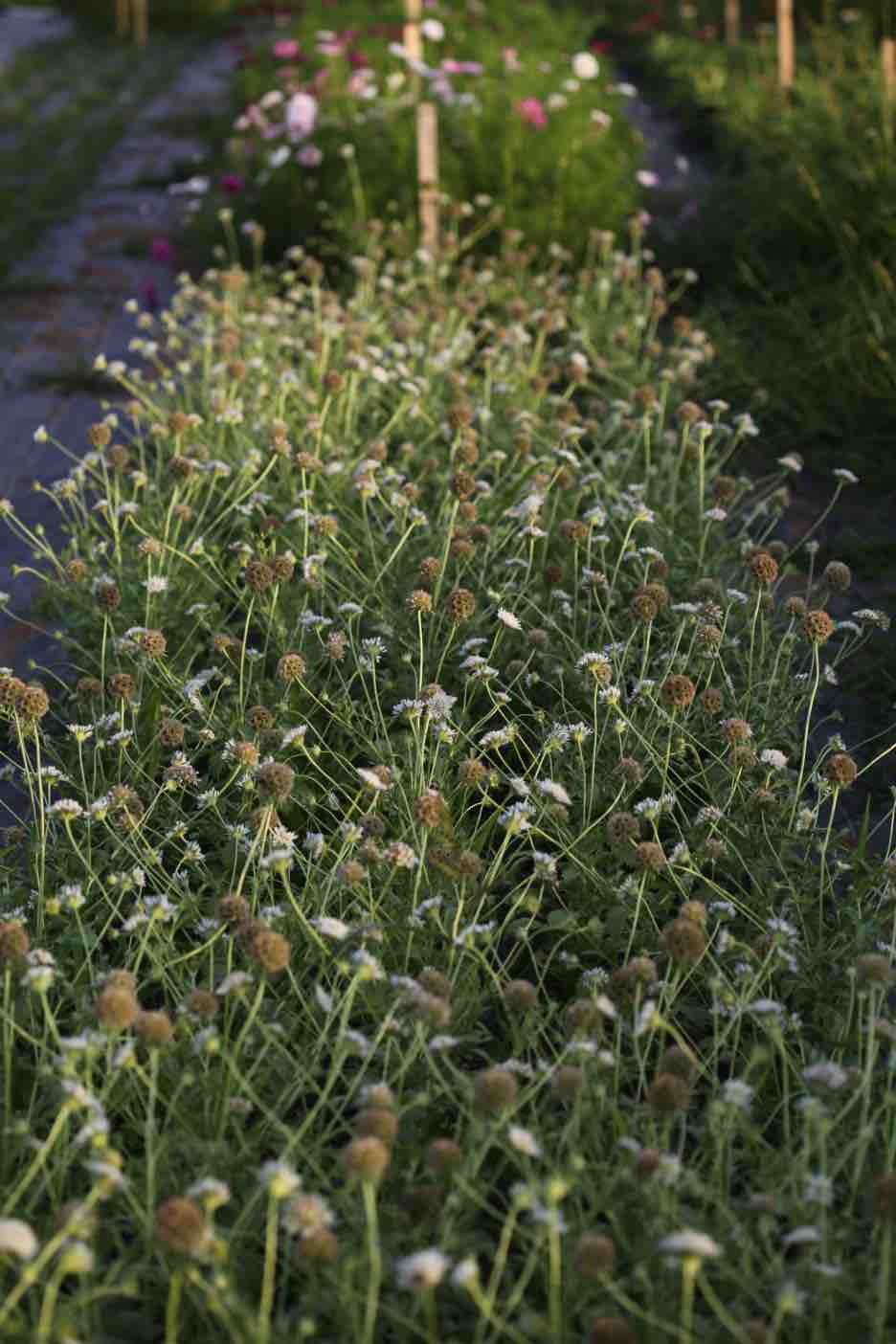 Scabiosa Care
Once Scabiosa has been planted there is generally not a lot of extra care required. They are a low maintenance plant to grow and care for.
Scabiosa Growing Zone
Annual scabiosa can be planted in most zones, although does best in cooler zones since it is a cold hardy annual plant.
Perennial scabiosa is hardy to USDA growing zones 3 to 7.
Grow Scabiosa In Sun Or Shade?
Plant annual Scabiosa in a full sun location for best flowering results.
Perennial scabiosa can tolerate full sun to partial shade planting locations.
Soil Requirements
Plant in a neutral well drained soil with a soil ph of 7 to 8, and with lots of organic matter and good drainage.
That being said, our scabiosa was planted in well drained clay soil, and grew very well.
Moisture Requirements
Water in well after planting and while establishing the plants in the garden.
Thereafter regular watering is not usually required, and watering from the outdoor elements and rainwater is generally enough for good growth. Water during dry periods if needed.
Perennial scabiosa, Scabiosa caucasica, is drought resistant and drought tolerant.
Pruning
Deadheading will help to promote more flowers, as the plants will not be sending energy to the developing seed pods.
An exception to this of course would be if you were growing Scabiosa Stellata for it's seed pods. In this case do not deadhead, but rather allow the seed pods to fully develop.
For this species of Scabiosa you get the enjoy the blooms in various stages of development.
Can Scabiosa Handle Frost?
Since Scabiosa is a hardy annual, once it has been hardened off and planted outside, it should tolerate exposure to some spring frosts without any difficulty.
This is especially important in our growing zone, where we sometimes have frosts all the way into late June in some years.
Our tender perennials can take quite a beating some years, but the hardy annuals seem to breeze through without a care.
Growing Scabiosa As Cut Flowers
Scabiosa is a great garden plant and perfect to grow in cottage gardens.
They are also excellent cut flowers and can be grown en masse for this reason.
As a cut flower it is good to do multiple plantings, or succession plantings every two to three weeks.
This way you will have flowers in various stages of development, and have useable flowers from early summer and throughout the growing season.
If doing a large planting it's helpful to plant into landscape fabric with holes burned symmetrically at nine to twelve inch spacing. This will help with weed reduction around the individual plantings.
Using plant supports such as Hortinova netting can be very helpful as well when growing for cut flowers. These supports can help to keep the stems tall and straight.
I do not always use the netting, as our season is so short, and sometimes we just don't get to it. The flowers have grown fairly well without the netting, although probably not as tall and straight as they could have in our very windy growing location.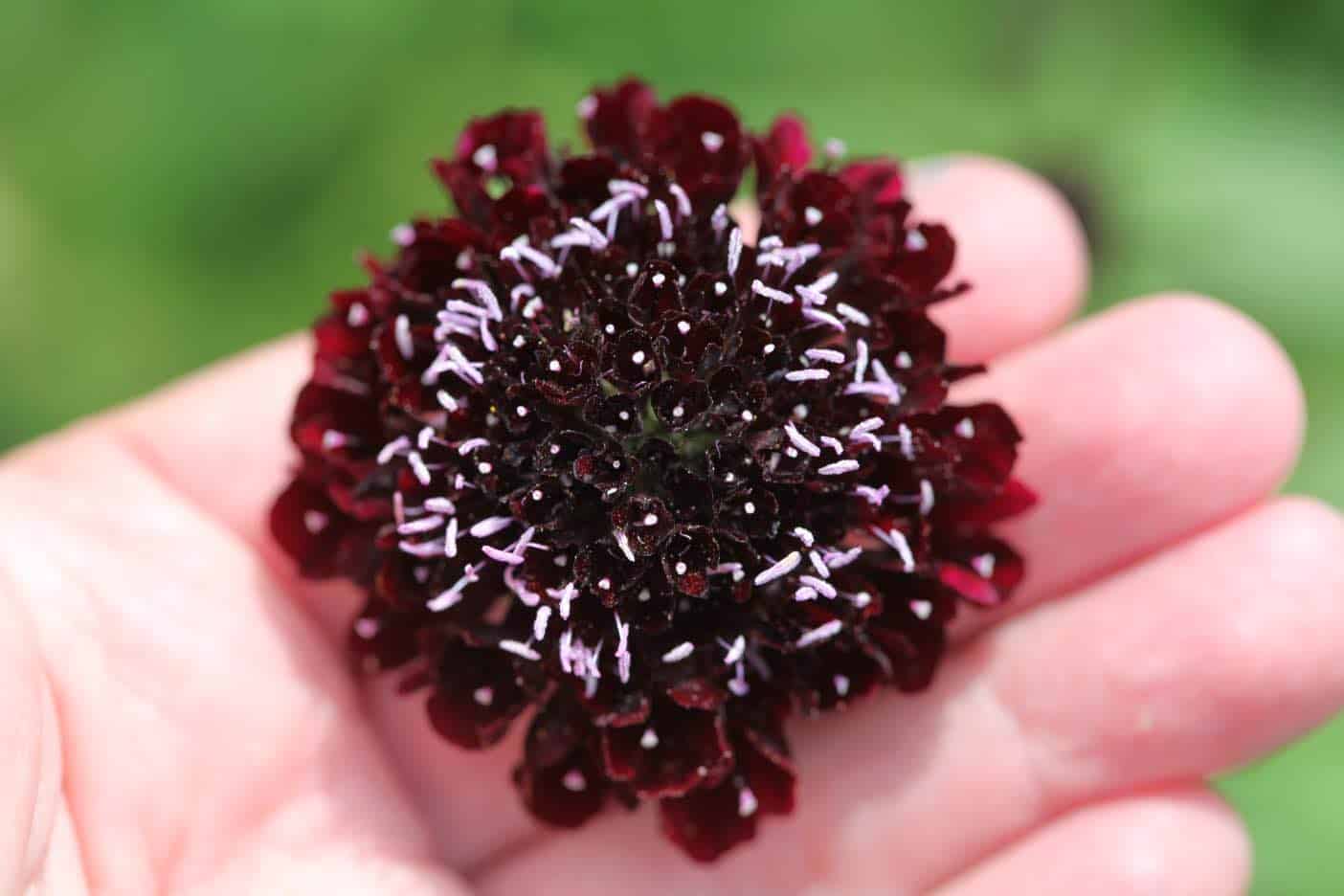 Scabiosa Stellata
Scabiosa stellata has small flowers that are still pretty and cream coloured, but this plant is mostly grown for it's seed pod formation.
How To Grow Scabiosa Pods
When left to go to seed, Scabiosa stellata develops interesting seed heads or seed pods which are textural and decorative in flower arrangements.
The pods can be dried and are long lasting if picked at the right stage of development.
The best time to harvest the seed pods is when they are still somewhat green, and the edges of each individual seed capsule have just started to turn a coppery brown, and the centre disc has also just started to darken.
If picked at a later stage, the seeds will mature, and eventually just break away from the seed pod itself, collapsing the pod into individual seed discs.
Conclusion
Scabiosa or pincushion plants are easy to grow, even for the beginner gardener,
Growing scabiosa flowers and seed pods is a fun and easy way to add form and texture to the cutting garden.
Scabiosa blooms are good cut flowers, and can be grown for bouquets and flower arrangements, in both their fresh and dried forms.
These sweet flowering plants will always have a special place in our garden, and we will continue to plant them year after year.
Have you ever grown Scabiosa? Be sure to leave a comment below to share your experience!
Other Posts You May Like:
PIN IT FOR LATER!