Last updated on January 11th, 2023 at 12:01 am
Daylilies are hardy herbaceous perennials, which return to the garden year after year. These easy to care for flowering plants are perfect for the cottage garden. They are valued for both their fountain type foliage, as well as their colorful blooms.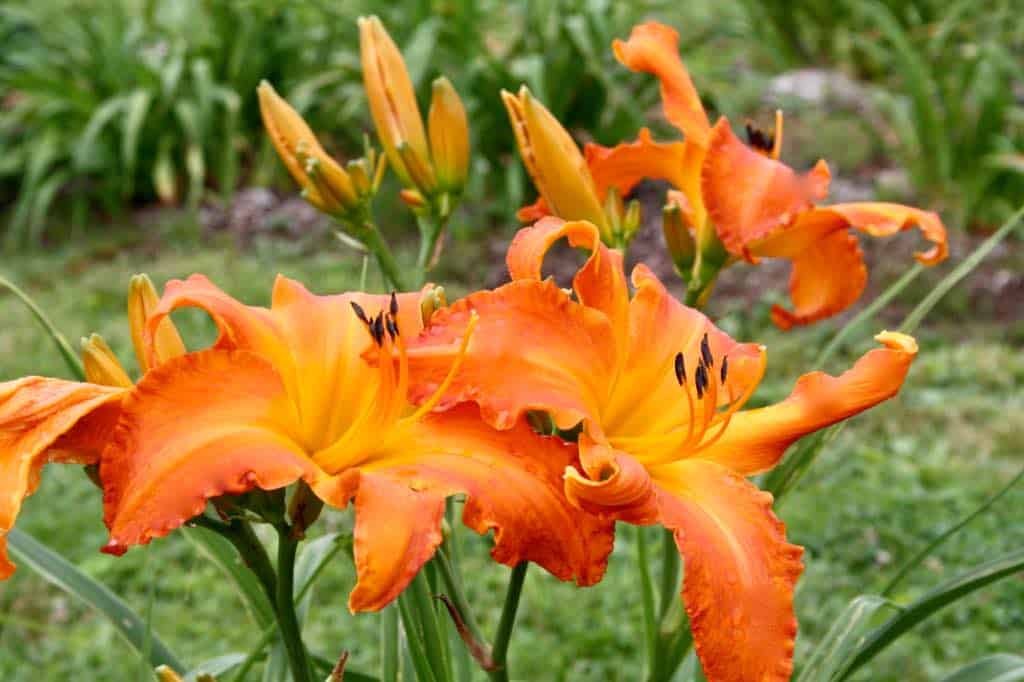 Daylilies will always have a place in our garden, and I have grown many from seed. I have also acquired some newer cultivars, to use the pollen in my hybridizing efforts.
Daylilies are valued for their beauty and ease of care. They are great overall perennial plants to grow, even for the beginner gardener.
Their beauty is outstanding, and when in bloom they provide a splash of color wherever they are planted.
"Daylily" is the common name for Hemerocallis, which is the botanical name. A member of the Family Asphodelaceae, and Genus Hemerocallis, daylilies are not true lilies.
There are 16 species of daylilies, or hemerocallis. The daylily has been cultivated from two species plants over time, including Hemerocallis flava, and Hemerocallis fulva ( the orange ditch lily ), to produce tens of thousands of different varieties of daylilies, or registered hybrids.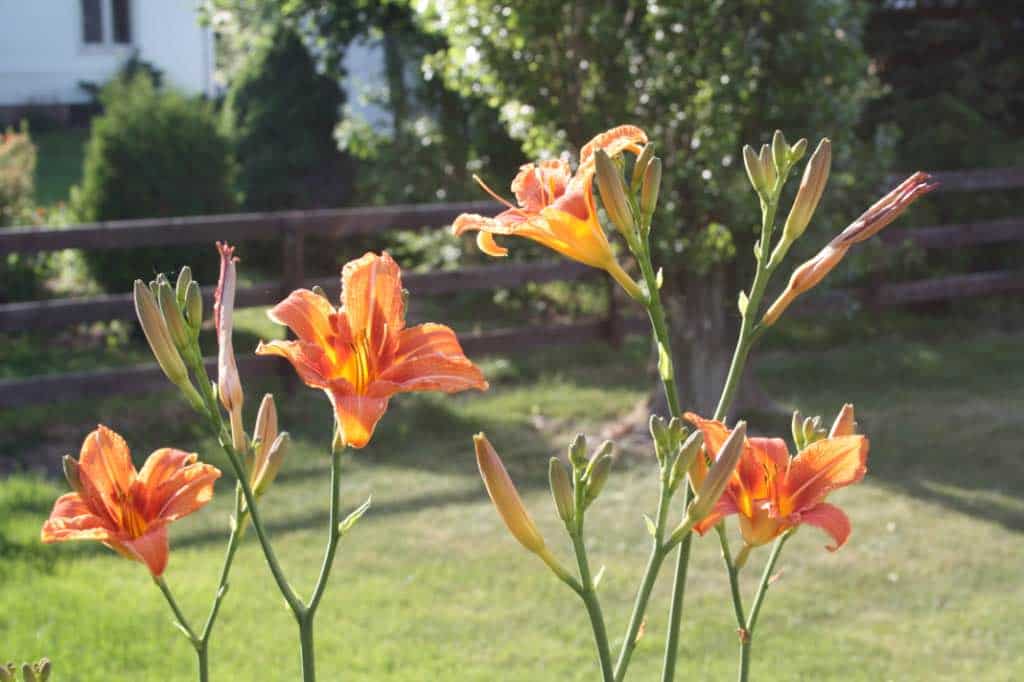 Daylily Flower Bloom Time
Each daylily flower blooms for only a day. This is how the daylily got it's common name.
Fortunately the daylily plant produces flower scapes with multiple buds, allowing the daylily blooms to open in succession, throughout the blooming period.
Flowering time for the whole plant can last about a month or more, depending on the cultivar, and number of blooms produced.
These perennial plants come in a rainbow of colors and in a wide array of different forms. There is a daylily for every type of gardener, no matter what your taste.
I love how the daylilies return to the garden year after year, due to their perennial nature. Some however don't always make it, and we'll have a look at how to keep them happily growing in your garden, a bit further on in the post.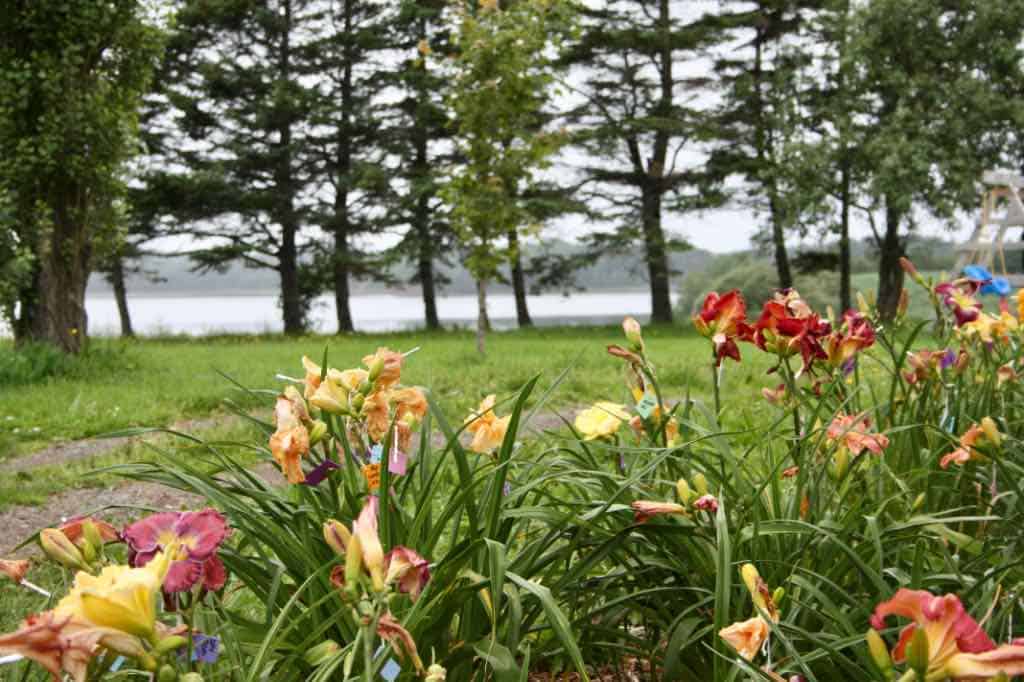 Are Daylilies Perennials?
Perennial plants are those which survive in the garden for more than two years. Compared to annual plants, which only live one year, and biennials, which last for two, perennials are considerably longer living plants in the garden.
There are a number of different types of perennials, including herbaceous, woody, and evergreen.
Daylilies are perennials, and fall under the herbaceous perennial type.
Herbaceous perennials have no woody stems or plant parts that remain intact above ground. Daylilies grow from rhizomes underneath the soil, which enables the plant to spread and develop into a mounding clump.
The tuberous root system allows for storage of water, and allows the daylily plant to tolerate periods of drought.
The leaves of the daylily are fan shaped, with each individual fan producing sets of leaves which spill out like a fountain from the side of the fan. A clump of many daylily fans forms a mounded plant.
Daylilies begin to regrow in late spring, as the leaves begin to protrude from the soil for yet another growing season. The presentation of new growth is dependent upon whether the daylilies are dormant, evergreen, or semi-evergreen varieties.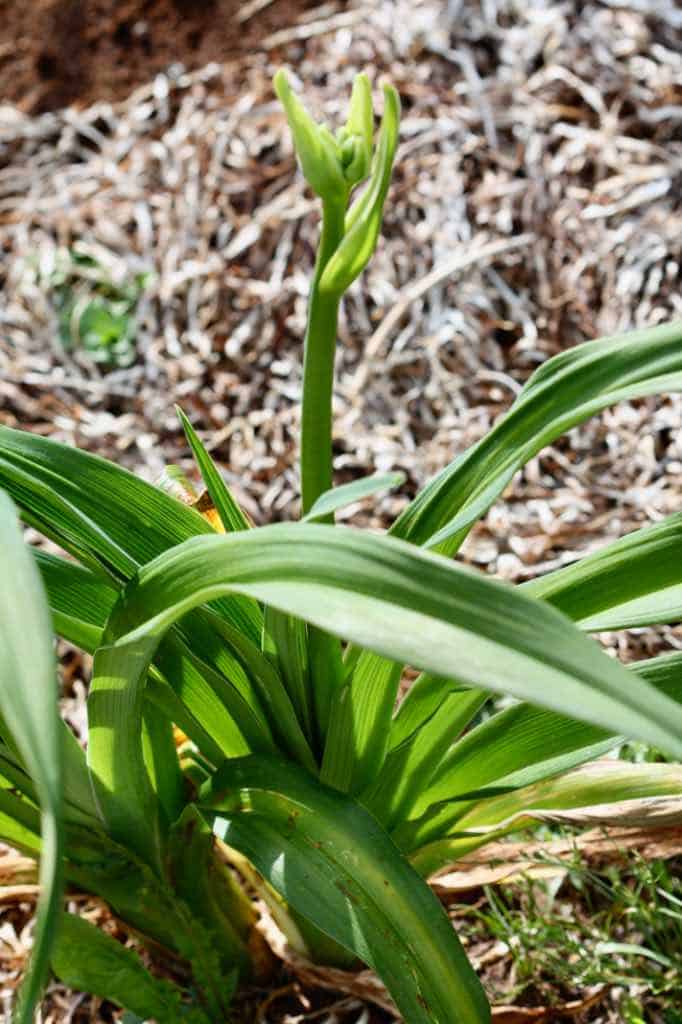 Dormant, Evergreen, or Semi-Evergreen Daylilies
In the winter, many daylilies completely disappear for the season, showing no evidence of any living plant parts above ground. These are dormant daylilies.
Other varieties will maintain some green leaves above ground throughout the winter, although not completely fresh and new as the leaves are in the spring. These are evergreen daylilies.
A third category of daylily is one which is somewhere in between the first two, partially disappearing into the ground, yet with some scraggly evergreen leaves remaining above ground. These are the semi-evergreen daylilies.
Depending on your growing zone, it may sometimes be difficult to differentiate which type of dormancy your daylily has, just from observation. In colder growing zones often daylilies will completely disappear, even if they have been identified as evergreen or semi-evergreen.
If you look very carefully however, you may be able to find some small, curled, winter worn leaves, close to the ground. This indicates lack of full dormancy.
I love the look of dormant daylilies emerging in spring. The tops of the plants are fresh and new, and ready to begin afresh, for another season.
Evergreen and semi-evergreen can sometimes take a while to get over the hardships of a cold winter. They do however eventually catch up to the dormant plants, and become fresh again.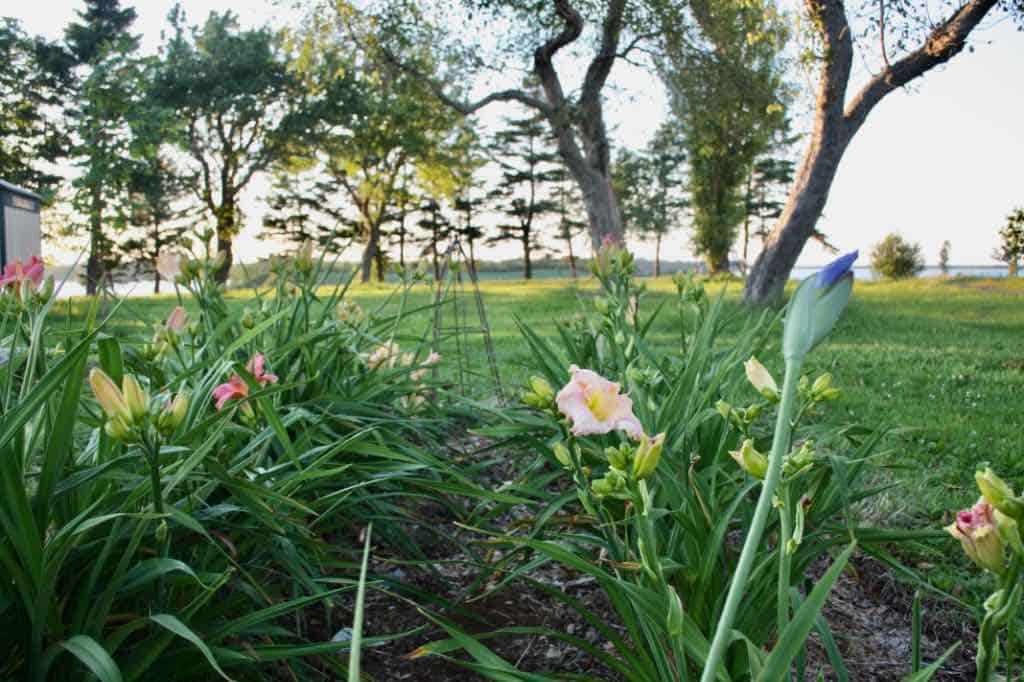 How Long Do Daylily Plants Live?
Daylily plants are very hardy, and can live for many years. I have some in my garden that have been there for well over 20 years.
These plants are very easy to grow, and generally do not need a lot of extra care.
There are a number of different factors which will help to contribute to daylily lifespan and longevity. Let's have a look at some of these considerations.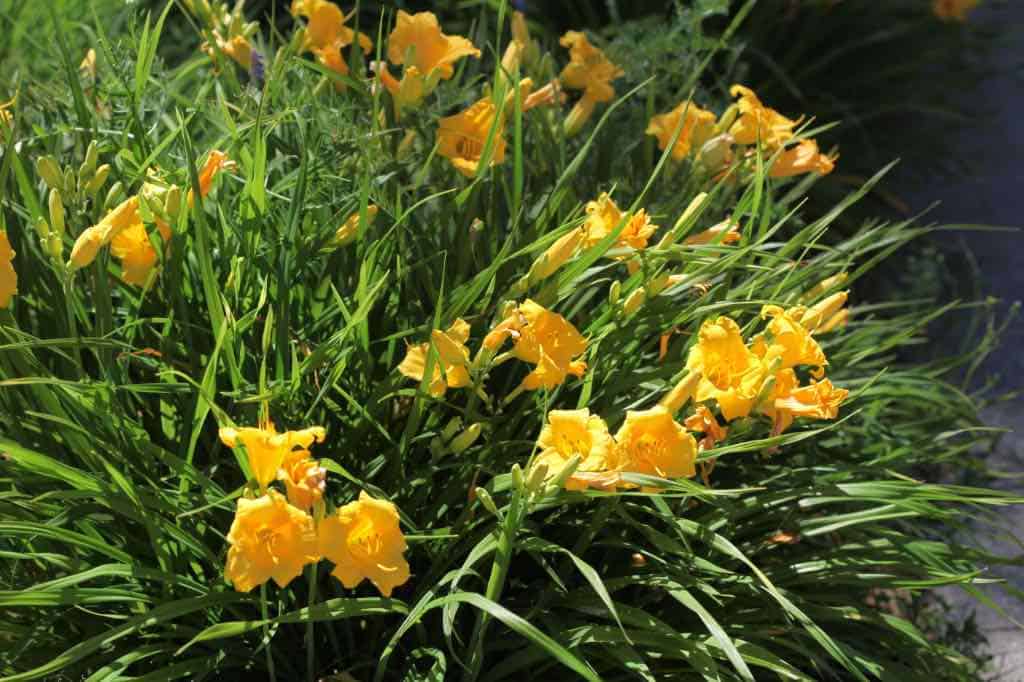 Factors Which Affect Daylily Longevity
Planting Location
Planting daylilies in a place that they will thrive will help to increase the longevity of these perennials. It will help with blooming performance of the plants as well.
Daylilies grow best in a full sun location, for best growth and blooming. The plants will also grow in partial shade, however they will likely produce less flowers in this location.
Make sure that the daylily plant receives at least 6 to 8 hours of sun if planted in part shade.
Plant in fertile and nutritious well-drained soil, amended with organic materials.
Our daylilies do exceptionally well in clay soil, however clay can retain water, so make sure it is well draining. Avoid locations with poor drainage, as these areas may lead to eventual crown rot, and death of your daylily plant.
Daylily Genetics And Growing Zone
Cold tolerance for daylilies is cultivar dependent, as these perennials are influenced by genetics.
Dormant daylilies tend to be the most cold tolerant, and are generally hardy in usda hardiness zones 4 to 9.
Evergreen and semi-evergreen daylilies tend to be less cold tolerant in the colder zones, however this is totally dependent on the cultivar.
I grow some daylilies which originated in Florida, which are thriving in my zone 5b garden. I have others from the same location that slowly faded away over time, as they just could not tolerate the growing zone.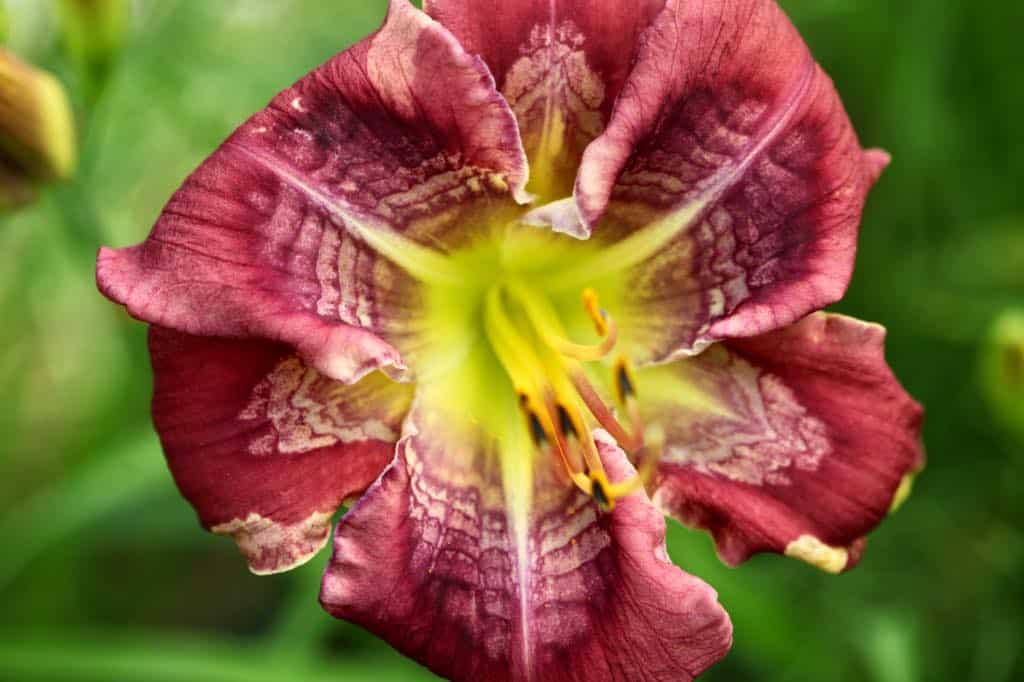 Planting Time ( in colder zones)
The best time to plant new plants in colder climates is in late spring or early summer.
Planting in the spring in colder regions will allow a daylily plant to develop a good root system during the first growing season.
Once the roots take hold within the soil, the plant will be less likely to be heaved by deep frost during the winter months. Frost heaving can kill a daylily plant.
Planting larger plants also seems to make a difference in prevention of daylily heaving. Consider planting or transplanting at least double fan daylily specimens or even larger, for good root establishment throughout the growing season.
When planting tiny daylily seedlings, in our zone 5 garden, I make sure to plant them early, and no later than the end of July. Even so, some tiny seedlings will get pushed out of the soil in winter. The later in the season these plantings occur, the more significant the loss.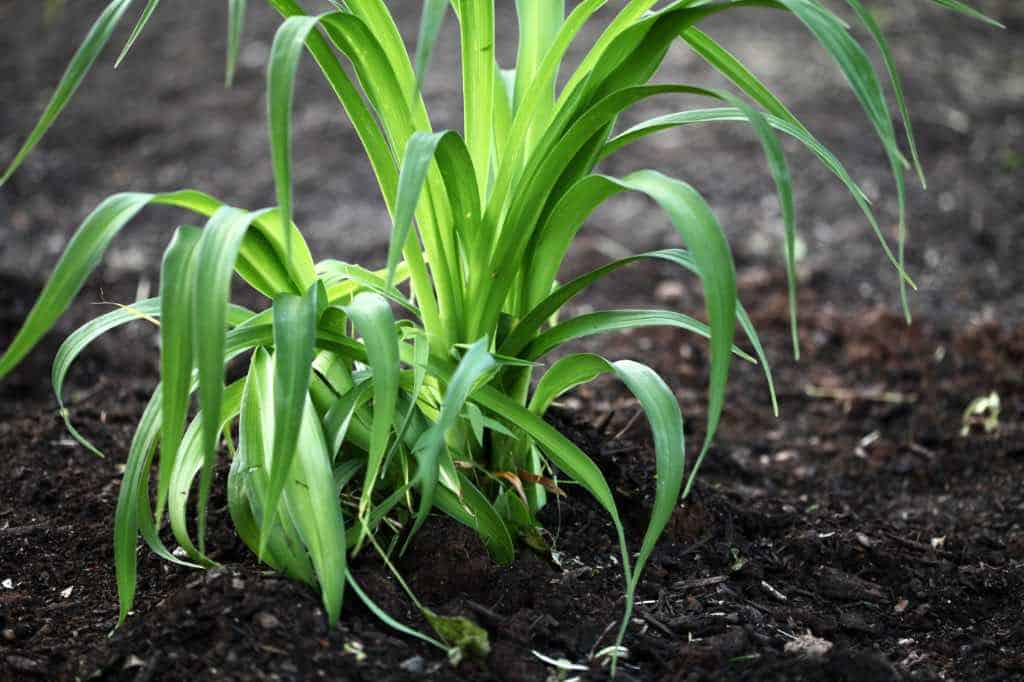 Daylily Pests
The daylily is a tough plant, and is not bothered by too many insect pests. The most common pests generally will not affect viability, however overtime they can contribute to weakness in the plant.
Common daylily pests include thrips, spider mites, aphids, slugs and snails. These pests often prefer the tender foliage on new growth, early in the bloom season.
Thrips and spider mites will cause leaf discoloration, as the tiny insects feast on the plant. Thrips will also cause blotching on daylily blooms.
Keeping the daylilies well watered, and the plants moist, will help to deter thrips and spider mites, which like a dry location.
Aphids do not cause too much visible damage, and are easy to remove, either manually or with a burst of water to the plant.
Slugs and snails will readily eat plant leaves and flowers, and are best removed by hand picking. Water the daylily plants in the mornings, so that the plants are dry at night and are less easy to access by these slimy crawling pests.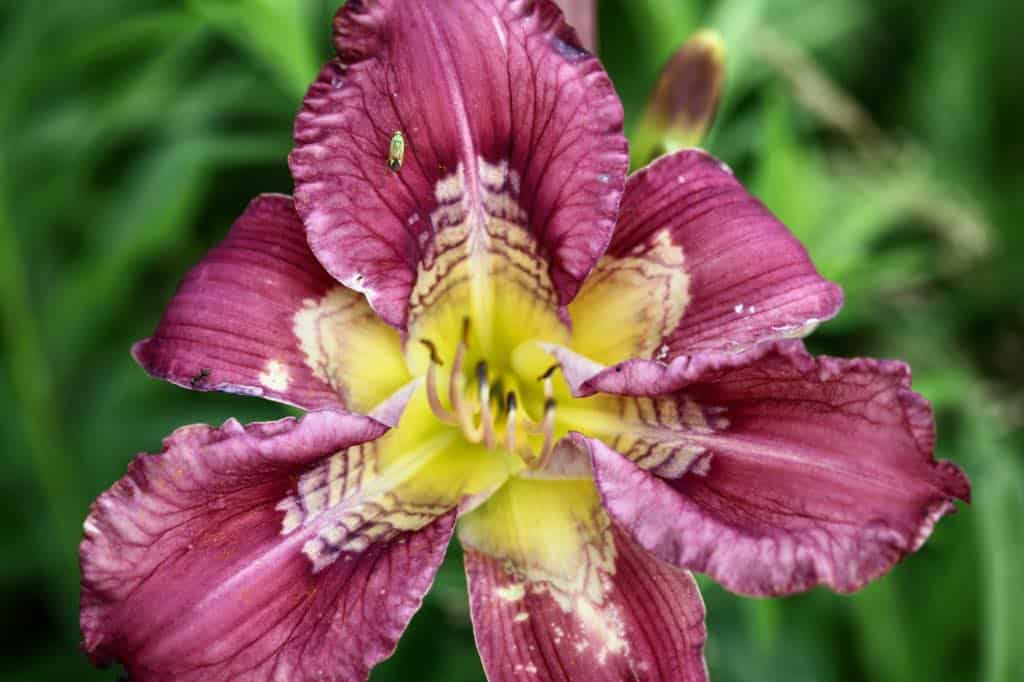 Daylily Perennial Plant Care
Perennial plant care will also contribute to the health of your daylilies, and lifespan of the plants.
Spring Clean Up
Since daylilies are perennials, they will return to the garden year after year in the spring.
If you left the plant in place in the fall, without doing a fall cleanup, the old leaves will be partially decomposed, and dry around the plant.
Old daylily scapes will also be evident, and will need to be removed to tidy the bed.
Cleaning up these old plant parts will clear a spot for the new daylily growth, and make the garden much neater, reducing space for pests to hide.
Both leaves and dried scapes are easy to remove. Pull the dead foliage and old stems away from the plant, and place in the compost.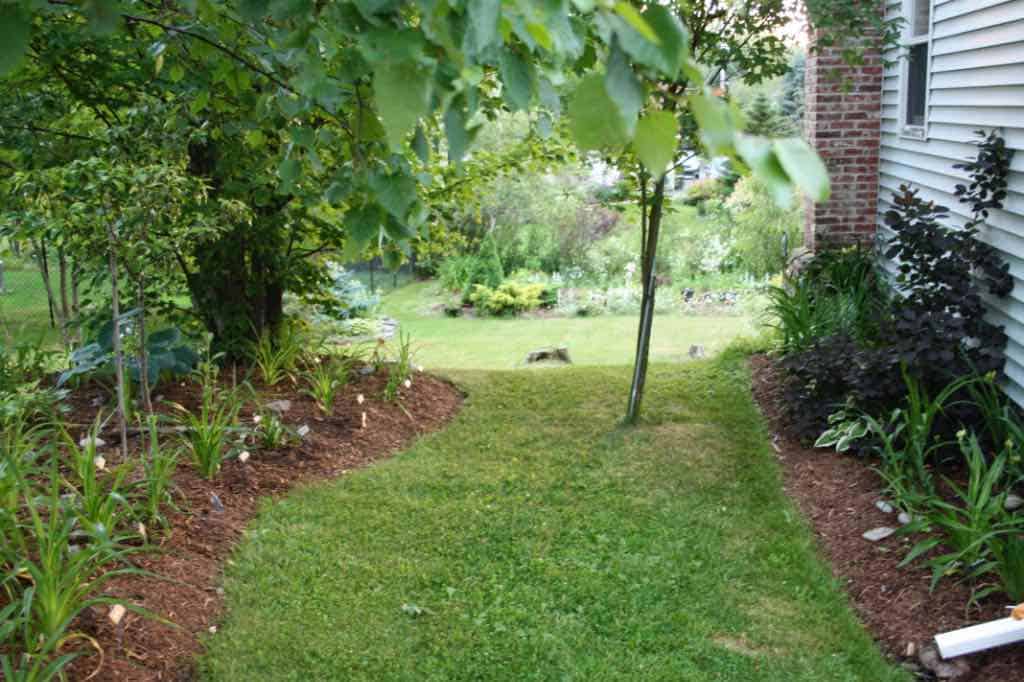 Lift And Divide As Needed
Due to the perennial nature of the plant, you would think that all you have to do is plant it once, and wait for it to return the following season to enjoy it once more. Certainly there is some truth to this.
As the plant grows it will form a larger mound.
The dense clumps have the potential to grow large over time, depending on the cultivar. So there may be some future digging in store, to lift, divide, and transplant your daylilies to other areas throughout the garden.
In time as with most other herbaceous perennials, the center of the plant begins to thin and may form a bald spot. At this point it's a good time to lift and divide the daylily into multi fanned clumps, to transplant elsewhere into the garden.
Lifting and dividing daylilies will also invigorate the daylily, and stimulate growth of the plant. After transplanting you will likely be rewarded with an increase in blooming, during the next bloom cycle.
Lift the entire clump from the ground and cut through the bare roots and crown of the plant with a sharp knife, dividing the clump into sections. Replant in a new location, at the same soil level as the previous spot.
If your daylily plant has become less productive, assess it's location in the garden. Daylilies do best in a sunny location.
Sometimes other plantings or trees in the area may shade out your daylilies over time, creating a decrease in sun exposure. In this case it may be easiest to lift the daylily plant, and transplant it to a sunnier location.
Fertilize
Fertilizing daylilies will help with their growth and blooming.
Daylilies will grow in most soil conditions, however if grown in a highly organic and fertile soil they will respond with good growth, and develop into healthy plants.
Amend the soil with organic compost at the time of planting your daylilies.
Yearly application of fertilizer is beneficial. I generally use a good compost as fertilizer.
Watering
Although daylilies are drought tolerant plants, they do exceptionally well with regular watering.
Water plants regularly when they are developing new foliage and flower growth, for healthy strong plants.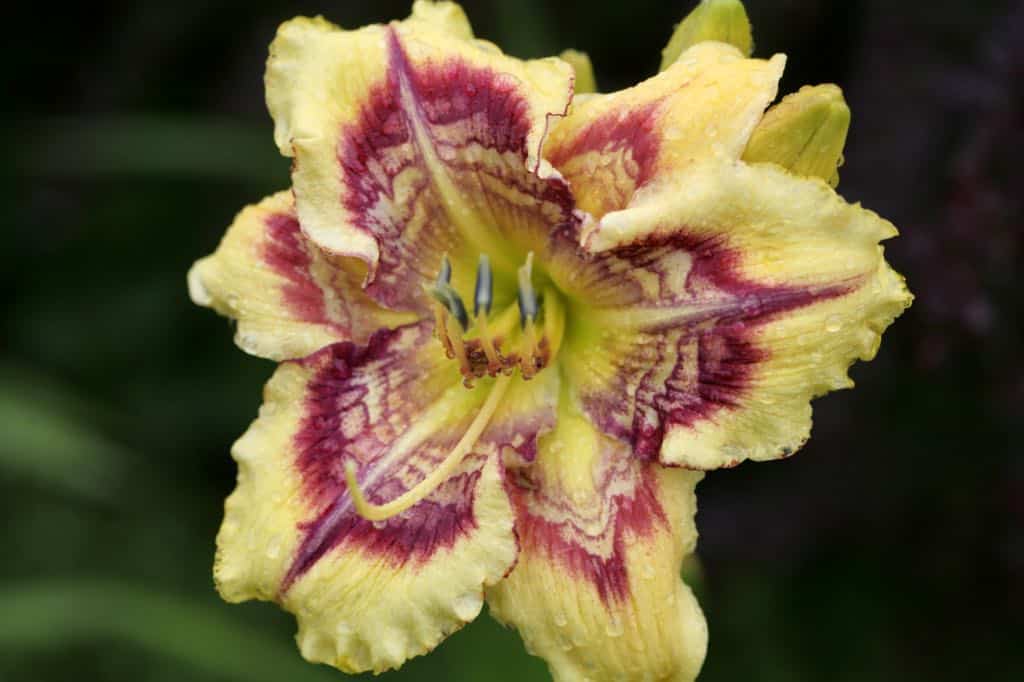 Mulching
Mulch daylilies at planting time, as well as yearly.
Mulch around the base of the plant when planting. This mulch will eventually break down and contribute organic matter to the soil.
The mulching will also help to keep moisture in the soil. Although drought tolerant, daylilies love moisture.
A good application of mulch will also help to suppress weeds around the base of the daylily. This will help to eliminate competition for nutrients.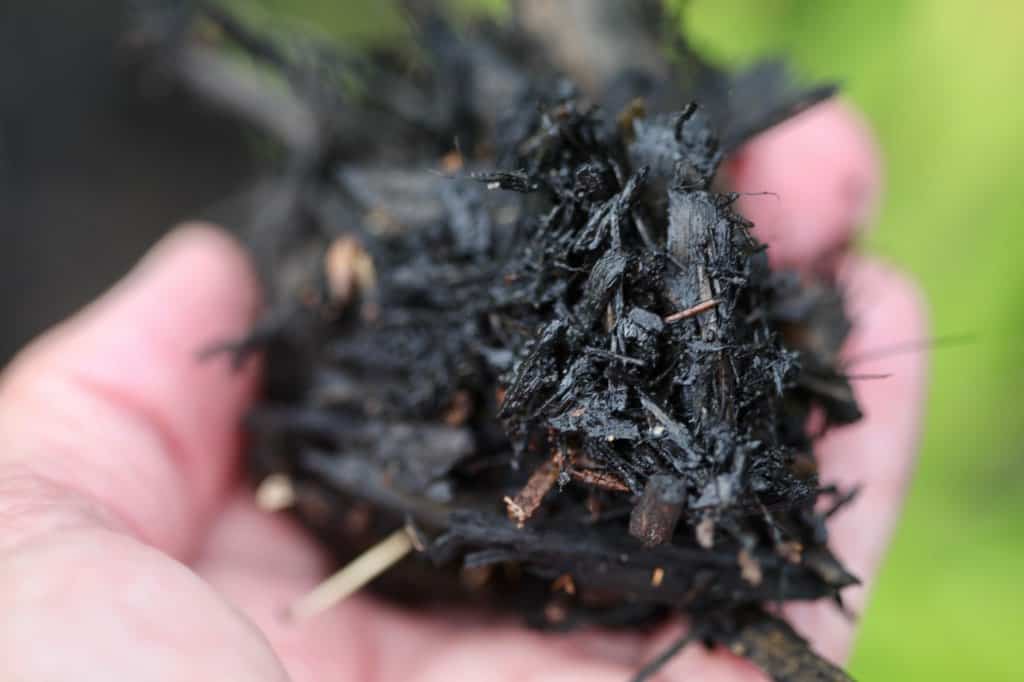 Prune Stems And Remove Seed Pods
If daylily flowers have been pollinated, the plant will begin to use it's energy for seed production.
You can help to conserve the plant's energy by removing the spent flowers and seed pods as they form. This energy can then be used by the daylily plant for growth and flower production.
Once the plant has finished flowering, pruning the spent daylily scapes will add to the neatness of the plant.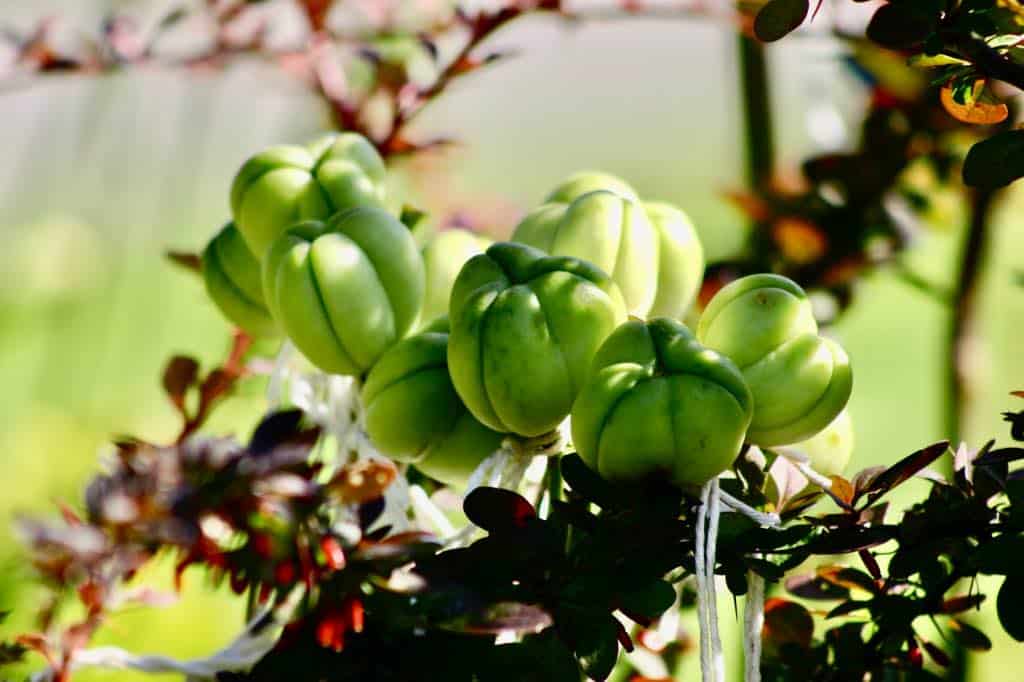 Fall Care
Daylilies are perennials which you can clean up in late summer or early fall, after the plants have finished blooming, and when they start to fade.
This fall care will make spring cleanup a bit easier, however is not absolutely necessary.
For fall cleanup remove the flower stalks by cutting them off at ground level.
Cut the leaves back neatly, to within approximately 4 to 6 inches from the ground.
Place garden debris into the compost bin.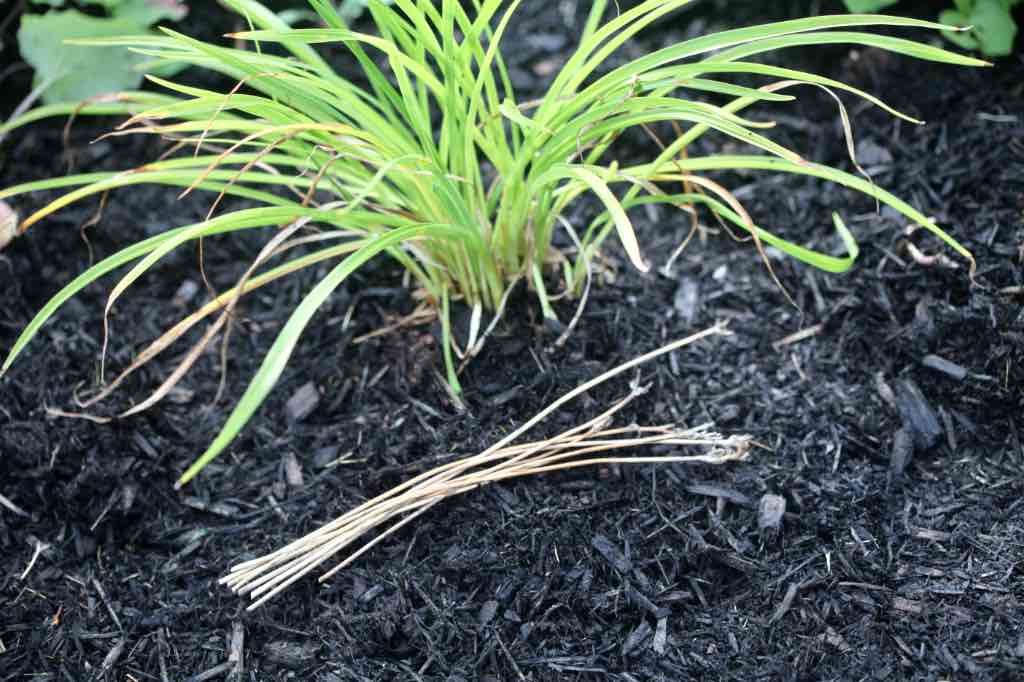 Frequently Asked Questions
What To Do With Daylilies When They Have Finished Flowering?
As a hybridizer of daylilies, I leave any flowers which have been pollinated on the daylily plant, hoping for the formation of a daylily pod or two.
These plants can look a bit messy, however I dare not pull off the spent blooms, in case any new seed pods are knocked off as well.
If however you do not plan to keep the daylily seed pods and seed, it's best to remove the spent blooms from the plant.
This not only improves the aesthetics of the plant, it also helps the plant conserve important energy for growth, as this energy will no longer be diverted into seed production.
Toss the spent blooms back into the garden to compost, or place them into the compost bin.
If you do not remove the spent blooms, they will generally fall off on their own, in about 3 to 5 days or so. If you find seed pods forming, and you don't plan to use them, just break them off the stem, to allow the plant to conserve it's energy for growth.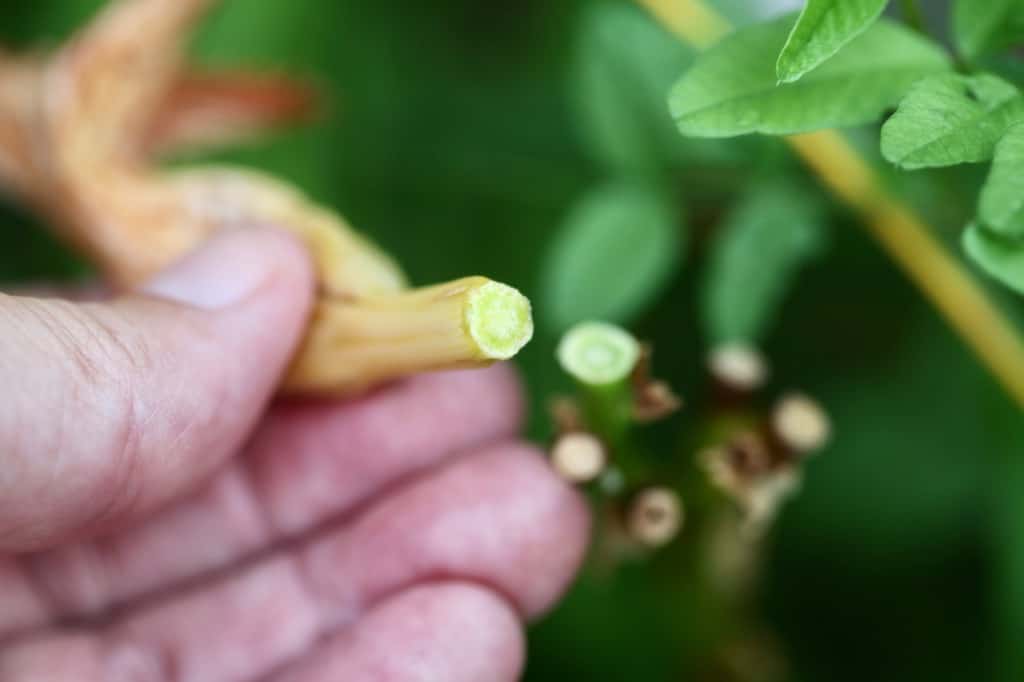 Will Daylilies Rebloom If You Cut Them Back?
Although they are perennials, cutting back daylilies after blooming will generally not result in rebloom.
Some types of perennials can be cut back after blooming, removing the spent flowers and seeds, and diverting energy back to the plant for new growth and flower production.
Daylilies however have a specific bloom time, which is influenced by genetics and location (sun exposure).
Each daylily cultivar has it's own bloom time, and once blooming is finished, it is done for the season. Trimming the plants back generally does not cause them to rebloom.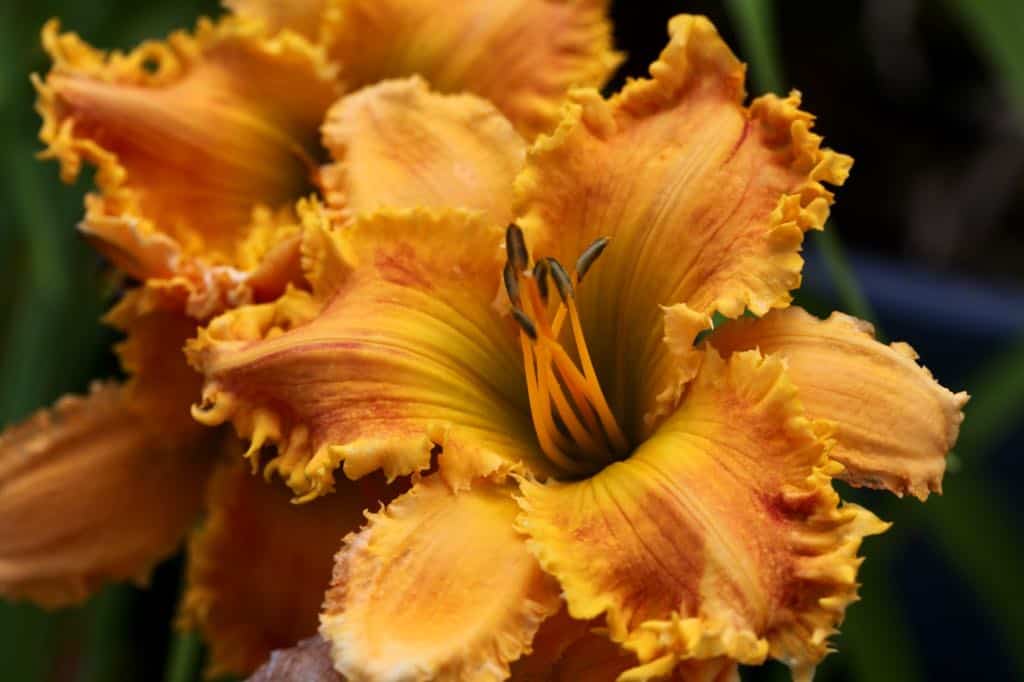 Daylilies will occasionally rebloom though, if they are cut back early in the season.
An example of this is with newly purchased bareroot daylilies, when the flower scapes and leaves have been trimmed back for transport.
This trimming allows the new daylily acquisitions to place energy into root development once planted.
These new daylilies will often send up new scapes a little later in the season, and will flower or rebloom at a later date.
Some daylilies are also known for reblooming, such as the Stella D'Oro daylily. These reblooming types send up scapes for a longer period than many daylilies.
This reblooming trait is a genetic characteristic, and not related to cutting the plant back.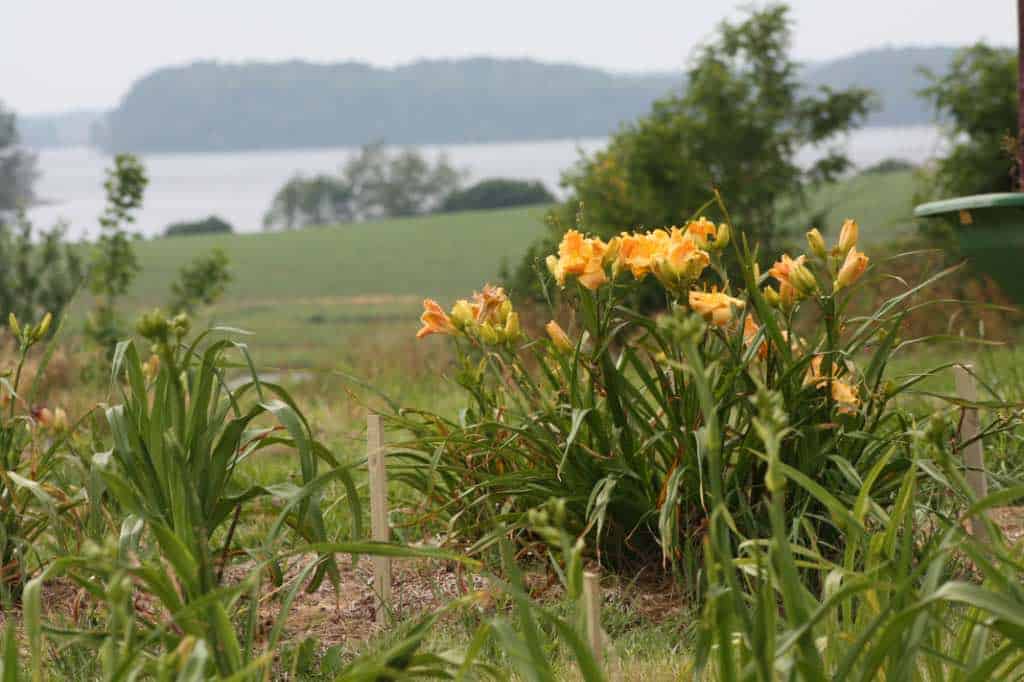 Do You Cut Daylilies Down To The Ground?
Leave some foliage in place if you cut daylilies back in the fall.
Maintain approximately 4 to 6 inches of daylily fans above the soil. If dormant, these daylily leaves will eventually fade away. I like to allow the plant to do this naturally.
Conclusion
Daylilies are low maintenance perennial plants and are a great choice for many different types of gardens.
The individual blooms last only for a day, but often the flower stems will have enough buds for the bloom time to last for a month or longer.
There are many varieties of daylilies, with different colors and flower form. Choose from varieties with different bloom times, and increased number of blooms, to extend the color throughout the growing season.
Divide daylilies every three years or so, to help to invigorate the plants.
Consider growing these wonderful perennials in your garden, to enjoy their beauty year after year.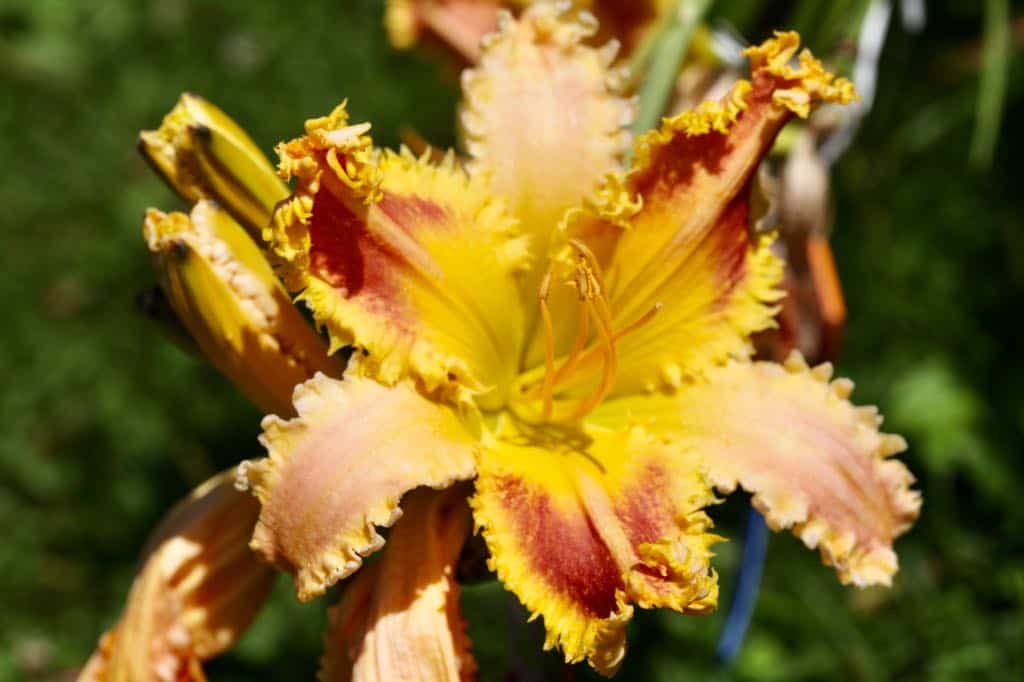 Do you grow daylilies, and enjoy these fabulous perennials in your garden? Be sure to leave a comment below to share your experience!
Other Posts You May Like:
PIN IT FOR LATER!