Last updated on October 22nd, 2023 at 09:17 pm
Chamomile is a perfect plant to grow in the herb garden. This darling little plant is full of many benefits, and is a choice plant for the herbalist and tea drinker. Learn how to grow chamomile from seed, and enjoy the benefits that this calm and soothing herb will bring at harvest.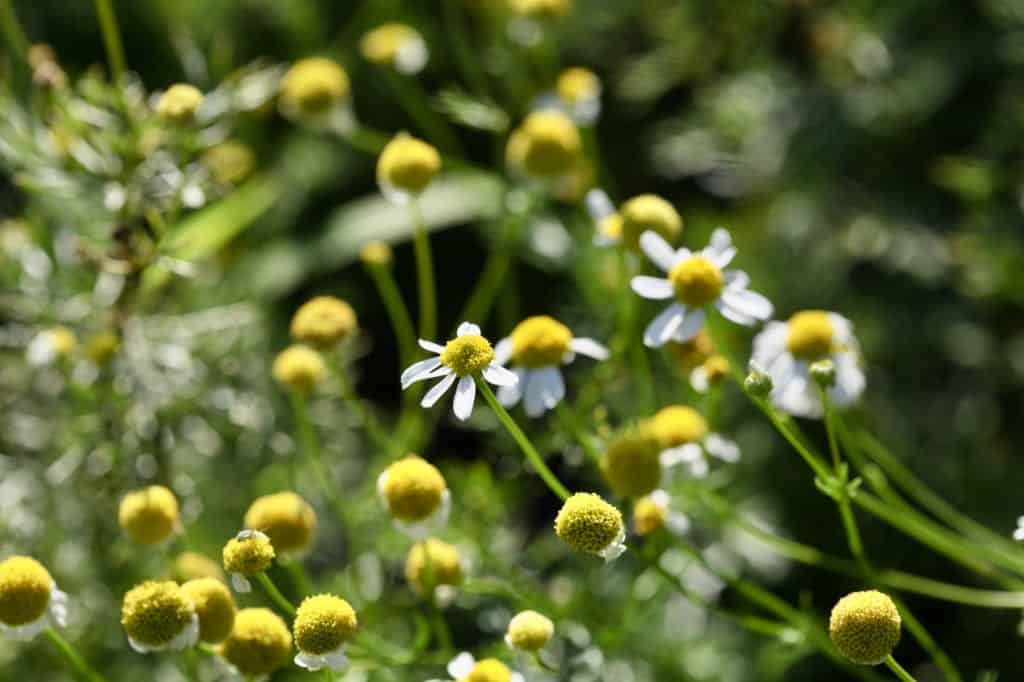 What Is Chamomile?
Chamomile is an ancient herb which has been cultivated in herb gardens all over the world throughout the ages.
This herb has been cultivated for it's lovely aroma and for it's use in herbal tea.
Chamomile has also been studied for it's medicinal benefits, and has long been regarded for it's medicinal uses.
The name "Chamomile" is the common name for a group of flowering plants in the Family Asteraceae. These plants produce daisy-like flowers which are usually dried and used to make herbal infusions.
For the sake of this article we will be taking a look at the chamomile herb from the Family Asteraceae, commonly grown from seed and dried for tea.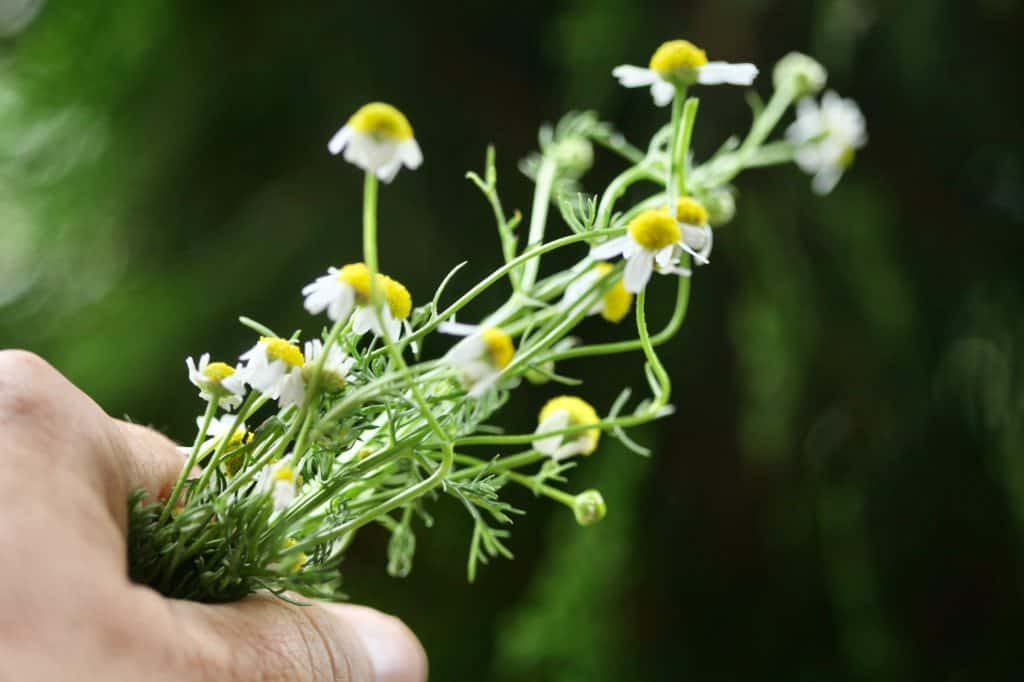 Popular Chamomile Species
Two popular species of chamomile include Matricaria chamomilla, as well as Chamaemelum nobile.
The common name of "chamomile" is used for both plants.
Matricaria Chamomilla
Matricaria chamomilla, or matricaria recutita, is an annual plant from the Genus Matricaria.
This species is known as German chamomile.
German chamomile is a taller variety native to Europe. It is popular for use in teas and herbalism.
This annual herb grows approximately two feet in height.
This variety of chamomile readily self sows.
Chamaemelum Nobile
Chamaemelum nobile is a perennial herb from the Genus Chamaemelum.
C.nobile is known as Roman, English, or Russian chamomile, and as well as lawn chamomile.
This variety of chamomile is a perennial plant, and is often grown as a ground cover due to the plant's low growing nature.
English chamomile can even be used as a lawn substitute in some locations, thus the name lawn chamomile.
Flower stems are often less than one foot in height.
This plant spreads via underground roots.
Matricaria Discoidea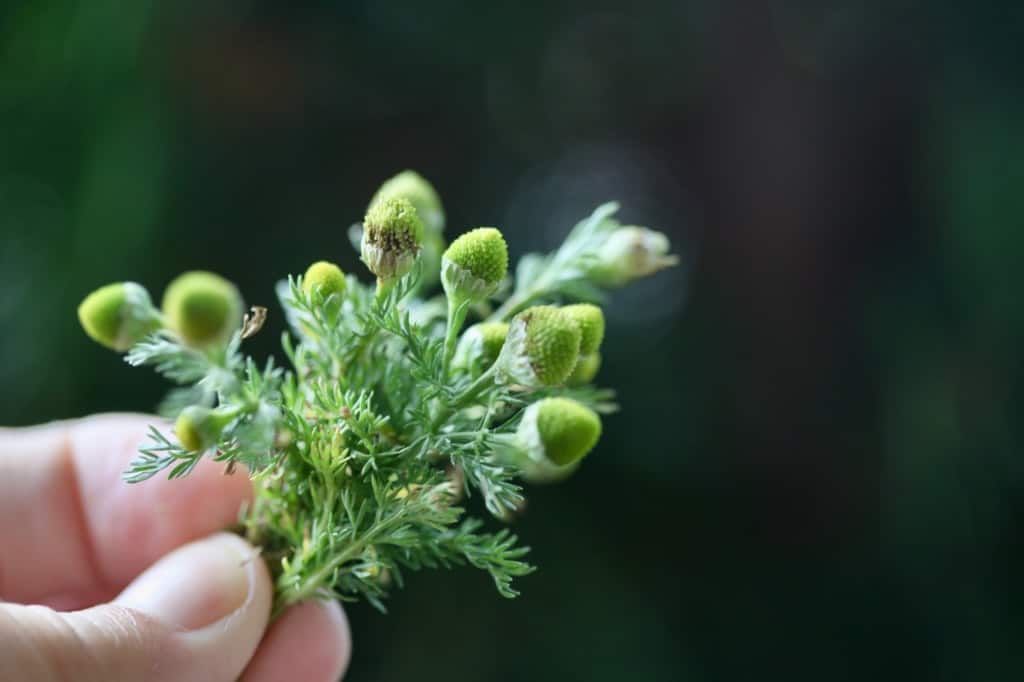 Matricaria discoidea, or wild chamomile, is also known as pineappleweed, which is just one of a number of common names for this plant.
Pineappleweed is also known as disc mayweed and rayless mayweed, as it lacks the white ray florets commonly seen on chamomile.
This tiny petalless herb is often found growing in fields and on roadsides as a wildflower.
It is a very common wild herb here in Nova Scotia, and often grows in the dirt driveway at the farm.
Plant height is usually less than a foot.
The plant gives off a wonderful pineapple scent when the flowers or foliage are crushed, thus the name pineappleweed.
Be sure to harvest from an area that is free from toxins in the environment.
Pineappleweed is also edible, just like it's counterparts, and the flowers and leaves can be used in the same manner.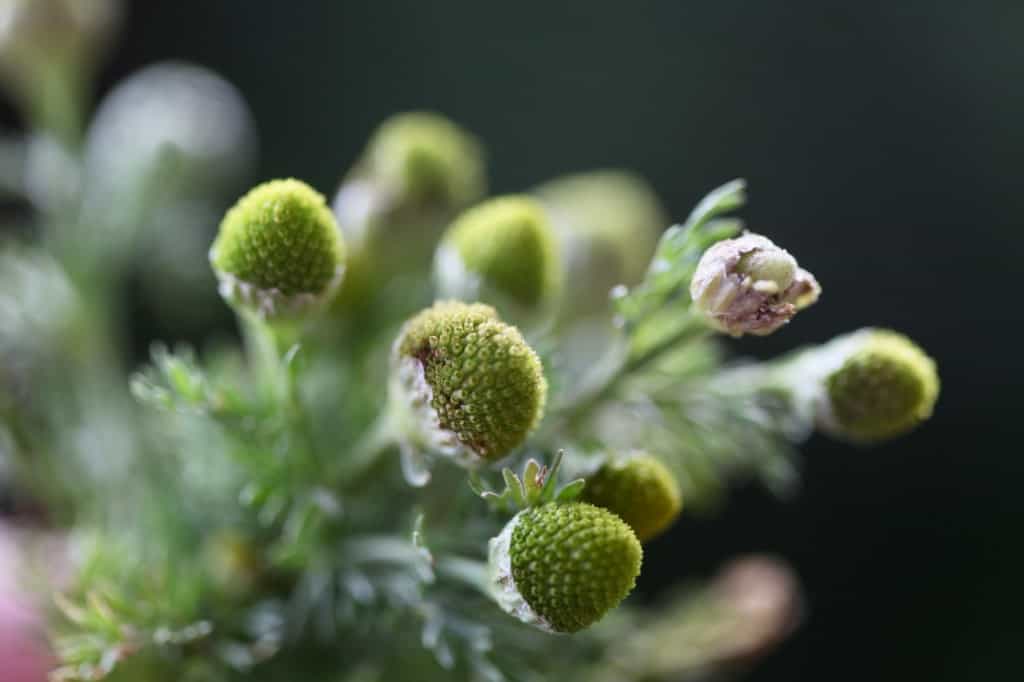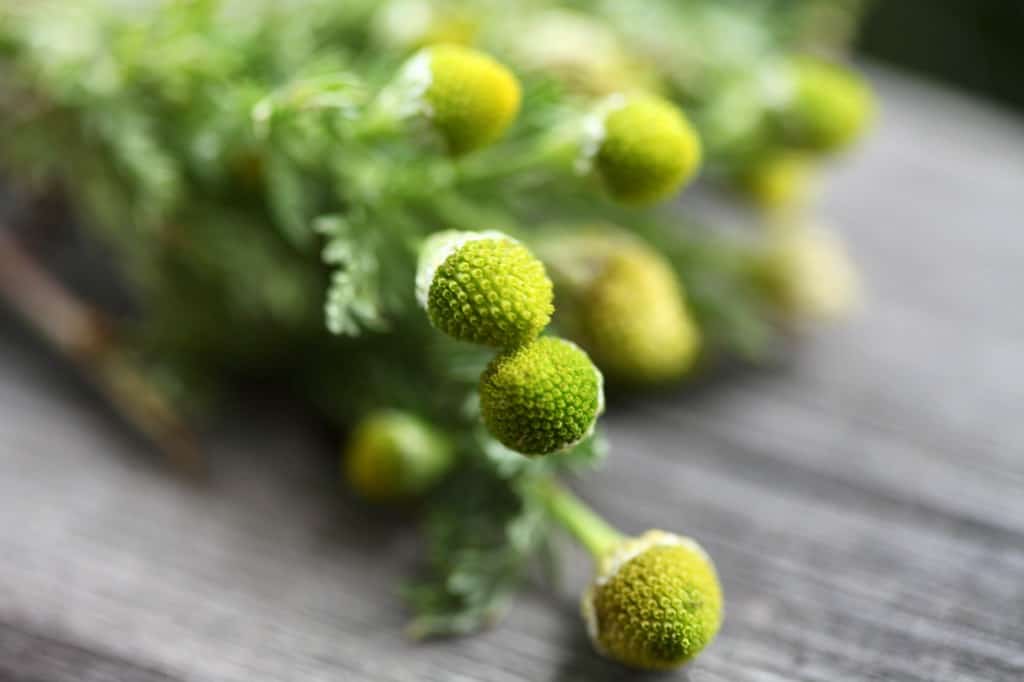 The Flowers
Chamomile flowers are small, dainty and daisy-like, with yellow centers and white petals.
The white flower petals are ray florets, and the yellow centres are disc florets.
The fragrant flowers have a subtle and pleasant fruity scent.
Size of the blooms is approximately one to two centimetres in diameter.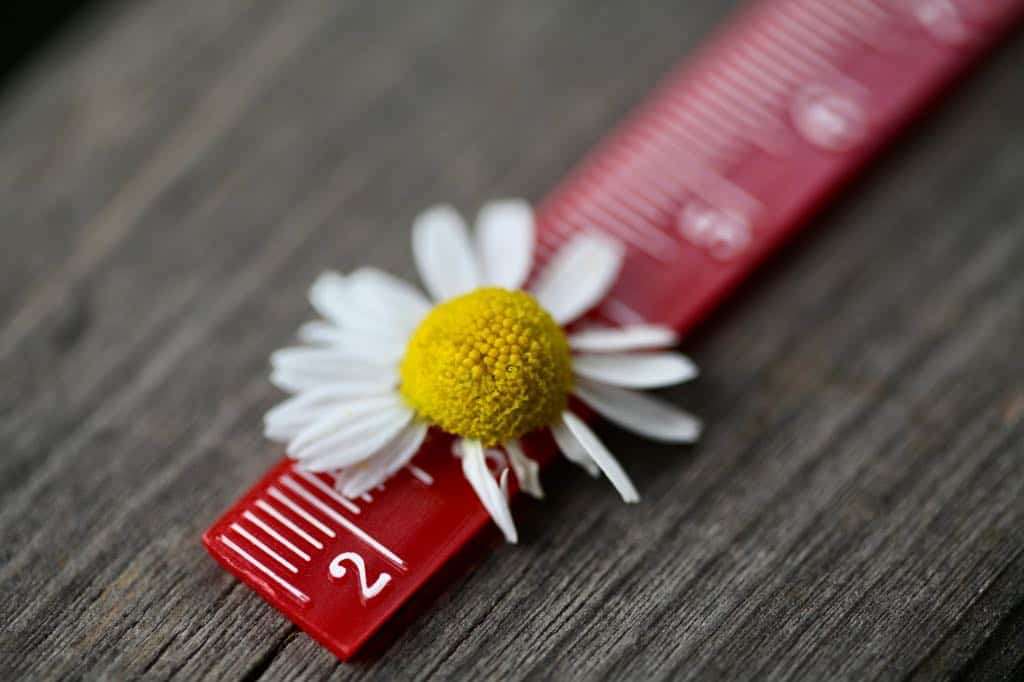 The flowers on English or German chamomile are produced on branching stems. Those on Roman chamomile are produced on single stems.
Chamomile flowers are mostly harvested for use in fresh and dried forms for herbal infused teas.
It is best to harvest the flower heads when they are at their peak, when the ray florets are still horizontal, and have not yet pushed backwards towards the stem.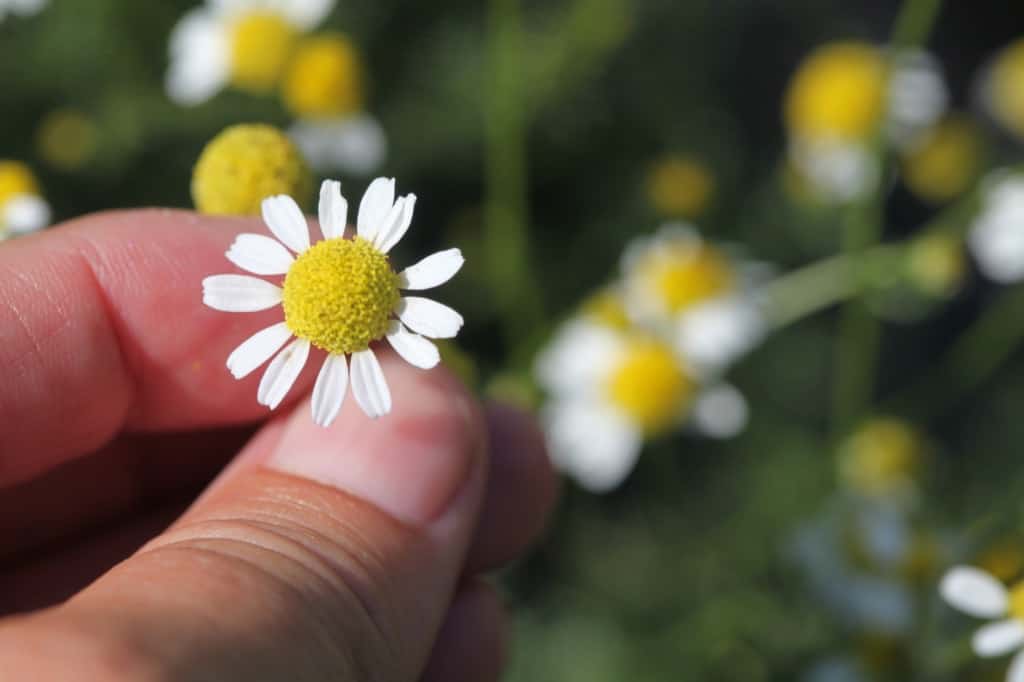 The Leaves
Leaves on chamomile are fernlike and wispy with a soft texture.
The leaves have a green coloration, and are attractive in combination with the white flowers.
Although it is the chamomile flowers that are most often used, the chamomile leaves are also able to be harvested when young and tender, and used in teas and salads.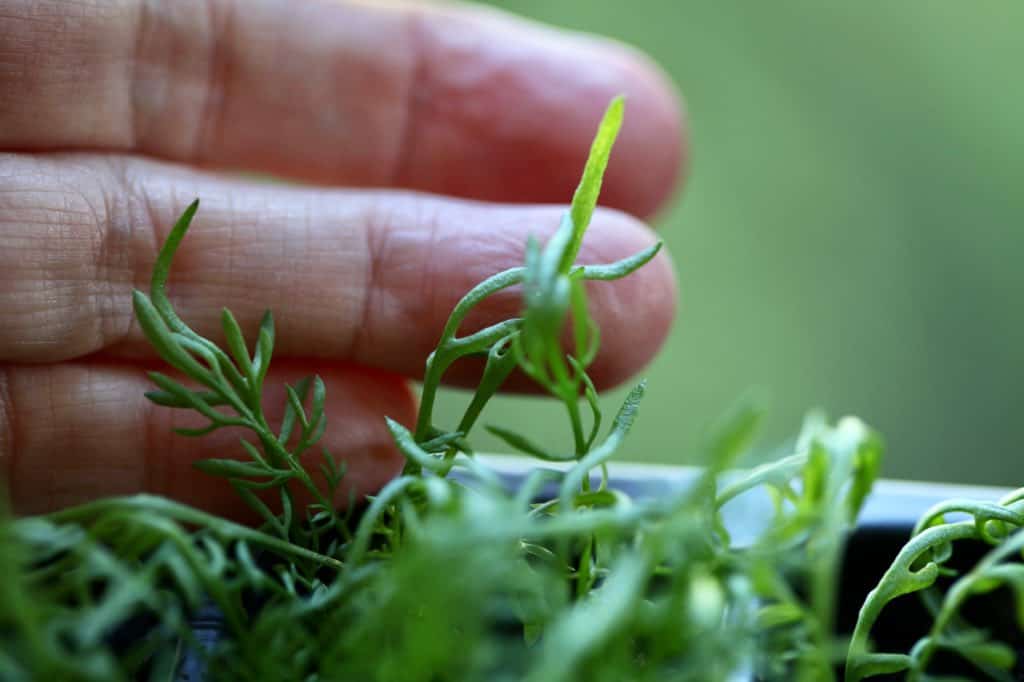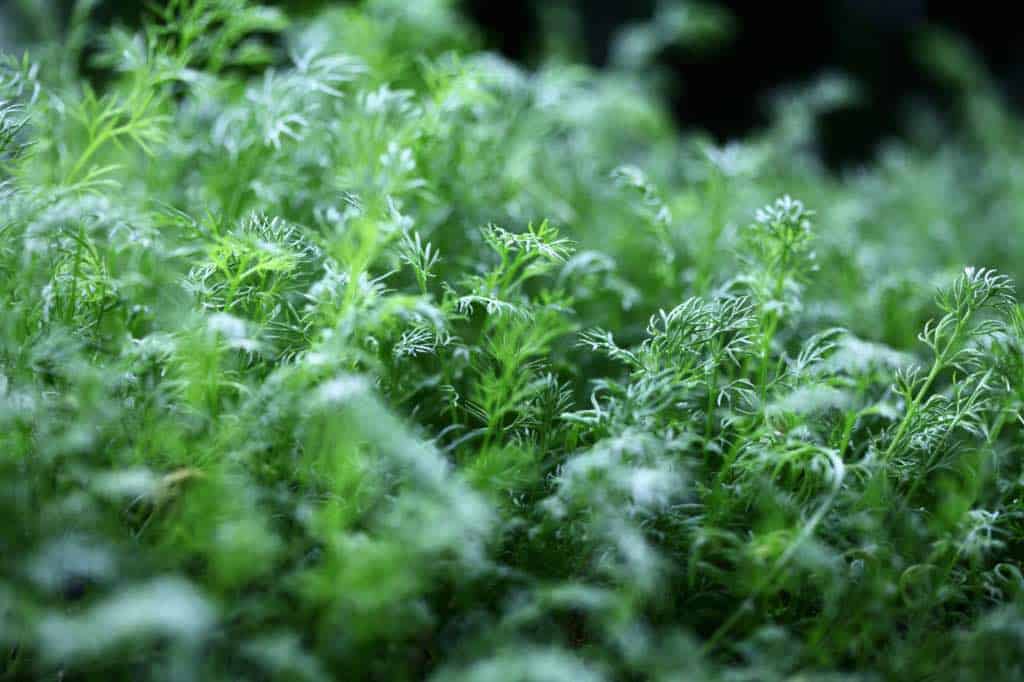 The Seeds
Chamomile seeds are very small at approximately 1 mm in length. The small seeds are tan in color and elongated in shape.
When planting the seeds it's important to allow them to be exposed to light for germination.
They should therefore be sown directly on top of the soil, or surface sown, without covering them at planting time.
Chamomile seeds readily reseed the following year, providing volunteer plants for the garden.
How To Grow Chamomile From Seed
Chamomile is an easy herb to grow from seed.
You can start the seeds indoors six weeks before your last frost date, or alternatively direct seed or surface sow into the garden after the last frost date.
This year we planted some annual German chamomile seeds, and a variety called Zloty Lan.
This is a Polish variety which has a propensity for self sowing, which is a bonus.
The seeds were started indoors in early spring.
Planting Chamomile Seeds Indoors
Start the seeds indoors in late winter or early spring, to give them a head start on the growing season, and to allow you to have good sized transplants for planting into the garden.
Fill the planting containers with a good quality growing medium. We used seedling cell trays in which to plant our seeds.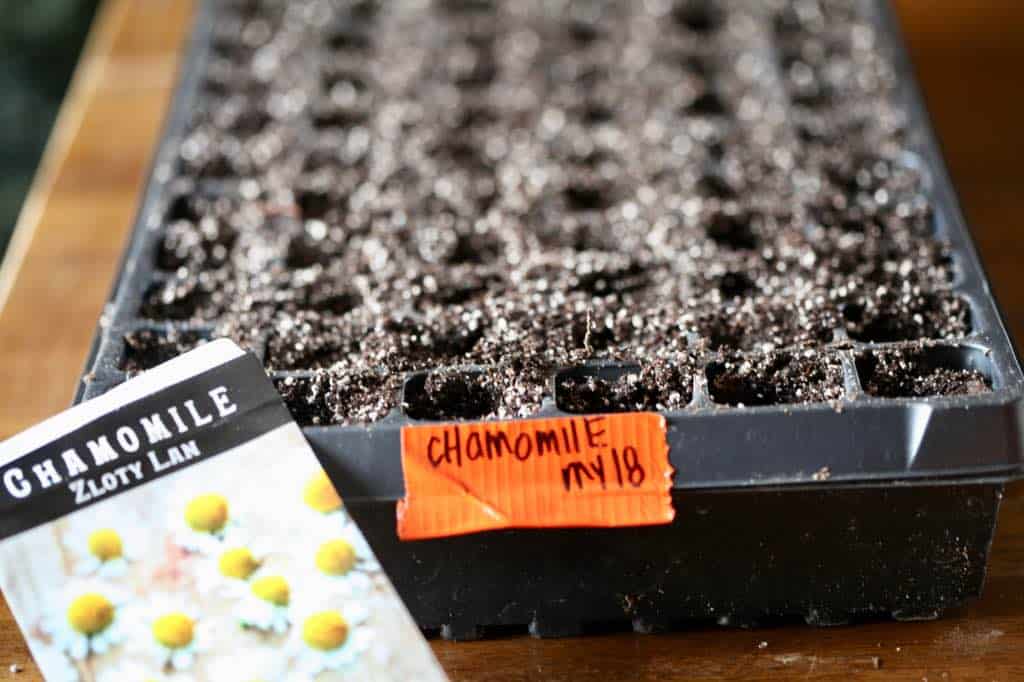 Sprinkle one or two seeds on the surface of each cell.
The seeds will require light for germination, so do not cover.
Bottom water the tray after planting, to moisten the soil.
Keep the soil moist during the germination process, and do not allow it to dry out.
Place the tray on a heat mat, and provide bottom heat until approximately 60% of the seedlings have germinated.
Remove from the heat mat and place under grow lights until ready to be transplanted into the garden.
Germination generally occurs within 10 to 14 days.
Time from sowing to bloom was approximately two months.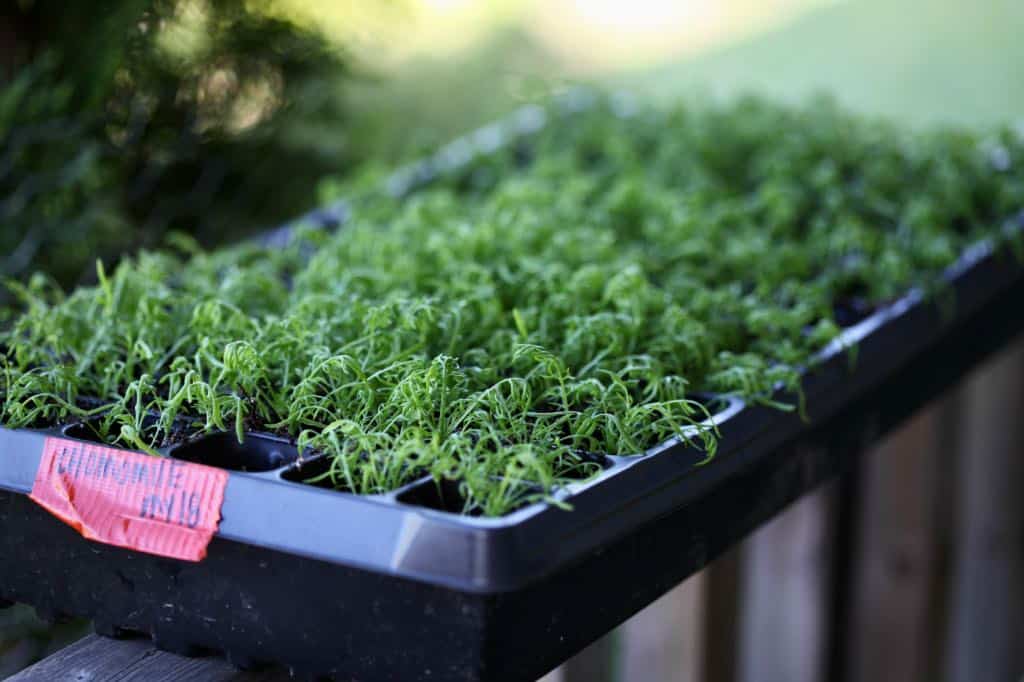 Sowing Chamomile Seeds Outdoors
Chamomile can be direct sown into the garden starting from the last expected frost date, and then further into the summer.
Direct sow chamomile seeds into a prepared garden bed.
Sprinkle the seeds on top of the soil surface.
Keep the soil moist while waiting for germination to occur.
Seeds should germinate within two weeks if the soil is warm.
If the soil is still cool it may take a bit more time. They will germinate at the right time for the hardiness zone in your area.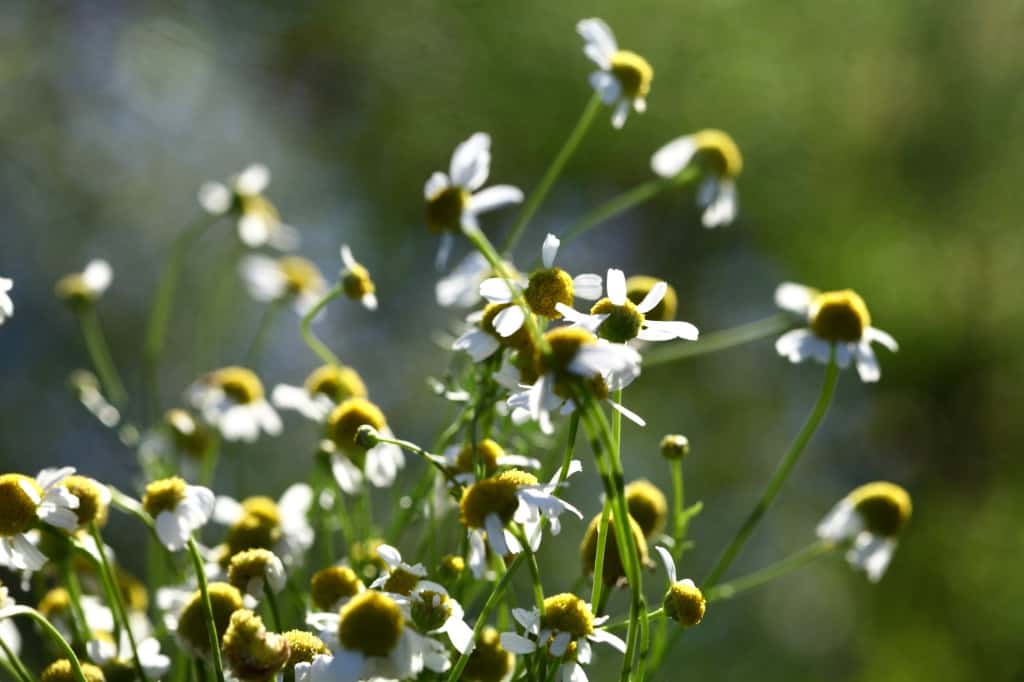 Planting Into The Garden
The young chamomile plants can be planted out in late spring once the risk of frost has ended for your usda plant hardiness zone. It's important to know your frost dates to determine planting time.
Before transplanting, make sure to harden off the seedlings to acclimatize them to the outdoor environment.
Once hardened off and planted, the seedlings are fairly hardy, and will be able to tolerate some frost in early spring.
In fact, the plants tend to do better in the cooler spring temperatures.
Spacing should be approximately 8 inches to allow for good air circulation between the plants.
I planted my chamomile seedlings in landscape fabric with holes burned at 9 inch spacing, and this was more than enough room for the plants.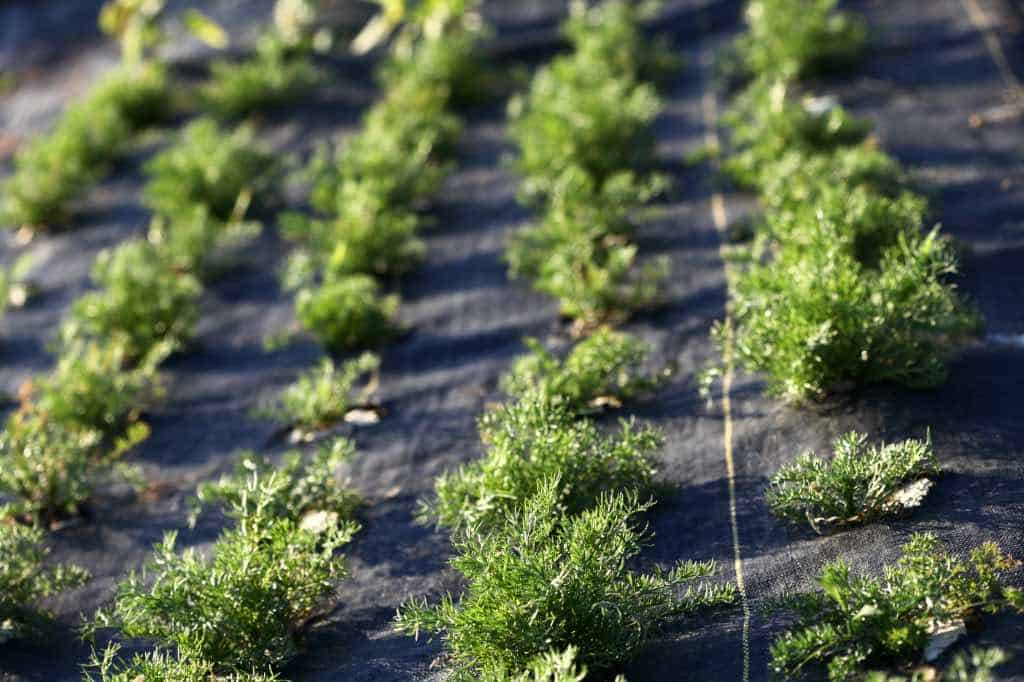 Planting Into Containers
Chamomile is a good candidate for planting in a pot or container.
I love growing any type of edible flowers in containers, including chamomile, for easier accessibility.
If they are growing in containers close to the house, its easy to run out and pick a few flowers for use in the kitchen, at any time that they are in bloom.
Chamomile looks great growing in containers, and can be planted all on it's own, or grown in a container with other flowers and herbs.
To grow chamomile in containers:
Fill the container with a good soilless growing medium.
You can either surface sow the seeds onto the soil surface, or alternately transplant young seedlings which have been started earlier indoors.
Water the plants or seeds after planting. If planting from seed, make sure to keep the soil moist in the pot until germination has occurred.
Place the pot in a sunny location to promote good bloom development.
Water regularly as required.
Chamomile likes moist soil, however the plants can also endure periods of drought.
Chamomile Care
Now let's have a look at the growing conditions for chamomile which are an important part of chamomile care.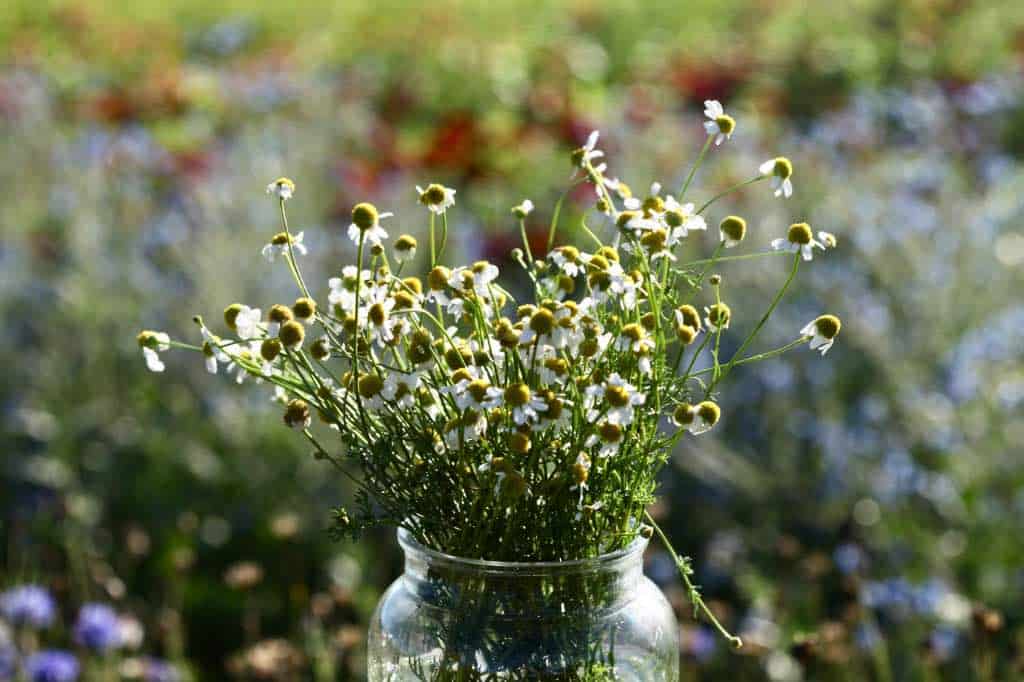 Growing Zone
Annual chamomile will grow well from seed in most hardiness zones.
Perennial chamomile, Chamaemelum Nobile, grows well in hardiness zones 4 to 9.
Chamomile in general tends to like the cooler part of the season, and does better in spring or late summer.
Light Requirements
For best results and flower production, plant chamomile in a full sun location.
The plants should receive a minimum of at least six to twelve hours of direct sunlight for optimal growth and flowering.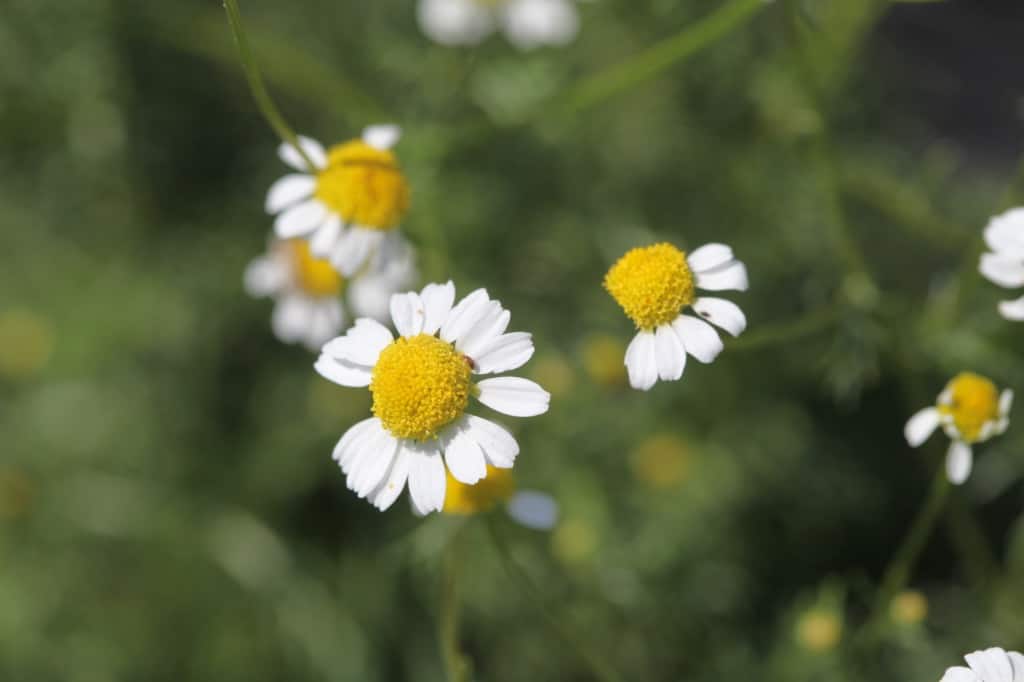 Soil Requirements
The best soil for chamomile is rich fertile soil, high in organic matter, with good drainage. A rich soil will result in better flowering.
Chamomile will also grow in poor soil, however the flower production may be reduced.
Moisture Requirements
Chamomile can be narrow rooted so it likes a moist but well drained soil.
Water as needed during dry spells.
Mulching will help to maintain the moisture in the soil.
Established plants are drought resistant.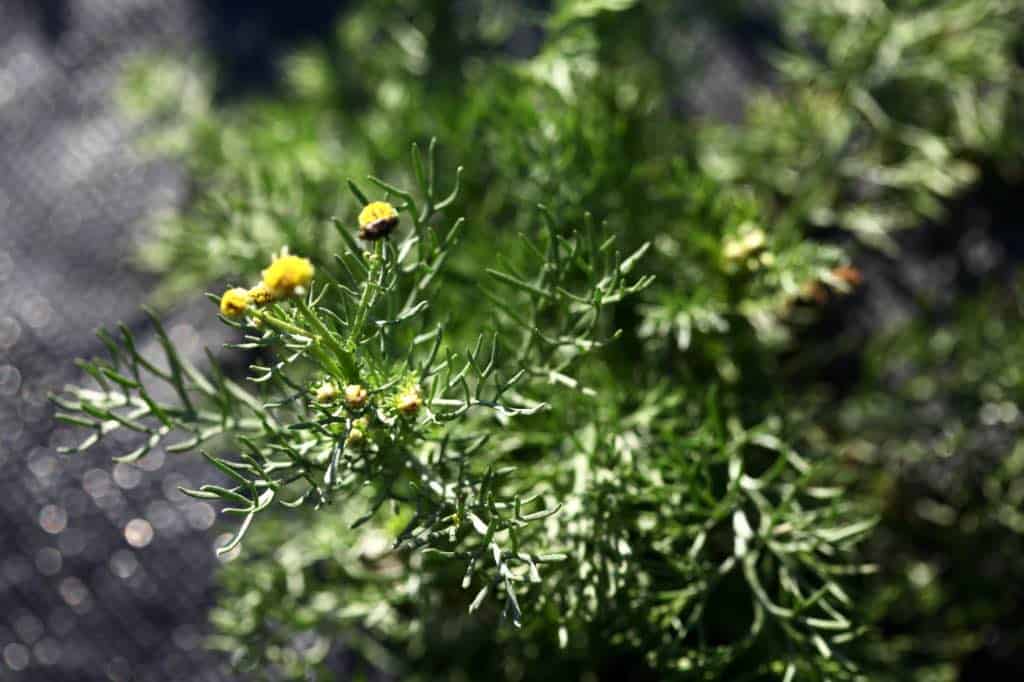 Pests And Diseases
Although the chamomile herb is mostly pest free, there are a few pests that can become problematic.
Aphids can infest the chamomile plant and do some damage to new growth. Wash the bugs off the plant with a strong spray of water from the hose.
They can also be treated with an organic insecticidal soap.
Other pests include thrips, mealybugs, and less commonly, powdery mildew.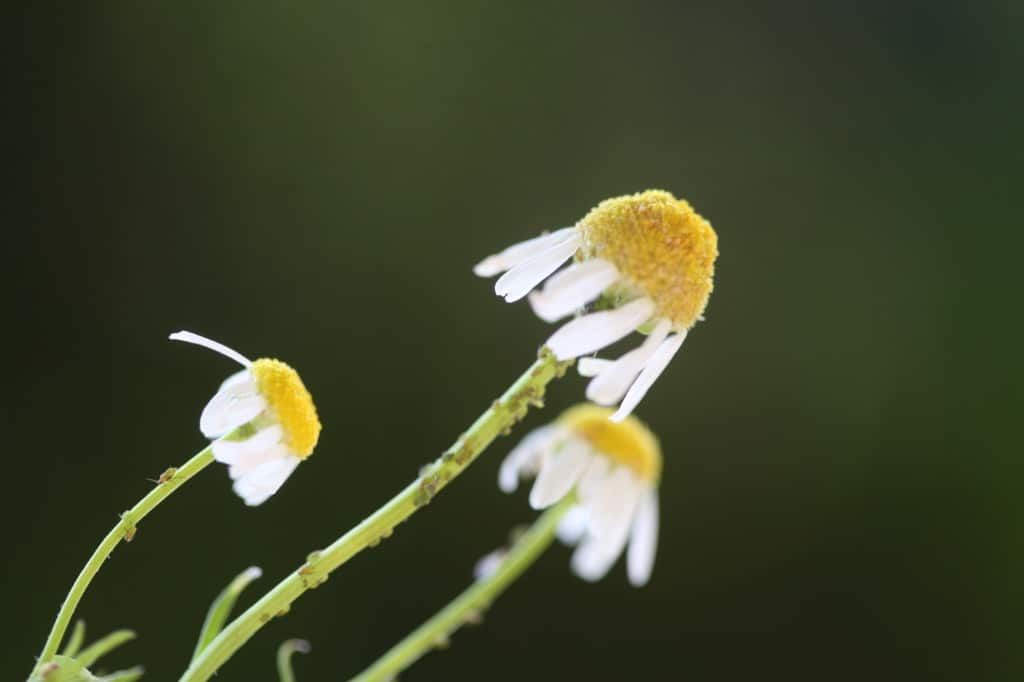 Pruning
Cut the flowers from the plant when in full bloom, to harvest flowers for drying.
After harvesting, some of the more mature flowers may have been left on the plant because they were not suitable for harvesting.
These flower heads will develop seeds, unless they are removed.
Self seeding may occur if seed heads remain on the plant. Self seeding can be a good thing for those who love new volunteer plants, and welcome the new growth next season.
Pruning will help to prevent the development of seeds, and help to conserve energy for the plant to produce more blooms.
Chamomile Benefits In The Garden
Besides being a beneficial herb to harvest and use, chamomile also provides a positive and beneficial presence in the garden.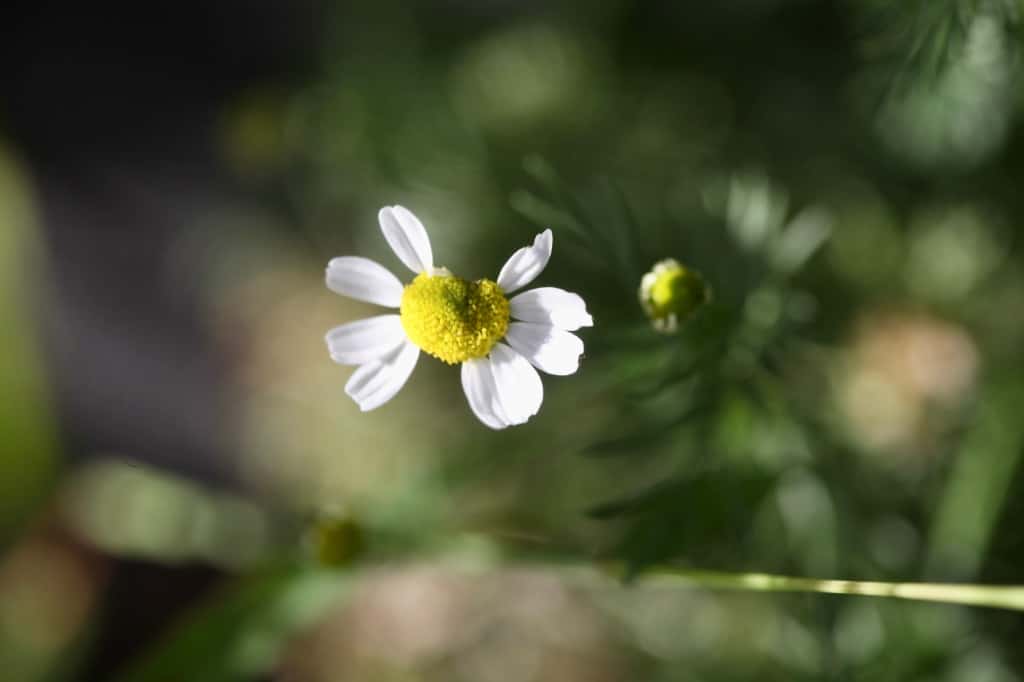 Chamomile is attractive to pollinators such as bees and butterflies, drawing them into the garden.
It will also attract hover flies and wasps to the garden, which are predators for many garden pests.
Attracting beneficial insects makes chamomile a great companion plant in the vegetable garden, as well as the herb and flower garden.
Plant near vegetables as a pest deterrent.
Chamomile will improve the flavor of many companion plants, including onions, basil, and other herbs
The only plants to avoid as companion plants with chamomile are mint and carrots.
Mint can overcrowd the chamomile plants with it's aggressive growth habit. Chamomile can attract the carrot root fly, having a detrimental effect on your carrot crop.
How To Use Chamomile
Chamomile has been used widely in herbal medicine, and is valued for it's medicinal properties.
The plant has been used as an anti-inflammatory, antioxidant, astringent, and calming agent.
The most popular use for chamomile is as a herbal infusion in a tisane or tea. The calming effects of a cup of chamomile tea are known to relax and soothe.
Dry some chamomile flowers to have throughout the year, and to have on hand for a cup of hot chamomile tea.
Chamomile is also grown for it's essential oils which are extracted from the flowers by steam distillation. The oils are used in aromatherapy to provide a soothing effect.
Since the flowers of chamomile are edible, consider using the tiny blooms as a culinary garnish, along with other edible blooms from the garden.
The dainty nature of the tiny blossoms are perfect for decorating cakes and cookies, and any other recipes requiring a floral garnish.
Tender fresh leaves are used in salads and recipes for a special touch of chamomile.
Consider using chamomile as cut flowers, if the chamomile has longer stems. Some shorter varieties may not be suitable as cut flowers.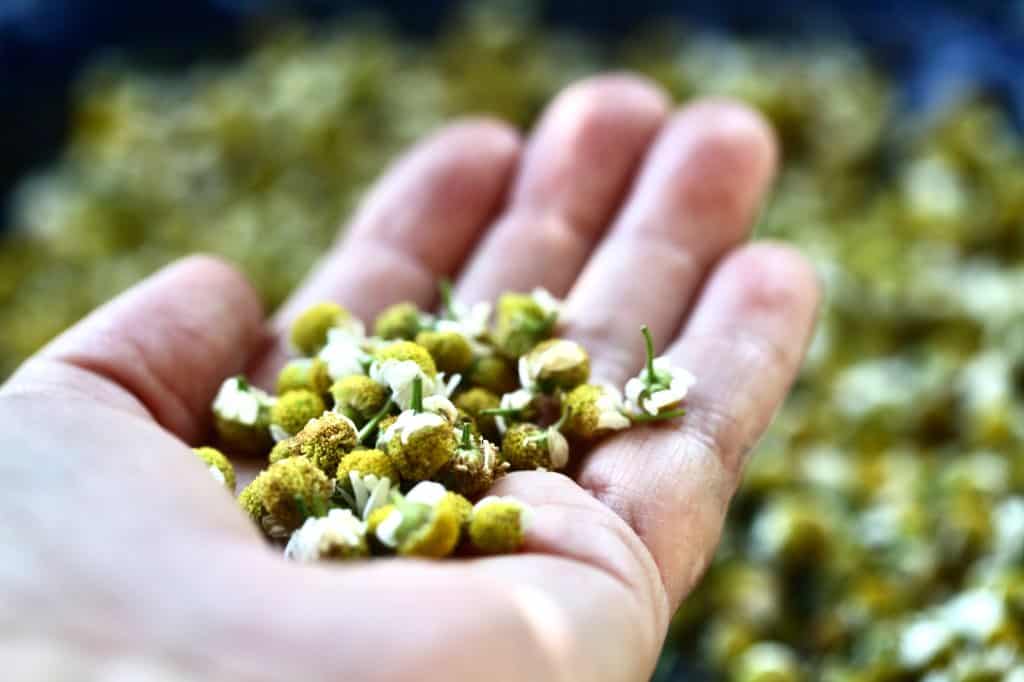 Harvesting Chamomile
Whenever harvesting any flowers, including chamomile, it's always best to harvest earlier in the morning when the plants and flowers are in their most hydrated state.
Harvest the flowers when they are fully open for best results.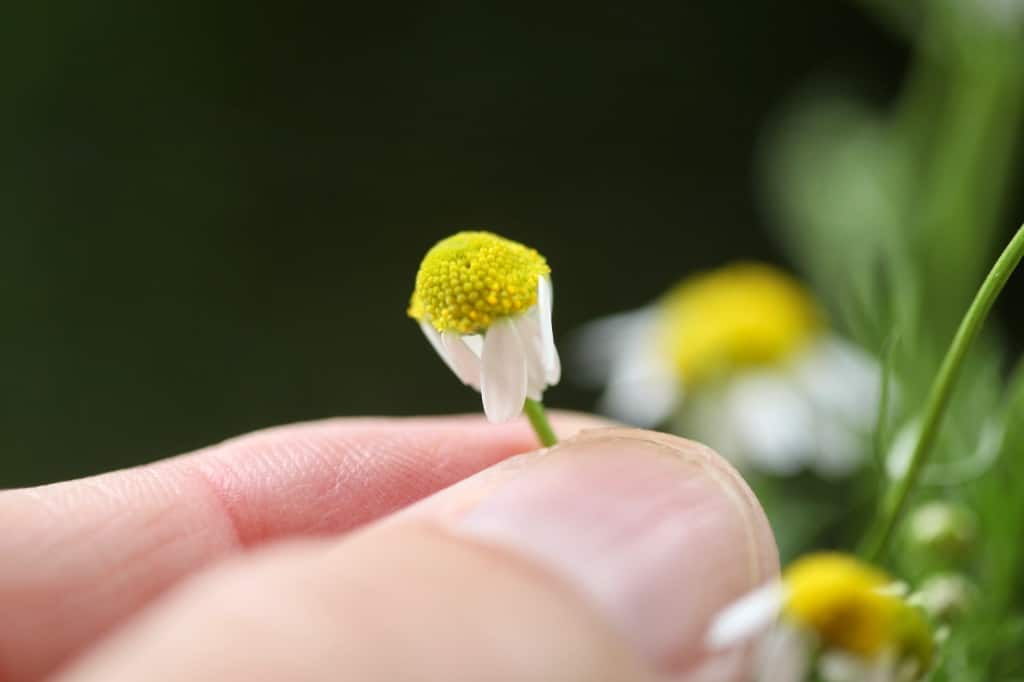 Cut under the flower heads with a pair of sharp scissors, removing each individual flower suitable for harvesting from the flower stem.
The blooms are tiny, and it will take some effort to fill a bowl, however it is definitely worth the effort.
Rinse the flowers with some cool water to remove tiny bugs, dirt and debris.
Air dry on a tray or plate for several weeks until completely dry.
Store in an airtight container, and place in your pantry.
Conclusion
Chamomile is a popular herb for both herbalists and gardeners, and it's a good choice for planting in the herb, vegetable or flower garden.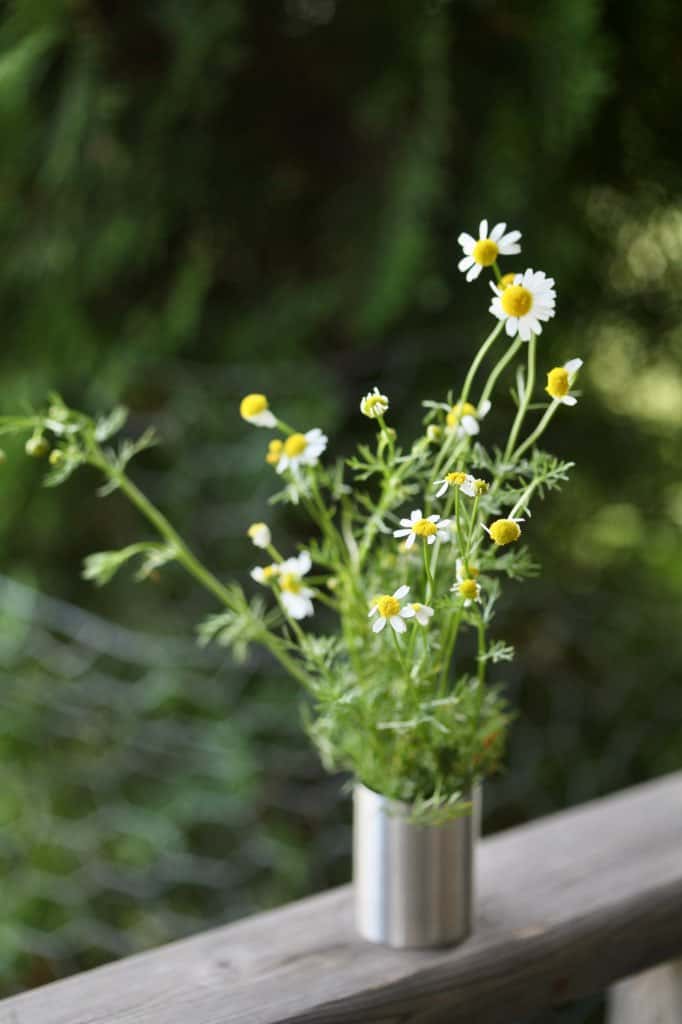 There are a number of different varieties of chamomile to chose from, depending on your preference and gardening needs. Most chamomile varieties are propagated from seed.
Growing chamomile from seed is easy, and the young plants are easy to care for and maintain.
Once the flowers have bloomed, make sure to harvest the flowers at just the right time, when the blooms are fully open. This is the best time to use them, and to dry them for later use.
These edible flowers are great for culinary use, and you can use fresh flowers or dried flowers in your recipes.
Chamomile is a great plant to grow from seed, and to harvest throughout the growing season.
If you are growing the annual variety, don't forget to save some seeds at the end of the season, to plant out again next season.
You may also find some volunteer plants, which is always such a wonderful surprise.
Have you ever tried to grow chamomile from seed? Be sure to leave a comment below to share your experience!
Other Posts You May Like:
PIN IT FOR LATER!