Last updated on May 16th, 2022 at 05:49 pm
Growing mint from cuttings is very simple. The cuttings root very quickly, and in no time at all will be ready to plant. Learn how to propagate mint from cuttings, and increase your supply of this wonderful herb.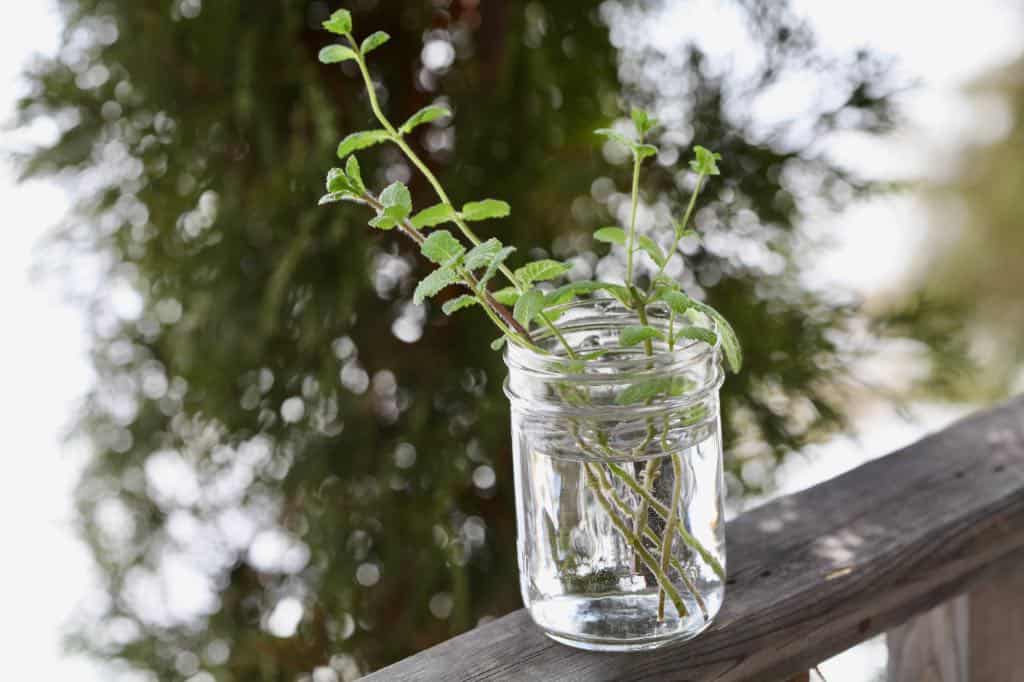 Mint is one of the easiest herbs to grow from cuttings.
The plants themselves have been growing in gardens throughout the ages, both for their culinary as well as herbal uses.
A Few Facts On Growing Mint
Mint is a fabulous flowering herb and a favourite of many. It is easy to grow in the herb garden.
You can even grow mint indoors on a sunny window ledge, along with other indoor herbs.
Mint Can Spread Easily
Just be careful when growing mint in the garden bed if you want it contained to one spot, as it can tend to spread easily depending on the variety grown.
Mint grows and multiplies by horizontal stolons and runners, and can get out of control quite easily in the garden with other plantings. It spreads readily, so consider containing it if you plan to grow it.
In some locations mint is considered to be invasive.
Mint Is Hardy
If you plan to grow mint outside, it's good to know that it is a hardy perennial herb. It grows well in usda hardiness zones 3 to 8.
Mint is also perennial, and will return to the garden year after year in the right growing conditions.
Mint Has Many Varieties
There are many types of mint, including different species as well as many different hybrid varieties. The taste and smell of mint varies widely between the different types.
Examples of different types of mint include peppermint, spearmint, chocolate mint, and pineapple mint to name a few.
Mint And It's Family
Mint is a member of the Genus Mentha and belongs to the Family Lamiaceae.
Also in the Lamiaceae or mint family are other easy to grow herbs, such as rosemary, sage, thyme, and basil just to name a few.
These herbs just like mint, are also easy to grow, and are readily propagated by cuttings.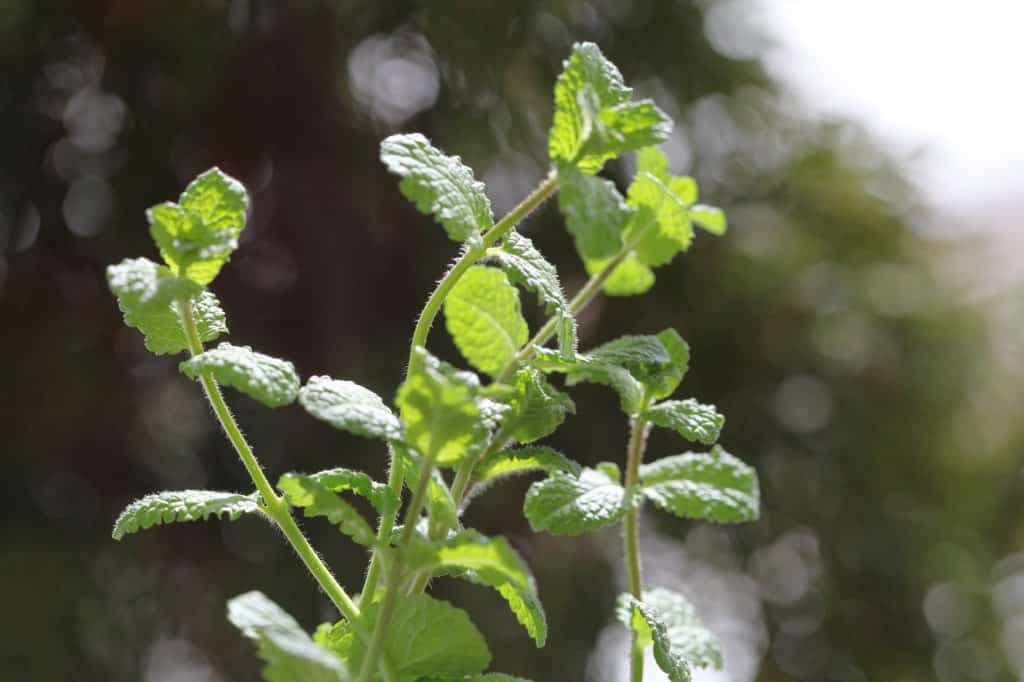 Can You Grow Mint From Cuttings?
Yes, you can easily grow mint from cuttings taken from an established plant. Mint can be grown from stem cuttings as well as stolon cuttings. New roots will form on both types of cuttings within two to four weeks, as the newly rooted plants grow quickly into new mint plants.
When placed in water, newly cut mint stems will develop roots at the leaf nodes under the water. The key is to have cuttings that are long enough, to allow for the leaf node to be immersed into the water.
You can even root mint from cuttings from the grocery store, if they are fresh and in good condition. Just give them a trim at the bottom of the stems, and follow the directions that we will discuss.
Mint cuttings can also be rooted in soil. The key to success for this method is to keep the soil moist until the cutting is rooted. You can also use rooting hormone, although it is not necessary.
Stolon cuttings are easy to establish, and will also require a moist soil until they take root.
So yes, you can most definitely grow mint from cuttings, and we will have a look at some methods for the best success.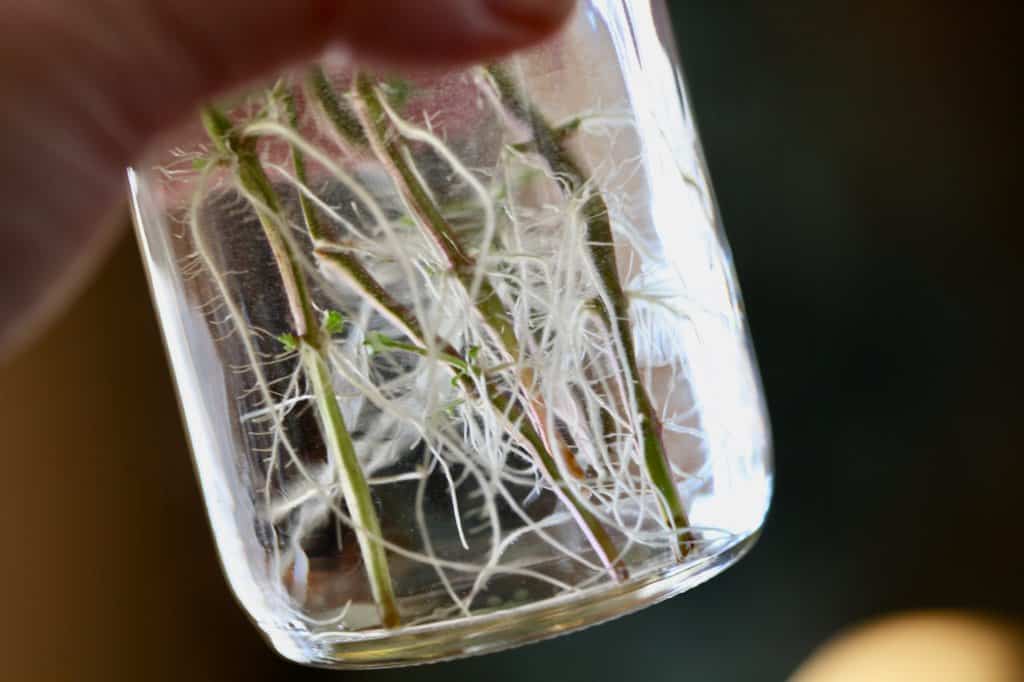 The Benefits Of Growing From Cuttings
Many herbs are easily rooted from cuttings, and mint is no exception.
I have often discovered by accident just how easy it is to root some of the herbs in the family Lamiaceae, after taking cuttings and placing them in containers of water to use in the kitchen.
Basil is one of those easily rooted plants which comes to mind. Basil is in the same family as the easily rooted mint.
It's always a wonderful surprise to find a newly rooted plants on your kitchen counter, even if you were not expecting it.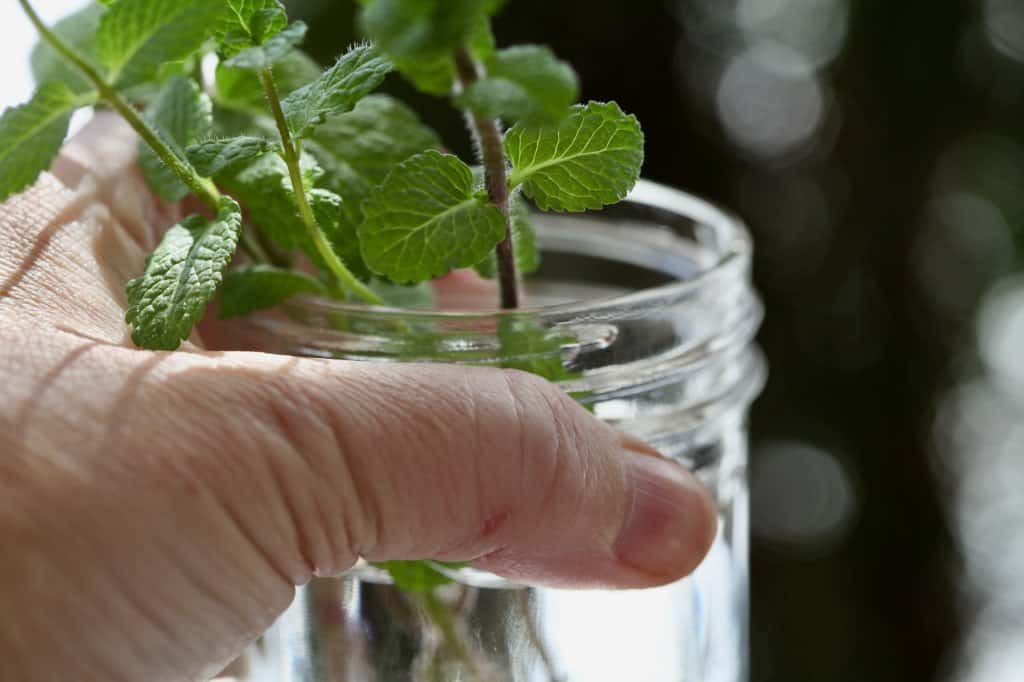 Here are some of the benefits of growing from cuttings:
Growing From Cuttings Is Easy
Many herbs are more easily propagated by cuttings than by seed, often with a higher success rate when comparing the two methods of propagation.
Growing mint from cuttings generally results in 100% success rate if you use the right techniques.
Growing most seed does not have the same success, even when easily germinated.
Cuttings Are A Clone Of The Parent Plant
Propagating mint from cuttings also means that you are getting the same plant as the parent plant. If you love your mint plant, you can create many more of the same type of plant.
Mint grown from seed will often have variations, so the resulting plant is less predictable.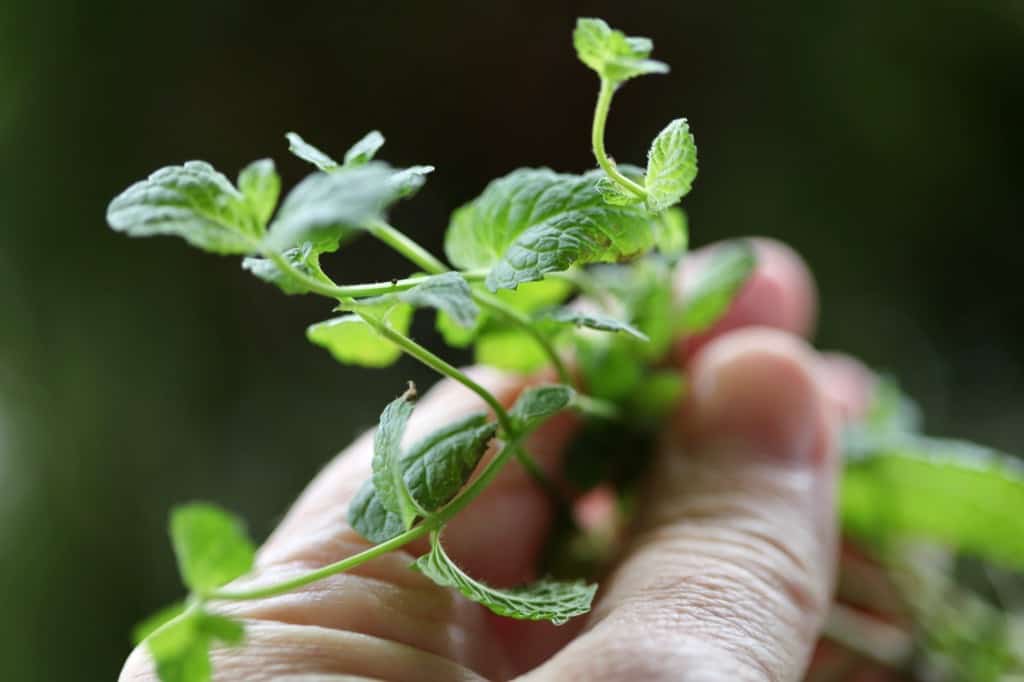 Cuttings Will Help To Perpetuate Sterile Hybrids
Some hybrid mint plants are sterile as well, and do not produce seed. Propagating through cuttings is the best way to grow these plants.
This is especially important if you love your mint plant that does not produce seed. Make a few extra plants to have multiples, just to be on the safe side.
Cuttings Result In Full Size Stems And Plants
New plants grown from cuttings also take little time to establish, once they are planted into a pot. This is an additional benefit of propagating from cuttings.
Meanwhile mint grown from seed start out as teeny tiny seedlings at the very beginning, and will take time to grow.
Cuttings grown from a cut mint stem will have similar sized leaves and stems, comparable to the mature plant.
Is It Better To Propagate Mint In Water Or Soil?
You can propagate mint in both water and soil, and both are fairly easy to do.
Some say that plants which are rooted in water may be weaker than those that are rooted in soil.
From my experience for mint at least, the plants that are rooted in water and then subsequently transplanted into soil still do very well, and grow into strong plants.
It is important however to take care of the plant, and not expose it to intense sunlight or temperatures while it is getting established after being planted into soil.
If you choose to root the cuttings into soil directly without first starting them in water, make sure that the soil remains moist until rooting occurs.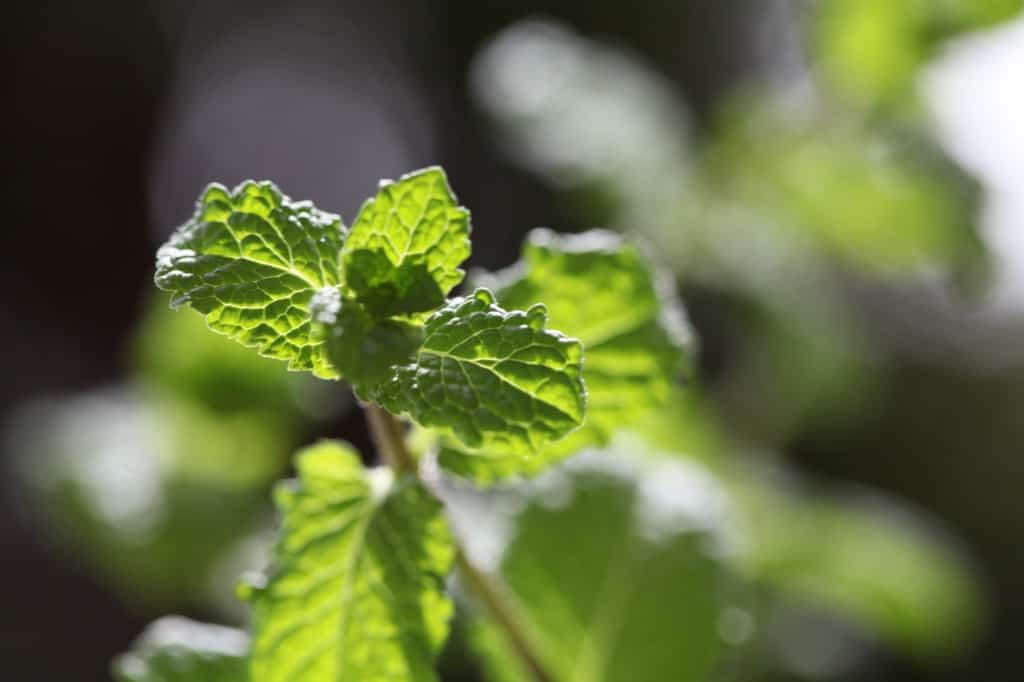 How Do You Grow Mint From A Cutting?
There are different methods to propagate mint from cuttings. Mint cuttings can be propagated from stem cuttings and stolon cuttings.
Stem Cuttings
Preparing The Stems
When choosing a stem from which to take a cutting, pick one that is at least four to eight inches in length.
Make sure to choose a healthy stem that is fresh, with new growth on top.
Avoid stems with flowers, or those which have started to form seed.
The first step is to cut the stem with a pair of clean and sharp scissors.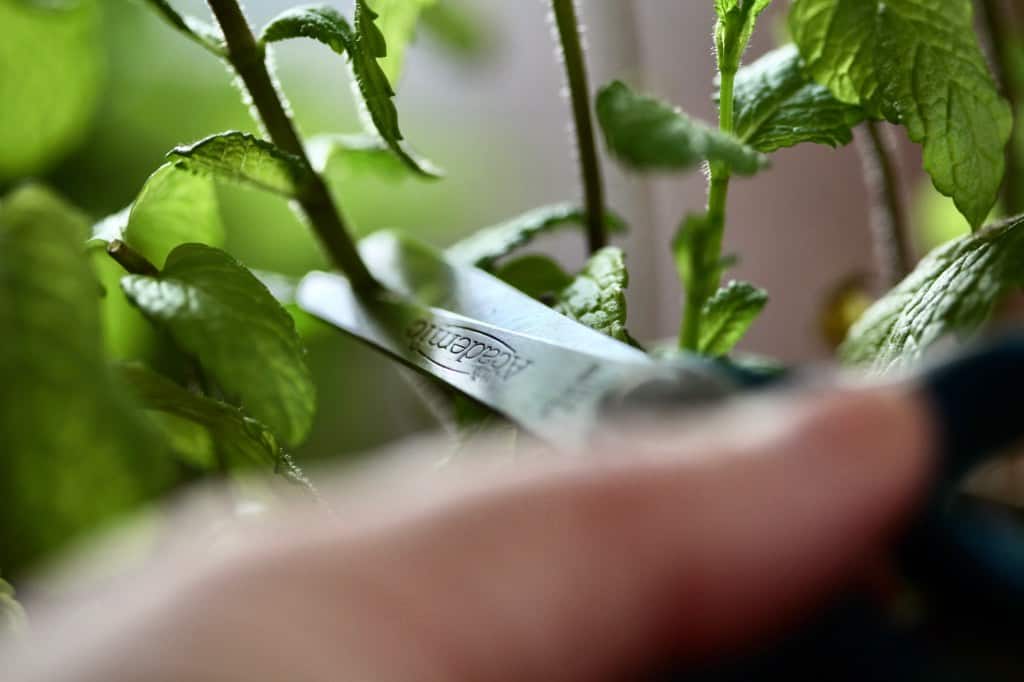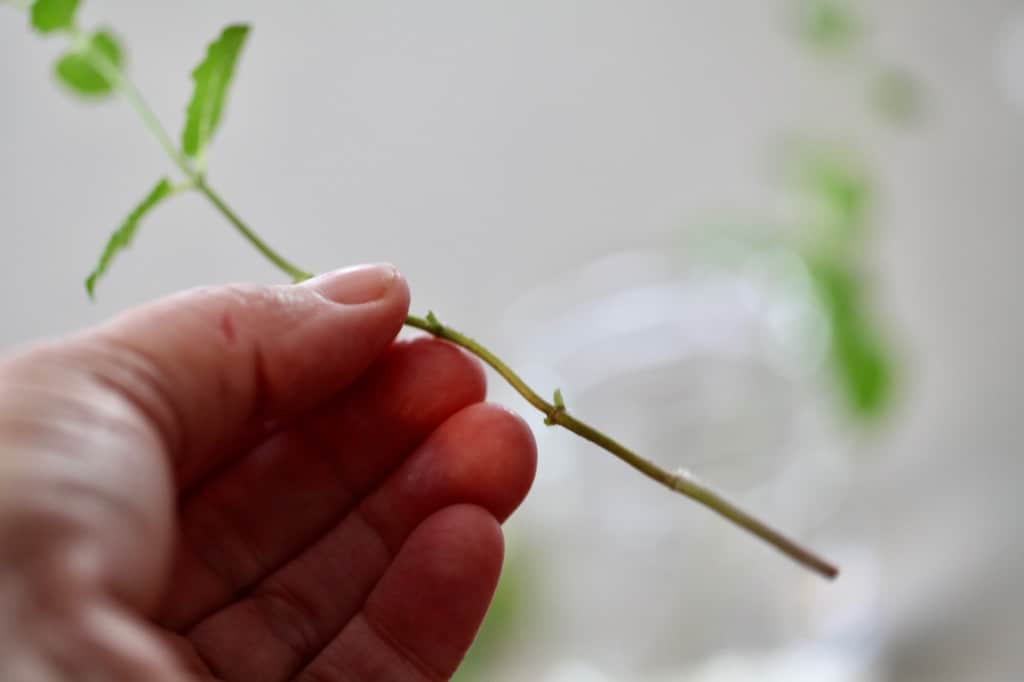 Remove the lower leaves along the sides of the stem, leaving only two to four leaves at the top.
It's important to remove any leaves that are growing along the stem, because you don't want to have any leaf bits under the water. Leaves in the water will contribute to bacteria growth in the water, which can clog up the stems.
Rooting In Water
Place the mint into a container or glass of water, and place the container in a sunny location.
Make sure that there are leaf nodes located underneath the water, as this is where the roots will begin to form.
Change the water every two to three days to keep it fresh.
In a couple of weeks the cuttings should have formed lots of new roots roots after being placed in the water.
Potting The Rooted Stems
Once they have a good amount of roots, the mint cuttings are ready to be planted into a pot with drainage holes and a good sterile potting mix.
After planting, water in well.
Take good care of your new mint plant until it becomes established.
Avoid transplant shock by watering well and avoiding extremes of temperature. Keep out of direct sunlight until the plant settles in, and the roots start to grow in the container of soil.
Once the plant is established and growing in the soil, you can transplant into the garden if that is your intention.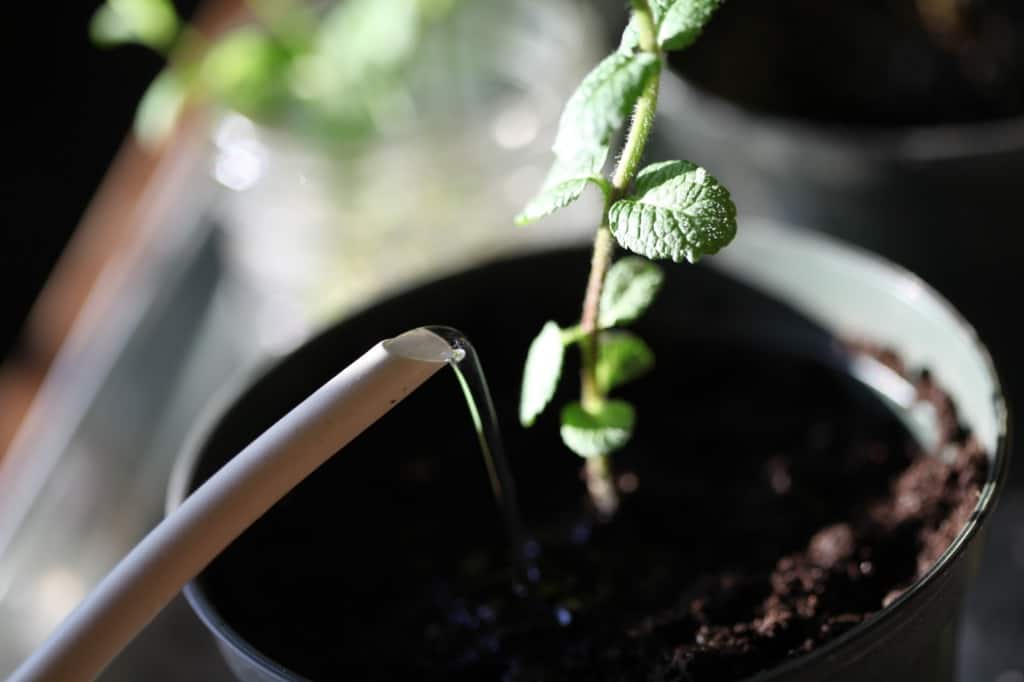 Potting Newly Cut Mint Stems Directly Into Soil
You can skip the rooting in water step if you wish, and pot directly into the soil.
The stems will easily take root as long as the soil is kept moist during this period.
Rooting hormone can help, although is not necessary.
Place the stems into the soil in a pot, ensuring that there are leaf nodes beneath the soil surface. Water in and keep moist until rooted.
Stolon Cuttings
Stolons are underground stems which can grow horizontally just above the ground as well. These stems help the plant to spread and grow.
Stolons develop nodes from which adventitious roots will form, as well as buds, from which new vertical stems will grow.
Stolon cuttings are another less common, yet easy way to propagate these perennial herbs.
These underground stems are best obtained from established mint plants growing in the garden.
Take a cutting at least six inches in length.
Dig a hole in the garden or in a pot, and place the cutting in the soil horizontally.
Water in well after planting, and keep moist until rooted.
After about three to four weeks, the cuttings will sprout, producing new plants.
How Long Does Mint Take To Propagate?
In the right location and temperature, mint cuttings can start to root within a week of cutting.
If you look closely you may even see new root growth beginning to form within just a few days.
My cuttings had tiny roots forming within four days.
Just keep an eye on them and continue to change the water to keep the setup clean. The mint will set root and grow fairly quickly. When there are lots of roots, pot them up and grow them on.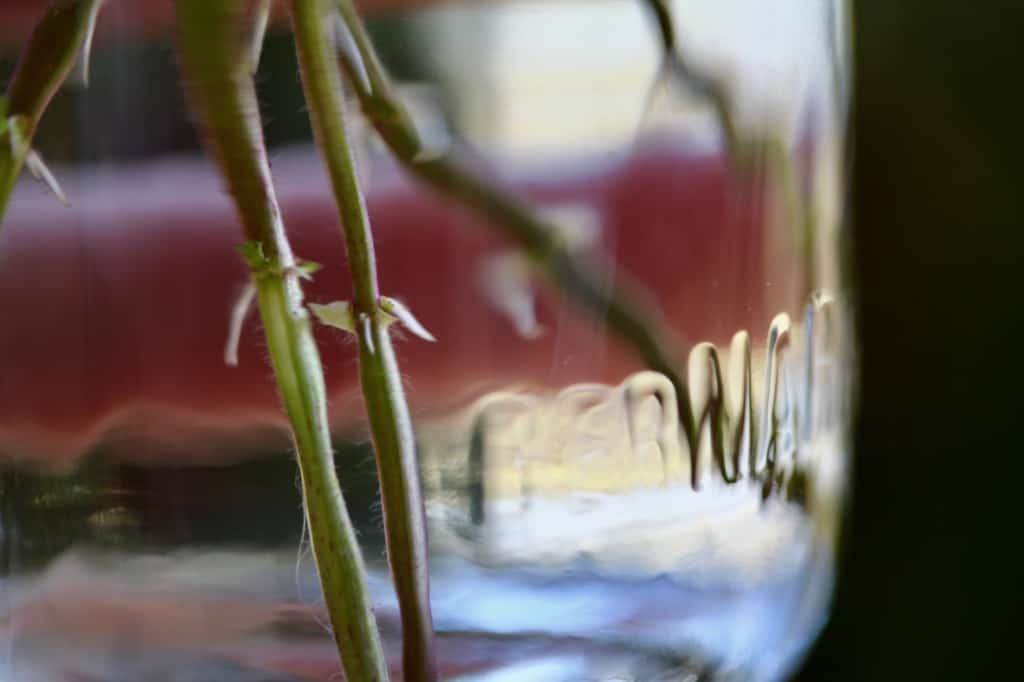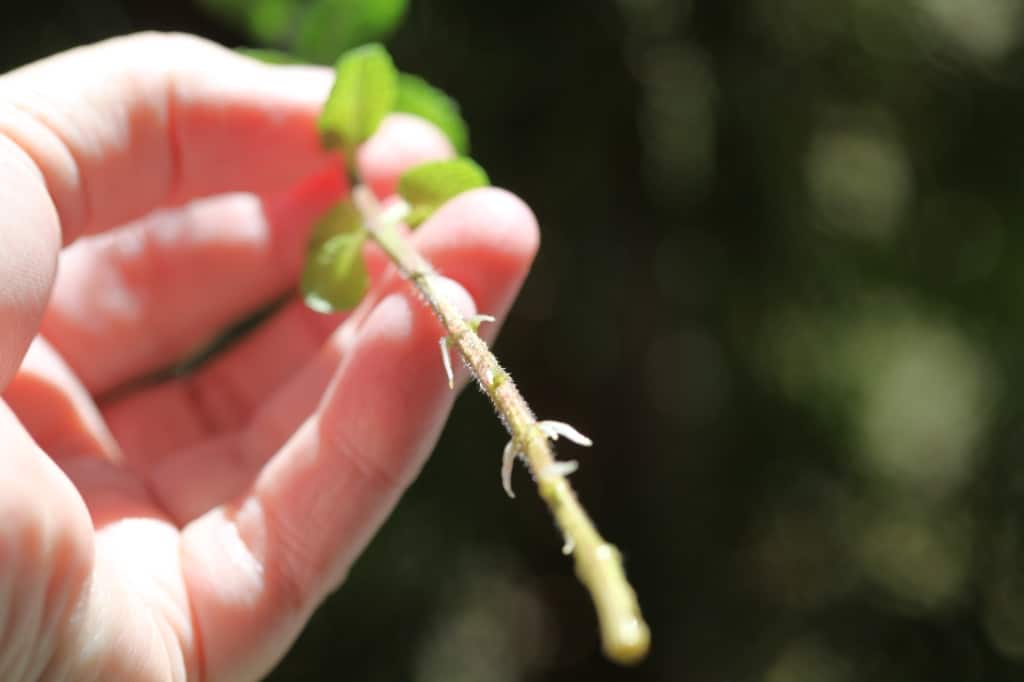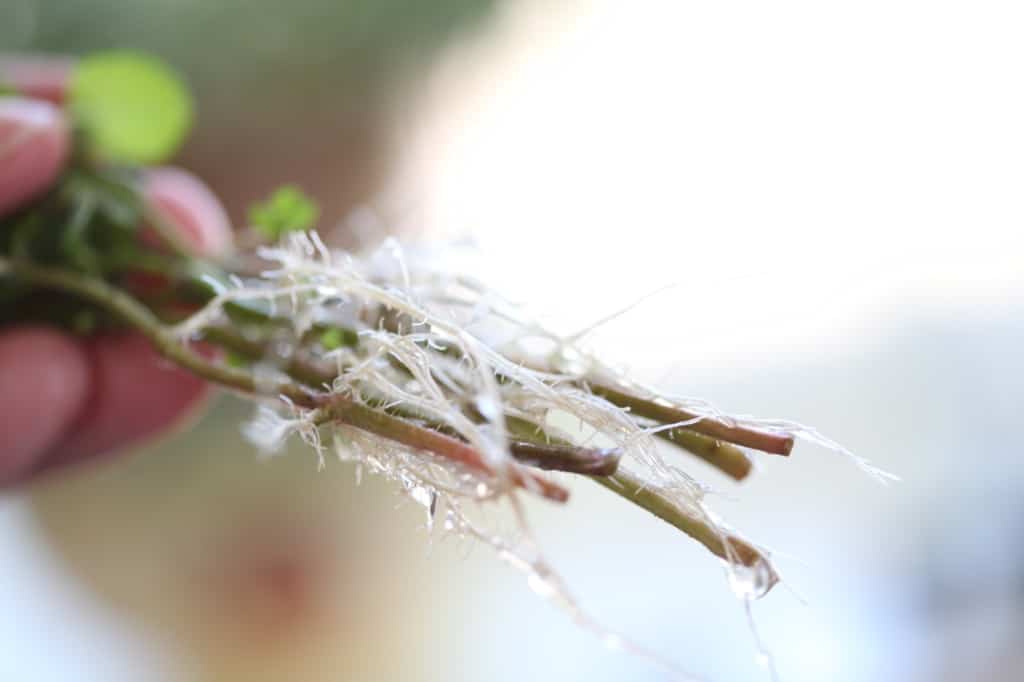 What To Do With Mint Cuttings
Planting The Cuttings
Plant your mint cuttings into pots, and then you can decide where you are going to keep them.
You can keep them growing inside in pots, or transfer them out into the garden when they are a bit more established. We like to do both.
If you have started your cuttings indoors, and plan to plant them out in spring, make sure that you harden the plants off, to get them used to the outdoor environment before planting out.
Remember mint can spread easily, and in some locations can even become invasive. However mint is easily contained if planted on it's own in isolation.
Consider placing the mint plants in a small raised bed, to help to contain them in the bed.
Mint is very versatile, and likes a full sun to partial shade location, and a fairly moist soil. Do not over water however, as this can lead to problems and disease.
Pruning The Mint
To help your cuttings grow into bushier plants, pruning will help to promote more stem growth.
Pinching out the top growth will force the plants to start to produce side shoots along the stems. This in turn will help to create new leaves and bushier plants.
Once the mint becomes established, especially in the garden, it can tend to get a bit woody over time.
Pruning the mint that becomes woody encourages succulent new growth, which is better used in the kitchen for cooking.
Prune the woody growth when the plant is dormant, and is best done in spring.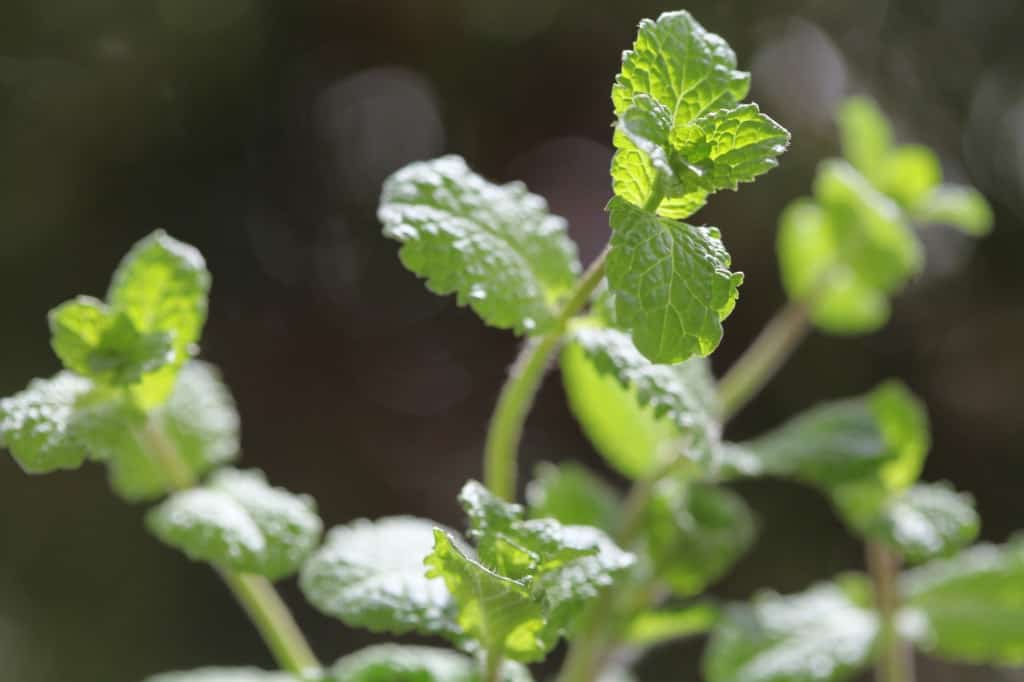 Using The Mint
Mint has so many uses, and is a great herb to grow.
Pick from the fresh leaves as you need them. Picking in this manner will be considered a light pruning, and will stimulate more growth from the plant.
Mint is great in the kitchen and in recipes calling for this herb. Consider mint jelly, candies, smoothies and ice cream.
Use fresh sprigs of mint as a garnish.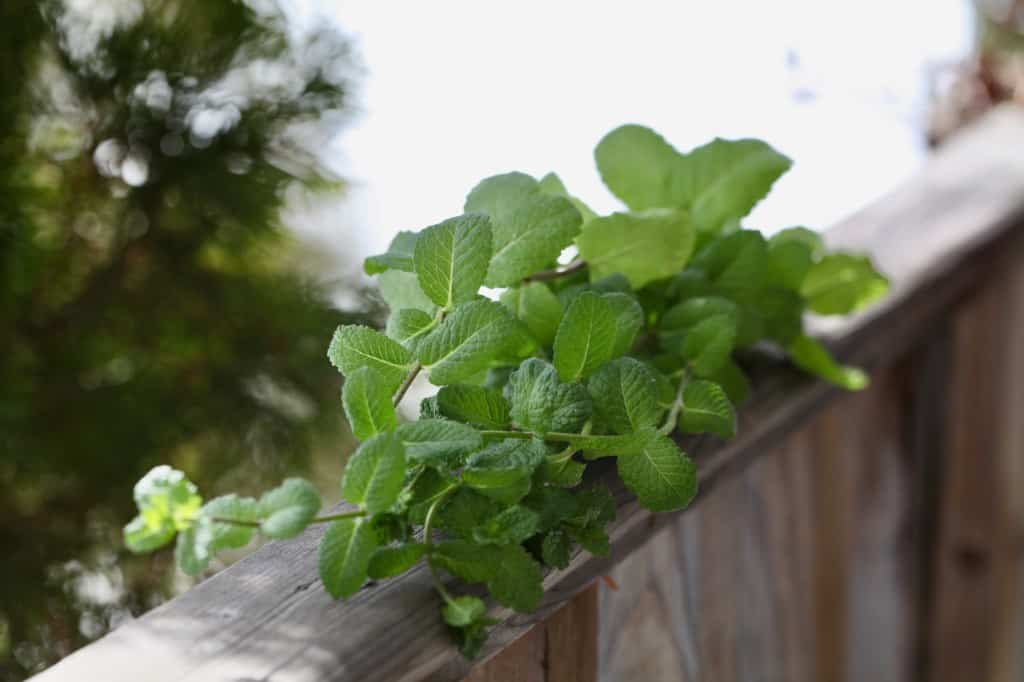 Fresh mint is also an important ingredient in the wonderful mojito drink.
Drying mint is also a great idea, especially if you have lots of plants in the garden.
We love to dry mint leaves for tea, for a refreshing warm drink. You can store the dried leaves in mason jars, and enjoy the tea all year round.
The plants are also great as fillers in flower bouquets, if you are able to grow mint with long stems. The mint will add a fresh scent and beautiful greenery to the flowers in the vase.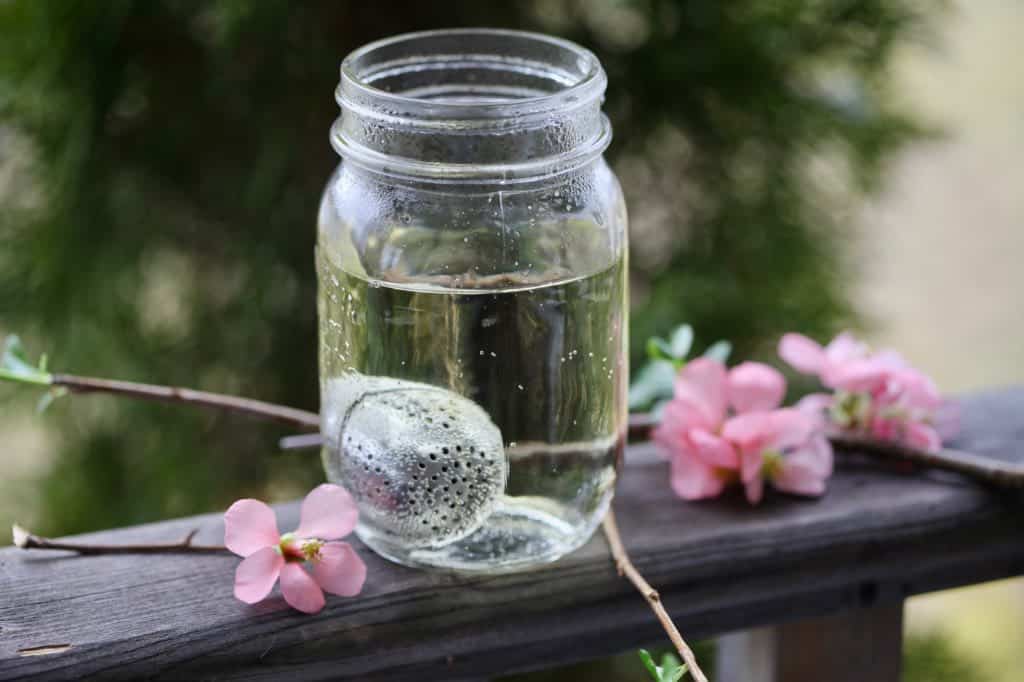 Conclusion
If you have mint growing in a herb garden, propagating by cuttings is a great way to increase your plant numbers. Lucky for us, mint is one of the easiest plants to propagate by cuttings.
Propagating mint from cuttings is easy enough even for the beginner gardener.
Growing mint in the garden is a good thing, as the plant is very versatile. Consider isolating mint in the garden however, as it can be an invasive plant.
There are many varieties of mint to choose from, and hopefully you can grow some of your favourites.
Mint has many uses in the kitchen, and can be used in both the fresh and dried forms.
I like to have mint in the garden, where it grows with abandon. Growing in larger amounts is great for the larger volume needed when drying the mint for later.
I also like to have a small pot of mint inside, growing with other herbs in a sunny window sill. This pot is for easy access, for fresh mint leaves at any time of year.
Knowing how easy it is to propagate mint, I will likely be growing this wonderful herb for many years to come.
Have you ever tried to propagate mint from cuttings? Be sure to leave a comment below to share your experience.
Other Posts You May Like:
PIN IT FOR LATER!