Last updated on March 11th, 2022 at 05:25 pm
Sometimes when the fall season rolls around, gardening activities can get a bit chaotic. As a result, allium bulb planting may get delayed and sometimes even forgotten. It may not be too late however. Learn how late you can plant allium bulbs in fall, and get your bulbs into the ground for beautiful spring blooms.
Allium bulbs can be planted as late as the ground allows, as long as the soil is not frozen. The bulbs benefit from being in the ground a few weeks before freezing to set some roots and establish. As long as the soil can be dug and there are still a few weeks before the ground freezes, you can plant the bulbs for blooms the following season.
Delayed Bulb Planting- It Happens
Delayed bulb planting can happen to the best of gardeners.
I can certainly relate to missing out on allium bulb planting, because sometimes other activities can take priority.
Fall is such a busy time.
With the harvesting of crops, digging dahlia tubers, and general garden cleanup, the planting of bulbs tends to be lower on the list of things to do.
Usually there is no sense of urgency to get these bulbs into the ground, as they are usually well packaged, and in a dormant state.
I can't tell you how many times I have overlooked or delayed the planting of small packages of bulbs from the garden center.
Eventually however, they do make it into the ground. Even if there is snow peppering the landscape, as long as the soil is workable, into the garden they go.
As this is exactly where they need to be.
Bulbs for fall planting should not be stored for months on end, and rather should be planted for best viability.
Let's have a look at how late Allium bulbs can be planted in fall, as well as some tips on where and how to plant these fabulous garden perennials.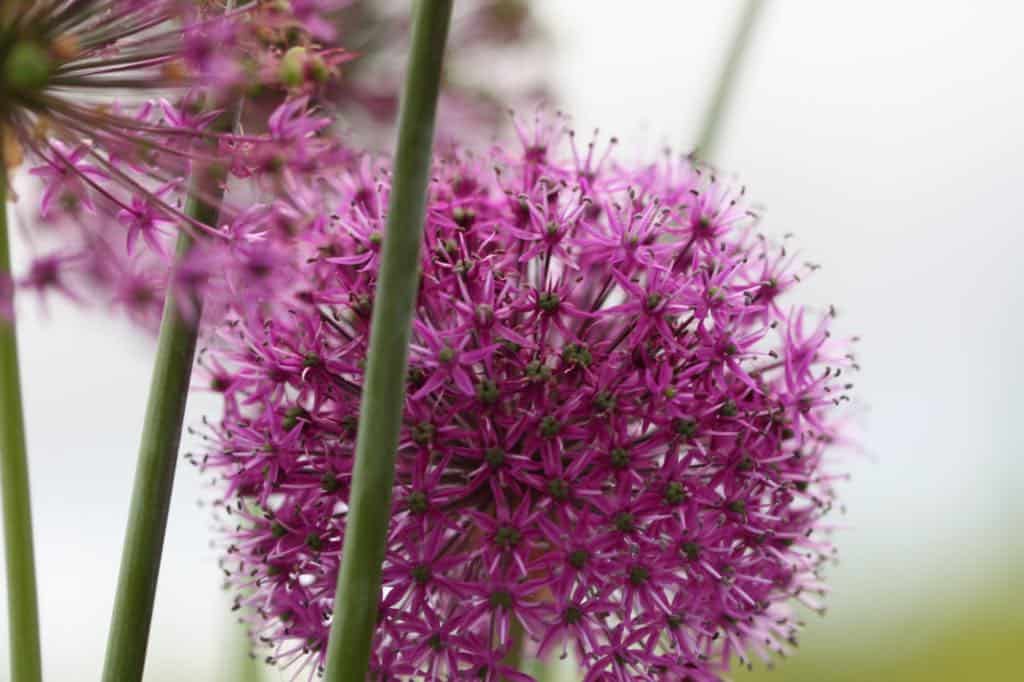 What Are Alliums?
Allium is a Genus of plants within the Amaryllidaceae Family which contains hundred of species of bulbous plants. Members of the onion family, some of these species of plants include chives, onions, garlic, scallions, leeks, and of course the ornamental allium.
In this post we will be referring to the ornamental allium bulbs, planted for the flower garden.
There are many species of allium which have been cultivated as ornamentals. One of the most popular ornamental alliums, A. hollandicum or Purple Sensation allium is a common and hardy allium plant.
Allium plants are low maintenance perennial flowering bulbs which are perfect for perennial gardens.
Since alliums are part of the onion family, most wildlife will avoid the flowers and foliage.
The bulbs produce flowers in late spring and early summer.
The bulbs are usually planted in fall and produce very unique blooms with large round flower heads. The flowers look great in the garden, and make a simple yet elegant statement.
Allium flowers are most often seen in shades of purple and lavender, however sometimes also in shades of creamy white.
When the purple flowers fade, the interesting seed heads also add value to the garden landscape. They are large and structural, with tiny green seed pods.
There are many different varieties of allium. These varieties can have different sized bulbs, which then produce different sized flowers.
Allium blooms also make great cut flowers, so consider growing some allium bulbs for your cut flower garden.
When To Plant Allium Bulbs
Alliums are perennial bulbs. The best time to plant them is in fall, after the frost has arrived, but before the ground has frozen.
Plant bulbs in late fall, and you will have beautiful blooms the next spring from May to June.
The ideal time to plant alliums in cold climates is from September through November. In warmer climates the bulbs can be planted from November through January.
But just how late can you plant them?
How Late Can You Plant Allium Bulbs?
How late allium bulbs can be planted is dependent on your climate and freezing of the ground.
It's very important to plant alliums at just the right depth. So if you ground is partially frozen, the bulbs may not be able to be planted at the proper depth, and therefore it is too late to plant for the season.
Here in usda zone 5b, our ground is usually workable right to the end of December. Although some years this is not the case.
It is not too late to plant allium bulbs in late fall, as long as the ground has not frozen, and you can get them planted at the right depth for the variety of bulb. As well, ideally the ground will have a few more weeks before freezing in entirety, to allow some roots to set.
Alliums will still flower from later plantings.
Where To Plant Allium Bulbs
Alliums are very versatile and can be planted in many places in the garden.
Some important considerations for planting alliums include:
Growing Zone
Allium bulbs will grow in USDA growing zones 3 to 8.
Canada's plant hardiness zones can be found here.
European hardiness zones can be found here.
Light Requirements
For best results, it's a good idea to give your allium bulbs as much sun as possible.
A full sun location is preferred for growing alliums. However, due to their versatility these bulbs will also grow in partial shade locations.
Light is important to provide energy to the bulb during periods of active growth. This in turn will provide energy for blooming the following season.
So plant in a sunny spot for best flowering results.
Soil Requirements
Alliums do well in a rich, organic fertile soil with good drainage. This soil type allows for good root growth and healthy plants.
If planting near a foundation, avoid areas with a water downspout.
Also avoid areas where water will collect. You may find that if the bulbs sit in waterlogged soil, this will likely cause rotting of the bulbs.
Moisture Requirements
Alliums will grow with the moisture provided naturally by the outdoor elements.
Water as needed during dry periods.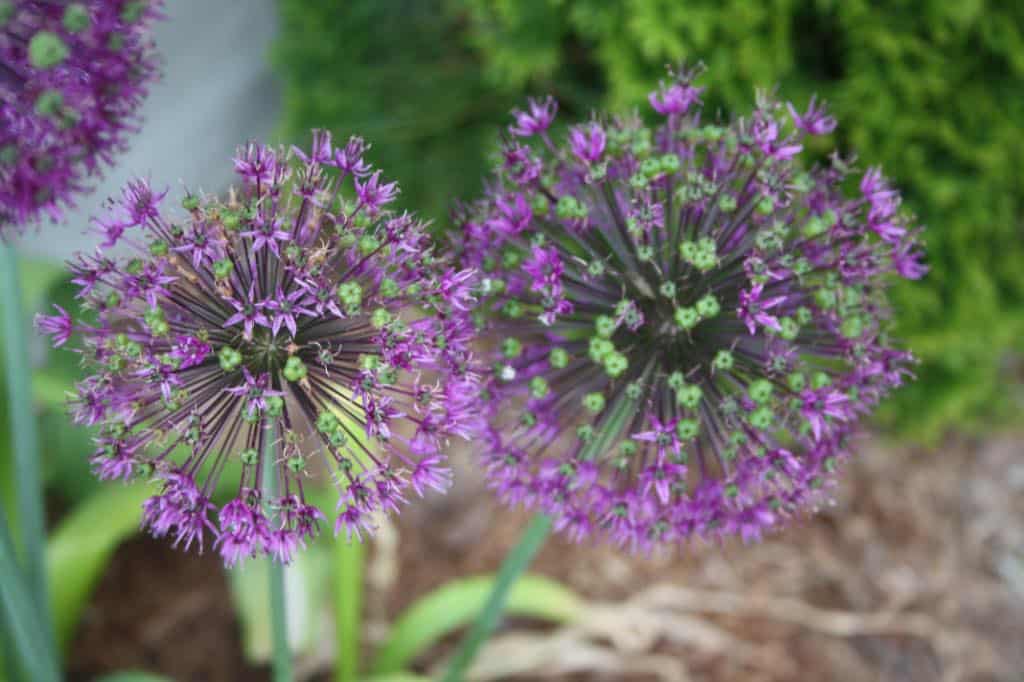 How To Plant Allium Bulbs
Alliums are incredible bulbs, which produce the most beautiful flowers.
Ideally do bulb plantings in clumps and in groupings of odd numbers, such as three or five for a naturalized look.
An added bonus of having alliums in the garden is that they are perennial. So plant them once and they will return to the garden again, year after year.
We grow Purple Sensation, one of the most common varieties. This bulb is very hardy, and also self seeds, which is another bonus.
Planting Depth For Allium Bulbs
Alliums are perennial bulbs, and it's important to plant them at the right depth from the start. The planting depth of the bulb depends on the size of the bulb.
There are numerous varieties of allium bulbs, and some are much larger than others.
Planting depth is dependent on the size of the bulb, so it's important to know that some bulbs will need to be planted more deeply than others.
Planting depth is generally 2 to 3 times the height of the bulb.
The right depth is very important. Information for planting depth of the specific bulb type is usually indicated on the bulb package.
If you don't have this information, just gauge the distance by measuring your bulbs.
Placement Of Allium Bulbs In The Hole
Dig planting holes for each bulb type.
Once you've dug the right depth for the planting hole, it's time to place the allium bulbs into the hole.
Place the bulbs root side down, and either pointy end or rounded side up. This is bulb dependent, as many alliums will have a rounded top.
Space the bulbs so that they are not touching each other, at a distance apart approximately two to three times the size of the bulb.
Once in place, cover the allium bulbs with soil.
Water after planting only if the soil is very dry. Otherwise, just allow the natural elements and rainwater to provide the moisture for the bulbs.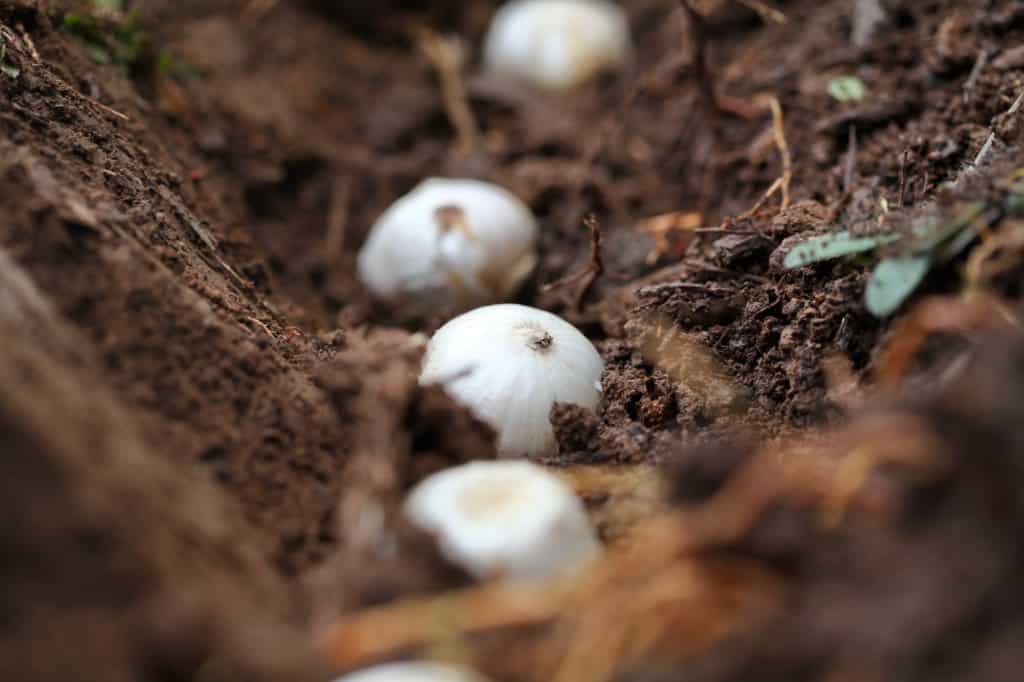 Plant Different Varieties Of Alliums
Different varieties of alliums can have different times for blooming. If you plant multiple varieties of Allium bulbs, you can have blooms for a longer period of time.
You can also extend the flowering of Alliums by doing succession planting. Depending on your growing location, staggering bulb planting time can extend the blooming time.
Planting a variety of different alliums, as well as succession planting, can give you a seamless succession of blooms during the growing season.
Conclusion
Alliums are fall planted bulbs which, after planting, bloom in late spring and summer of the following year.
The spherical blooms add dimension and intrigue to the garden space, and are a great addition to any early season garden.
By planting various varieties of alliums, you can extend the overall bloom period in the garden.
If you think you have missed your planting window in fall, all may not be lost.
Planting allium bulbs in late autumn may still be an option.
It is highly likely that the ground is soft enough to dig a hole. If you can get your bulbs into the ground, you will most likely have beautiful blooms the next spring.
It is best to get the bulbs planted into the garden, even if a bit late, rather than holding onto them unplanted.
Most allium bulbs are perennials, and if planted in the right growing conditions, expect them to return to the garden for many years to come.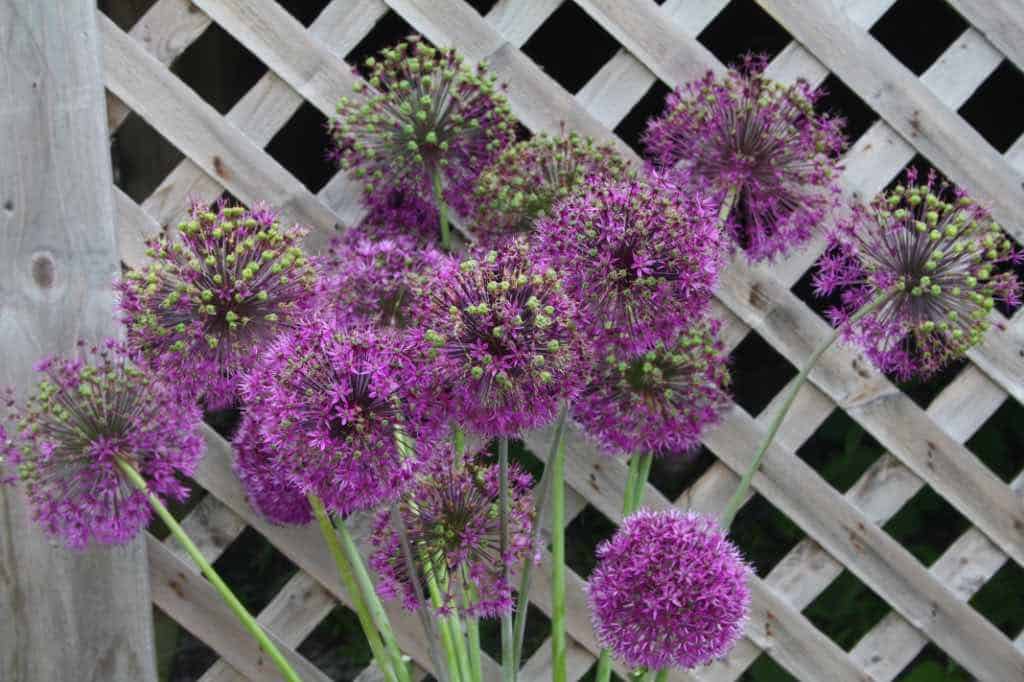 Have you ever wondered how late you could plant Allium bulbs? What has been your latest planting time? Be sure to leave a comment below to share your experience!
Other Posts You May Like:
PIN IT FOR LATER!