Rose hip syrup is easy to make, and jam packed full of goodness. Drizzle on waffles or pancakes, or take by the spoonful for a dose of vitamin C. Learn how to make this rose hip syrup recipe, and preserve this nutritious fruit to use throughout the fall and winter seasons.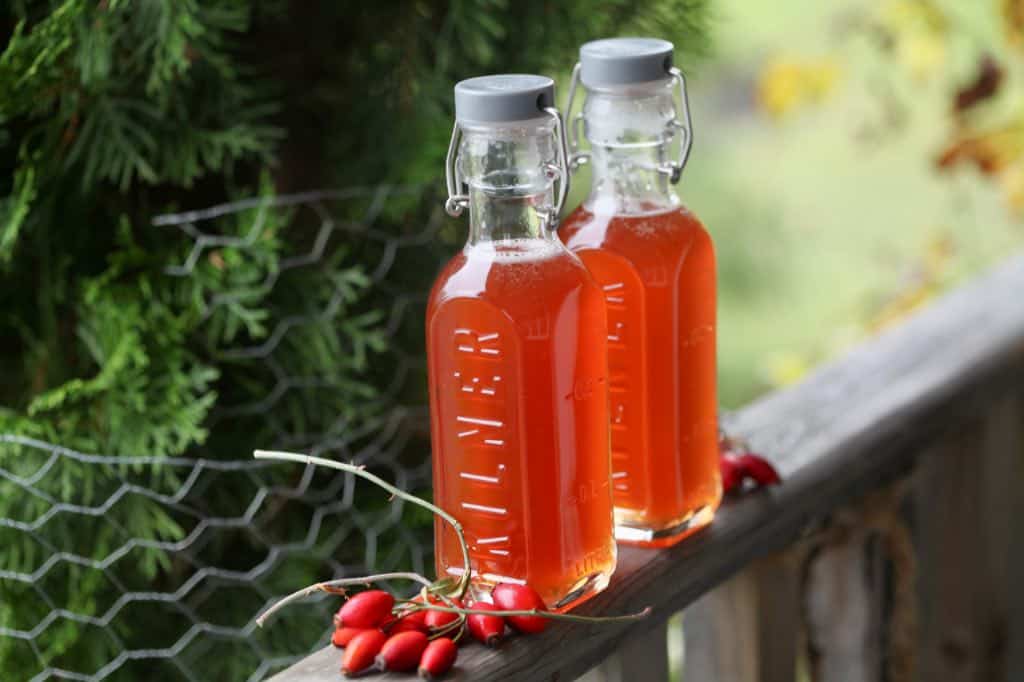 Rose hip syrup is made with rose hips harvested from rose bushes, at the end of the growing season. These fruit are usually harvested from late September to late November, after the first frost, and when the rose hips turn a bright red color.
Any type of rose hips can be harvested for making rose hip syrup, including those of the cultivated and the wild rose.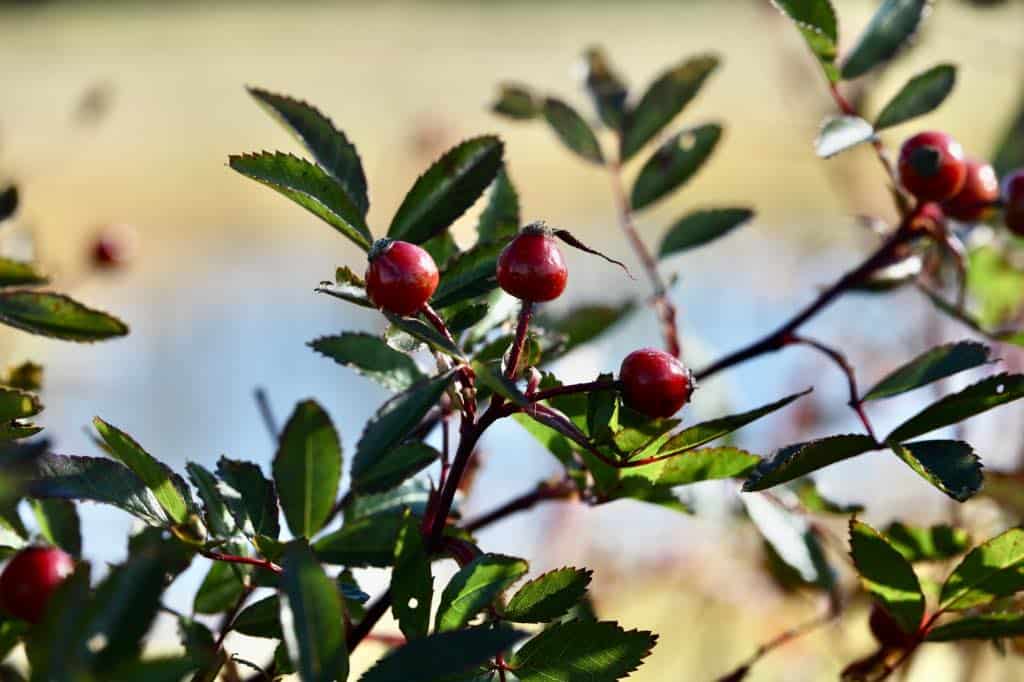 What Is Rose Hip Syrup?
Rose hip syrup is a simple syrup made with rose hips, which are the fruit of the rose plant. Harvested when fully ripe, rose hips are the main ingredient in this nutritious syrup. The seeds and irritating hair casings inside the rose hips are removed, producing a smooth syrup for use.
As with other rose hip recipes, the tiny hairs inside the rose hips should always be removed before consuming. These little hairs can be irritating to the throat and digestive tract if they are not removed.
This removal is done during the cooking process for rose hip syrup.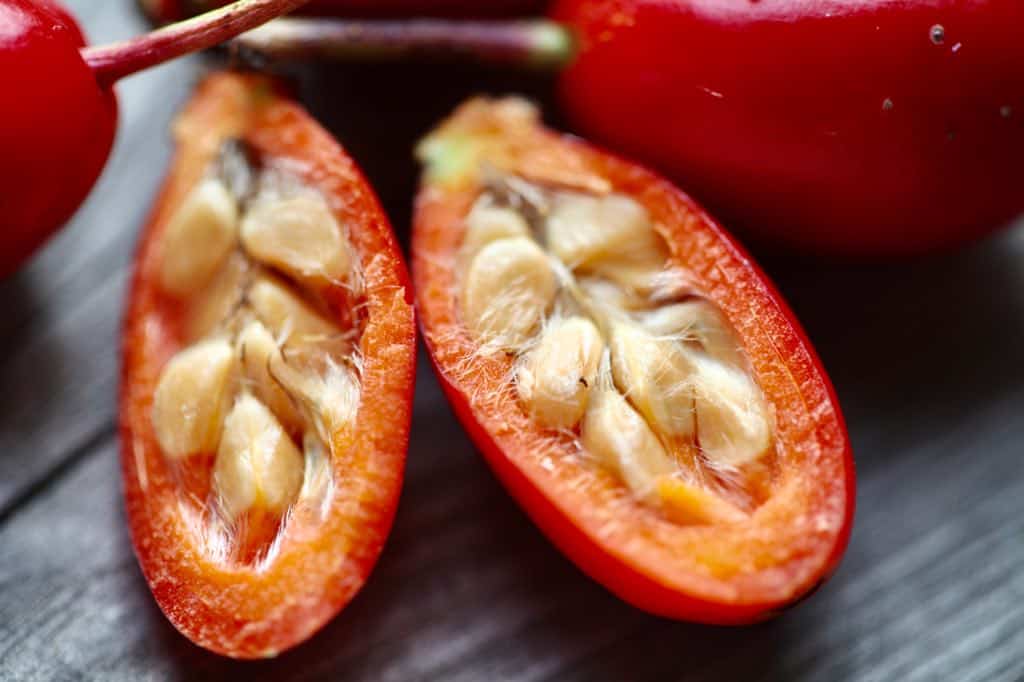 The Benefits Of Rose Hip Syrup
Known to be nutritious, rose hips have been studied for their nutritional properties.
In particular, these fruit are noted to be very high in vitamin C.
Vitamin C is known to be important for immune system health, which is why we often take extra citrus to help prevent colds and flus.
The amount of nutrients within the rose hips depends on a number of factors, such as the rose cultivar, time of harvest, climate, and even soil composition.
Rose hips are known to contain high levels of antioxidant activity due to the presence of polyphenols, vitamins B, C, E and carotenoids within the fruit.
For a more scientific resource from PubMed Central and the National Library Of Medicine, you can find more on rose hip benefits here: Therapeutic Applications of Rose Hips from Different Rosa Species.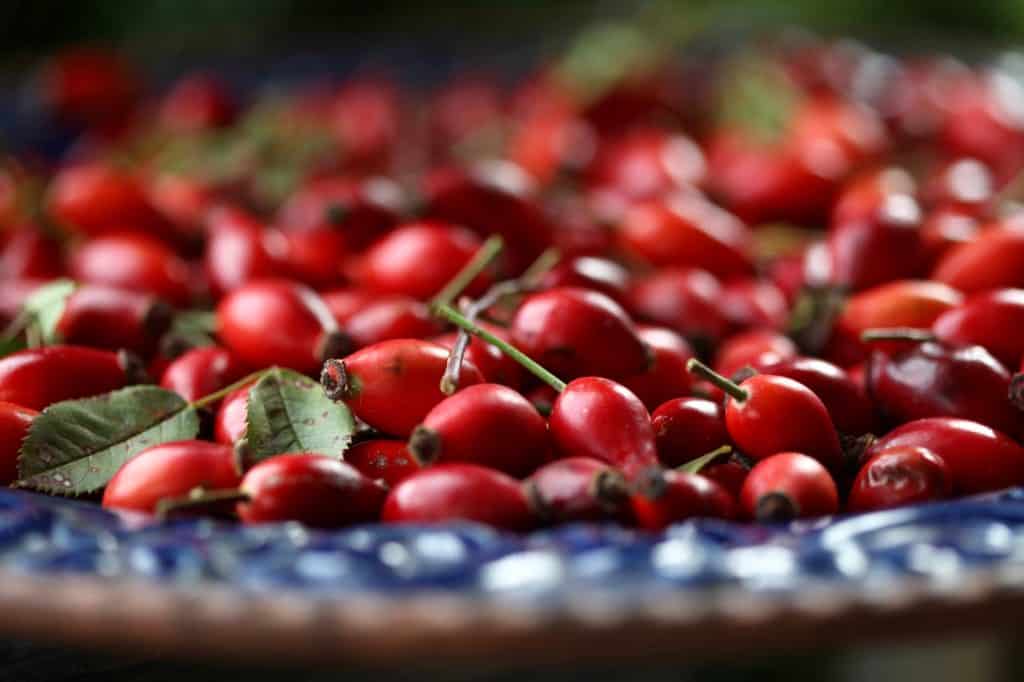 Where To Find Rose Hips For Rose Hip Syrup
All rose hips are edible, and you can use any type of rose hips to make this rose hip syrup recipe.
Depending on the cultivar, rose hips can be tiny and the size of a berry, to larger plum sized specimens.
If you are harvesting your own rose hips, make sure that you choose a spot that is free from pesticides and chemicals. Organic rose hips will be safest.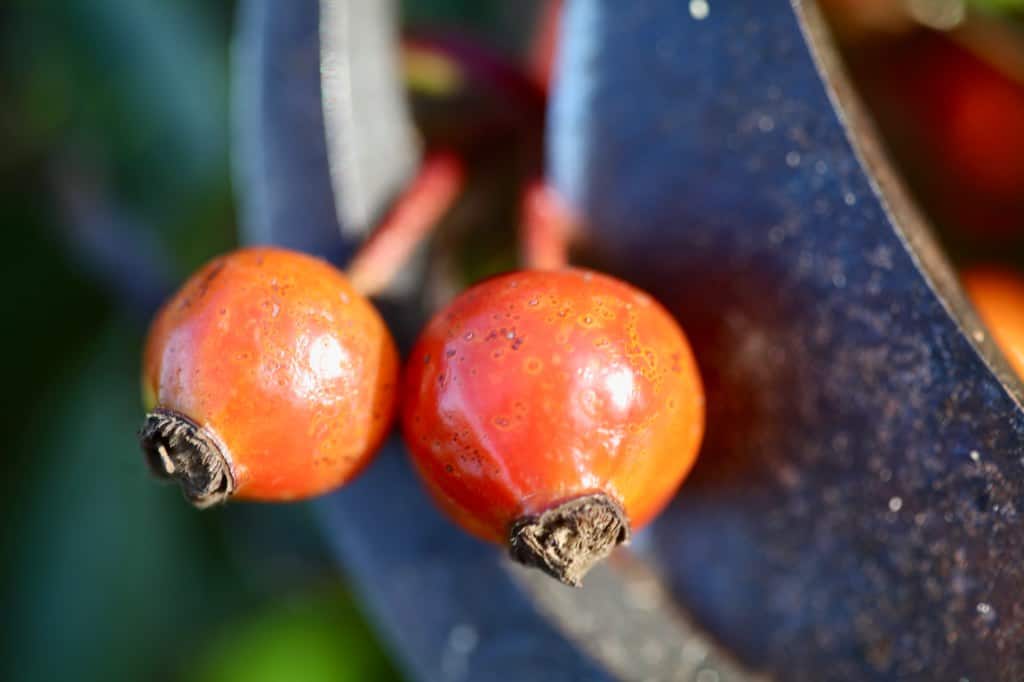 How To Make Rose Hip Syrup
Tools You Will Need:
Rose Hip Syrup Ingredients
4 cups of organic rose hips, fresh or dried
Sugar, amount to be determined and equivalent to the amount of juice obtained after straining the rose hip juice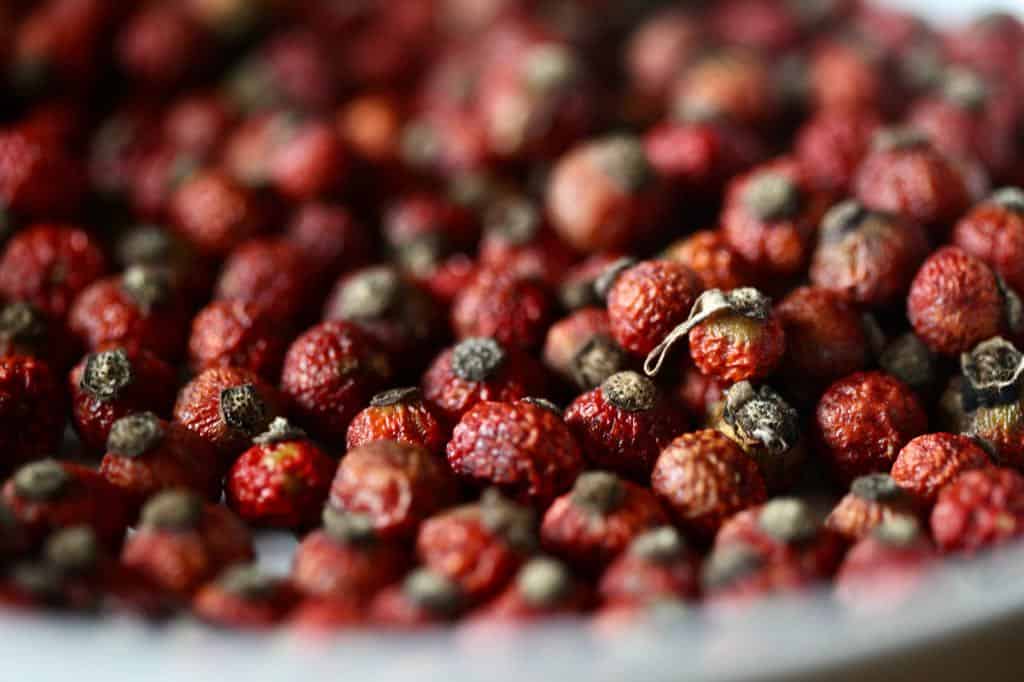 Fresh Or Dried Rose Hips
Rose hip syrup is easy to make, and can be made using either fresh or dried rose hips.
The volume amount of each type of rose hip, either fresh or dried, will be the same using this rose hip syrup recipe.
The recipe calls for either 4 cups of fresh, or alternately 4 cups of dried rose hips.
Dried rose hips can be purchased, although you can also harvest and dry your own rose hips for use.
Preparation prior to making the syrup is slightly different for each form of rose hip.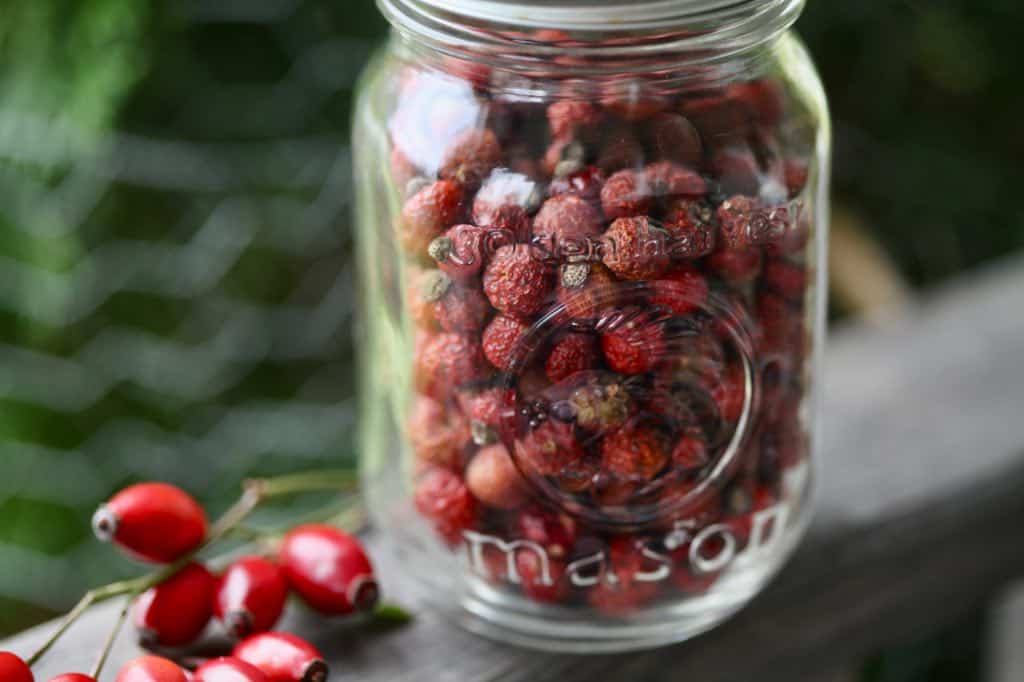 Preparation Of The Rose Hips
Dried Rose Hips
For dried rose hips the preparation is simple.
Just crush them up, just enough to break them apart.
To crush you can use a food processor or a mortar and pestle. Do not crush them to a fine powder.
Fresh Rose Hips
Fresh rosehips should be washed thoroughly to remove any garden debris.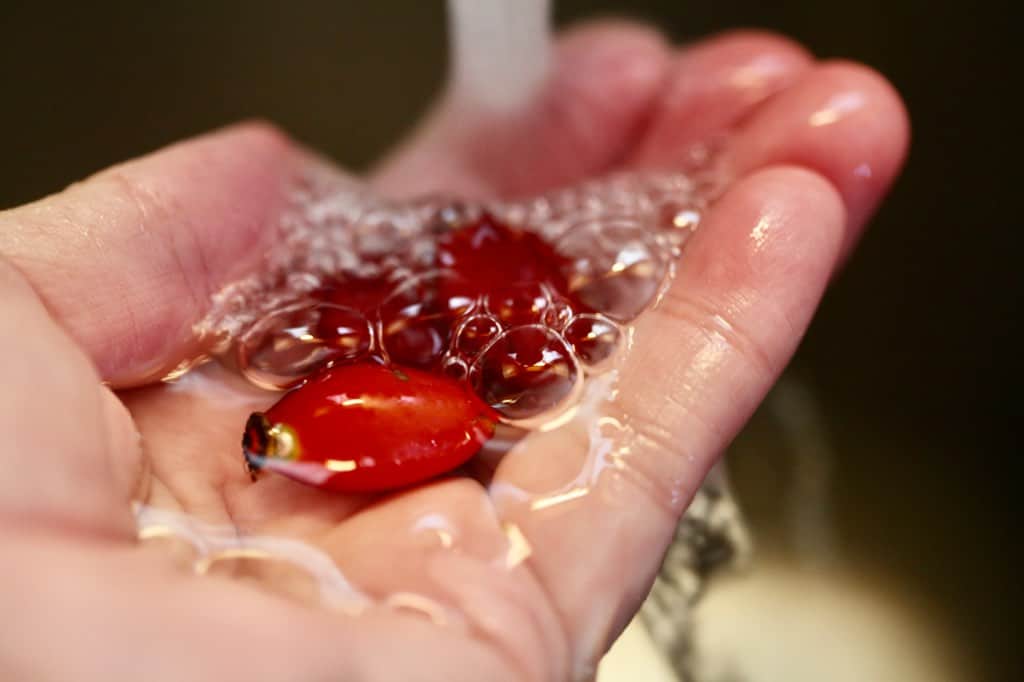 Discard any soft or mushy specimens, as well as those with holes or damage.
Remove the stems from the rose hips, and cut off the blossom ends.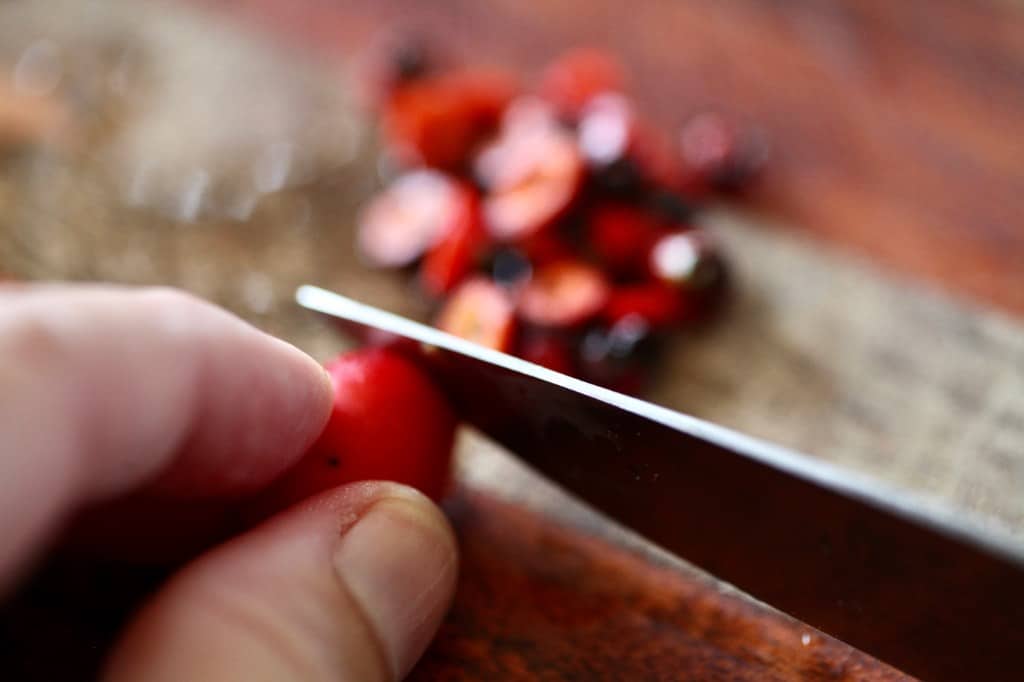 Cut the rose hips into halves or quarters. This will help to get the goodness out of the rose hips during the cooking process.
If you find that the rose hips are very firm and difficult to cut, you can also place them whole into the pot.
The whole rose hips can be mashed up a bit with a potato masher during the cooking process, when they become softer.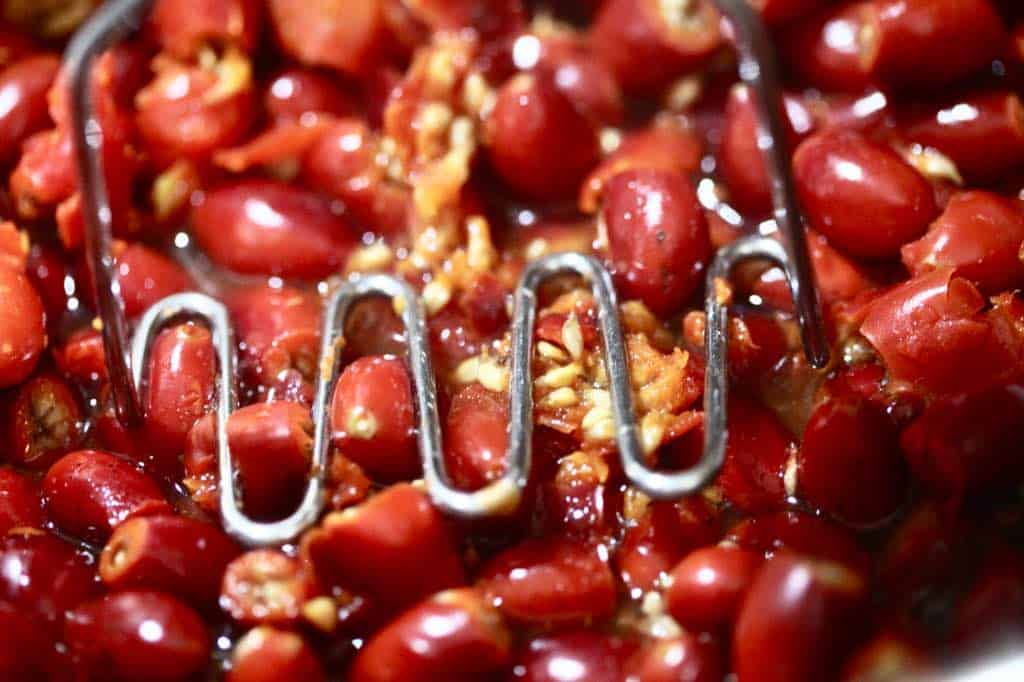 Rose Hip Syrup Instructions
Place the water into a large saucepan or pot, and bring to a boil.
Add the rose hips to the boiling water.
Reduce the heat and simmer on low to medium heat for 20 minutes.
If the rose hips were placed in the pot whole, you can use a masher to break them apart after they have softened.
Remove from the heat after the simmering time is complete.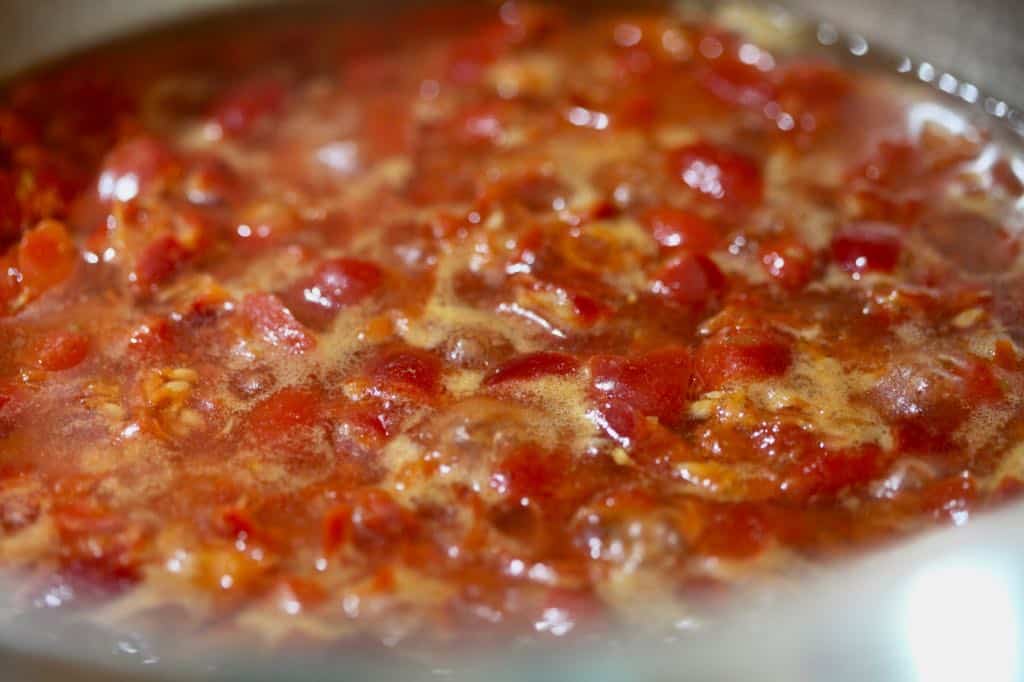 Removing The Rose Hip Hairs And Seeds
Place a colander or fine mesh sieve over a large container, such as a heat resistant bowl.
Cover the sieve or colander with cheesecloth or muslin.
Some people double the cheesecloth or use a double layer of muslin material.
I laid down two double layers of cheesecloth for straining out the pulp, seeds, and irritating hairs.
Pour the rose hip mixture into the cheesecloth covered sieve.
Allow the liquid to drip into the bowl underneath, and strain away from the solids in the cheesecloth.
You can put pressure on the pulp with a spoon, as it is draining, helping to squeeze out the juices.
Once cooled, lift the cheesecloth and pull up the ends in a circular motion, creating a bag with the rosehip pulp inside. This will allow you to squeeze out any excess liquid that is still left inside the pulp.
Squeeze out as much liquid as you can, to remove all the juice.
The amount of strained liquid obtained in the bowl, is the same amount of sugar to be added to make the syrup.
I strained out 2 cups of this rose hip juice into my bowl, so will add 2 cups of sugar to make the syrup. This is the normal ratio for a simple syrup.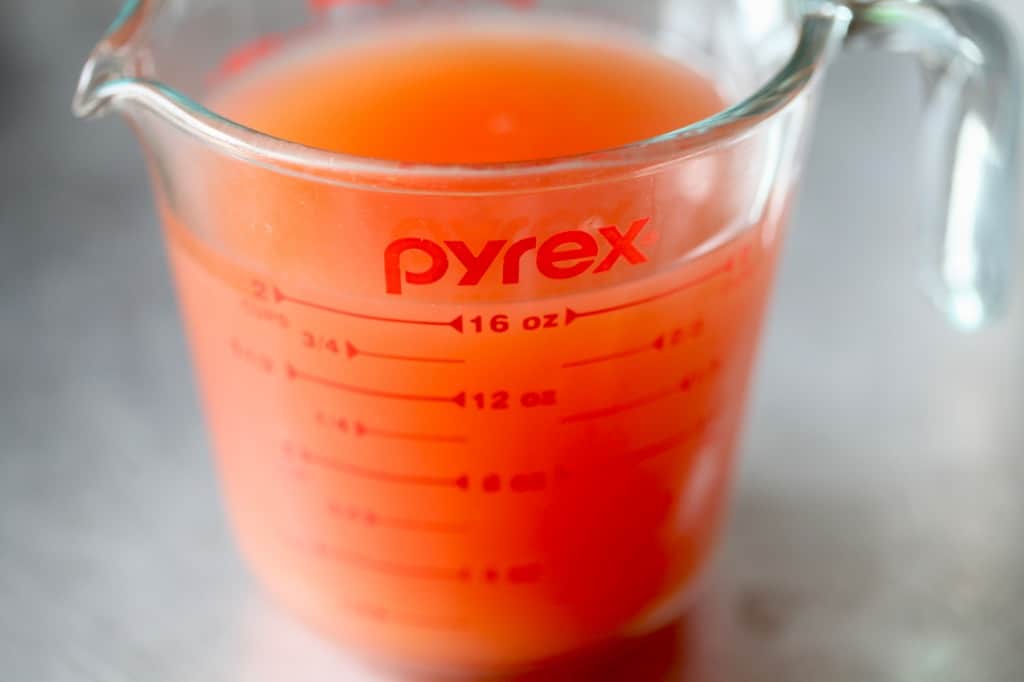 Return To The Pot
Rinse out the pot to remove any pulp and debris from the rosehips before using again.
Pour the rosehip juice back into the clean saucepan.
The rose hip liquid is combined with sugar in equal parts, as is done with most simple syrups, and the mixture is then heated until the sugar dissolves.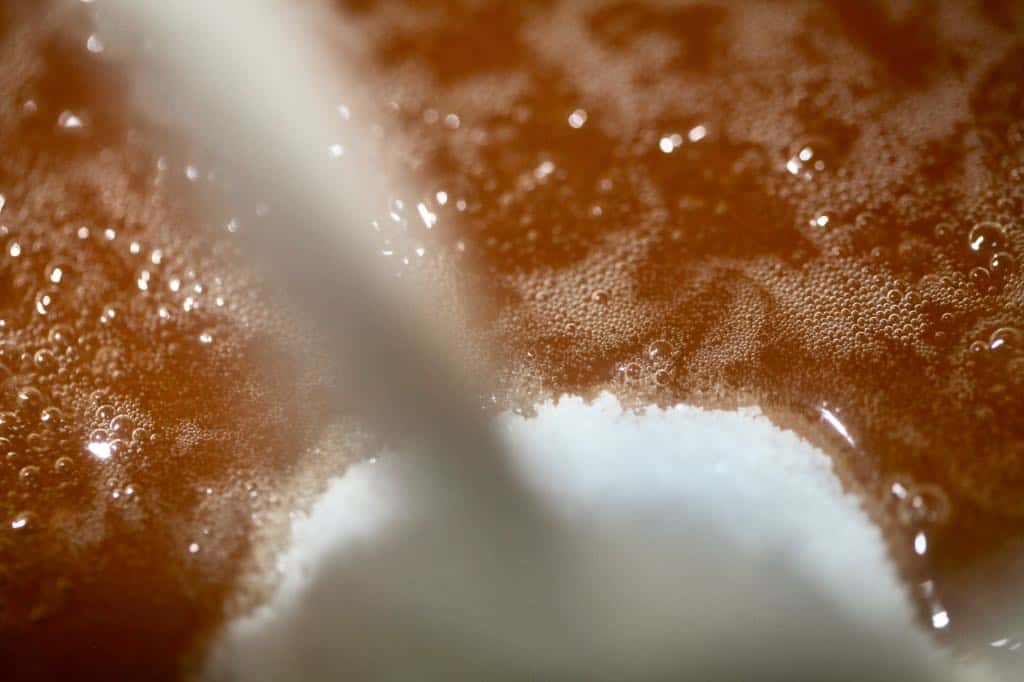 Stir until all the sugar has dissolved.
Bring the mixture to a boil, and then reduce the heat to a simmer.
Add the lemon juice, which further helps to preserve the syrup.
Simmer for 10 minutes, then remove the pot from the heat.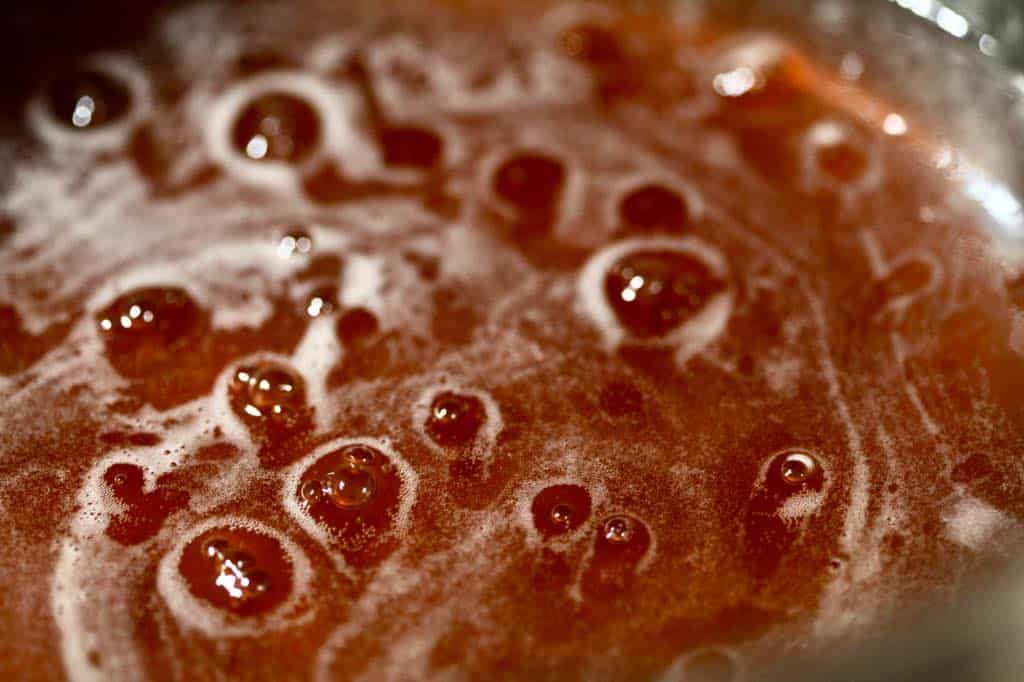 Pour into a sterilized heat resistant jar, such as a mason jar or glass bottle.
Place the containers into the fridge when the syrup has cooled.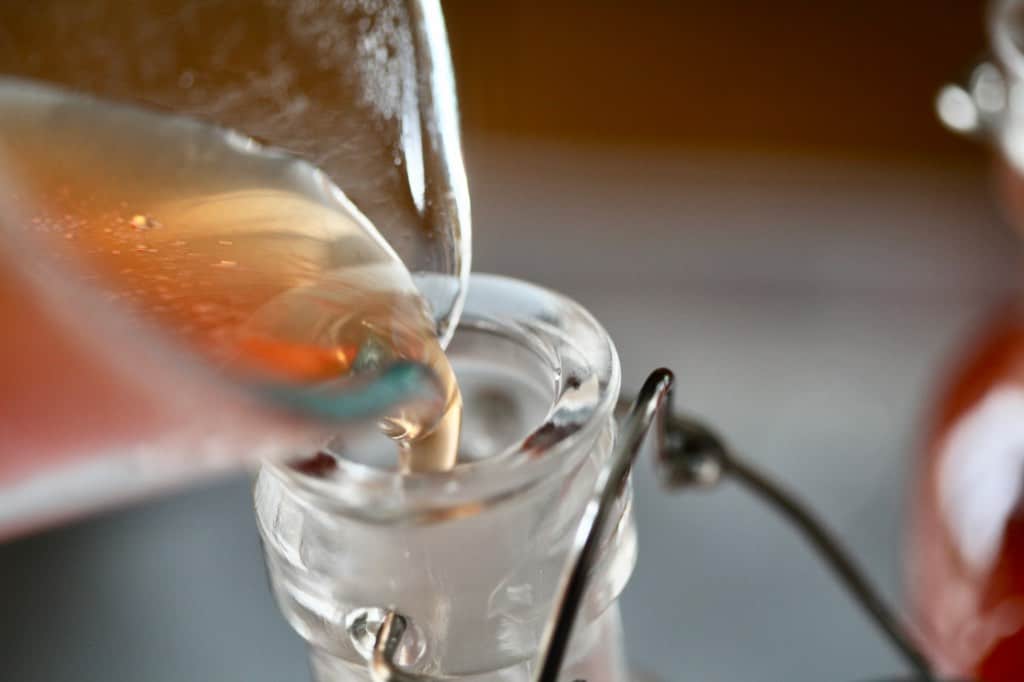 Rose Hip Syrup Recipe
How To Store Rose Hip Syrup
Store rose hip syrup in air tight containers.
The syrup can be stored in the fridge for up to six months.
Use of a water bath canner, and boiling for 10 minutes, will further preserve and increase storage life for 8 months to 1 year.
Make sure to label the bottles with the storage date.
Rose hip syrup can also be frozen in ice cube trays, for longer storage as well.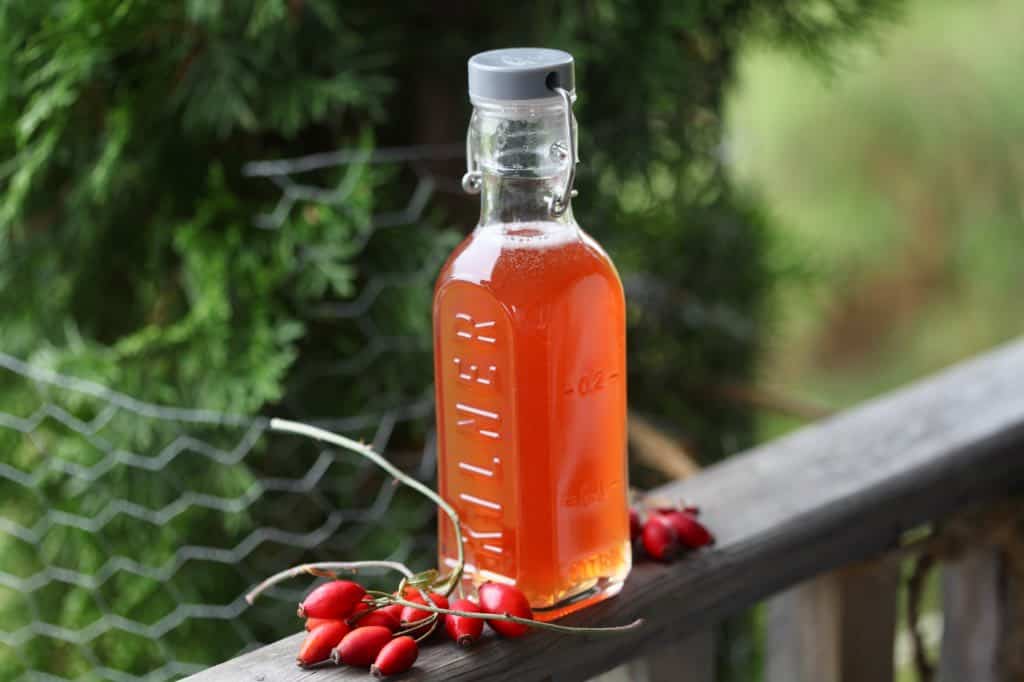 How To Use Rose Hip Syrup
Rose hip syrup has culinary, as well as traditional herbal use.
Culinary Use
Use rose hip syrup as you would any other sweet syrup, such as maple syrup or elderberry syrup.
Rose hip syrup can be used anywhere you would drizzle a sweet syrup, such as over ice cream, waffles and pancakes.
Pour over plain yogurt, rice pudding or biscuits.
It can even be used as a sugar substitute in tea or coffee, with an added nutritional benefit.
Add the sweet syrup to sparkling water for a refreshing drink.
Rose hip syrup can also be added to cordials and whiskey.
You are only limited by your own imagination.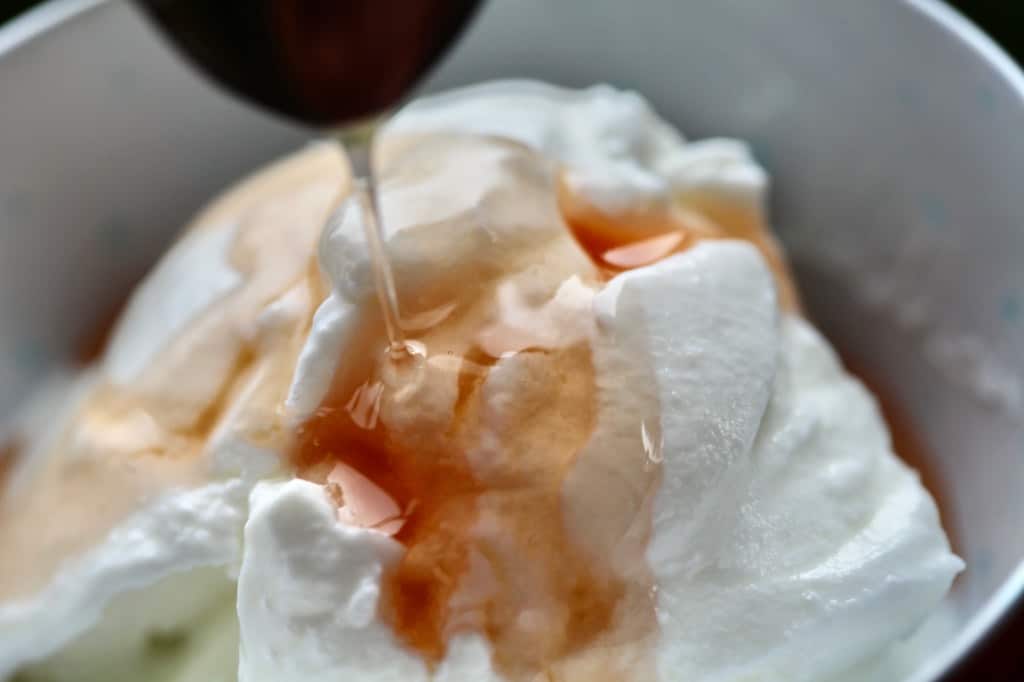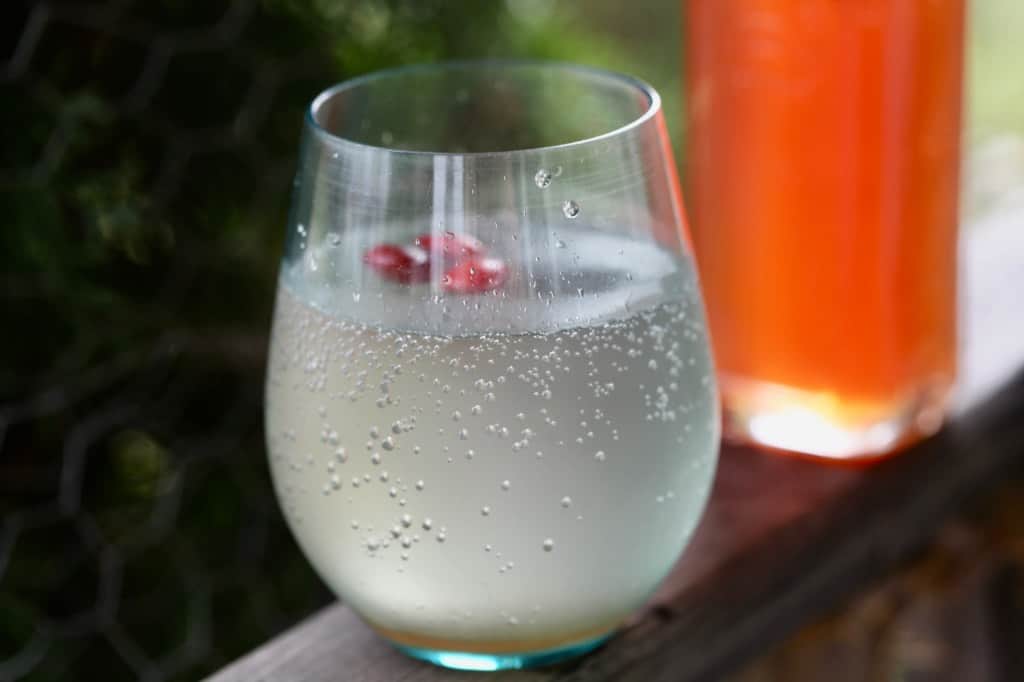 Herbal Use
For traditional or herbal use, rose hip syrup has a long history.
Rose hips have long been used for their nutritional value and health benefits.
They are especially known for their high vitamin C content.
During the second world war in Britain, when access to vitamin C was limited, the government developed a plan to pick rose hips, and to harvest them for syrup.
The syrup was made in large amounts and distributed to the population for sale at a low cost, and as a wartime substitute for orange juice.
These children of Britain received a daily dose of rose hip syrup, to deliver some vitamin C.
If using as an elixir, use by the teaspoonful during cold and flu season, for a dose of vitamin C.
Conclusion
This traditional rosehip syrup recipe is easy to make.
Rose hips are fabulous fruit to harvest in the fall, and can be used and preserved in many different ways.
Making a nutritious rosehip syrup is a great way for preserving your rosehips, and using their goodness before the next growing season.
Consider as well drying rose hips for tea, for another way to use rose hips in the off season.
Have you ever made a rose hip syrup recipe? Be sure to share your experience by leaving a comment below!
Other Posts You May Like:
PIN IT FOR LATER!