Last updated on October 22nd, 2023 at 02:08 am
Periwinkle is a low growing plant often used as a ground cover, which grows well in shady locations. Learn how to transplant periwinkle, and add this lovely shade loving plant to your garden.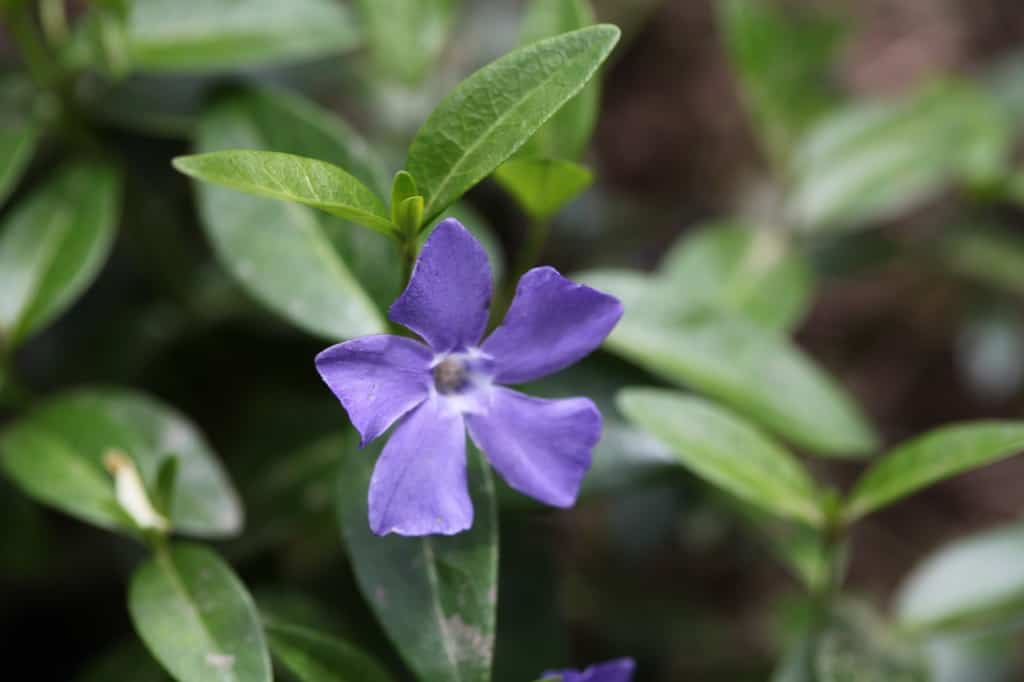 I have always loved the look of periwinkle growing on the forest floor of our country home. The patch of periwinkle was planted there by the previous owner over 40 years ago.
These evergreen plants continue to grow and thrive, and every year in spring they present with a flush of tiny blue star shaped flowers.
The patch is pretty well contained to a certain large area where it has been planted. I look forward to seeing this perennial return to bloom and grow, every growing season, year after year.
The dark green foliage is very attractive, and the plant grows densely, preventing weed growth in the area. It grows among other shade loving plants and herbaceous perennials.
Periwinkle is a very low maintenance and attractive ground cover, for those difficult to grow in areas.
We have taken pieces of this original planting, and transplanted it to other locations.
The good thing about Periwinkle is that it is very easy to transplant.
Before we look at the transplanting process, let's have a look at the periwinkle plant itself.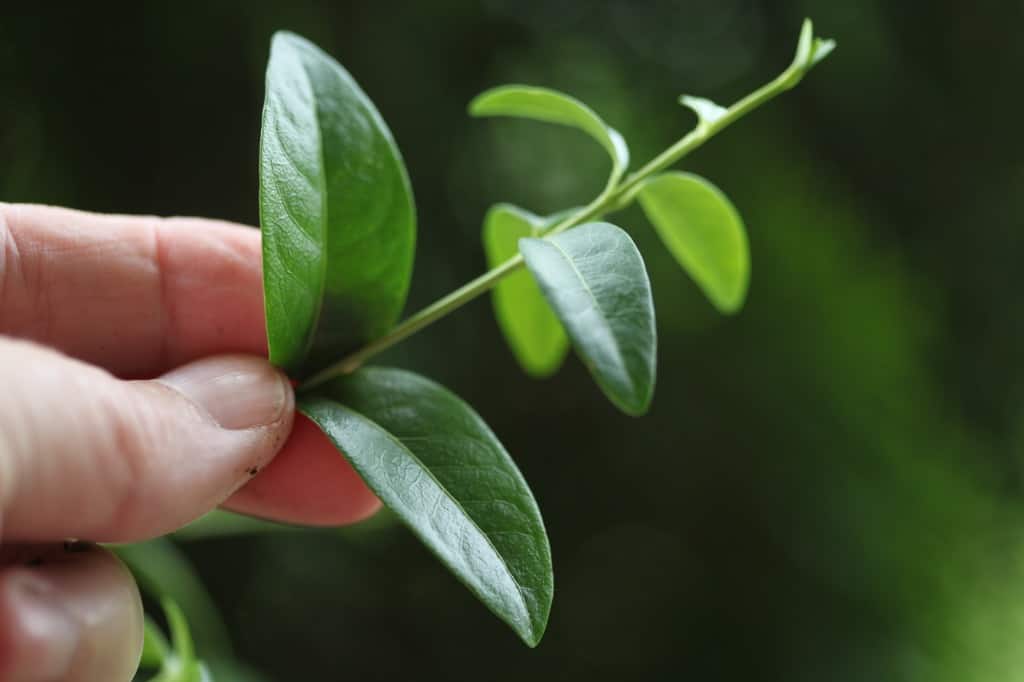 About Periwinkle
The common periwinkle plant got it's name from the color of it's sweet "periwinkle blue" flower. Although the plant also comes in a white variety, the blued flowered specimen is the most prevalent.
Periwinkle is the common name for Vinca, or European periwinkle. This plant is also known as creeping myrtle.
Native to Europe, periwinkle was brought to North America centuries ago, in the 1700's.
Periwinkle belongs to the family Apocynaceae, and to the Genus Vinca.
There are a number of different species within the Vinca genus. Several popular species include vinca minor and vinca major, which are evergreen, as well as vinca herbacea, which is a herbaceous perennial.
Vinca minor is the smaller of the vinca plants, and grows about six inches in height. Vinca major has larger leaves, and is a taller plant.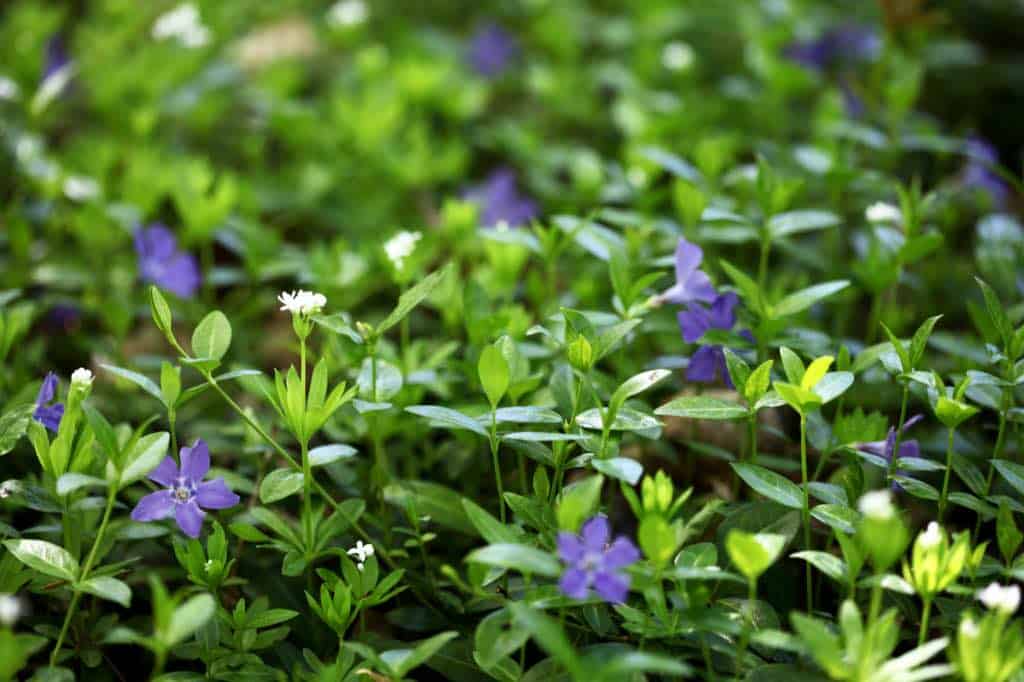 Periwinkle As A Ground Cover
Periwinkle is used as a ground cover, due to the fact that it is a creeping vine, which forms a thick growth pattern, and a dense mat of attractive shiny foliage. The vines grow long, and each stem can grow up to six feet in length.
The vines or stems creep along as they spread, covering bare ground and reaching out for new territory.
This plant is considered to be a fast growing plant, and the stems can fill in bare ground in a relatively short period of time.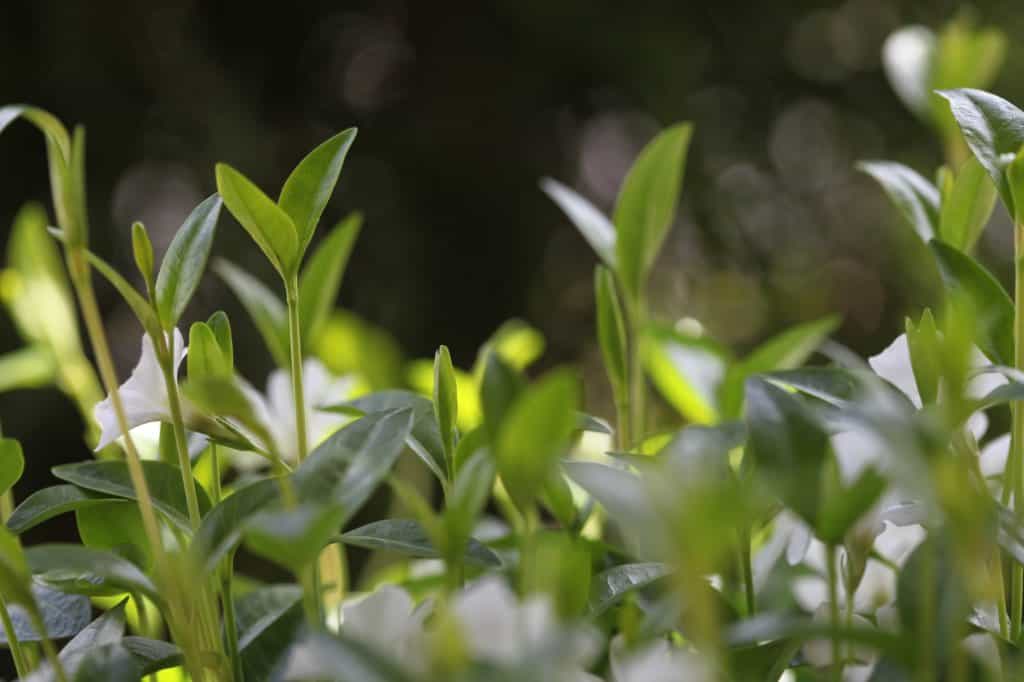 The plant height from the ground is low, with the approximate height of vinca minor as mentioned being only six to twelve inches at the most.
Periwinkle ground cover provides an evergreen mat of foliage. It is a durable plant, and can even be walked on if needed without damage.
It can take over smaller plants in the garden however, so be careful and try not to pair it with smaller varieties of plants.
If you do plant with other plants, keep an eye on your smaller plants, and pull the periwinkle away from them until they have an opportunity to grow to maturity.
Vinca, or periwinkle makes a great underplanting in areas where it is controlled, although it is now being identified as invasive in some locations, so be aware before planting.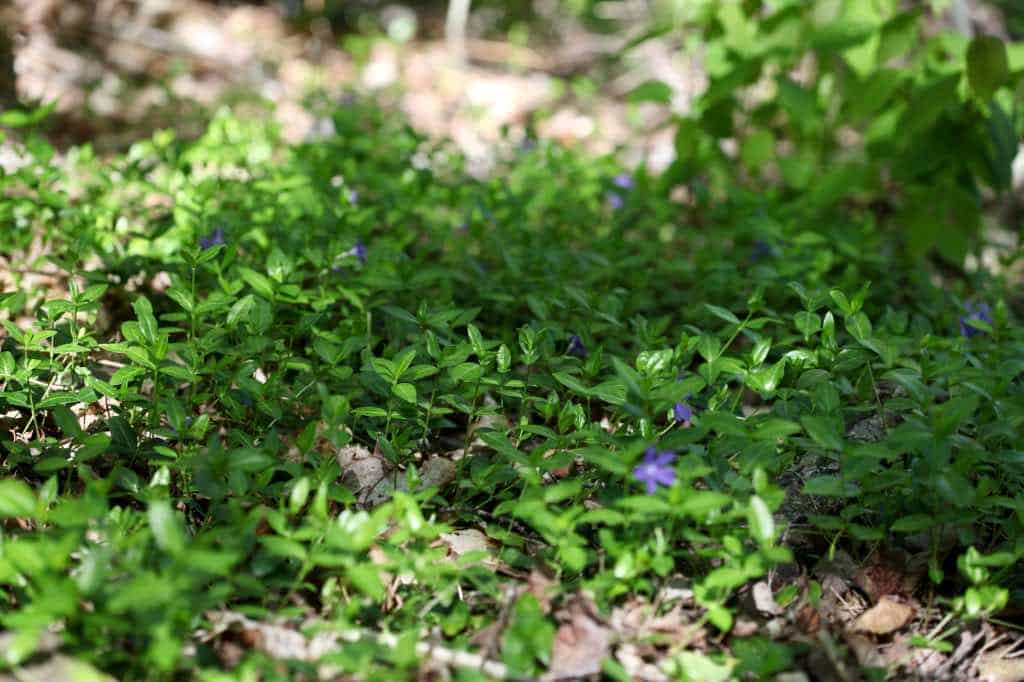 Periwinkle Leaves
Periwinkle leaves are dark green, glossy, and almond shaped. The leaves are paired and set along the stem on opposite sides.
These pairs of leaves become gradually smaller towards the growing ends.
If torn, the leaves may exude a milky substance, although I was not able to replicate this on the vinca minor plants in my own garden.
Size of the leaves is dependent on the plant species. Vinca minor has smaller leaves than vinca major for comparison.
The foliage of periwinkle is the most desirable aspect of the plant, as the flowers are small and few, especially in the shade.
The leaves of vinca minor and vinca major are evergreen, and therefore remain green year round.
Although periwinkle is drought tolerant and sunlight tolerant, the foliage is known to yellow in the sun if also combined with dry soil. So if in a sunny location, make sure to keep the plant hydrated.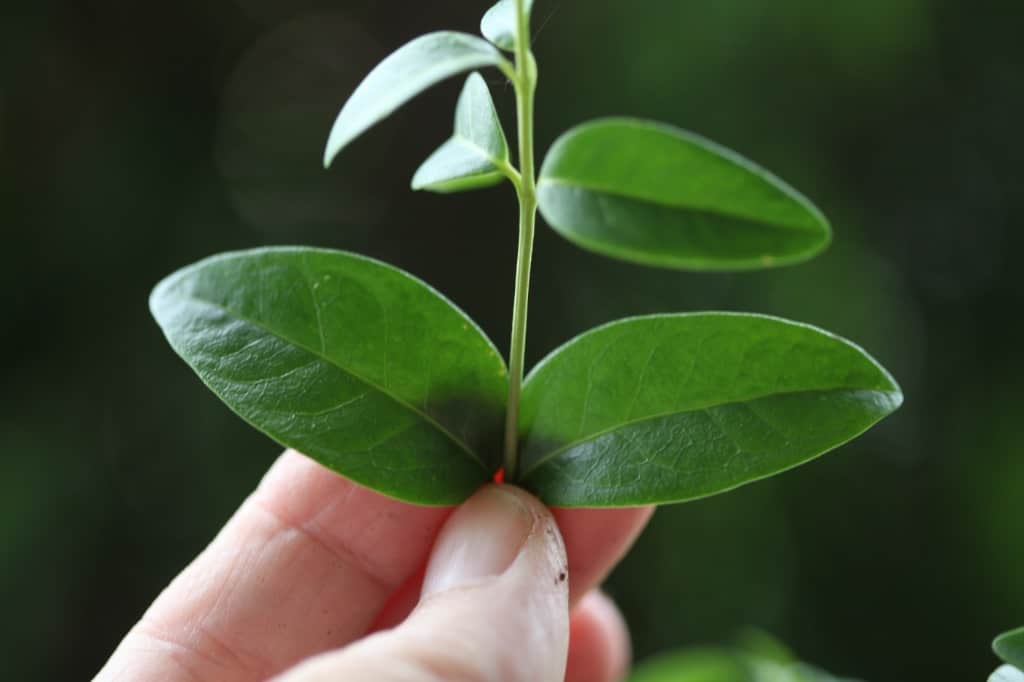 Periwinkle Flowers
The flowers of periwinkle are similar in appearance to phlox.
The blooms are small and five petalled.
Vinca flowers are attractive, although not prolific if grown in the shade.
The blooms are approximately an inch across, and are star or pinwheel shaped. They can be found in shades of blue, lavender or white.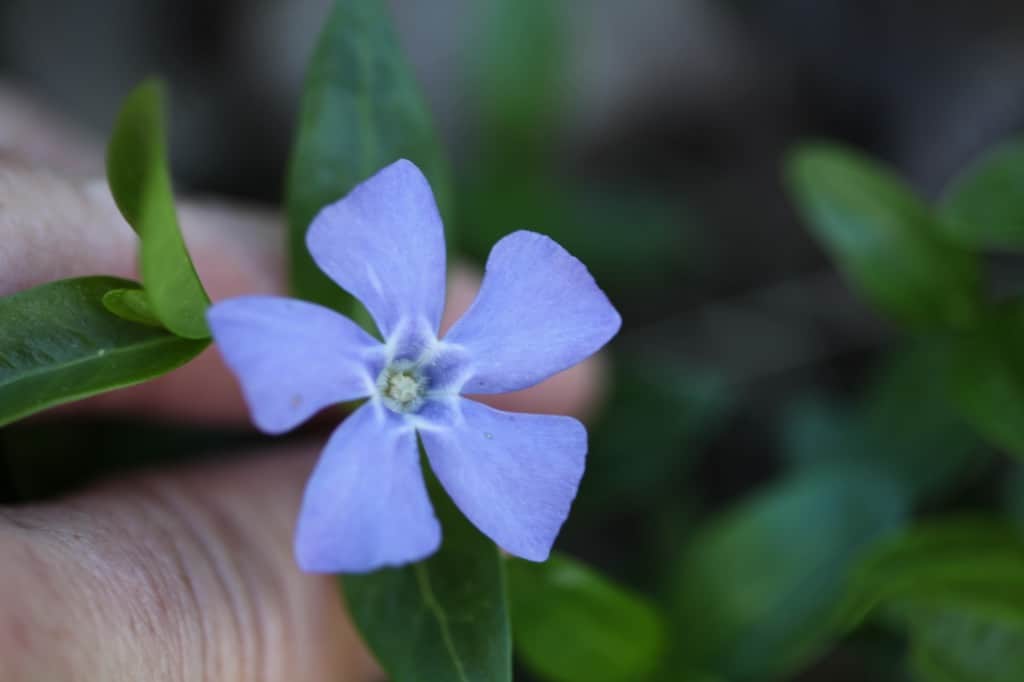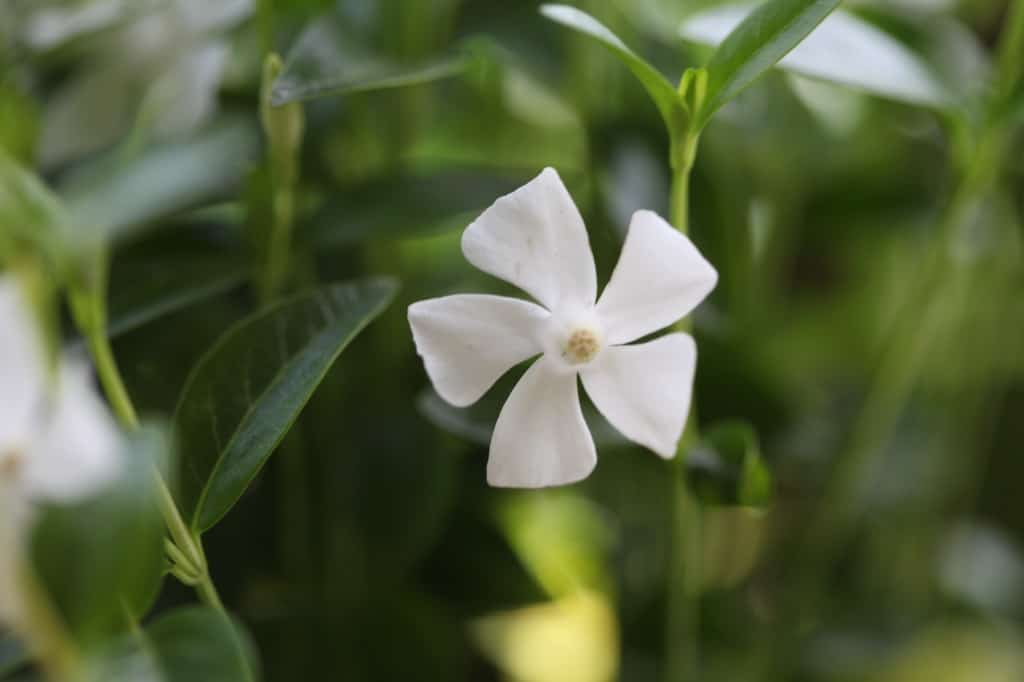 These little flowers are the most appreciated when you are right upon them, and stop to take a look at a beautiful bloom up close. From a distance however, they might not even be noticed.
Flowers of periwinkle generally bloom in late spring, and then occasionally will bloom here and there throughout the summer months as well.
For instance, the blooms of periwinkle have disappeared from the garden in early July, and yet my new potted periwinkle plant, has a small new flower bud forming.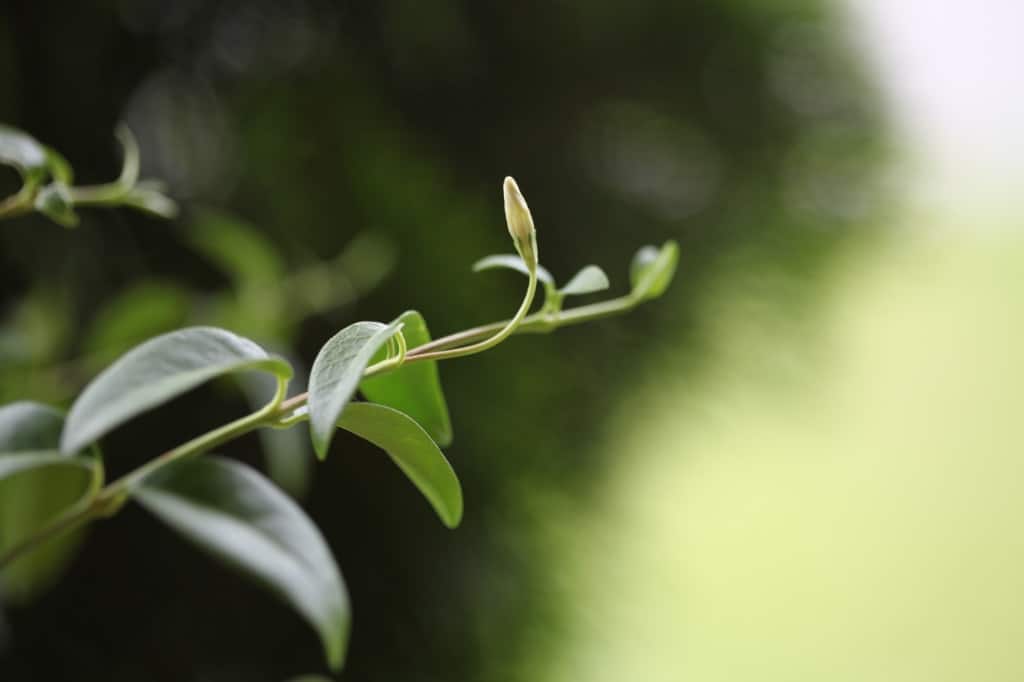 This plant bloomed last month as well.
Once periwinkle has finished blooming, it will begin to actively grow, with the new growth spreading out in the garden.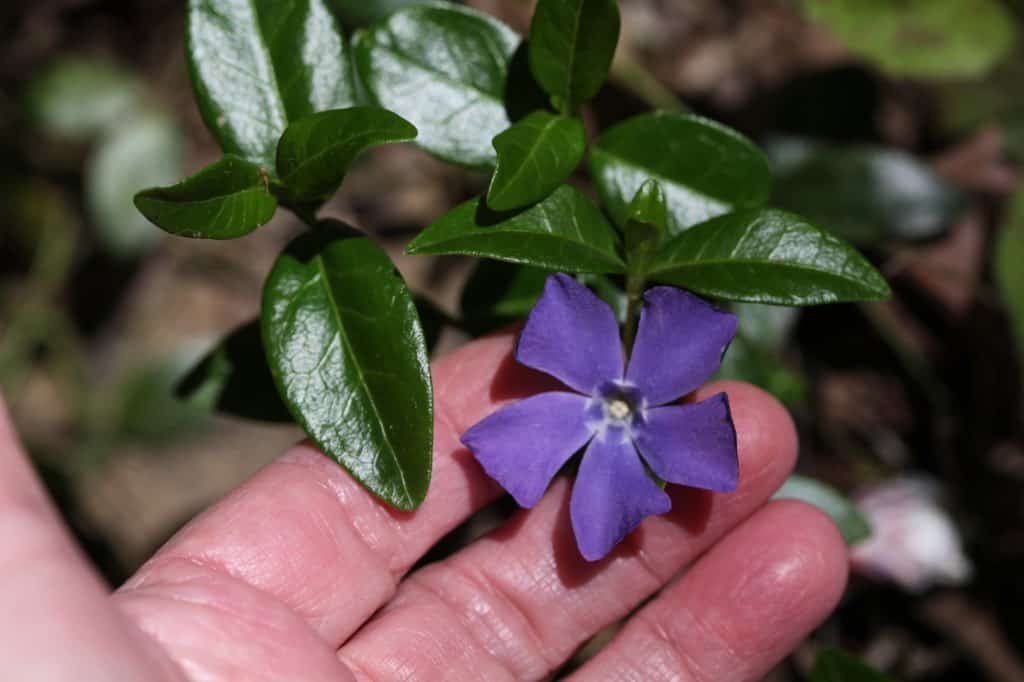 Periwinkle Stems
The stems of the periwinkle plant grow across the soil surface of the ground horizontally, and will put down roots as the plant stems trail and touch the ground.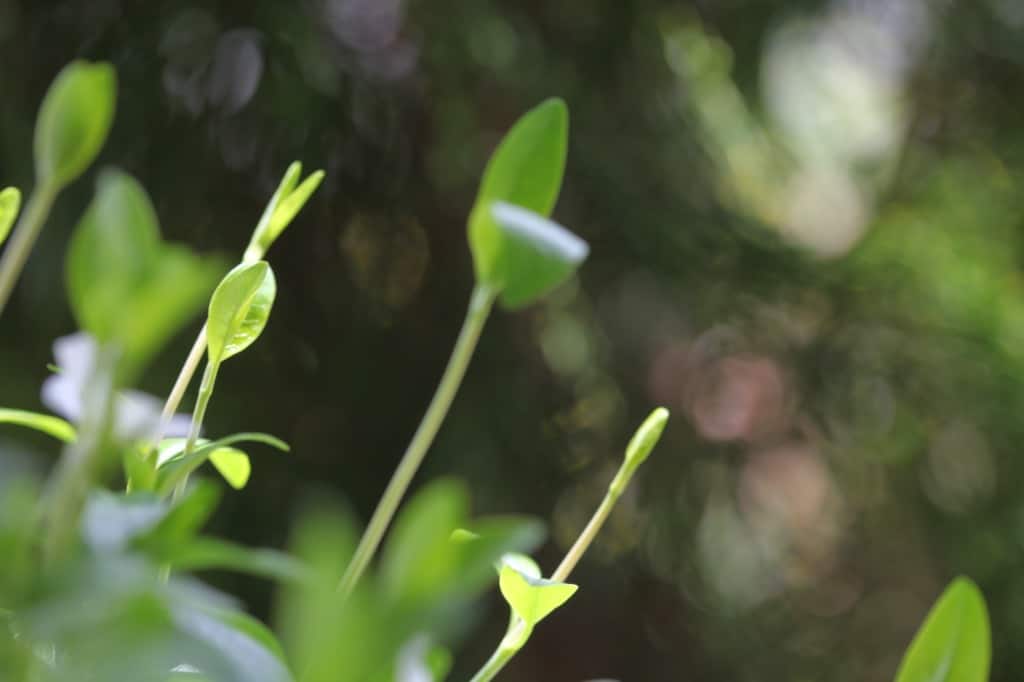 This root development occurs from nodes on the stem, which are triggered to produce roots on contact with the soil.
The plant roots that set tend to be fairly shallow, and can be easily dug.
The stems can be lifted and divided, separating many pieces of just one stem into numerous separate smaller plants with roots attached. Just make sure to dig up a piece of stem that has been rooted, to ensure for an easy transplant.
Stems without roots can also be rooted, and propagated from cuttings.
For the sake of this post however we will focus on how to transplant periwinkle plants that have been lifted and divided with roots.
How To Transplant Periwinkle
Transplanting periwinkle is easy using the right techniques.
Best Time To Transplant Periwinkle
The best time to lift and divide many plants is in spring, before the plant is in active growth.
At this time of year the plant has lots of time to establish a good root system in it's new location during the summer months, and in the same season that it is has been freshly planted.
Depending on your growing zone, early fall can also be a good time to transplant.
In our zone 5b garden, we generally transplant in spring to prevent winter heaving and plant loss.
Plants that have been planted in the fall tend to not have much growing time to put down strong roots and establish themselves before the winter frost sets in the ground.
They are therefore easily heaved out of the ground in winter.
In zone 5 b we transplant periwinkle in spring. In warmer growing zones, early fall is also an option.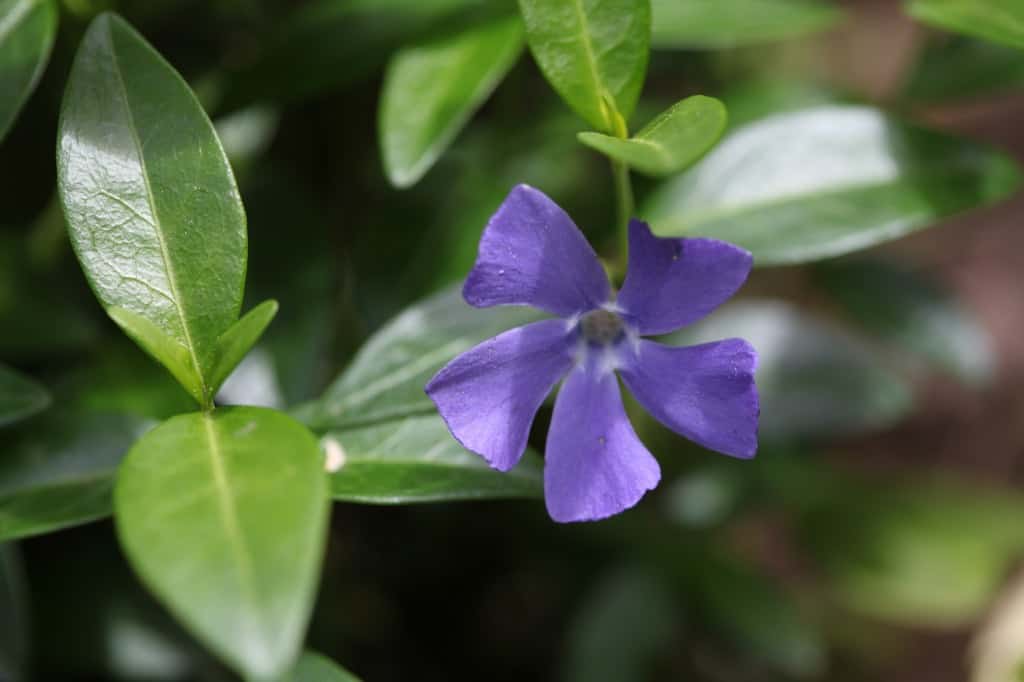 Lifting And Dividing The Periwinkle Plant
Periwinkle is very easy to lift and divide.
The best time of day for digging is early morning, when the plants are the most hydrated.
The plants and roots grow fairly shallowly. It does not take much effort at all to reach down with a garden trowel, and dig around a periwinkle plant, lifting the plant out from the soil with roots still attached.
The plant will also still be attached to a trailing periwinkle stem.
Select a single plant and dig around the plant into the soil. It will easily let go, and can be lifted out of it's growing location.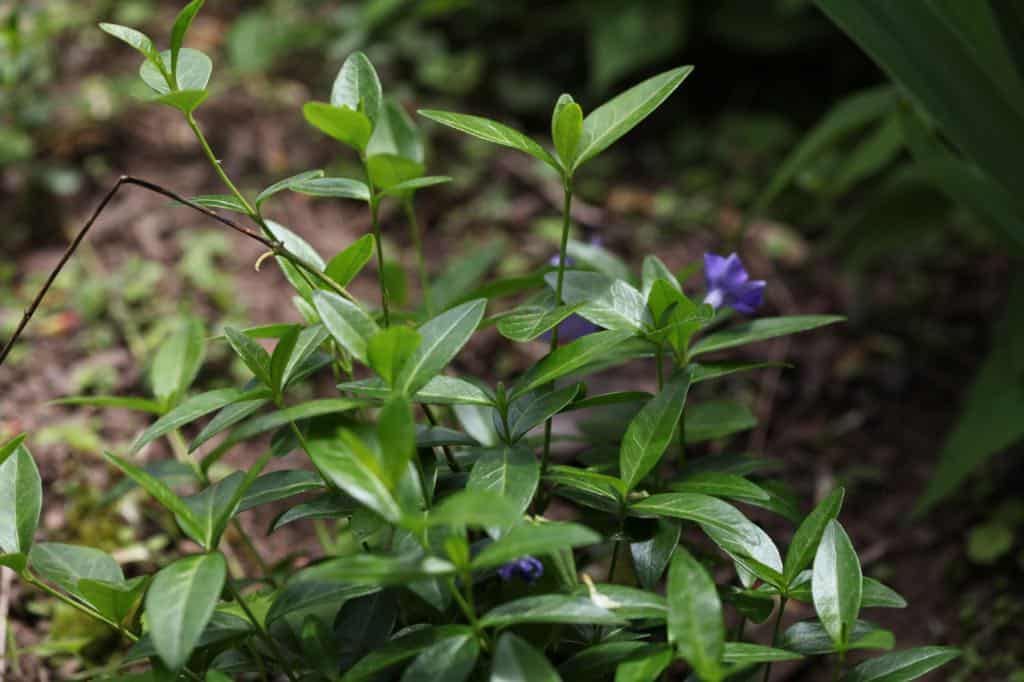 As you lift the plant, notice that the plant will still be attached to the stem on both sides, and it will need to be severed and removed from the vine.
It's also important to make sure that you are actually taking a plant with roots attached.
Once the plant has been freed and cut from the stem, it becomes a new plant which is separate from the rest of the vine.
If you have a vine with a number of plants with roots attached, separate them all from each other.
Dividing these plants allows you to start many new plants from just one vine.
Sometimes the roots are so superficial, that the plant comes up with just the roots, and no soil attached. If this is the case, just place the plant and roots into a container of water until you are ready to transplant.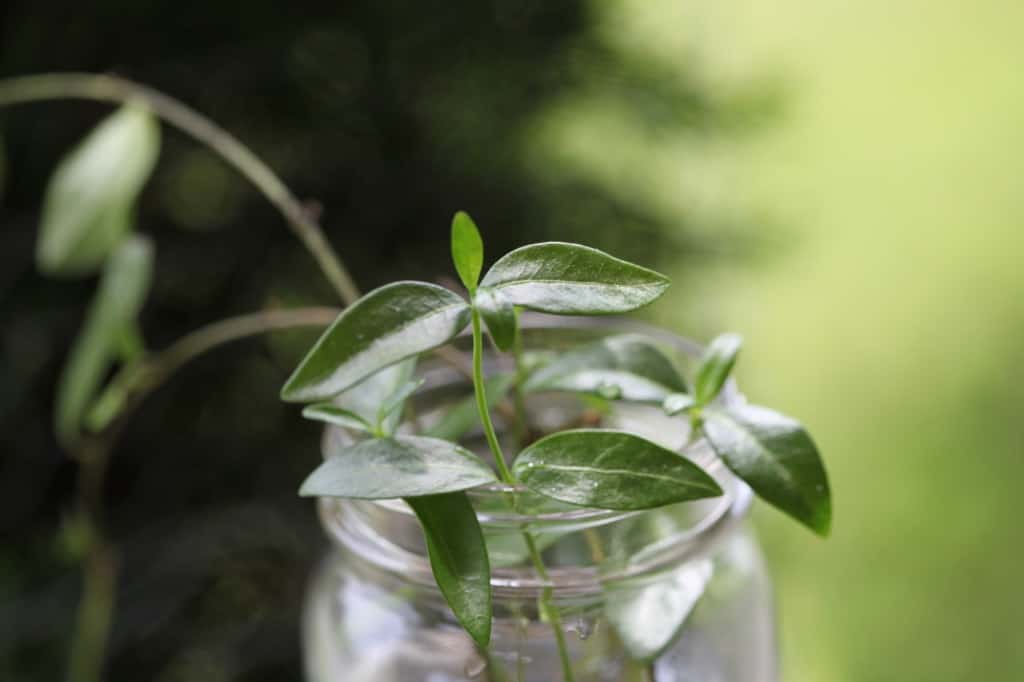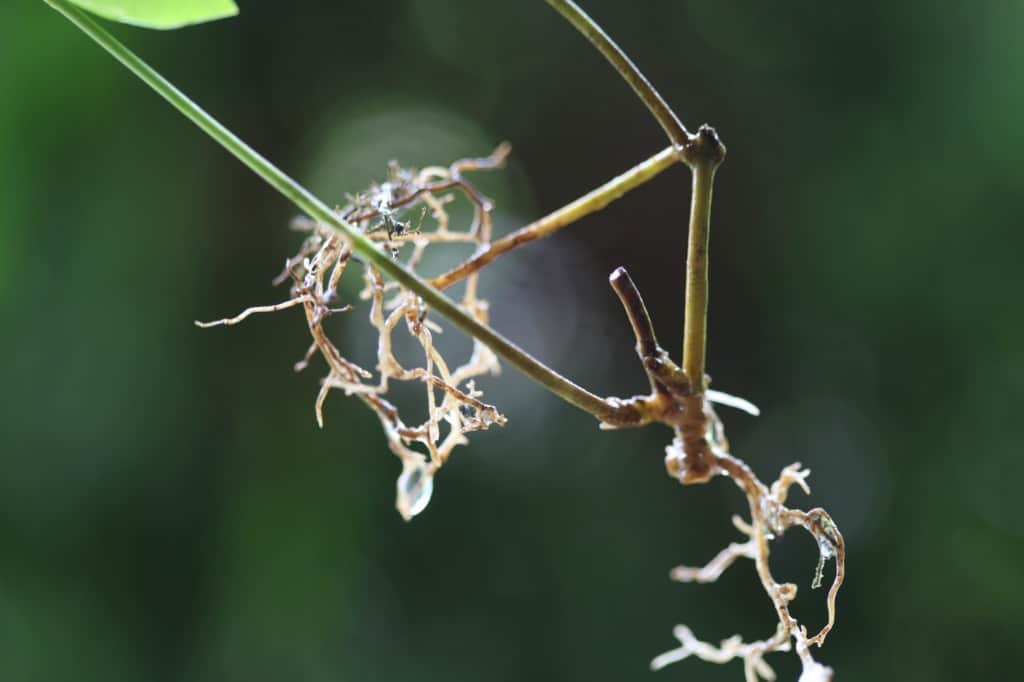 Planting Periwinkle
Consider the location where you would like your periwinkle plants to spread.
Prepare the planting area by removing any weeds.
Loosen the soil, as the plants will do better in a loose soil.
Plant the newly divided pieces with attached roots approximately six to twelve inches apart, in a prepared hole in the new location.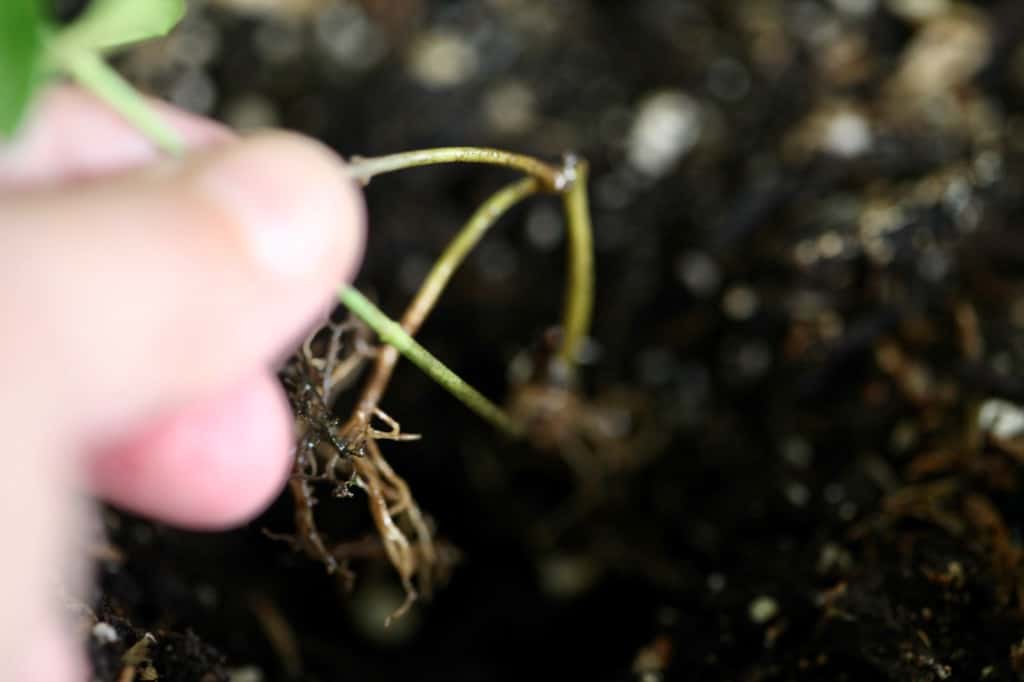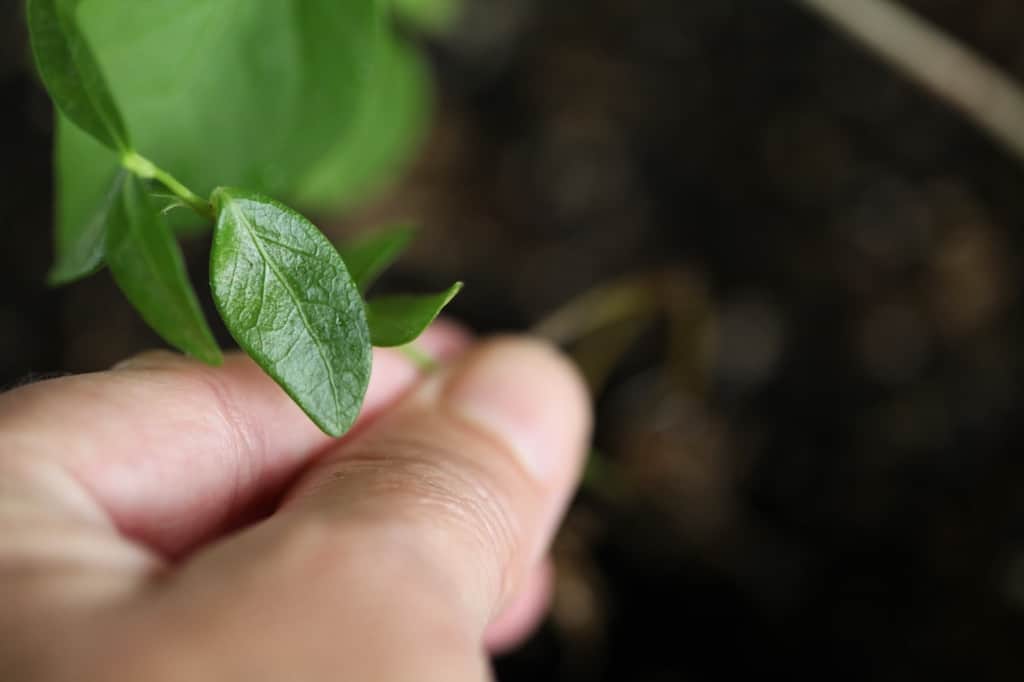 Plant at the same soil level as the plant was previously grown.
If planted six inches apart, the bare spot of the new location should be covered within a year of planting.
Water the plants in well, removing any air pockets in the planting hole.
It's important to keep the plants well watered until the roots start to take hold and the plants become established. Regular watering at this stage is beneficial for the plant.
After established, allow nature to take care of the moisture requirements naturally. You may not need to water them again, unless the weather is very dry.
Water only if necessary during dry periods. These plants are drought tolerant.
Once the plantings become established, the new transplants will spread and fill in the empty spots in the garden.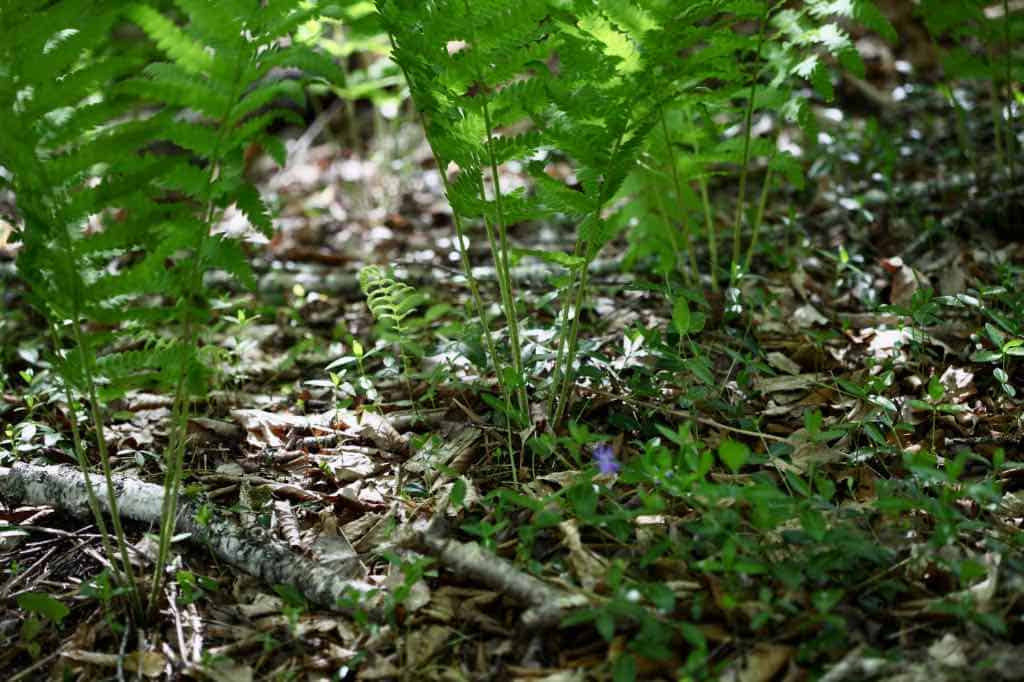 Periwinkle Growing Requirements
Growing Zone
Periwinkle grows well in USDA growing zones 4 to 9.
Soil Requirements
Periwinkle likes a well drained, nutrient rich soil, amended with lots of organic matter.
It is adaptable however to many growing conditions, and will tolerate many soil types. Periwinkle will grow in acidic soil, as well as neutral and alkaline soils.
Water Requirements
Periwinkle is quite versatile in it's water requirements, and will tolerate moist soil, as well as dry soil.
The plant is quite drought tolerant when established, and generally does quite well with just moisture from the natural elements.
It will thrive in dry soil in a shady spot.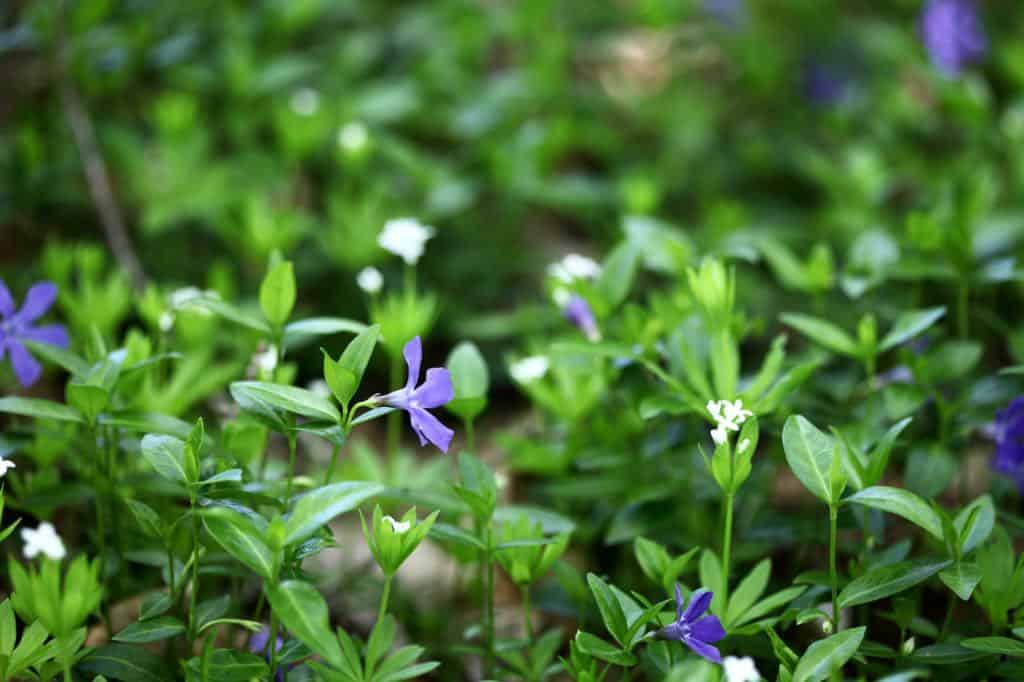 Light Requirements
Vinca or periwinkle grows well in full shade and partial shade locations.
It will tolerate some sunlight, although has a tendency to burn in very hot sun. It can be grown in full sun however, especially in cooler climates.
The amount of sunlight will have an affect on the plant, both in terms of the foliage color as well as bloom production.
The more sun exposure the more prolific the blooming. The shadier the location, the darker and richer the foliage color will be.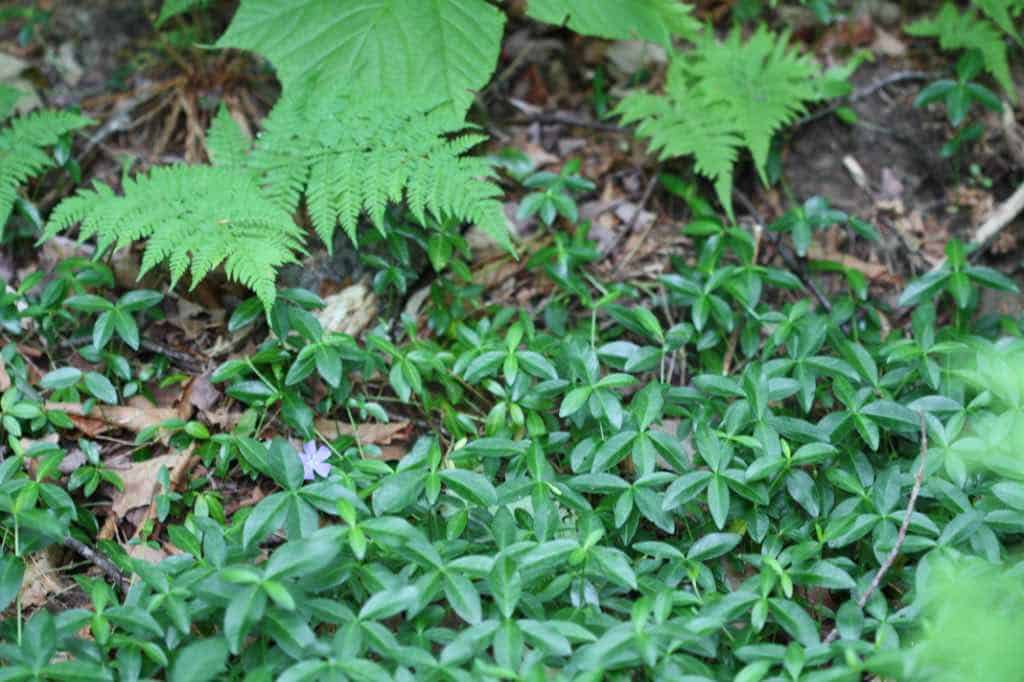 Maintenance In The Garden
Once you transplant periwinkle, it can grow fairly quickly, and will fill in a bare spot quite nicely within a few years.
Maintenance for the plant is low, as long as it has room to spread.
Periwinkle does not like to be mowed, so you will likely not find it growing in your lawn.
It will avoid the lawn, and spread to areas where there are bare patches in the garden.
Prune or trim the plant back from areas where you do not want it to grow. The plant can also easily be pulled up, since the roots are shallow.
Periwinkle can however overtake smaller plants in the garden, and out compete these plants.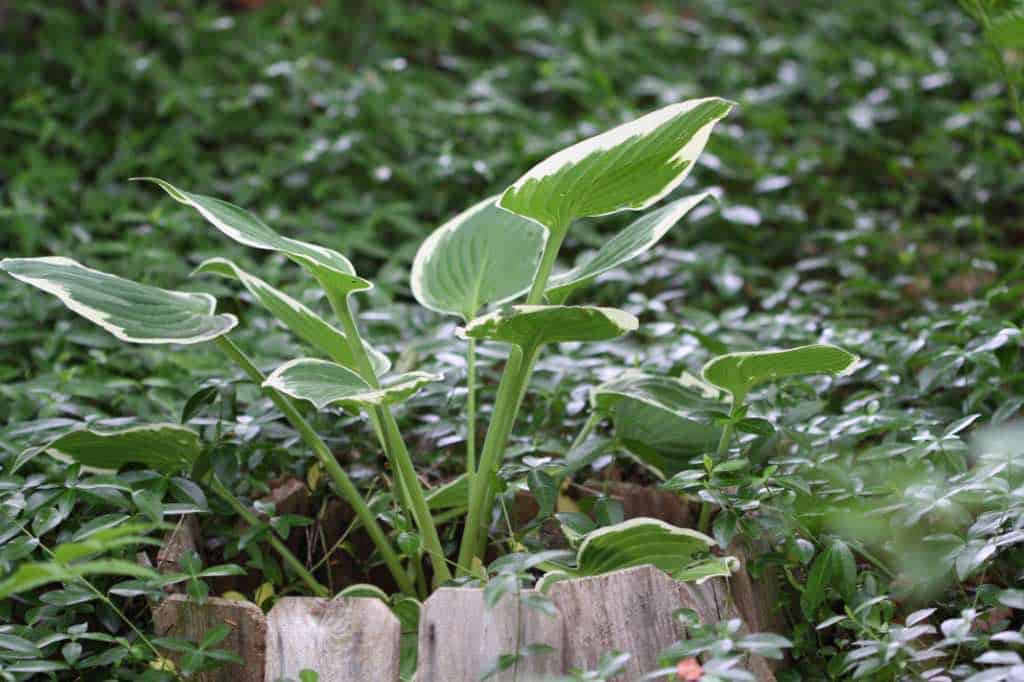 Keep this in mind when planting periwinkle, and make space for your other plants by pulling the periwinkle back from the smaller plantings until they are larger and can hold their own.
Transplanting Periwinkle Into Pots
Periwinkle can also easily be grown in pots. Since it is a vine, the long stems will trail from the container creating an attractive display.
If you plan to transplant periwinkle into pots with other plants however, keep in mind that the periwinkle will be also be competing with whatever else is also growing in the same space.
It may eventually crowd out the other plants in the pot, if left to do so.
Give the other plants some space by pulling the periwinkle away from those plantings.
For best results, plant the periwinkle along the sides of the pot, and guide it to grow and trail on the outside of the pot.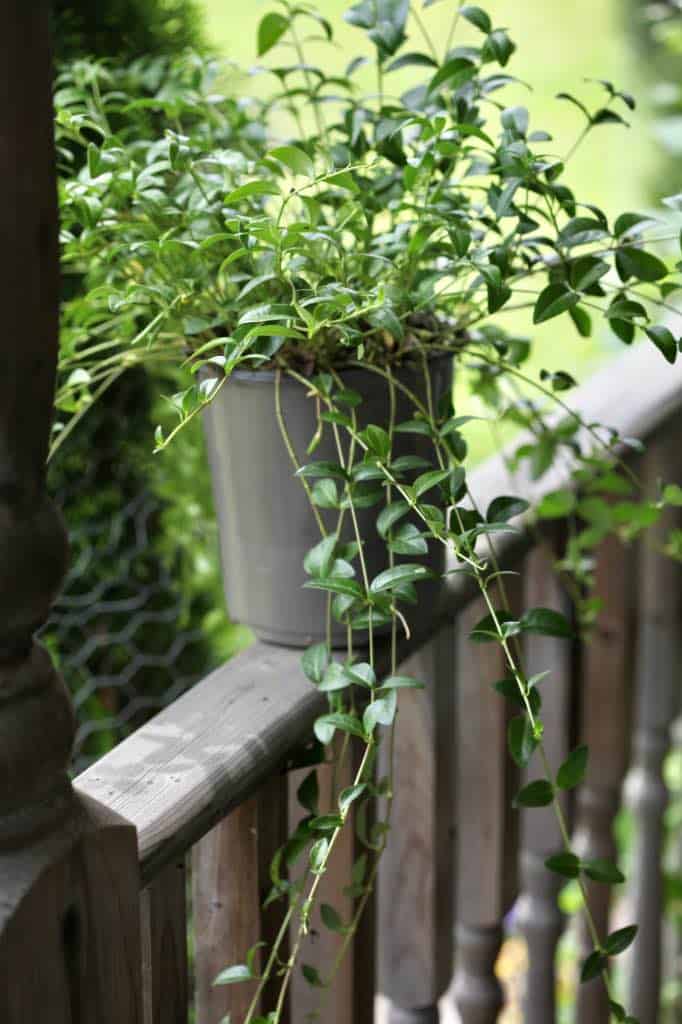 Is Periwinkle Invasive?
Vinca minor and vinca major have both been identified as invasive species in some areas. This is due to the plant's ability to escape the garden space, and a tendency to form a thick carpet of foliage, which can crowd out native species.
The periwinkle plant is still sold as a garden plant, so be aware of the nature of the plant and the risk in your area.
Periwinkle is generally easy to remove from an unwanted area, as the roots tend to be shallow, and the plant is easily pulled.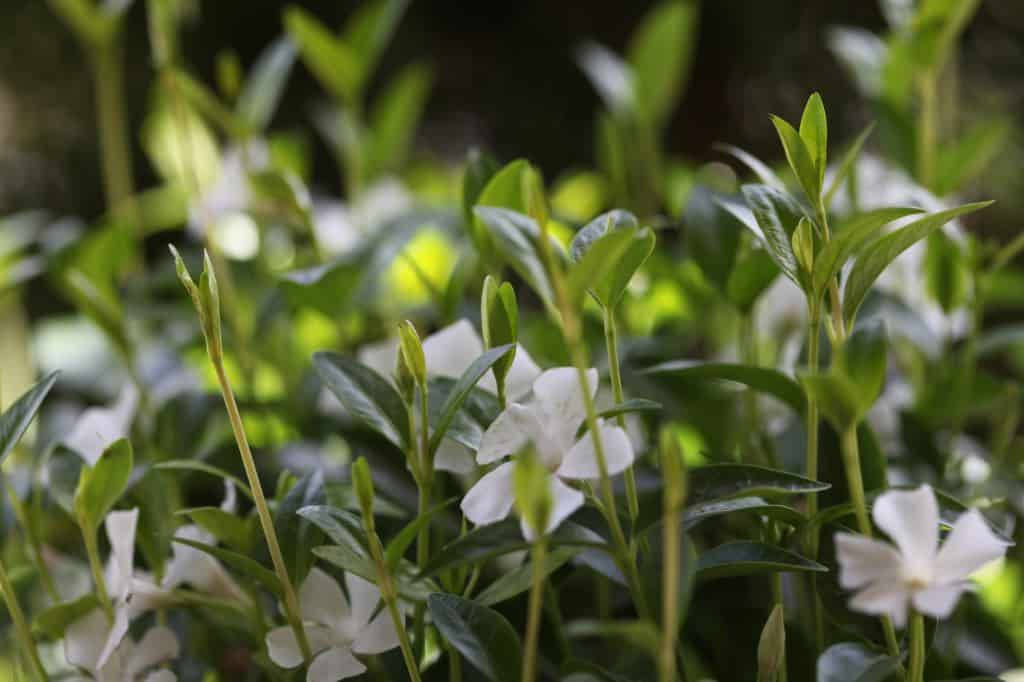 Conclusion
Periwinkle is quickly spreading, and can make a nice ground cover for bare spots in a shady location. It is an adaptable plant, and will also grow in many different locations, including in full sun.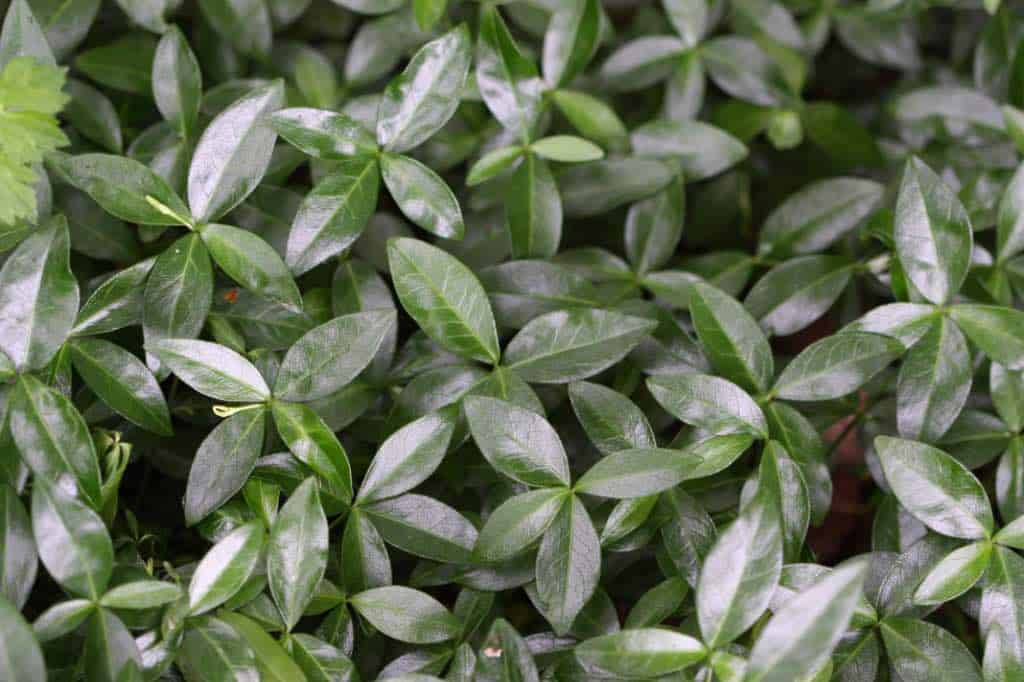 The simple yet beautiful flowers are an added bonus, although it is the glossy green leaves that create a serene space in the shade garden.
When transplanting, space plants closer to fill in an empty spot more quickly.
Evergreen varieties of periwinkle remains green all year round. They are attractive to look at, and definitely smother out the weeds.
The plants are easy to transplant, and periwinkle can be dug and divided from a mature plant for transplanting purposes.
Make sure to provide enough water while the plants are getting established.
Just be sure that the plant is not listed as invasive in your climate or growing zone. In more temperate zones, periwinkle has escaped the garden, and it's dense growing nature can outcompete with native plants.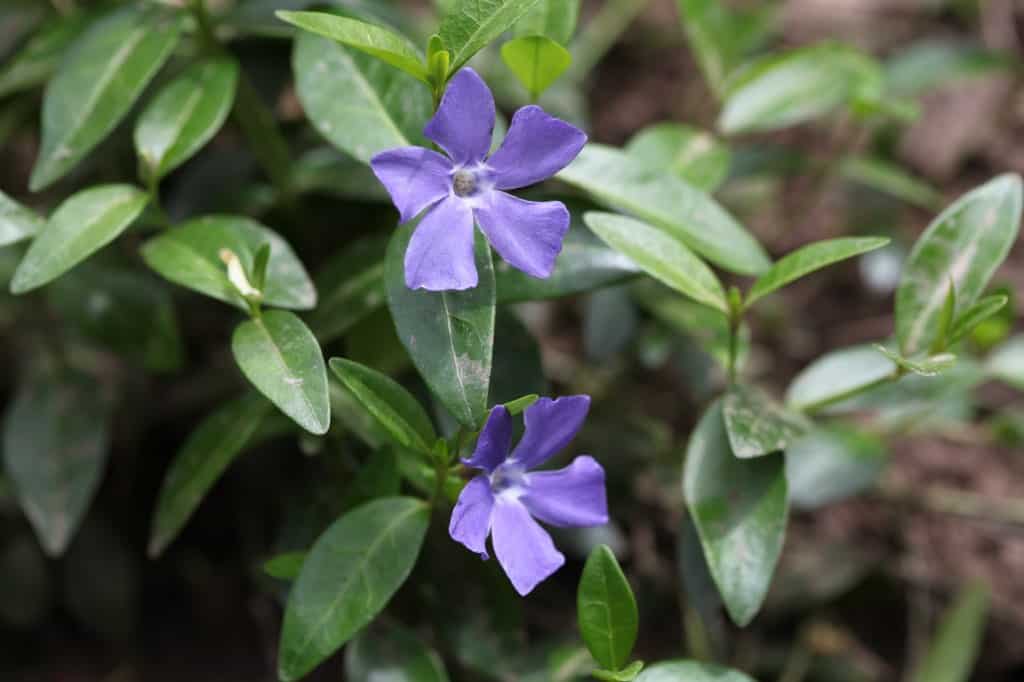 Do your research and be aware.
Have you ever tried to transplant periwinkle in your garden? Be sure to leave a comment below to share your experience!
Other Posts You May Like:
PIN IT FOR LATER!