Last updated on January 25th, 2022 at 12:40 am
Peonies are such beautiful romantic flowers ,and look absolutely stunning in a vase. They can last a very long time in the garden, for many generations in fact, and return reliably to bloom year after year. Learn to grow peonies, to have these blooms both in your garden and in your vase for many years to come.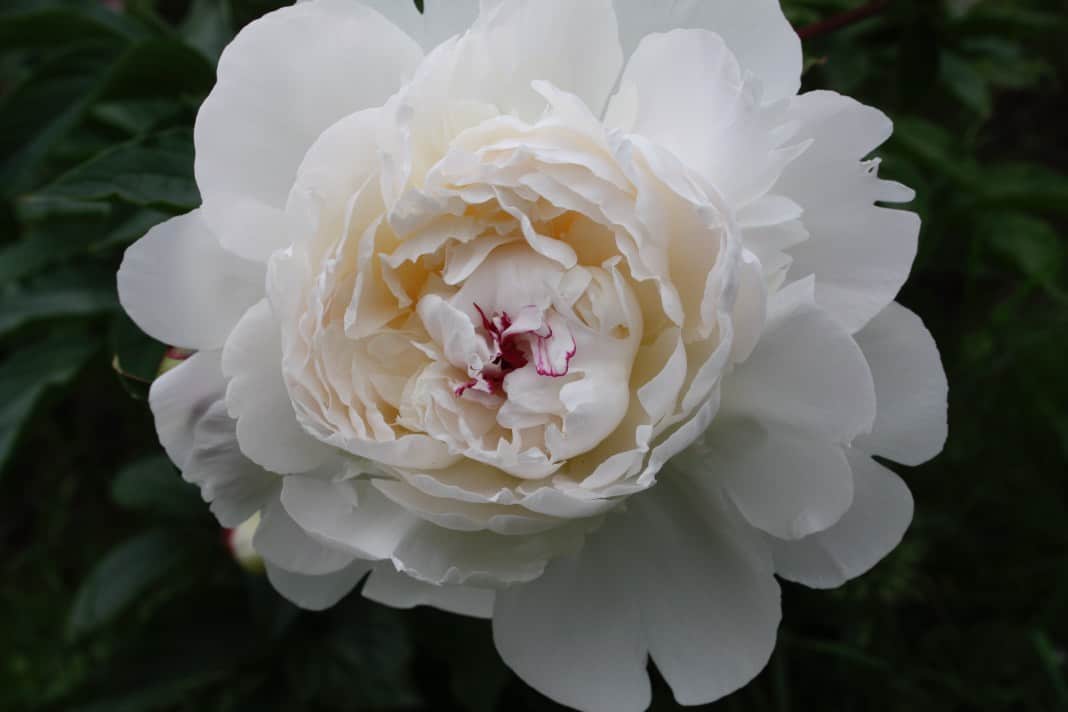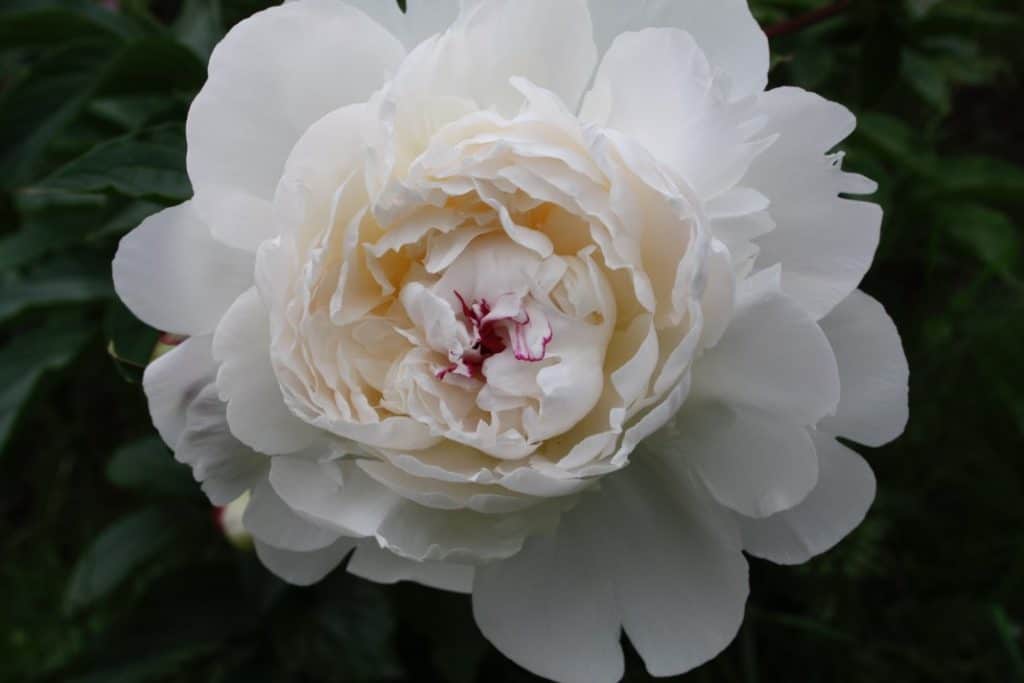 This post contains affiliate links, which means I make a small commission at no extra cost to you. See my full disclosure here. As an Amazon Associate I earn from qualifying purchases.
When I first laid eyes on this very large white peony at the farm, I couldn't believe the history. Grown for generations, it had been in my partner's grandmother's garden, and now here it was still blooming in ours.
Peonies can live for a very long time, and there is a possibility that they will outlast the gardener. They are plants that you can share with family and friends, to spread the love of the peony.
A vey special gift indeed.
Are Peonies Easy To Grow?
Peonies are very easy to grow. They can be planted and grown by even the beginner gardener. The main thing to be aware of is the proper planting depth of the crown. If planting bare root, plant at a depth that allows the eye or bud to be placed just 1 to 2 inches below the surface of the soil. If planting a potted peony, plant so that the soil level is even with the existing soil level in the pot.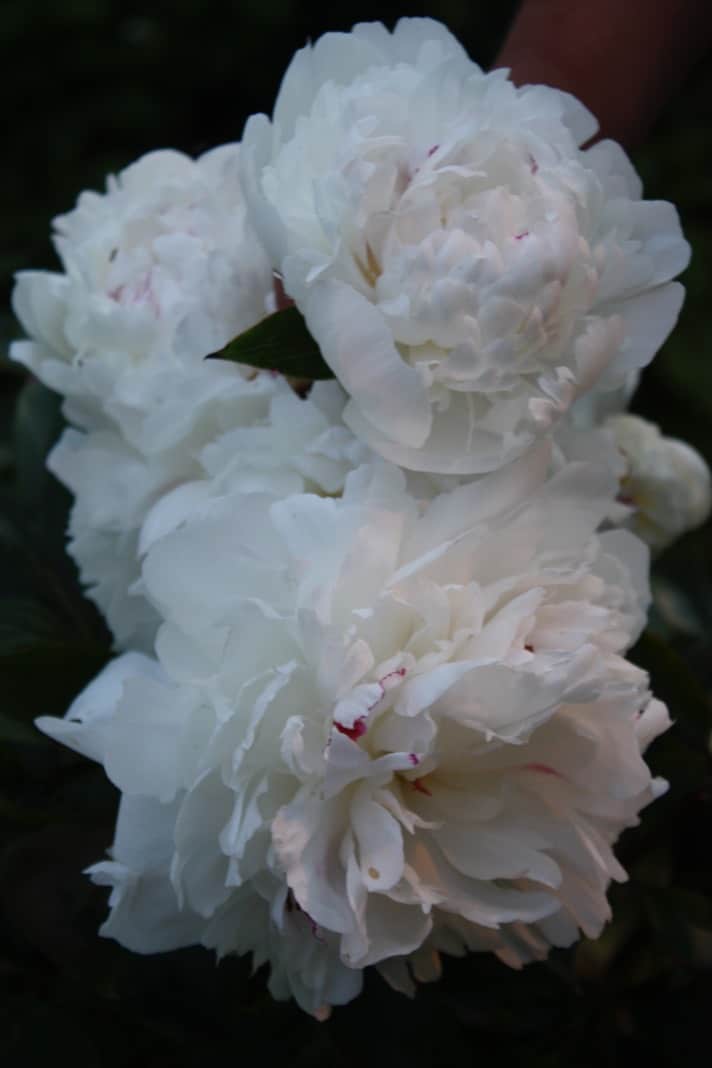 How Long Does It Take To Grow Peonies ?
If you are growing peonies from bare roots, it will take about 2 to 3 years for the plant to grow to a good size for flower production. Cutting off any potential blooming stems during these first few years will transfer the plant's energy back into the growing roots, and give the peony a very good start in the garden, allowing it to establish and mature.
The peony will continue to grow and should produce an abundance of blooms by year three or four. Disbudding during year one and two, and even year three will allow the plant to establish and grow.
It's very tempting to just let the buds to grow to full bloom. If you are planting for garden presence, you can enjoy the flowers just as they are. There are not be many stems produced during the first few years anyway if you have planted from bare root.
If you are planting for cutting, it is best to disbud and allow the plants to grow and mature before enjoying the blooms.
For flower production we do not allow the flowers to bloom until year three. This will ensure good root establishment and larger plants in the long run.
Growing peonies from potted plants as well may take a few years to establish, depending on the size of the plant. Often you can find 3 and 4 year old potted peony plants, so there is no need to remove flowers on these plants.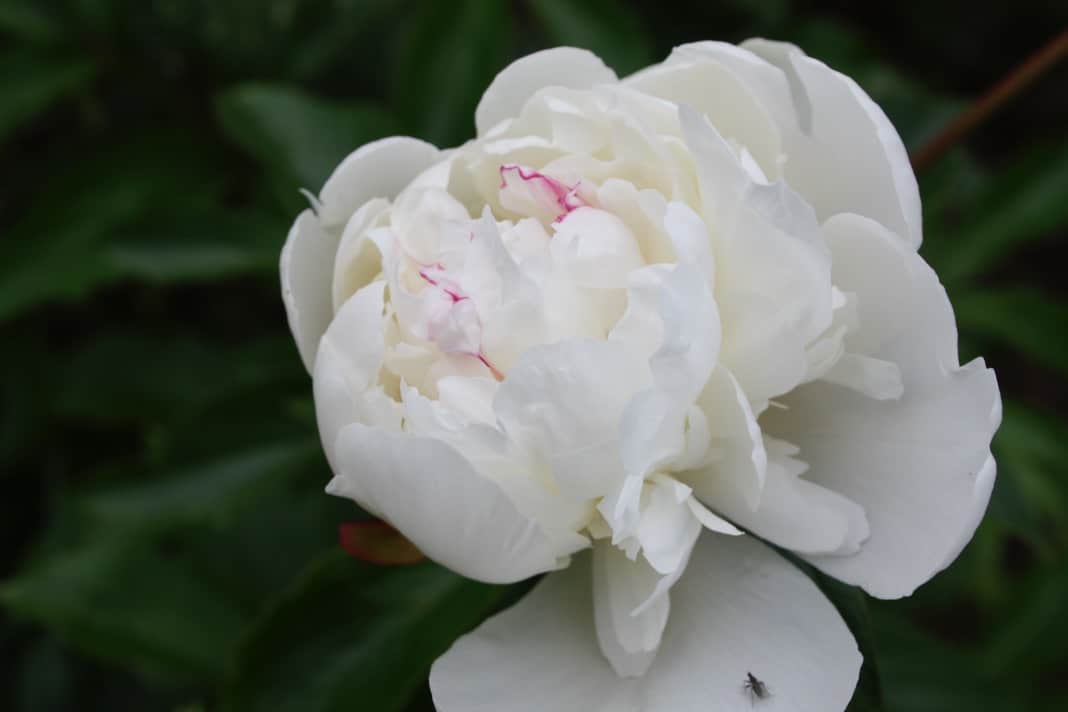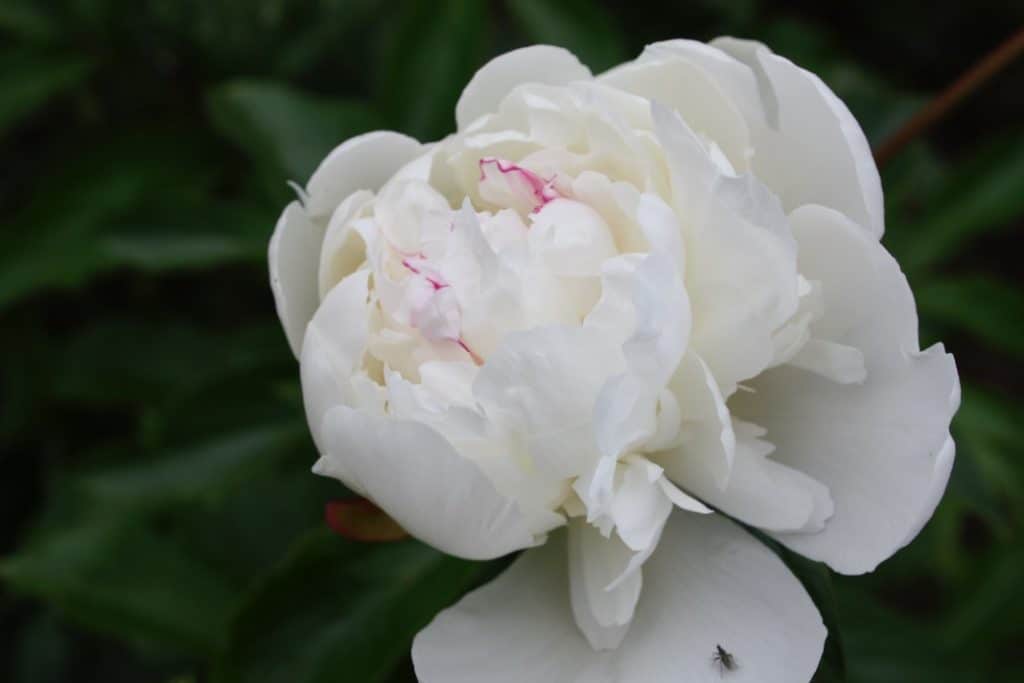 The Three Different Types Of Peonies That You Can Grow
1. Herbaceous Peonies (Paeonia lactiflora)
Herbaceous peonies are just like any other herbaceous perennial. These plants die back to the ground when the weather gets cold, and remain dormant underground until the weather warms up in spring.
Herbaceous peonies are the most common type of peonies. These are the typical garden type peonies that have been grown in English country gardens, and of course in our own grandmother's garden.
These peonies often have very large blooms, and if the blooms are doubles the stems may bend with the weight of the large top heavy flowers.
The blooming period for each variety is generally about 2 weeks, however different varieties can have different bloom times. By including a number of different varieties in your garden you can extend your peony bloom time over a 6 week period.
Herbaceous peonies may require some sort of support if leaving the blooms in the garden, rather than cutting them and bringing inside to the vase. Peony cages, similar to tomato cages, are helpful at this stage.
Where To Find Peony Cages
We like to bring our blooms inside, and these flowers hold up well in the vase.
2. Tree Peonies (Paenoia suffruticosa)
Tree peonies are another type of peony plant. Unlike herbaceous peonies, these plants do not die back to the ground in winter.
Rather, the tree peony is a deciduous shrub with woody stems. It loses it's leaves in the fall, and new growth in the spring comes from the woody branches.
Tree peonies are slow growing, and can reach a height of 5 to 6 feet at maturity.
The blooms on tree peonies are highly valued for their beauty. Bloom time is usually about 2 weeks.
3. Itoh Peonies
Also known as the Interceptional peony, this third type of peony is a cross between the herbaceous and the tree peony.
Itoh peonies die back down to the ground in winter just like herbaceous peonies, however they are stronger in the stem than herbaceous peonies, and have the wonderful bloom of the tree peony.
The colour range of the Itoh peony is vast, and the blooming period is longer than that of the herbaceous and tree peony, and can last from 3 to 4 weeks of bloom time.
These peonies make excellent cut flowers.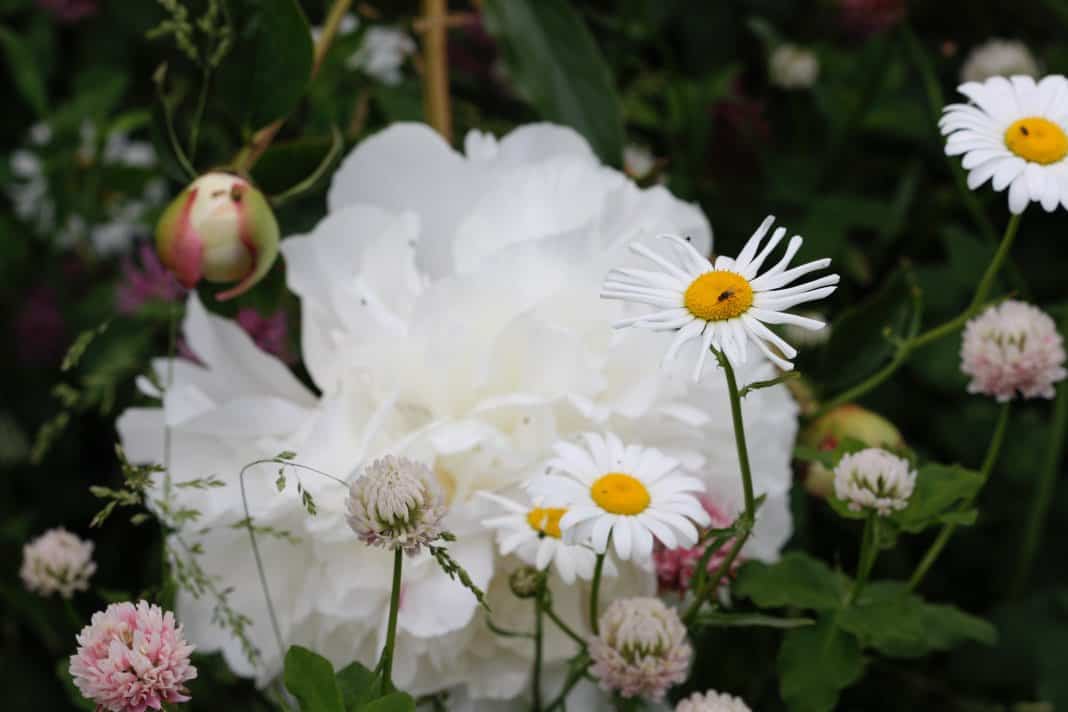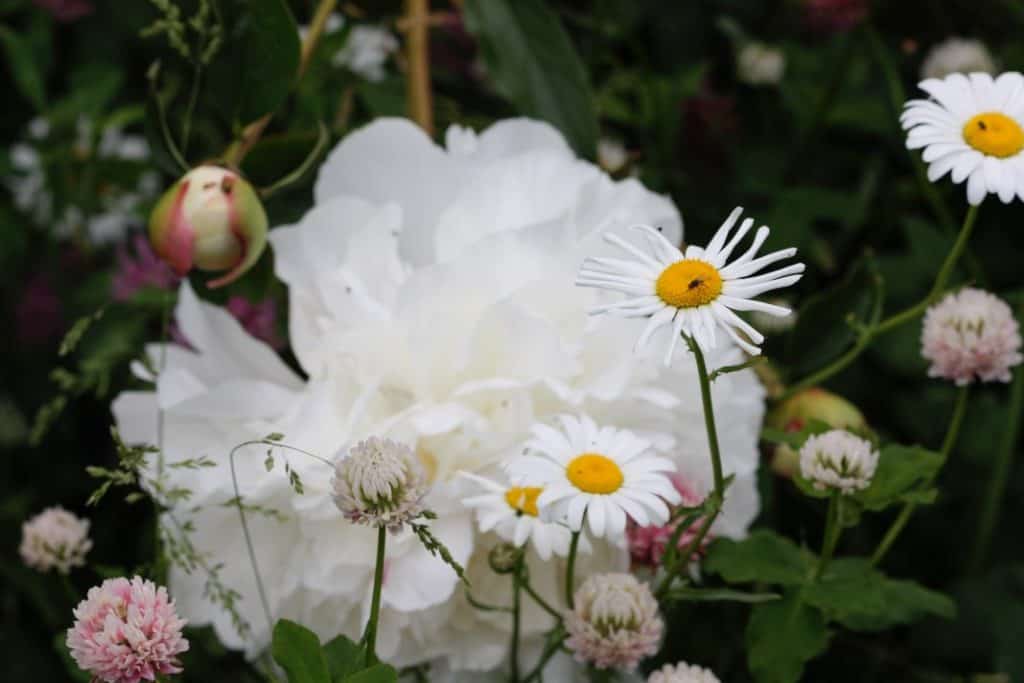 Where Do Peonies Grow Best?
Growing Zone
Peonies grow best in zones 3 to 9. Check your hardiness zone here. Peonies prefer a cold winter for optimal flower production.
Sunny Location
You may be planting your peony from either a bare root stock with several eyes, from two to five, or from a potted plant.
Regardless of type, chose a location that is sunny. Peonies grow best in full sun, although will tolerate some partial shade. They will need at least a half day in full sun for proper blooming.
Soil Type
Peonies grow well in well drained and fertile soil. They also grow very well in clay soil, such as the soil we have on our own farm.
What Is The Best Way To Plant Peonies?
If you are planting more than one peony, make sure that you give lots of space between the plants to allow for good air circulation between plants when they are a mature size.
We planted our herbaceous peonies 2 feet apart. Three feet apart is also a good choice, and would allow for optimal air flow between plants.
The reason for good air circulation is that peonies are vulnerable to a fungal disease called botrytis if the leaves remain moist and cool.
When To Plant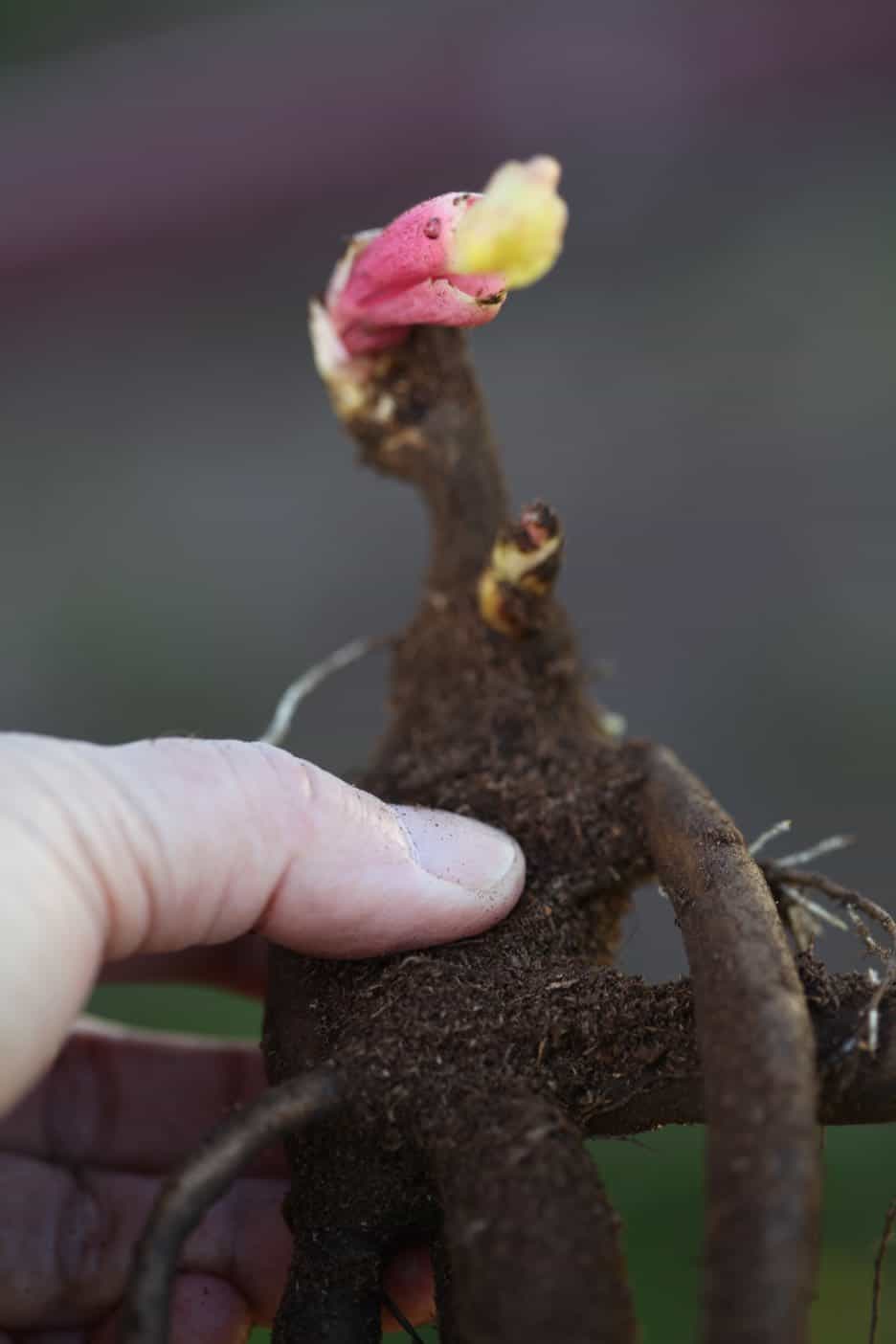 It's always best to plant your bare root peonies in the fall. That said, they can still be planted at other times of the year as well.
The reason that fall planting is best has to do with the optimal time for root growth. The feeder roots will be more prolific and grow faster if planted in the fall.
If you have ordered peony roots in the spring, then they can be planted at that time.
Potted peonies can be planted at any time during the growing season.
How To Plant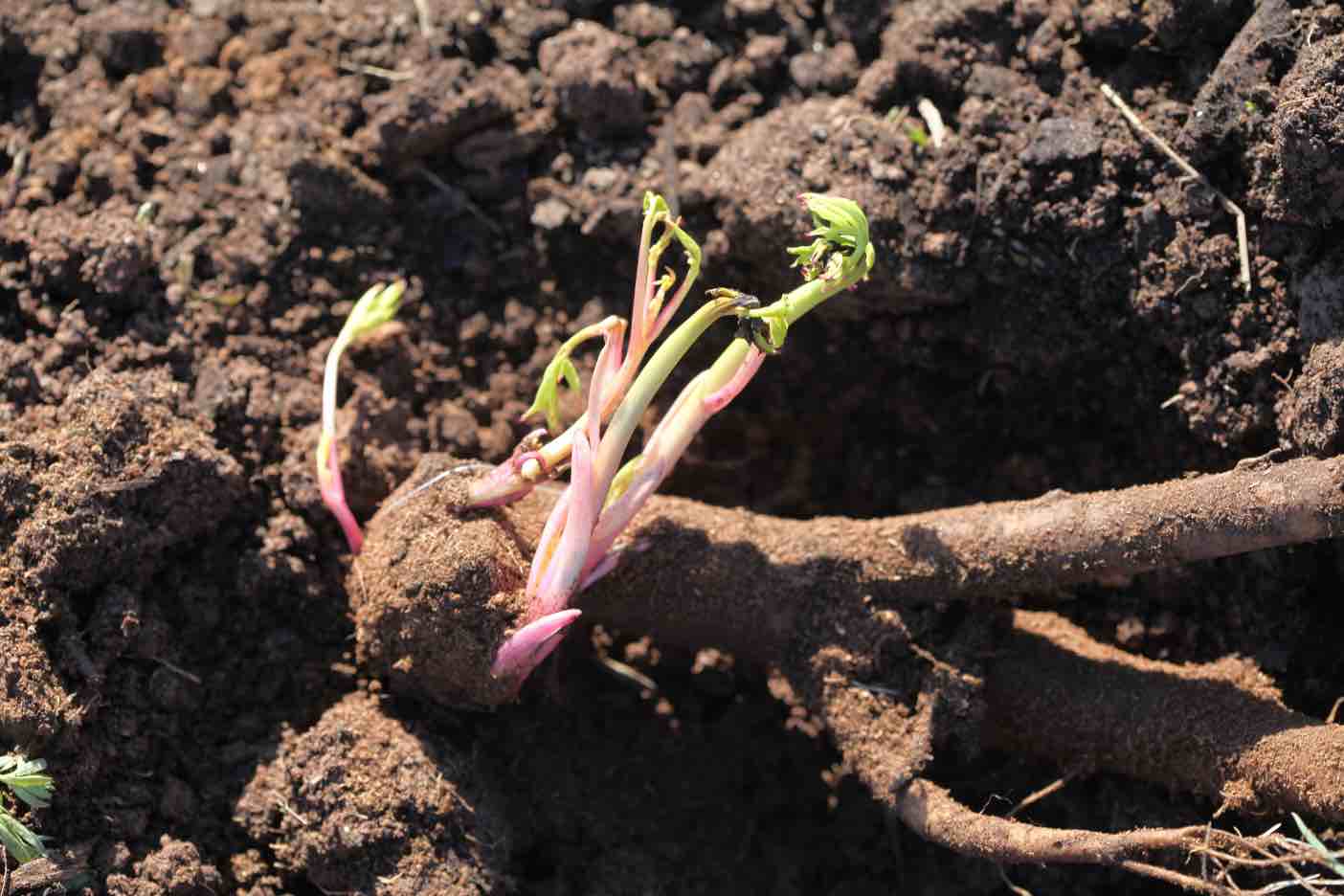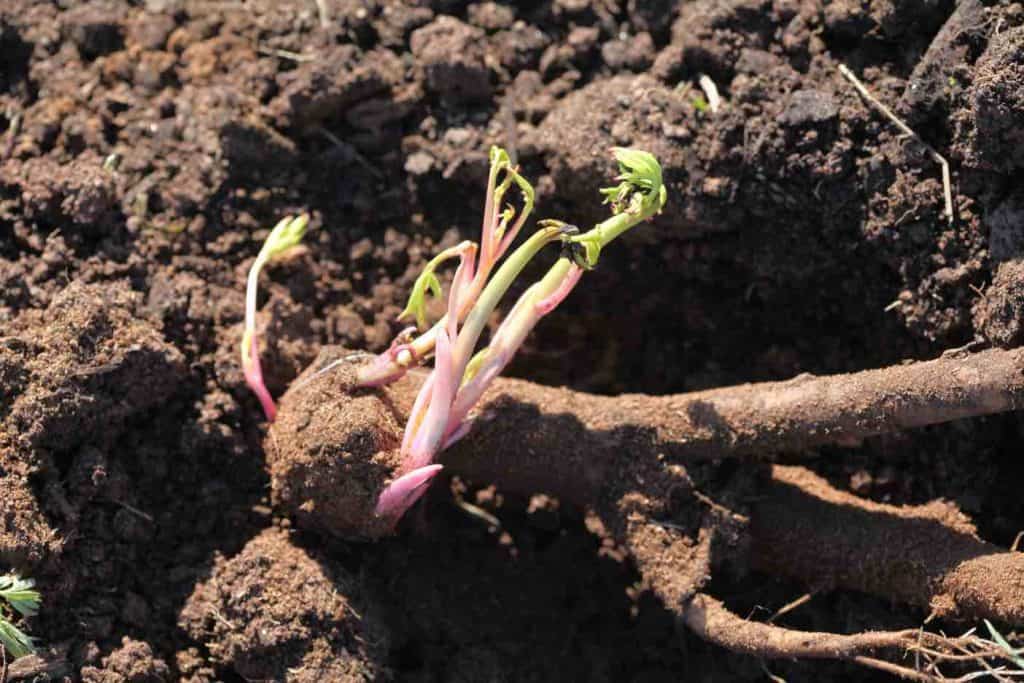 Dig a large hole approximately 16 inches by 16 inches wide.
Amend the soil with some organic compost.
When planting from a pot, place the peony in the hole and fill in the dirt to the level of the dirt in the pot. If you've planted too deeply the peony may not bloom, so ensure you have the right depth.
If planting bare roots, plant the root in the hole horizontally and facing slightly downwards. Make sure that the eyes or sprouts are facing upwards and not far from the surface of the soil. Fill in, ensuring that there is only about one to two inches of soil covering the eyes.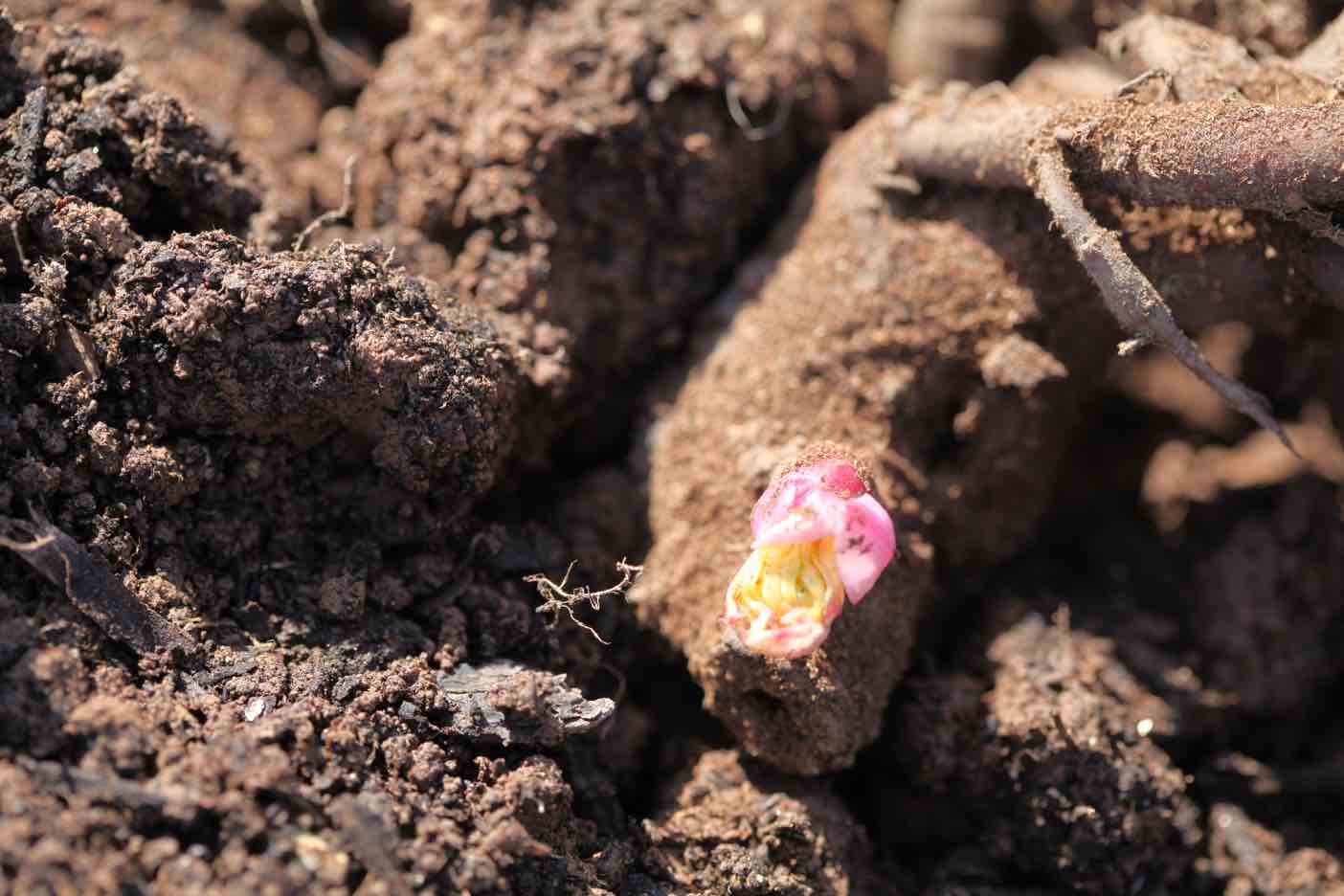 How Long Does It Take For A Peony Root To Sprout?
Most often if you are planting bare root peonies, you will be able to observe the eyes which are the beginnings of the sprout. Sometimes the eyes will already have sprouted before planting, and if this has occurred, this is okay.
Just plant in the planting hole as they are and cover up the sprouts, or allow any stems to protrude from the soil if they are higher than the planting depth.
You may see growth in several weeks from freshly planted peony roots.
When Do Peonies Sprout?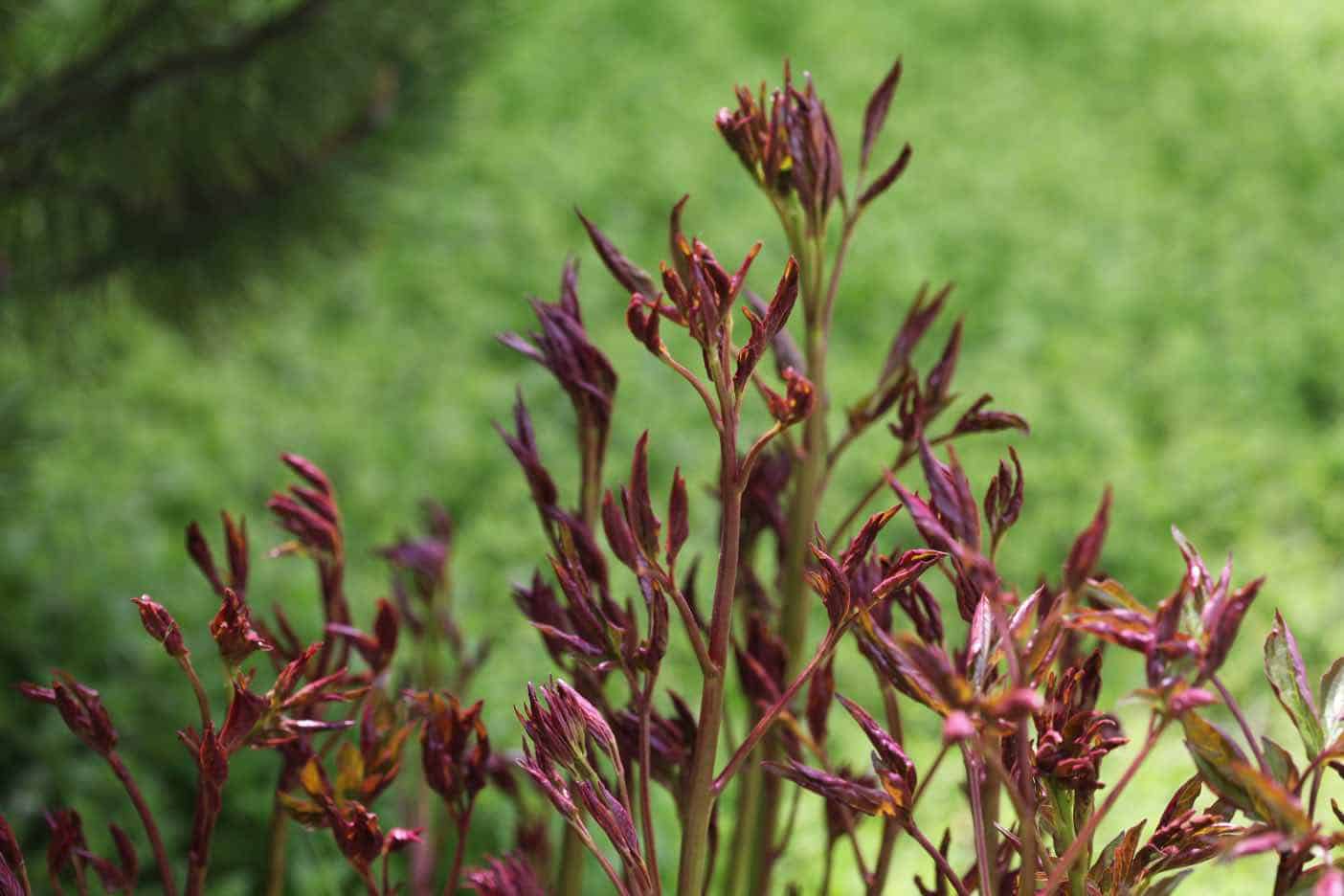 You will begin to see peony sprouts in the spring. Here in Nova Scotia at the end of May the herbaceous peony sprouts are approximately one foot high.
The sprouts will often be a different colour than you would expect, such as a maroon or brown colour, however will change to a shade of green as the leaves open up.
Tree peonies will also sprout in spring, and these sprouts will come out of the woody stems of the plant.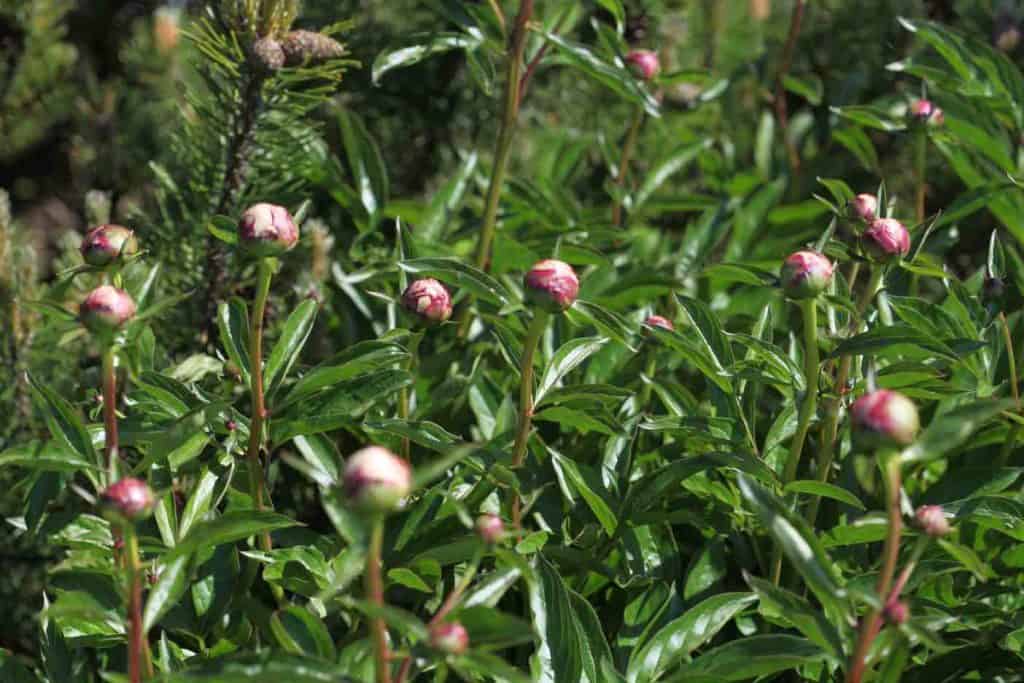 When Do Peonies Bloom?
Peonies bloom in spring and summer. Bloom time is dependent on the individual variety and type of peony plant.
Blooming time for peonies lasts over a period of approximately six weeks, with each variety having it's own individual 2 week blooming period.
Increase your peony collection to include varieties that bloom at different times so that you will have blooms over an extended period!
Peonies As Cut Flowers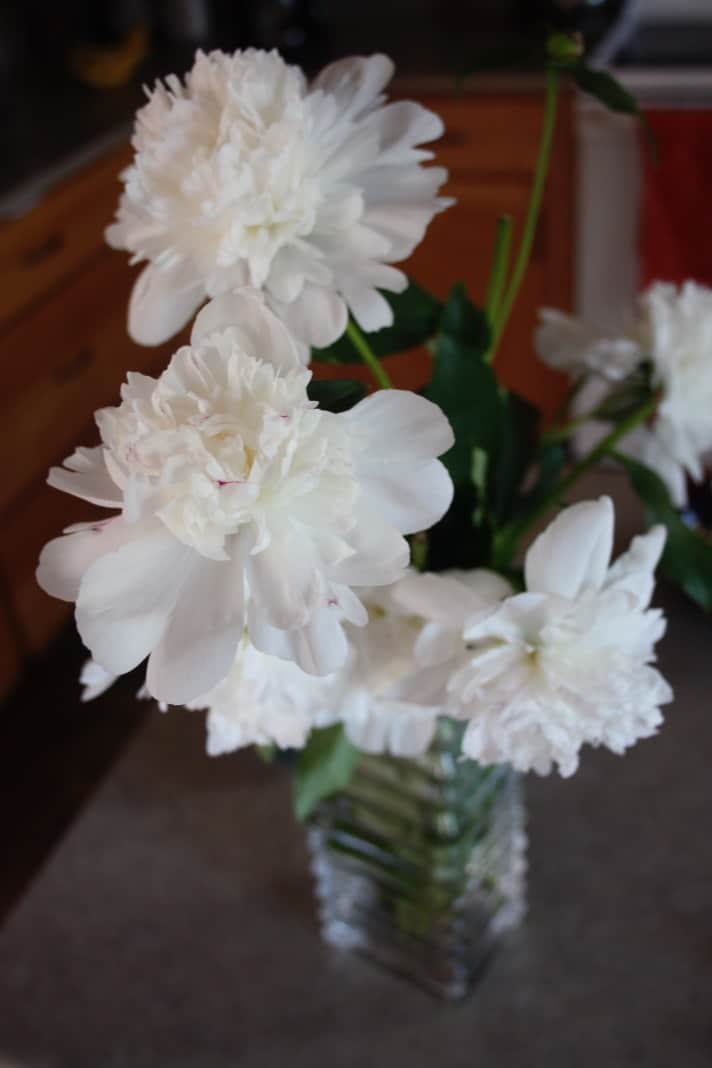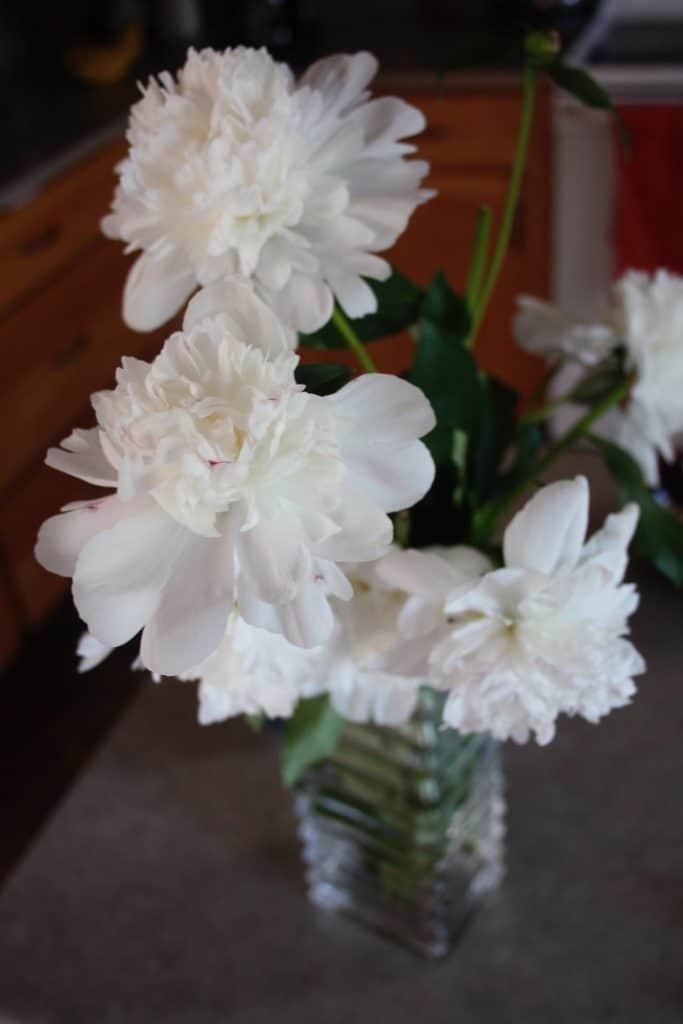 Peonies make the most wonderful cut flowers. They have a long vase life of 7 to 10 days.
You can combine the peony blooms with other flowers and foliage, making the peony flowers the focal point of the arrangement.
You can also make a bouquet of peony blooms only, spilling out of the vase in true farmhouse style.
Peony stems should be cut at about 16 to 18 inches. Do not cut all the way down to the base of the plant as it's important to leave some foliage behind for the plant.
When cutting peony flowers for the vase, the best time to cut them is in the bud stage for longest vase life.
Peony blooms sometimes open quickly and all at once after a warm day, so if you plan on harvesting in the bud stage make sure you check the buds regularly.
Make sure the bud is not firm, but rather soft and squishy like a marshmallow. This in fact is referred to the marshmallow stage.
Peonies picked at this stage will also hold well in a cooler or fridge for a later time as needed. These buds will last in cool storage for up to three months, which is amazing.
When you are ready for the flowers, remove them from the fridge, cut off the bottom of the stem about 1″, and place in warm water. The peony blooms will open up within several hours and will bloom for about 7 days.
Tighter buds may also open if placed in water, although sometimes not, so you can experiment to see what works for you.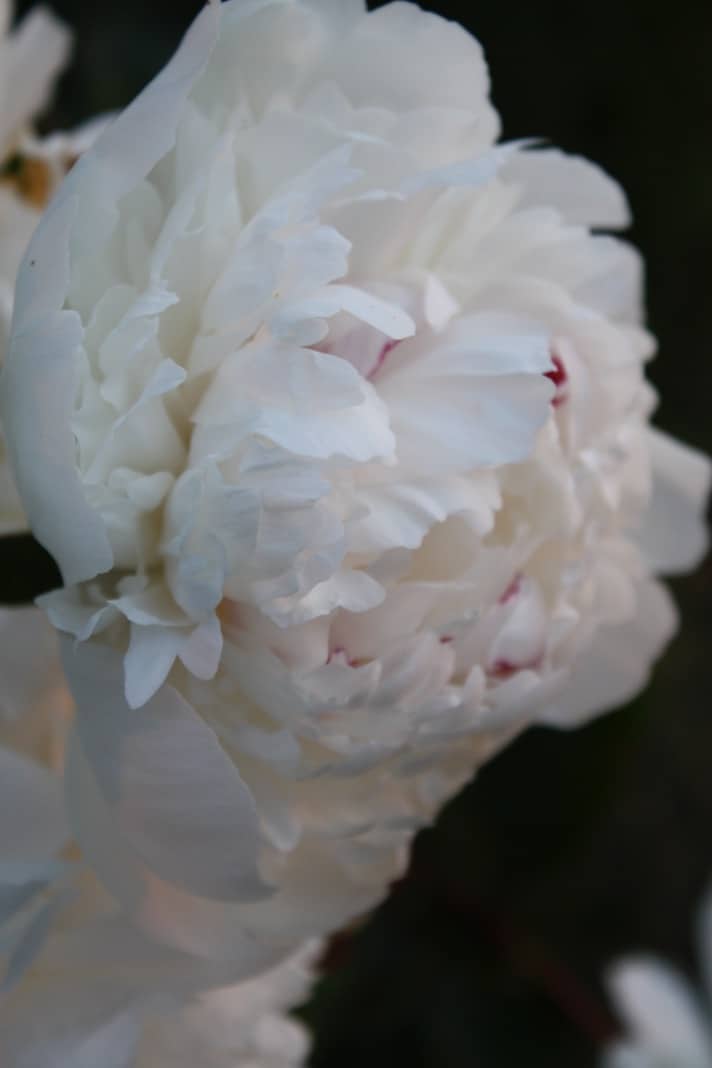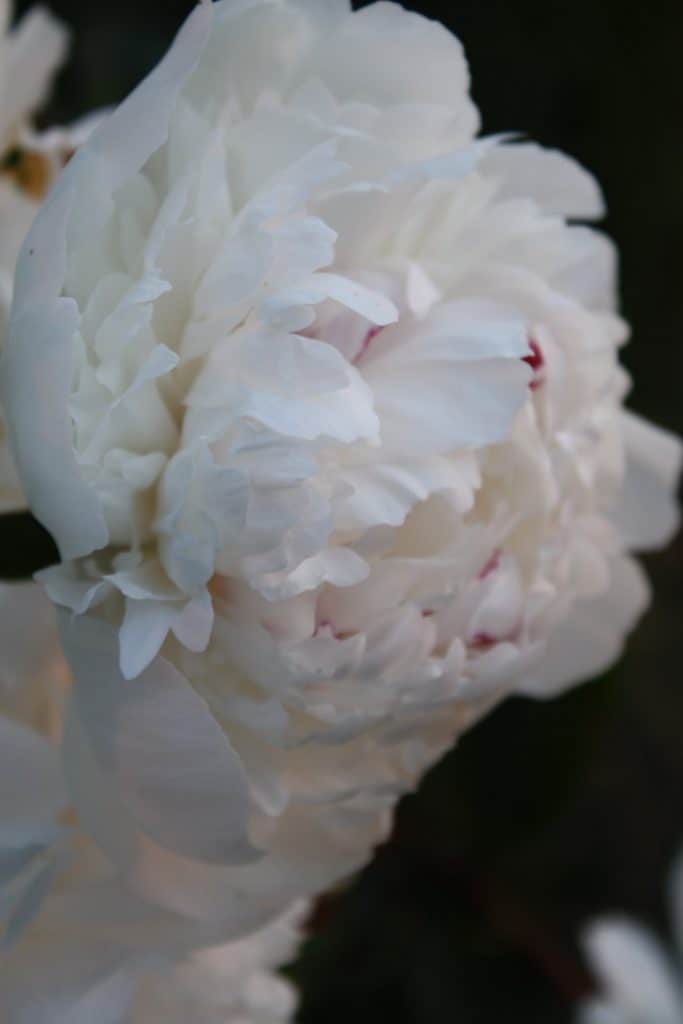 Peony Care
Watering
Water a newly planted peony well at the time of planting, and every couple of weeks while it is new to your garden. After that, water as needed.
When peonies become established in the garden they can become quite drought tolerant. During periods of drought however it's a good idea to provide with a watering, the peony will benefit from this.
Fertilizing
You can certainly fertilize your peony plant, although it is not always necessary. We use organic fish compost for our plants.
Deadheading
Deadheading spent blooms will clean up the plant after blooming.
This will also help prevent seed formation, which takes energy away from the plant.
Garden Cleanup
Clean up the peony stems and leaves in the fall. It's a good idea to completely remove the debris from the garden, rather than using it in the compost.
The reason for removing leaves is to remove potential diseased parts of the plant, and it is a good sanitation practice for peonies.
Mulching
You can mulch peonies in the fall for winter protection, however make sure that any mulch is removed from the crown of the plant in the spring.
The eyes should be just under the surface of the soil, and any extra depth from mulch will affect blooming.
Pruning (tree peonies)
Tree peonies can be pruned in the spring after they have sprouted, to remove any dead or damaged stems.
Remember not to cut back tree peonies, as they will bloom on the woody stems, and they are slow growing plants.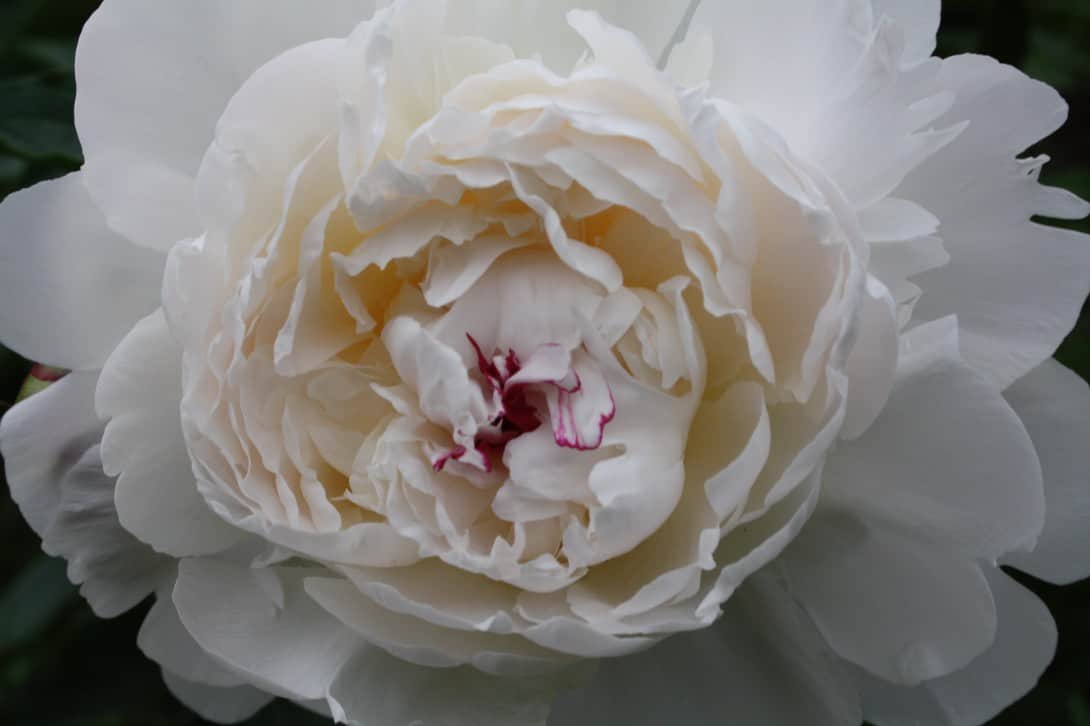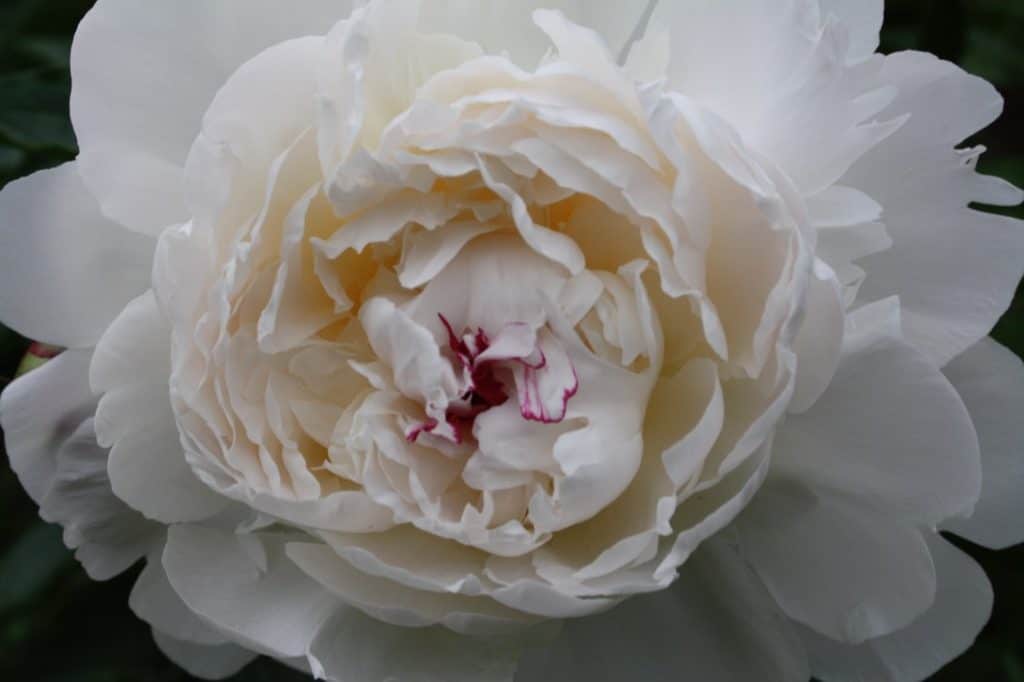 Do Peonies Multiply?
Peonies grow by rhizomes under the ground. As the peony matures the rhizomes spread, and the peony clump will grow larger. A larger plant will have more eyes, stems and blooms. The peony will not multiply however, and in order to get more plants the peony will need to be lifted and divided.
Why Didn't My Peonies Bloom This Year?
One of the most common reasons for a peony plant not to bloom is that the crown may have become buried too deeply. A one to two inch depth of soil over the crown is important for a blooming peony plant.
Some gardeners are not aware that extra mulch added to the soil, or other amendments to improve soil quality can actually increase the depth of the growing medium over the crown, therefore affecting blooming.
Mulching around the plants is a good practice, however make sure that you pull the mulch away from the crown of the plants in the spring.
A peony that is in the shade may also have limited or no blooms. Peonies require at least a half day of full sun in order to bloom properly.
If you need to relocate your plant to a sunny location, or need to re-dig to plant the peony more shallowly, the best time for this is in the fall.
Have you tried to grow peonies? If so, which varieties do you grow?
Be sure to leave a comment below to share your insights and experience!
If you enjoyed this post you may also like:
HOW TO GROW CAFE AU LAIT DAHLIAS FOR CUTTING
HOW TO GROW GOAT'S BEARD IN THE GARDEN
PERENNIAL BACHELOR BUTTONS IN THE GARDEN
PIN IT FOR LATER!