Last updated on March 24th, 2023 at 07:32 pm
The bright colored blooms of Cosmos sulphureus glow in the flower garden. The flowers are magnets for beneficial insects, and also have edible blooms. Learn how to grow Cosmos sulphureus, and fill your garden with these beautiful plants.
Cosmos sulphureus is very much like the common garden cosmos, cosmos bipinnatus, in both flower form and foliage, although the leaves are not quite as full and feathery
The daisy-like flowers are very similar in appearance to garden cosmos, with exception of the color. C. sulphureus has unique orange and yellow flowers, which add a bright spot to the garden space, wherever they are planted.
I grew this flower for culinary use, since it has edible flowers. Once it was in the garden however, I really appreciated it as an ornamental flowering plant as well.
Cosmos flowers are simple and delicate, and very translucent to light. Both garden cosmos, and cosmos sulphureus catch the light, and literally glow in the sunlight.
During the magic hours of sunrise or sunset, these simple and ethereal blooms shine with a light infused glow. The flowers are very photogenic, and almost magical in appearance, and well worth planting in the summer garden space.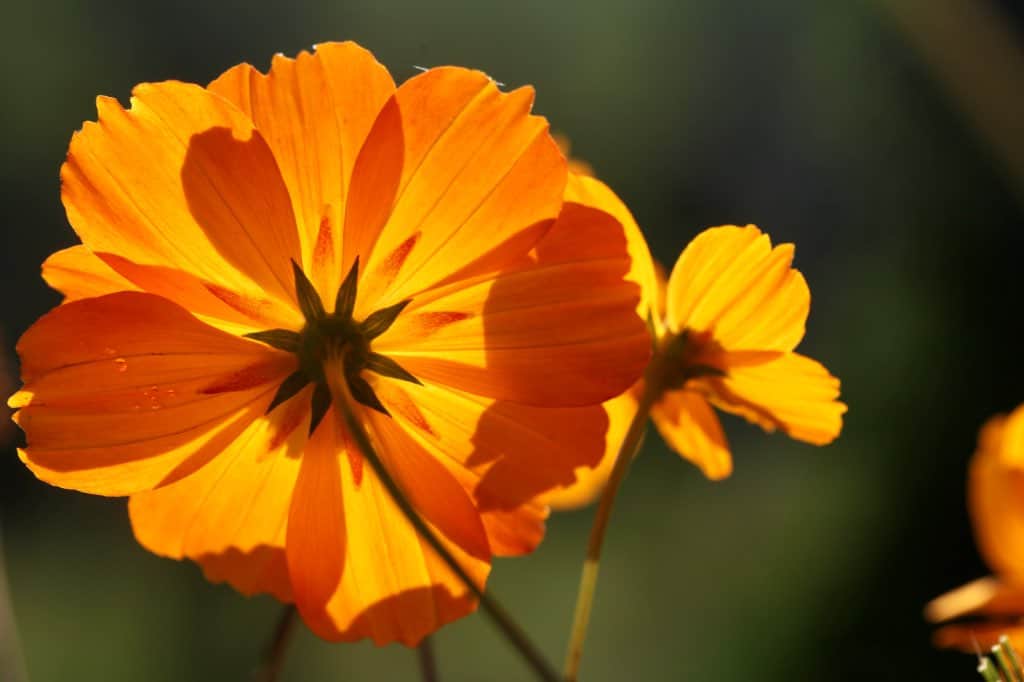 What Is Cosmos Sulphureus?
Cosmos sulphureus is a species of cosmos from the Family Asteraceae and the Genus cosmos.
Some of the common names for this flowering plant include sulphur cosmos, sulfur cosmos, orange cosmos, and yellow cosmos.
Cosmos sulphureus is native to Mexico, Central America, and South America.
This cosmos species is different than the common garden cosmos, also known as Mexican asters. The differences lie mainly in the color of the cosmos blooms, and somewhat in it's foliage.
This cosmos species is considered to be a half hardy annual, and is vulnerable to freezing temperatures.
However, cosmos sulphureus is also known to self sow in the garden. Due to it's self sowing propensity, some may even wonder if cosmos are perennials, however they are not.
Cosmos sulphureus can grow from 3 to 6 feet in height, in taller varieties, and from 1 to 3 feet in width, depending on growing conditions.
We grew the cultivar bright lights in our garden last year, which reached approximately 3 feet in height at maturity.
This plant is prized for it's bright cheerful flowers, and is a popular garden plant in many parts of the world.
Cosmos Sulphureus Flowers
The flower heads of Cosmos sulphureus are daisy-like in appearance, with simple yet showy petals in various shades of glowing orange and yellow. The outer ray petals are delicate and narrow, and surround a central disc of smaller disc florets.
Flowers may be single, semi double, or double flowers, depending upon the cultivar.
These cosmos flowers are approximately 1 to 2 inches in diameter.
Throughout the growing season you will find many flowers in various stages of development on each plant at any one time.
The plant blooms from mid summer, right through to late summer, and the first frost of fall, producing flowers in succession, and abundant blooms throughout the growing season.
Often used in mass plantings, the flowers put on a bright and fabulous display.
Cosmos Sulphureus Leaves
Cosmos sulphureus has leaves which are ornamental, feathery and delicate, although not quite as soft and feathery as those of Cosmos bipinnatus.
The fern-like foliage of cosmos sulphureus is also not quite as full as that of C. bipinnatus, which I often use as a filler in flower arrangements.
The leaves are bright green, lance shaped, and finely dissected.
Leaves on this cosmos species grow opposite each other, along the stem.
I tend not to reach for the foliage of C.sulphureus as a filler, but rather enjoy the foliage as a beautiful backdrop for the brightly colored and cheerful blooms of the plant.
Cosmos Sulphureus Seeds
The seeds of Cosmos sulphureus make an interesting feature at the end of the season. Compared to the seed heads of the common garden cosmos, these are a bit larger, with longer spiked seeds.
The seeds on the seed heads are called achenes, and are not contained within a pod, but rather are attached to a central disc, which is surrounded by a ring of papery bracts.
The seed heads appear as prickly balls so to speak, with the elongated sharp seeds easily visible.
When the seeds become mature and dry, they fall away from the disc, to self seed into the garden, creating new plants the following spring.
Try to catch them before they disperse at the end of the season, to save some for planting out again the next year.
Cosmos Sulphureus Stems
The stems of cosmos sulphureus can grow quite tall, and if using the plants as cut flowers, the stems may benefit from support.
That being said, our own patch of flowers did quite well without any support, and they were exposed to lots of windy weather throughout the growing season.
Our plants were only 3 feet tall however, and therefore may have tipped if they had grown taller.
Is Cosmos Sulphureus Hard To Grow?
Cosmos sulphureus is very easy to grow from seed, and this is the recommended propagation technique for this plant.
The seeds do not require special preparation, such as stratification, and can be planted using a number of different techniques.
How To Grow Cosmos Sulphureus
Cosmos sulphureus is easily started from seed, and there are several ways in which you can plant the seeds. The seeds can be sown directly into the garden in spring, or sown indoors in late winter and transplanted outside.
This year I am also winter sowing these cosmos seeds, as they easily reseed into the garden, and may be good candidates for winter sowing. If the plants successfully grow using this technique, I will drop a picture below, of the results.
Growing Cosmos Sulphureus From Seed
Direct Sowing Cosmos Sulphureus
Cosmos sulphureus can be directly sown into the garden in spring, on the surface of loose soil, after the last frost of spring has passed.
Seeds will germinate best when the soil has warmed up to at least 65°F.
Sow the seeds into a prepared weed free bed, in a full sun location, by sprinkling them on top of the soil.
The seeds can be raked into the loose soil, or lightly covered to approximately 1/8 inches deep, however should not be buried too deeply.
Water the soil with a gentle mist from the hose, so as not to dislodge the seeds.
Keep the soil moist until germination occurs, within 7 to 21 days. This is important, because if the seeds dry out while they are germinating, this can lead to their demise.
Plants will begin to bloom approximately 60 to 75 days after planting, with continued flowering until the end of the growing season. Bloom time is early summer right through until the frosts of early fall.
These annual flowers look great when growing together en masse, and can become naturalized in warmer climates.
Growing Cosmos Sulphureus From Seeds Indoors
In colder climates with later last frost dates, starting flower seeds indoors gives the plants a great head start on the gardening season.
For half hardy annuals like cosmos sulphureus, thus means that the seedlings will already be a good size when the risk of frost has passed. Therefore flowering will occur much earlier than if the seeds had been directly sown into the garden.
Starting seeds indoors does requires a bit of extra effort, however it can be fun and exciting watching the baby plants grow.
The seedlings will need to be nurtured, with the provision of light and water while they are inside, and will also need to be hardened off in their transition to the outdoor environment, when the time is right.
The seedlings can be planted into the garden, and can also be grown as a container plant, for a pop of color anywhere they are placed.
Planting The Seeds Indoors
To plant indoors, choose a container with good drainage. I generally use seed starting cell trays, which fit well on my seedling shelves under the grow lights.
Fill the container with a good sterile seed starting medium.
Sow seeds by placing one cosmos seed in each cell in the tray.
Cover lightly with more of the medium, or alternatively cover with vermiculite, which will help to keep the moisture in the soil.
Bottom water the tray, and place on a heat mat to warm up the soil. Germination will occur more quickly in warm soil.
Be sure to keep the soil moist while awaiting germination, and bottom water the tray as needed.
When 60% of the seedlings have germinated, place the tray with the seedlings under a grow light. Provide at least 14 hours of light per day, until ready to be transplanted into the garden.
Transplant the young plants to the garden, when the danger of frost has passed. Know your last frost date to be on the safe side.
Winter Sowing Cosmos Sulphureus
Although not considered to be a hardy annual, the seeds of cosmos sulphureus will often self seed in the garden. Plants which easily self seed in colder climates are considered to be good candidates for winter sowing.
The great thing about winter sowing is that it is a set and forget type of planting.
The seeds are planted into containers, such as the milk jugs we use for winter sowing, and placed outside in winter. The outdoor elements will take care of the needs of the seeds, such as providing sunlight and moisture, making it much easier for the gardener.
In the spring when the timing is right, the cosmos seeds will germinate in their mini greenhouse containers. They will then begin to grow.
The newly germinated seedlings are protected from light frosts in early spring while in their containers, which will be warmer than the outdoor environment.
These seedlings become naturally hardened off in their outdoor location, which is also great for the plants.
When the risk of frost has passed, the seedlings can then be exposed to the elements a little more. This is accomplished by removing the lids from the containers.
This will further harden off the plants, before transplanting them into the garden.
Cosmos Sulphureus Care
Cosmos sulphureus are very easy to care for, and are considered to be low maintenance plants.
That being said, it is always important to provide the right care, for best blooming and plant health.
So let's have a look at some considerations for the best cosmos sulphureus care.
Growing Zone
Although these are tropical plants, they are also annuals, therefore will be able to be grown in most usda plant hardiness zones during the warm summer months. These plants prefer the hot weather of summer.
Cosmos sulphureus will grow in usda growing zones 1 to 12.
Light Requirements
Cosmos sulphureus grows best in a full sun location for best flowering results.
If planted in a partial shade location, the plants tend to stretch out and get leggy in appearance, with less flowering.
The plants require at least 6 to 8 hours or more of direct sunlight every day for best growth.
Moisture requirements
These plants are considered to be drought tolerant, and will thrive in arid-like conditions with less water. They will not require extra waterings, except during periods of drought.
Allow nature to take care of the moisture requirements, and make sure not to overwater. Water deeply occasionally during dry spells however, as the plants will benefit from the extra moisture.
Soil Requirements
Cosmos sulphureus will grow in a wide variety of soil types, however prefers a fertile rich soil which is high in organic matter.
Soil should be well draining to prevent water logged soil.
This cosmos species grows very well in the clay soil at our farm, however we ensure that there is good drainage, as clay tends to retain a lot of moisture.
Deadheading
Deadheading will extend the blooming period of cosmos sulphureus.
If blooming decreases on the cosmos plants, this may be the result of seed formation taking energy from the plants. Deadheading will remove the spent blooms, allowing the plant to divert it's energy back into bloom production.
Deadhead the plants by cutting off the spent blooms and seed heads, back to a main stem.
If you intend to gather some seeds at the end of the season however, make sure to leave a few spent blooms for seed head development.
Cosmos sulphureus will bloom right until the first frosts of fall with proper care. Once the first frosts hit, the plants will be largely affected, and most likely damaged, because they are tender annual plants.
At this point the plants will be finished growing, and their life cycle will be complete.
Make sure to collect a few seeds at the end of the season, to replant out again for next year.
Cosmos Sulphureus Uses
Beneficial Garden Plant
Cosmos sulphureus is a beneficial garden plant for a number of reasons.
The bright and showy flowers are a magnet to bees, butterflies, birds, and other beneficial insects.
Lots of beneficial insects help to contribute to a healthy garden, a wonderful yield at harvest time, and lots of seeds for collecting in autumn.
The plants also attract natural pest control, such as hover flies, which help to control the aphid population.
The plant is a very low-maintenance plant, requiring very little care to put on a spectacular display..
Cut Flowers
The bright and attractive flowers of cosmos sulphureus make it an ideal cut flower, similar to garden cosmos.
The flowers are simple and delicate, adding an ethereal feel to the floral arrangement, as well as a bright pop of color.
If harvesting as a cut flower, cut the blooms in the morning if possible. This is the time when the stems and flowers are the most hydrated.
Cut the stem at a 45° angle to allow for good uptake of water. Strip the lower 2/3's of the foliage from each stem.
Place immediately into water. Allow to rest for several hours in a cool and shady location to condition the blooms.
The flowers are long lasting in the vase. With proper conditioning, these cosmos flowers will last for approximately 7 days after cutting.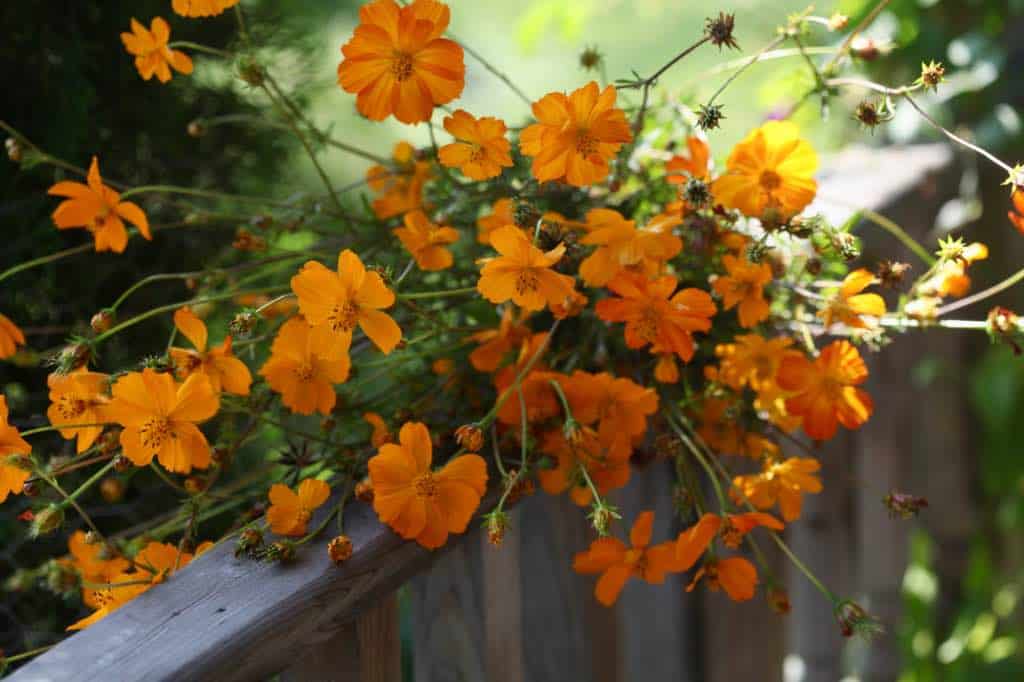 Dried Flowers
Cosmos sulphureus also drys very well, and can be dried in several different ways.
The flowers are long lasting as dried flowers, and maintain their bright coloring during the drying process.
Dry the flowers whole, or dry only the petals, depending on your intended use.
To dry cosmos sulphureus flowers, cut and condition just as you would for cut flowers.
Note: If drying the flowers for culinary purposes, it is best to condition the blooms with water only, rather than using floral products, which may contain chemicals.
Then hang the flowers upside down to dry in bunches, in a warm, dry and well ventilated location.
Cosmos sulphureus blooms also make great pressed flowers, so consider learning how to press the flowers as well.
Drying time will usually take at least 2 weeks or longer, depending upon the method used.
The dried flowers can then be used in a number of different applications, such as decorative crafting, wreath making, or dried floral arrangements. The pressed flowers can also be used in culinary creations.
Culinary Use
Cosmos sulphureus is one of the few types of cosmos flowers that can be used as an edible flower, and is included in my list of edible flowers.
The edible flowers can be used both in the fresh and dried forms.
Use the bright flowers as a garnish for salads and decorating desserts such as cakes and edible flower cookies. The petals can also be used to make edible candied flowers, or can be frozen in edible flower ice cubes to decorate fancy drinks.
The cosmos petals have a mild earthy, and slightly bitter flavor, however will still add a beautiful and colorful touch to your culinary art.
Dyes
The flowers of cosmos sulphureus can also be used to dye textiles, and can be used to bundle dye with flowers.
Cosmos sulphureus flowers contain a bright pigment that can be extracted from the flowers to make a dye.
The dye can be used for natural fibres, such as wool, silk, and cotton.
The color of the dye will vary depending on the amount of time the textiles are exposed to the dye. Shades of the dye will also depend on the color of the flowers.
Frequently Asked Questions
Are Cosmos Sulphureus Invasive?
Cosmos sulphureus is not considered to be an invasive plant in most areas where it is grown. The plants are grown and valued as ornamentals, in many areas of the world.
Invasiveness can occur if the plant escapes the garden, and begins to grow wild, competing with native plants. The risk of this occurring is dependent on a number of factors, including the environmental conditions and location.
In general, although not identified as an invasive species, it's always important to monitor growth and spread, and effects on native species.
Cosmos sulphureus had been identified as an invasive plant by the Southeast Exotic Pest Plant Council, however the plant is not currently listed on their invasive plant list.
The invasive Plant Atlas does not identify Cosmos sulphureus as an invasive plant. However, interestingly it does identify common garden cosmos, Cosmos bipinnatus, as invasive.
Conclusion
Cosmos sulphureus is a beautiful plant to grow in the garden. It's a good choice for flower beds, and can be grown at the front, as well as the back of the border, for taller varieties.
Cosmos sulphureus plants draw loads of pollinators and beneficial insects to the garden space. Not only are they beneficial garden plants, they also look beautiful in the garden.
Use as cut flowers, dried flowers, and even as edible blooms. These bright and cheerful flowers are versatile, and well worth having in the garden space.
Easy to grow from seed, and to maintain in the garden, this ornamental plant is quickly becoming one of my favorites.
If you happen to grow this lovely flower in your own garden, make sure to save some seeds at the end of the gardening season. This will help to perpetuate this flowering plant, year after year.
Have you ever tried to grow Cosmos sulphureus in the garden? Be sure to leave a comment below to share your experience!
Other Posts You May Like:
PIN IT FOR LATER!