Last updated on August 6th, 2023 at 01:57 am
Rhododendrons are fabulous evergreen shrubs for the landscape and borders. Their leaves add structure to the garden throughout the four seasons. When planning where to plant these awesome plants, it's very important to know – how fast do rhododendrons grow?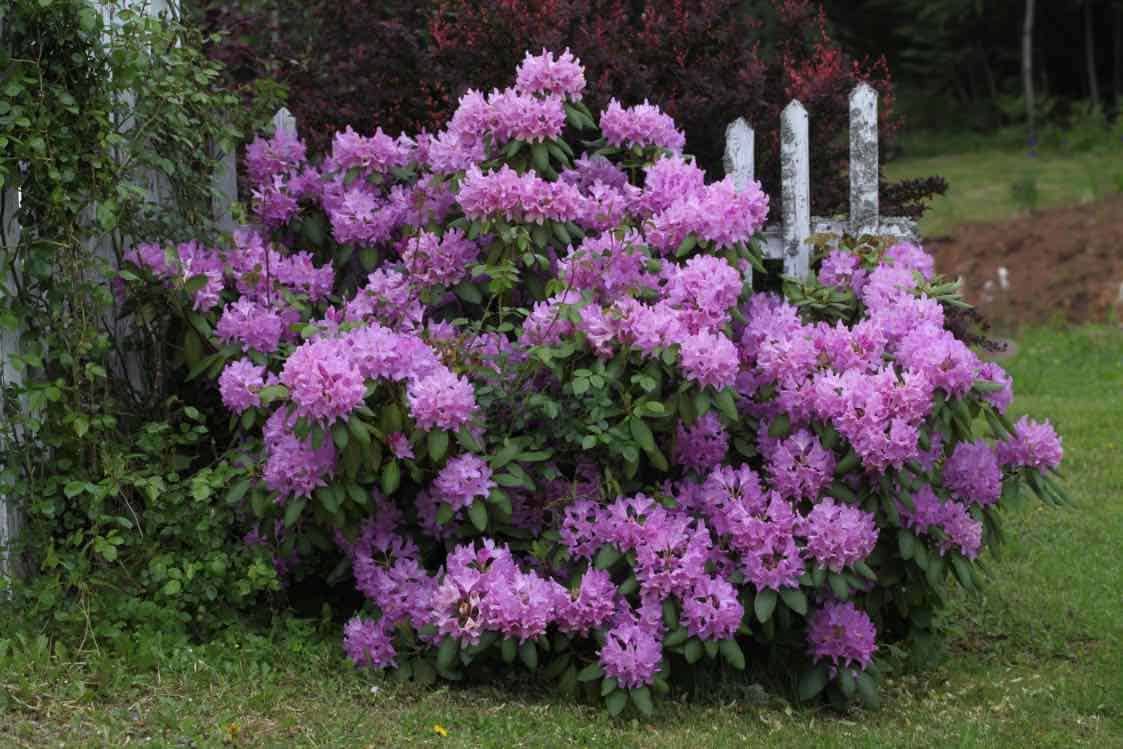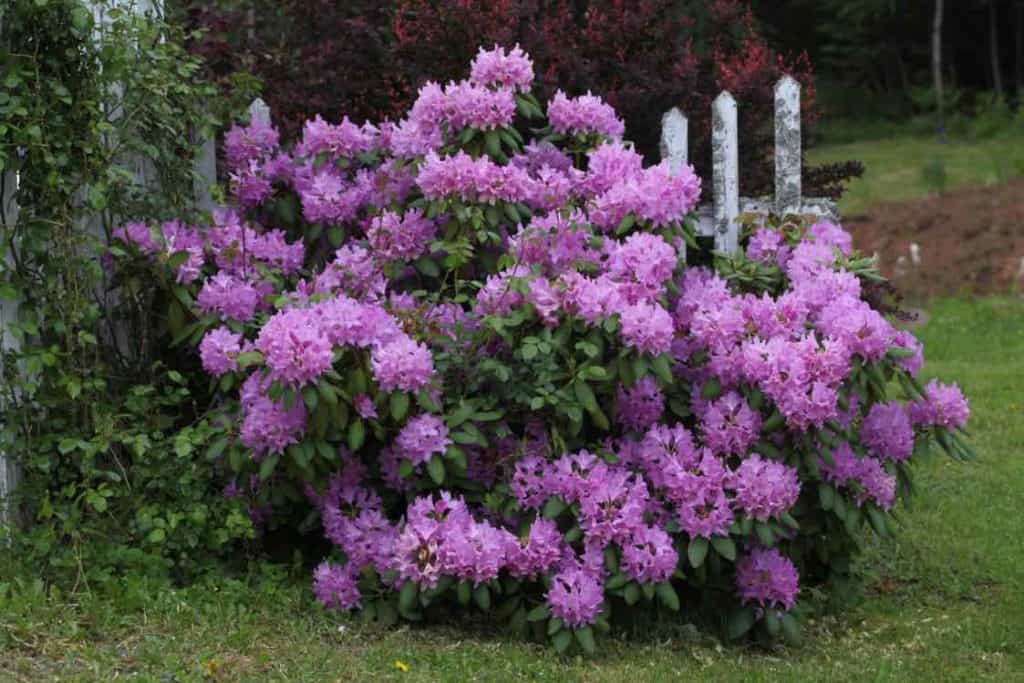 We have been growing rhododendrons in our garden for many years.
What Is A Rhododendron?
The genus Rhododendron includes many different species of ornamental woody plants. There are over one thousand species within this genus.
Some species grow wild in places like Tibet and the Himalayas. We even have some wild species growing here in Atlantic Canada.
Other rhododendron species have been cultivated for centuries and are found in beautiful gardens and landscapes right in our own neighbourhoods.
The genus Rhododendron has eight subgenera, one of which is Rhododendron, the evergreen ornamental that we grow in our gardens. Another subgenera of the genus rhododendron is Pentanthera, which includes the deciduous azaleas that we also grow in our gardens.
It can all seem a bit confusing, that's for certain.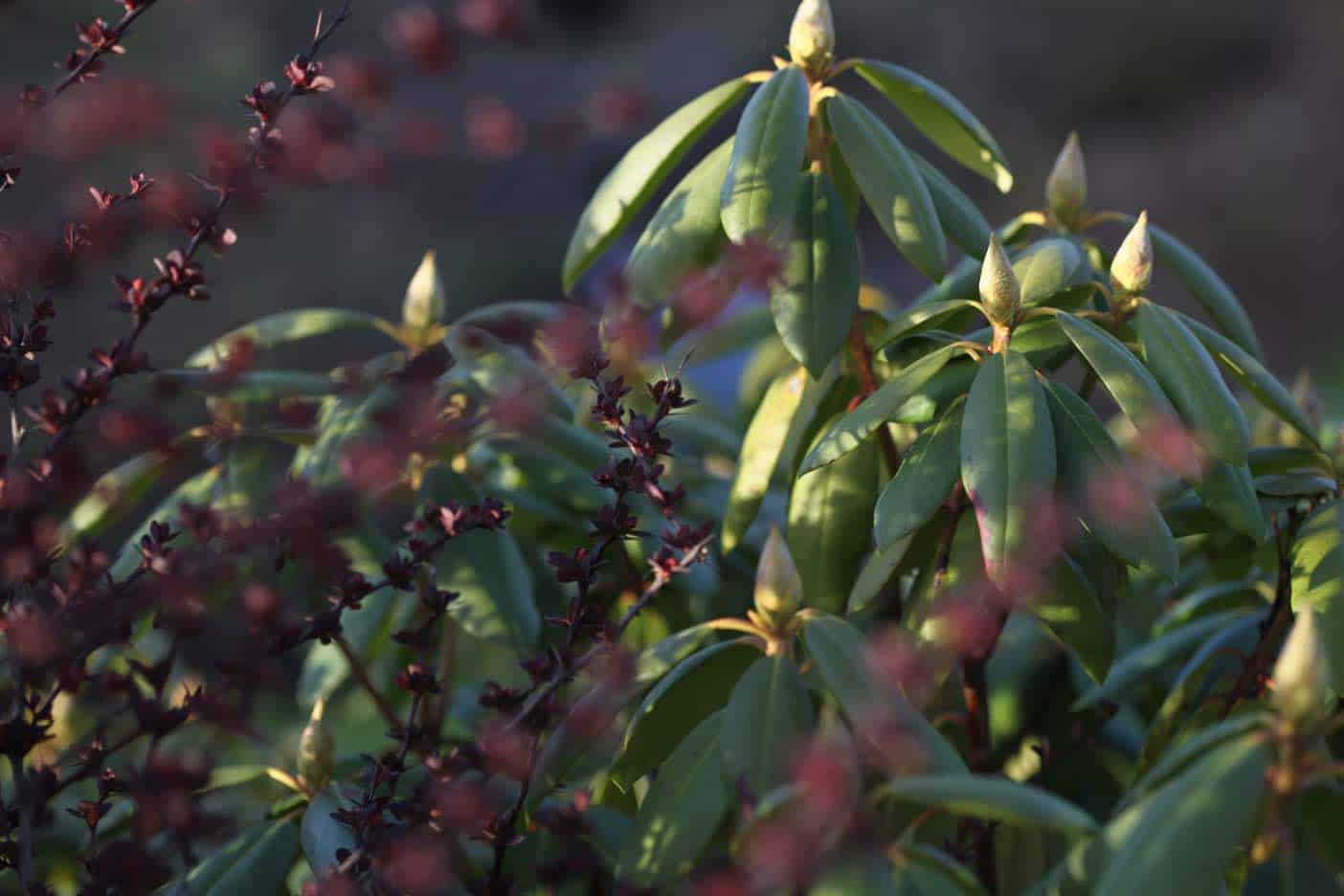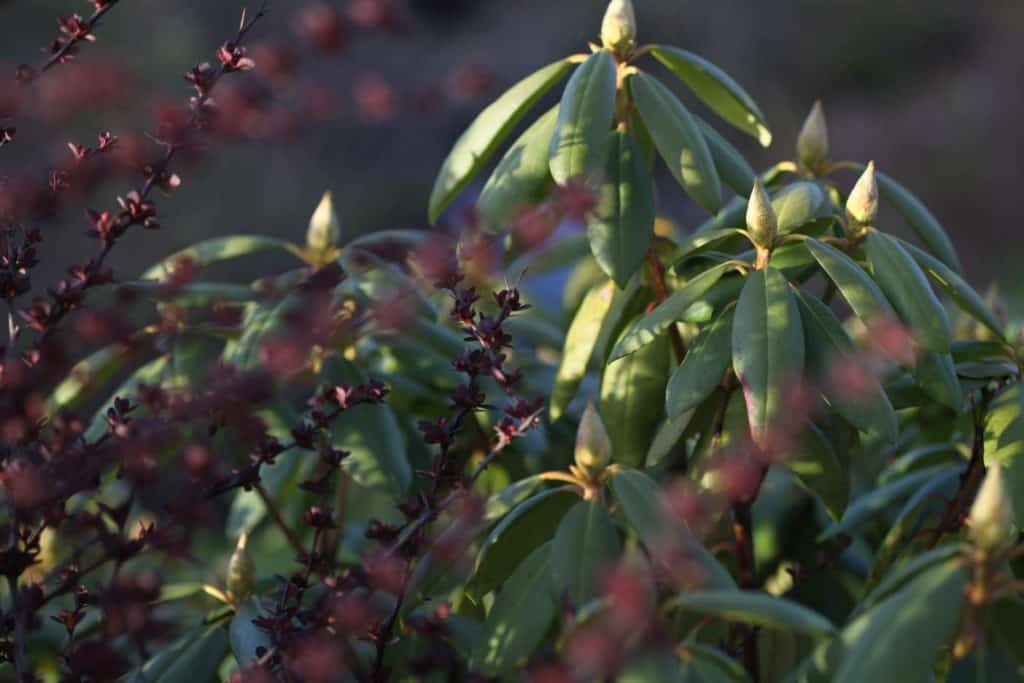 Basically both rhododendrons and azaleas are from the genus rhododendron, however rhododendron is from the subgenera Rhododendron, and azalea is from the subgenera Pentanthera.
We grow both deciduous azaleas, which are in the rhododendron genus but are not rhododendrons, and evergreen rhododendrons in our own garden and landscape.
I love how the rhododendrons add a unique look to any garden with their large clusters of evergreen leaves.
Every spring these flowering shrubs put on an amazing floral display for all to enjoy. Many neighbours grow rhododendrons as well, so in spring the whole neighbourhood glows in different shades of purples and pinks and yellows for a few short weeks.
Are Rhododendrons Slow Growers?
Some rhododendrons are slow growers, and will only grow a foot in ten years. Others are faster growing and will grow up to seven feet in ten years. The growth rate is dependent on the unique cultivar that you are actually growing. As well, the ideal growth rate will depend on the growing conditions in the location where the rhododendron plant has been planted.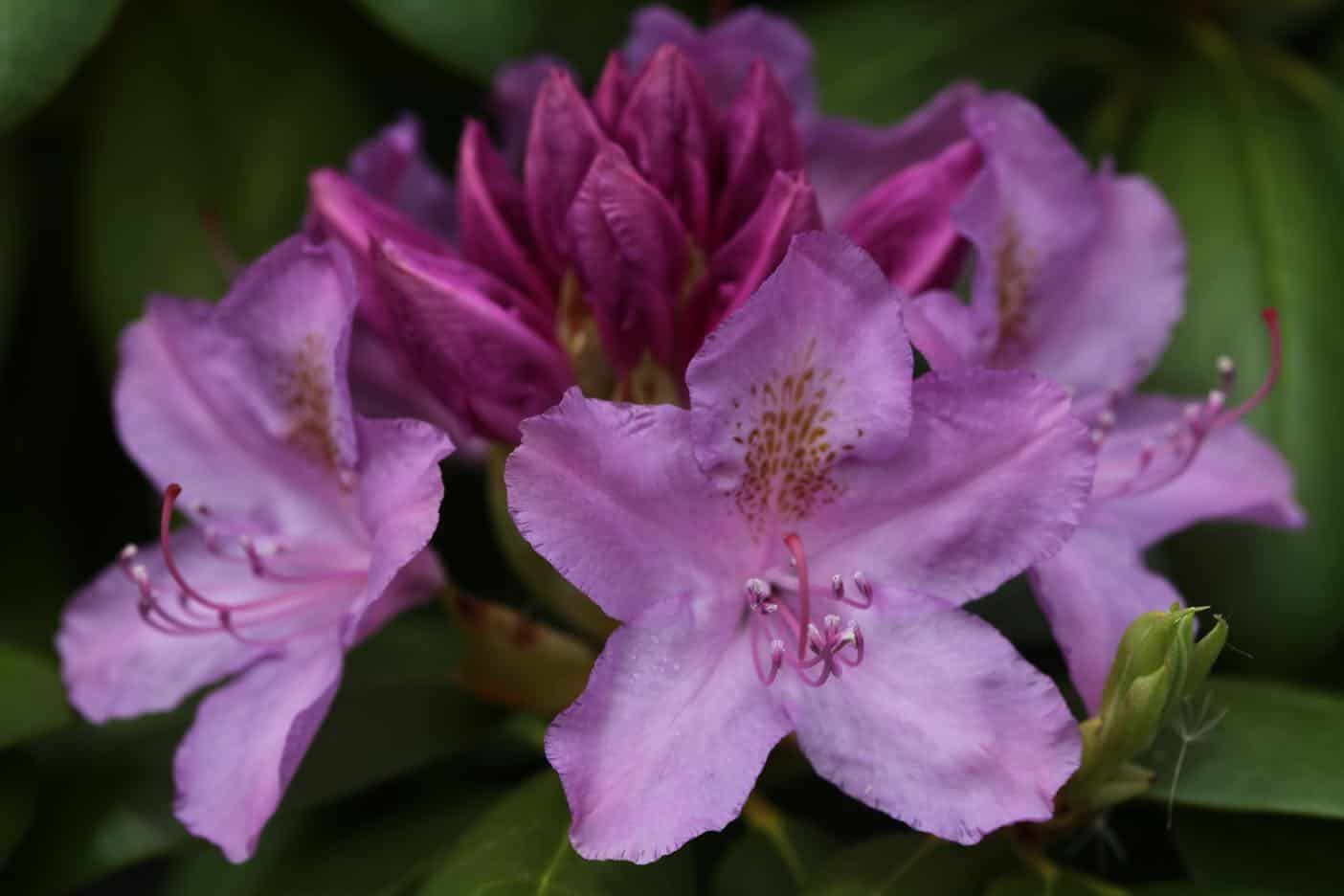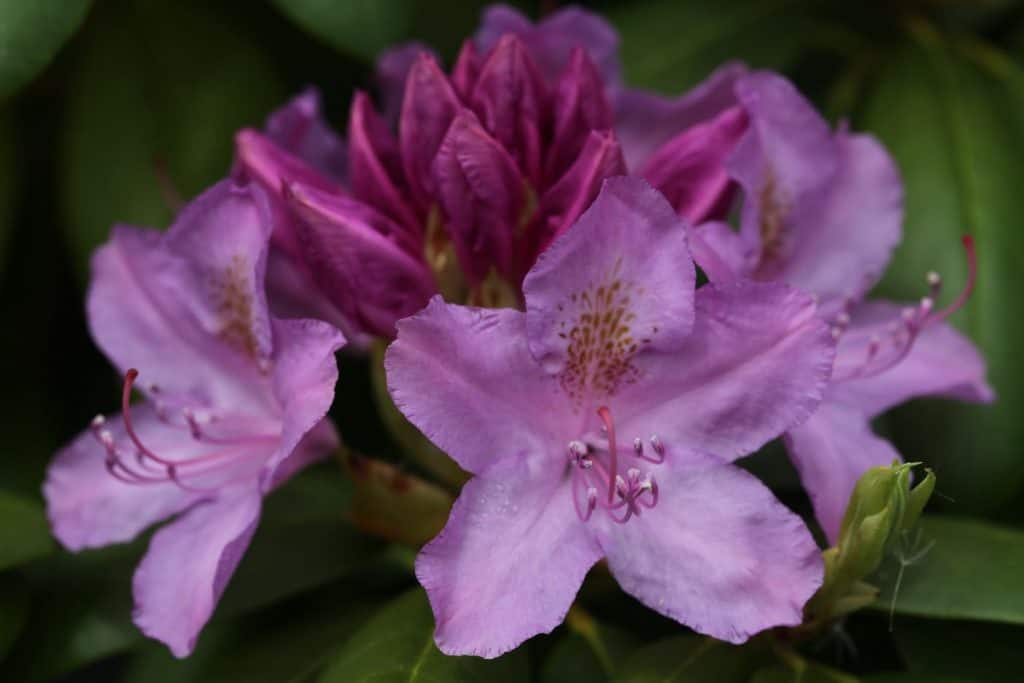 So essentially, some rhododendrons grow slowly, and others do not.
If you provide your rhododendron with ideal growing conditions, it will grow to it's maximum growing capacity depending on the variety of the plant that you are growing.
How Much Does A Rhododendron Grow Each Year?
The growth rate of rhododendrons is dependent on the type of rhododendron. Some plants can grow up to two feet per year. Then others may grow much more slowly, at less than an inch per year.
The American Rhododendron Society is a great resource of information on rhododendrons. Under their section on plant search, there is a separate search indicating growth of plant height in ten years.
In this section you are able to identify which plants will grow from one foot to seven feet in ten years.
When I first planted rhododendrons in the landscape I legitimately wondered how fast do these shrubs grow?
It was important to know how quickly these shrubs would grow, and either to fill in the gap in the landscape or possibly outgrow their space in the garden.
I started to notice much larger versions of our little shrubs, planted in older areas in the province.
Some of them were very tall and wide, like trees really, and I realized the potential for our own rhododendrons. I wanted to know how long it would take to reach these massive sized shrubs.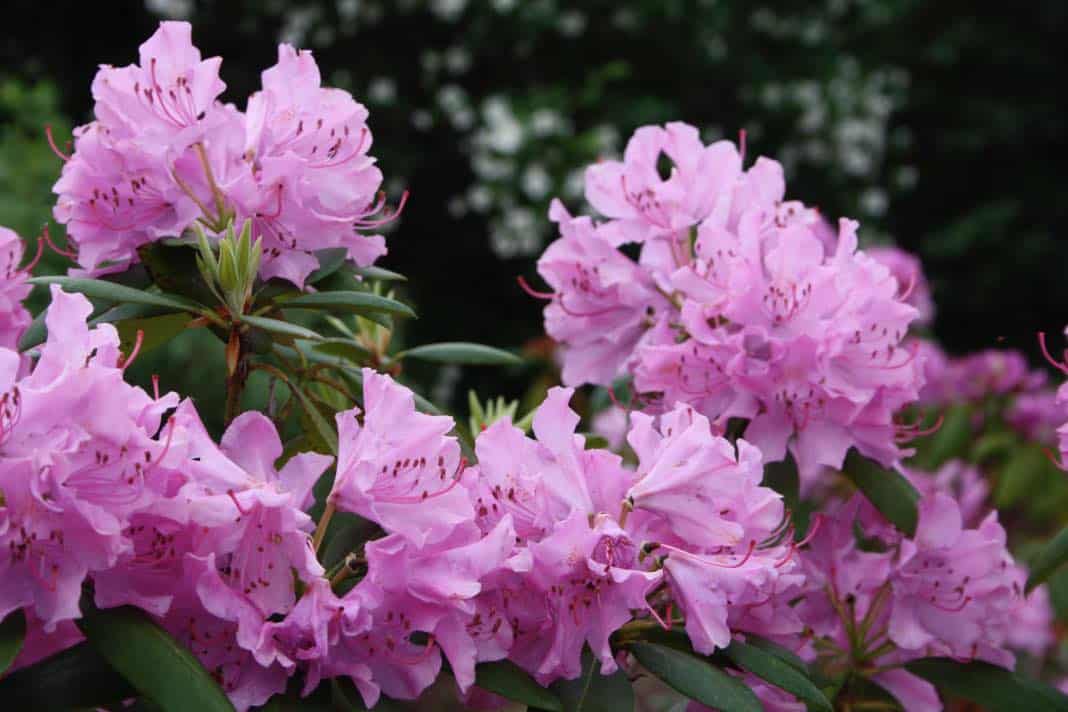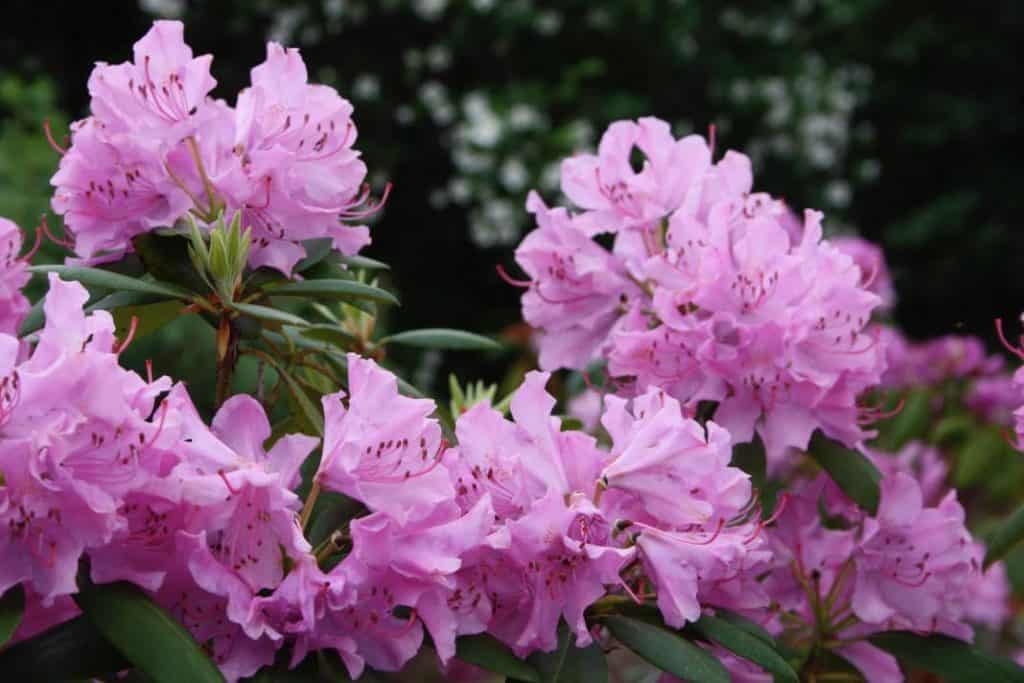 Where Is The Best Place To Plant A Rhododendron?
The best place to plant a rhododendron is in an area where it will get morning sun and afternoon shade.
The biggest and healthiest rhododendron in our garden is growing in just such a location.
If you plant a rhododendron in the ideal spot, giving it the right amounts of sunlight, moisture, shelter and great soil, it will grow to the best size according to it's species or variety potential.
Ideal Growing Conditions For Rhododendrons:
Shelter Requirements:
Planting in a sheltered location will help prevent dehydration of the leaves from strong winds.
The evergreen leaves of the rhododendron tend to dehydrate and turn brown when exposed to the full force of the elements.
We have noticed this with our own plantings on various sides of the house. Our healthiet rhododendron is planted in a spot where it gets some protection from the wind.
Those growing out in the open tend to get injured more easily.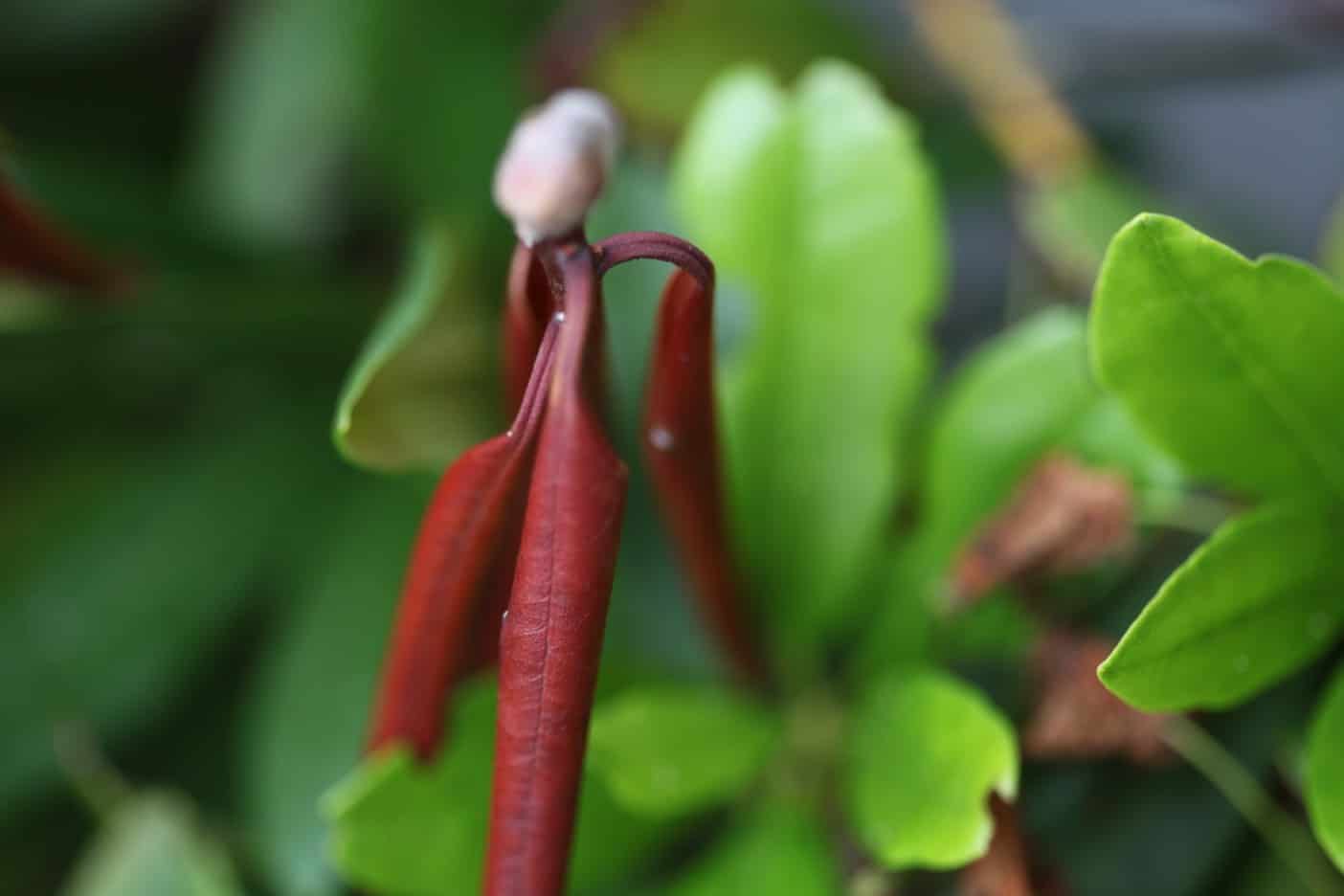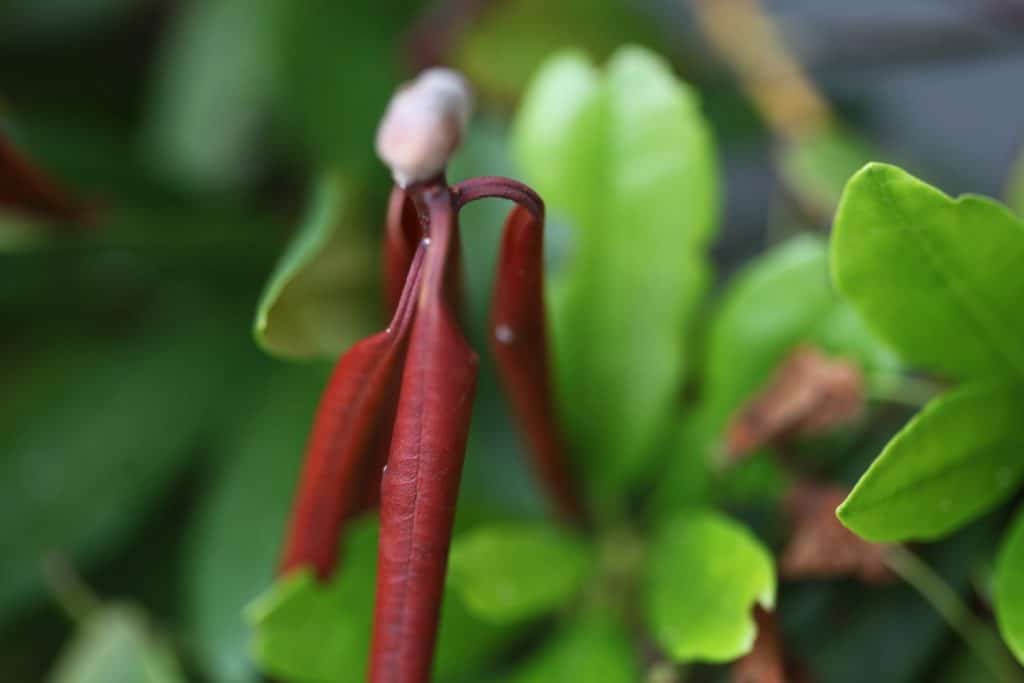 Growing Zones:
Growing zones for rhododendrons are greatly varied, depending on the species. For example, some rhododendrons grow in arctic conditions, while others grow in tropical locations.
It is important to select a variety that will grow well in your growing zone.
Most rhododendrons prefer a more temperate zone, where it doesn't get too hot in summer or too cold in winter.
Sunlight Requirements:
Some sunlight is important for growing rhododendrons, especially for flowering. If your rhododendron has reduced flowering, take a look at the amount of sunlight it is receiving.
A rhododendron should receive at least six hours of sunlight daily.
Rhododendrons grow best in an area that gets some sun, however also gets some shade during the hottest part of the day, especially in warmer areas.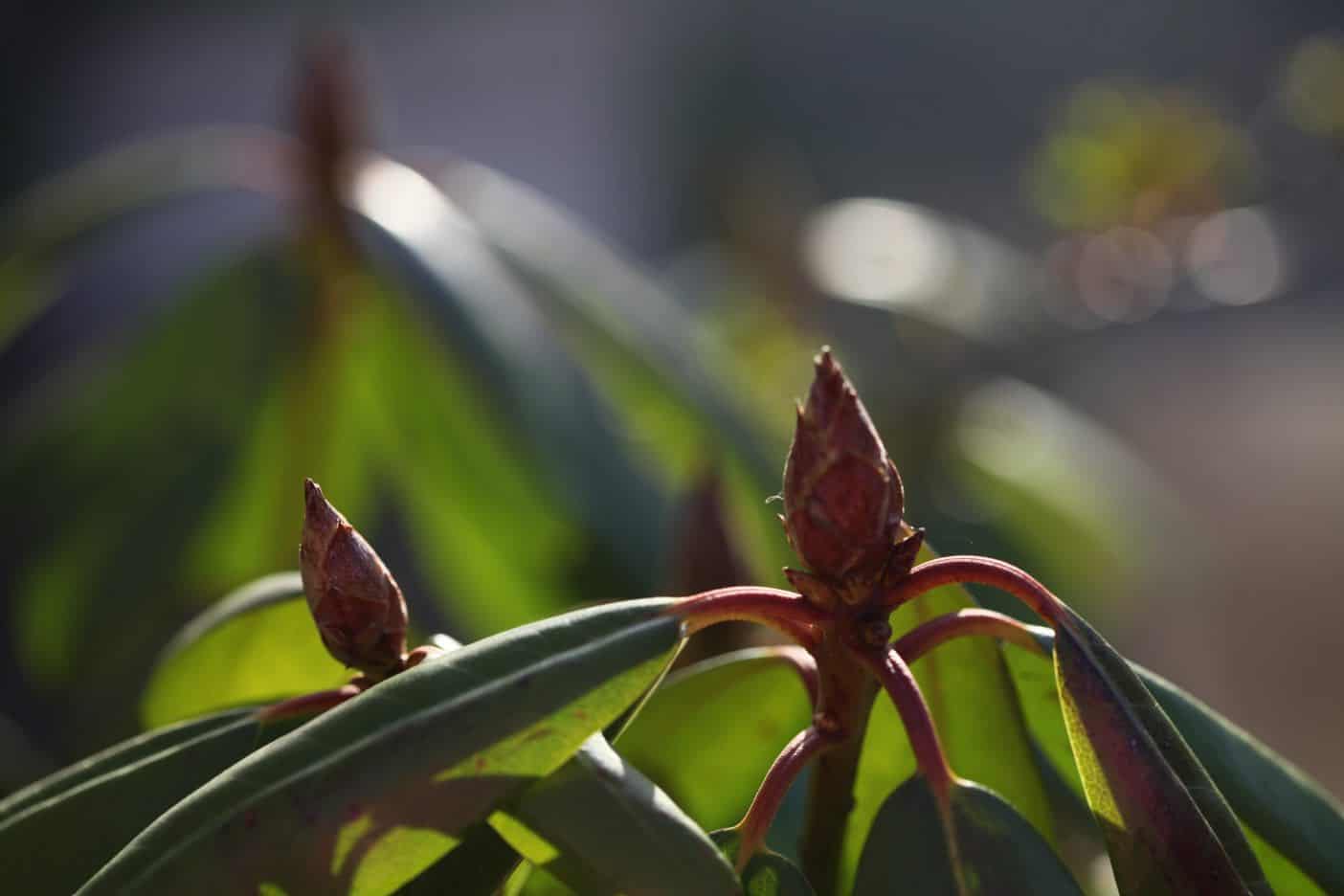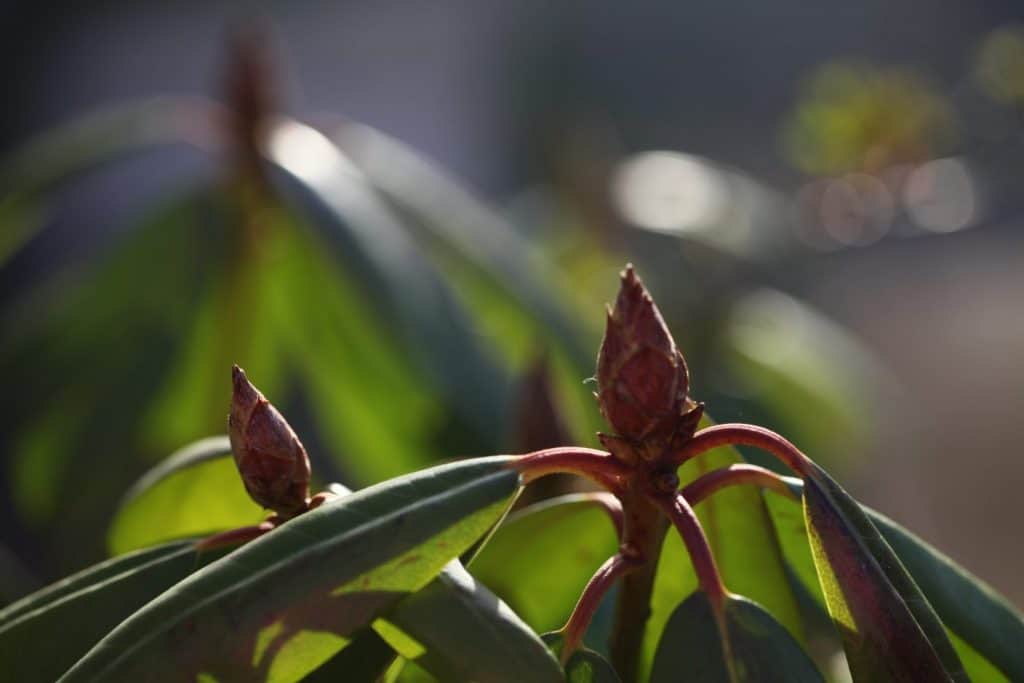 Soil Requirements:
Rhododendrons do best in well drained acidic soil ( ph 4.5-6 ) which is high in organic matter.
If you grow in an alternate type of soil, or your soil is not best for growing rhododendrons, you can easily amend your soil to provide for your rhododendron's needs.
Moisture Requirements:
The roots of a rhododendron are relatively shallow, and require regular moisture and watering to maintain a healthy plant.
One great way to keep the moisture in the soil is by applying a mulch at the base of the plant. The mulch will help to keep the soil moist by trapping the moisture under the mulch, and prevent the sun and wind from drying it out.
Mulching Needs:
Mulching will help prevent evaporation of the moisture in the soil at the base of the rhododendron.
It will also eventually break down and add to the organic matter in the soil.
Yearly mulching will be very beneficial to your rhododendron's care.
Mulch in a mounded pattern, next to the stem, so that the water will run down and be deposited directly into the root system under the soil.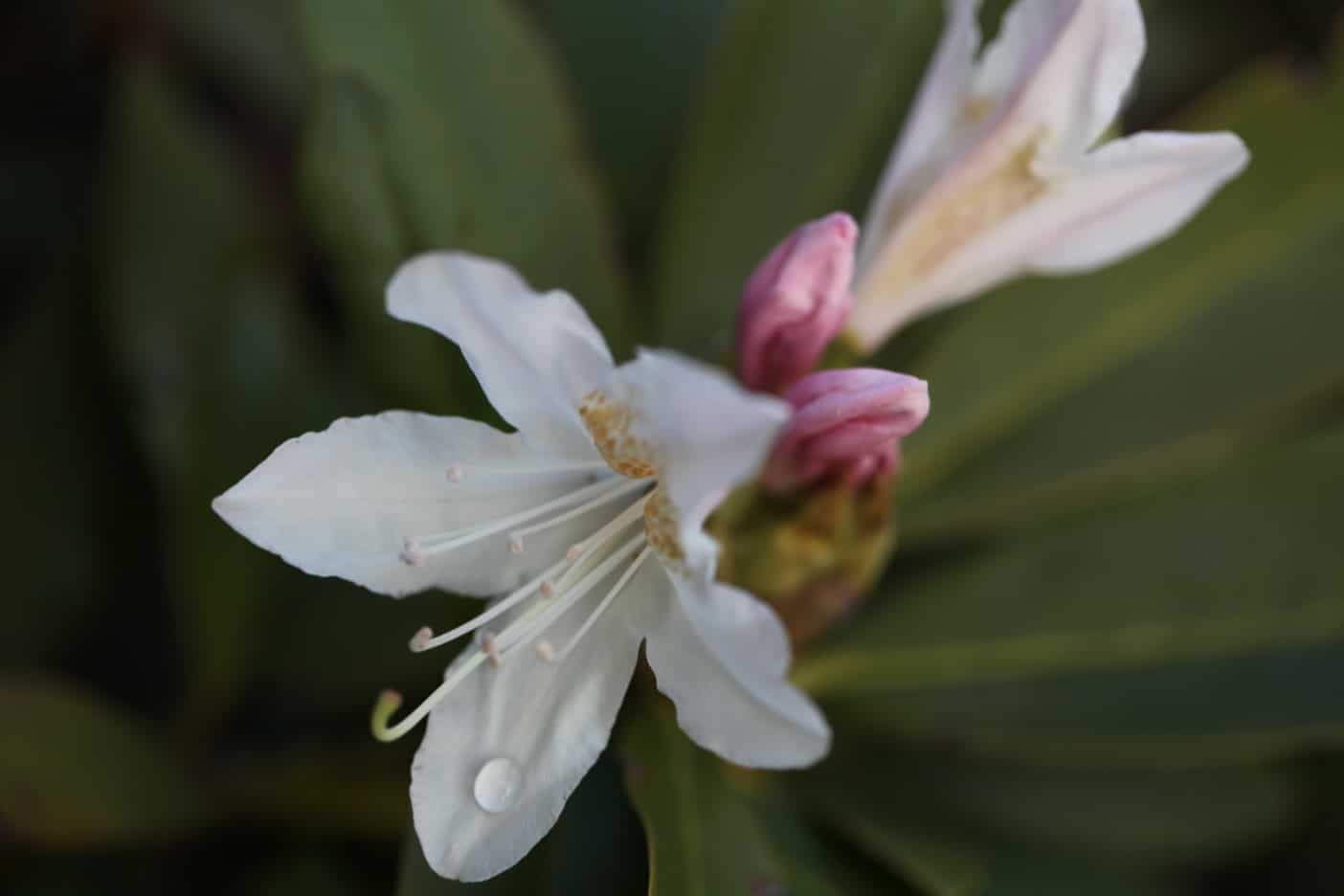 Best Time To Plant A Rhododendron
The best time to plant a rhododendron is dependent on the area and zone that it is being planted in.
In warmer zones planting in the fall is ideal, as the weather is cooler. However in these zones you can plant a rhododendron at any time really.
In cooler zones spring planting is best. This allows the plant to develop a good root system before the ground freezes in the fall.
The rhododendron root system is very shallow, so any root growth during the growing season will help keep the plant on place and prevent heaving during the winter frosts.
Do Rhododendrons Grow All Year?
Rhododendrons put out new growth in the spring, after the spring blooms have faded. These leaves are evergreen, and will remain with the plant as long as they are healthy.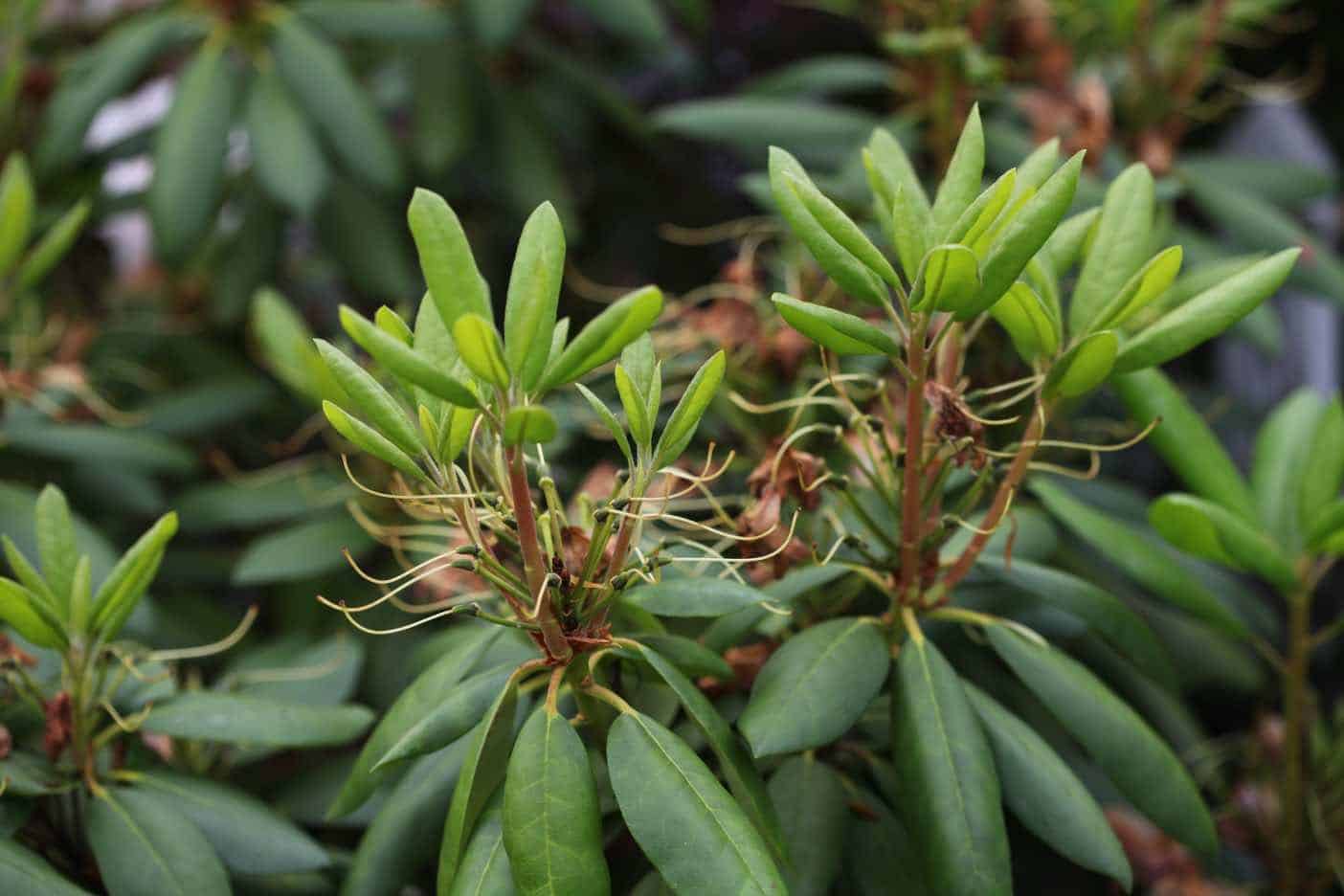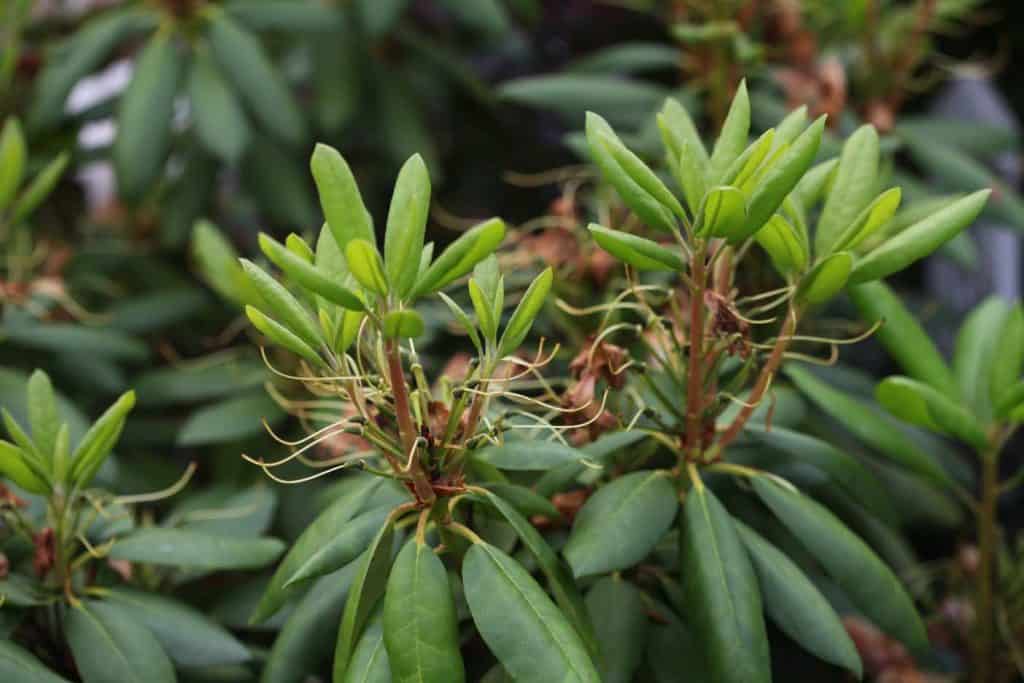 How Tall Do Rhododendrons Get?
The height of a rhododendron will depend on the species and variety, the location in which it is grown, growing conditions, and the age of the plant. Some rhododendrons grow for over a century and reach massive sizes in height and width. The largest recorded rhododendron height is over one hundred feet tall.
Large Rhododendron Varieties
There are some very large rhododendrons growing in the world.
The largest rhododendron currently recorded is a Rhododendron arboreum , a rhododendron tree, located in Mount Japfu, India. This tree holds the Guinness Record for the tallest rhododendron, at 65 feet in height.
There is also a wonderful rhododendron shrub in Ladysmith British Columbia Canada, called the Lady Cynthia Rhododendron, which at one point measured 25 feet by 30 feet. This rhododendron is over a hundred years old.
The rhododendron was damaged during a winter storm several years ago, although part of the shrub survived at that time.
At the South Lodge Hotel in Sussex, England, there is a rhododendron arboreum Smithii that measured 40 feet high by 115 feet wide in 2017.
Consider the size of these plants when you ask yourself how fast do rhododendrons grow in the garden?
Although it took over a hundred years to achieve these heights and widths, it's is still a consideration of potential growth, and may help you decide where you will plant your rhododendron shrubs.
Growing Rhododendrons In The Landscape
It's very important to consider the growth rate and potential size of any plantings in your landscape, especially those planted close to your house.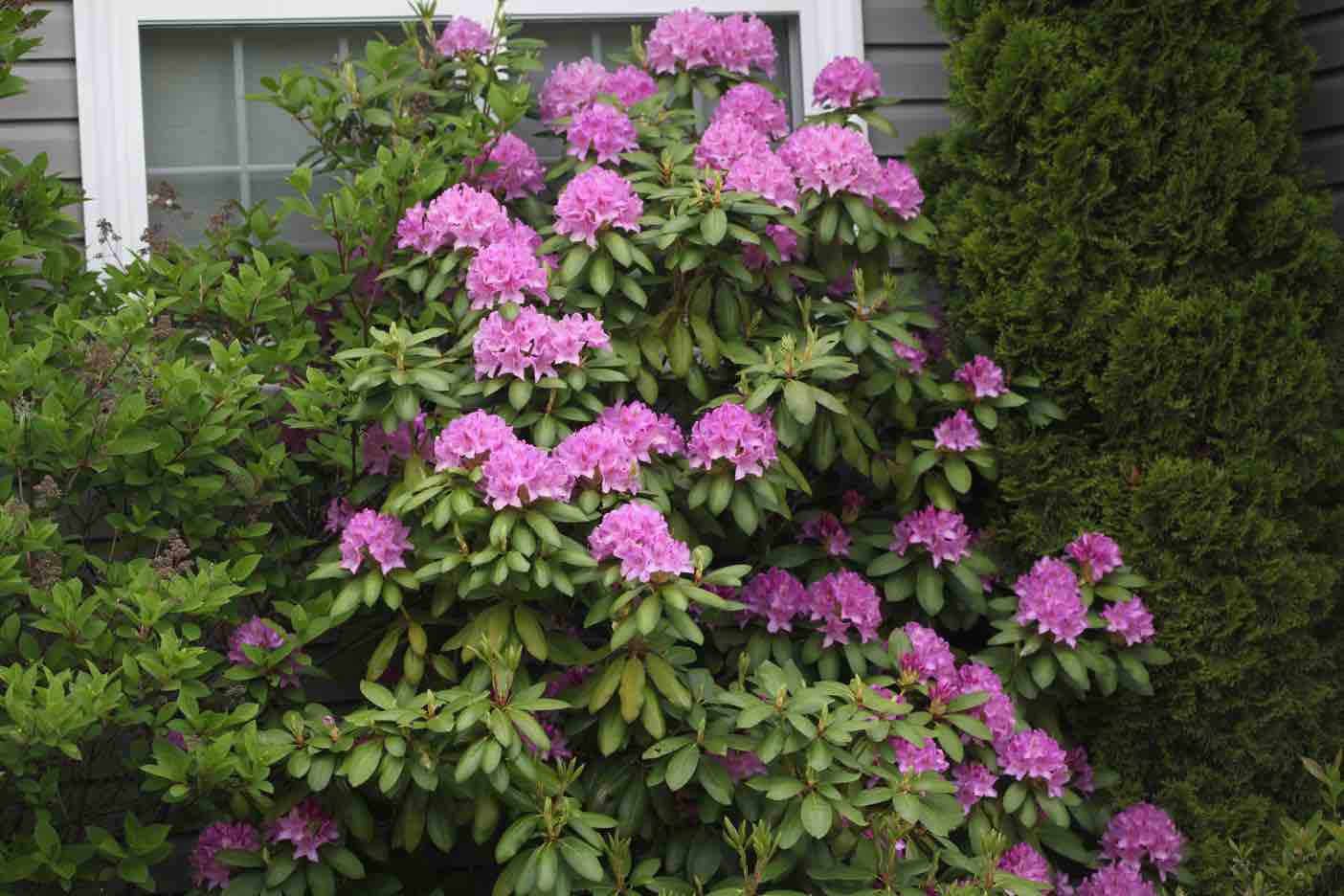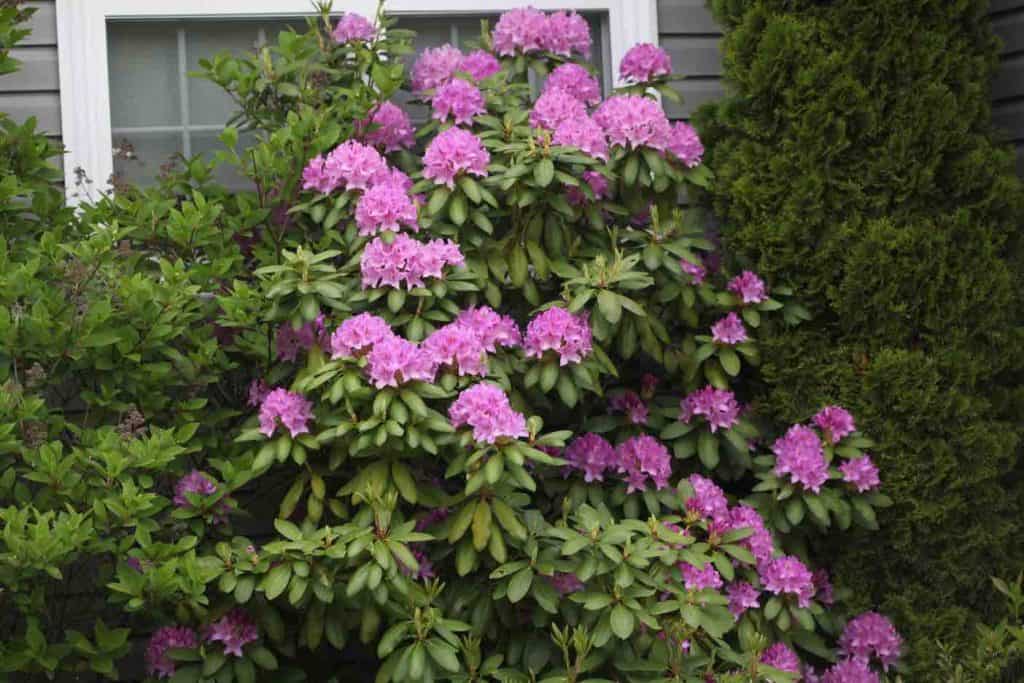 We have a large rhododendron growing near the foundation of our house. This plant was planted in a great spot where it gets morning sun and afternoon shade.
The base of the plant was regularly mulched, and it is located in a partially protected spot due to the shape of the house.
This rhododendron is double the size of our other rhododendrons, which were all planted within the same year. It was about three feet high when it was planted ten years ago. It is now at least seven feet high, and seven feet wide.
Soon it may outgrow it's space as a foundation planting.
That is something to consider when choosing a shrub as a foundation planting. I asked the question how fast does it grow, but perhaps should have also asked~ How long will it take to cover that bedroom window?
Wild Rhododendron Species Eastern Canada
I discovered some wild rhododendron shrubs growing just at the back of our property next to the tree line.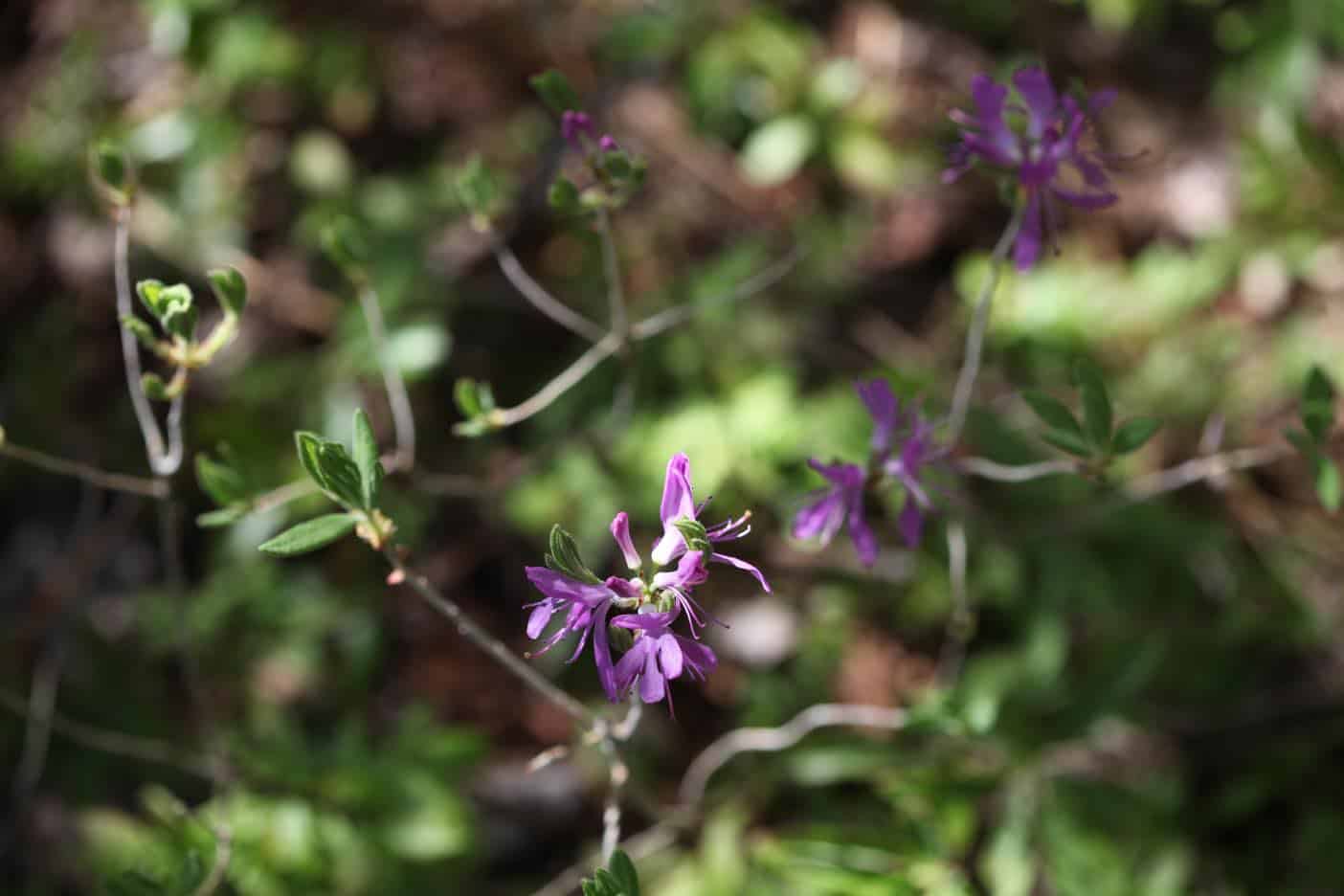 Every spring I have been watching these shrubs produce flowers similar to other rhododendrons, and wondered what they were.
I had an inkling that they were wild rhododendrons, and did some investigating.
Sure enough, I discovered that we do have wild rhododendron species here in our province, and those were exactly what we had growing in our yard.
These shrubs were much smaller and thinner than the rhododendrons in the garden. With a wiry appearance, these wild shrubs have the potential to grow to a maximum height of one metre or three feet tall.
Currently there are many of these little shrubs growing right at the edge of the woods in dappled shade.
They seem to have basically been the same size for a number of years, so I guessed that they must be slow growing rhododendrons.
I checked on the plant specifications for Rhododendron canadense on the America Rhododendron Society website.
It turns out that this is a deciduous shrub from the subgenera Pentanthera, so these shrubs are similar to the deciduous azaleas growing in our garden.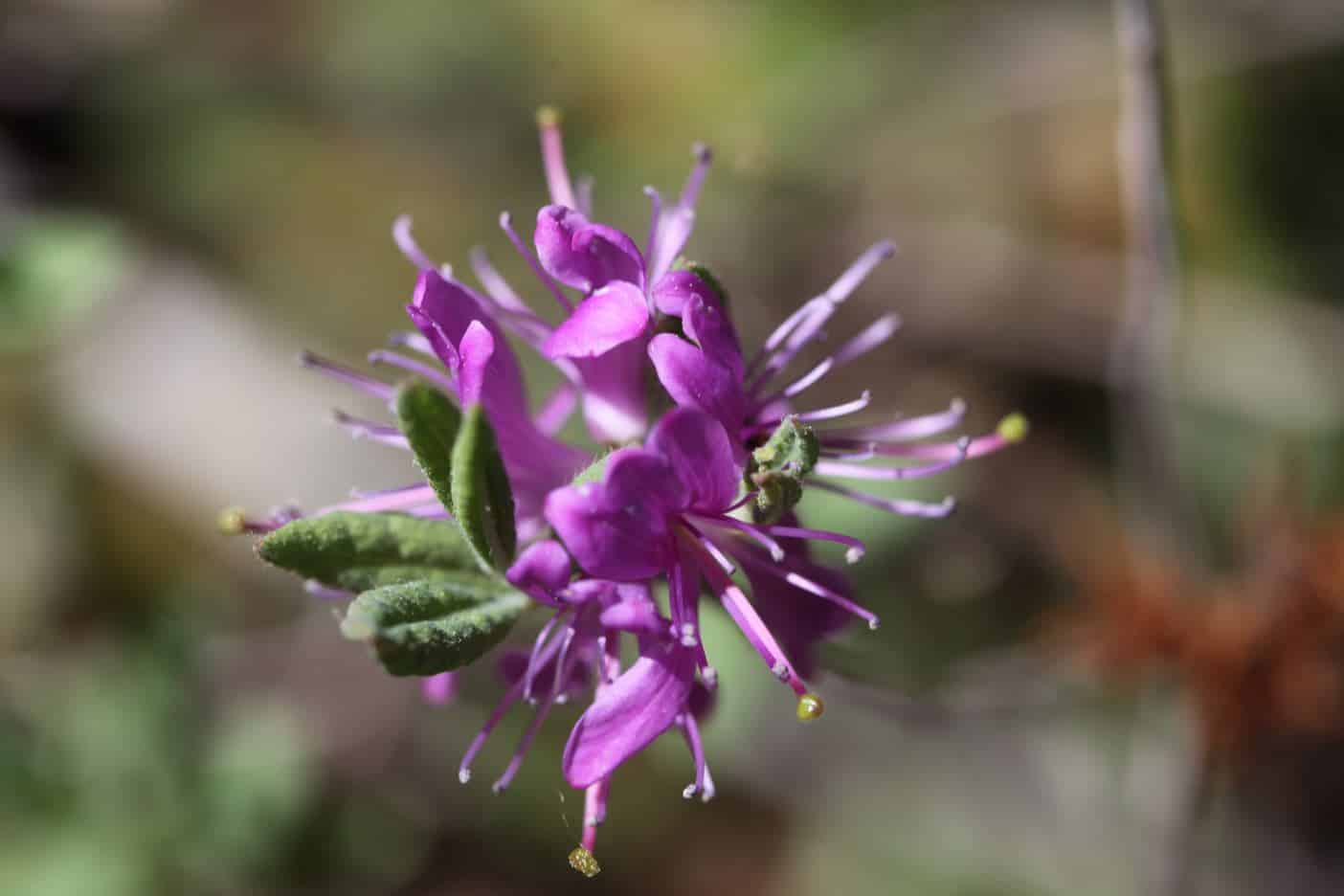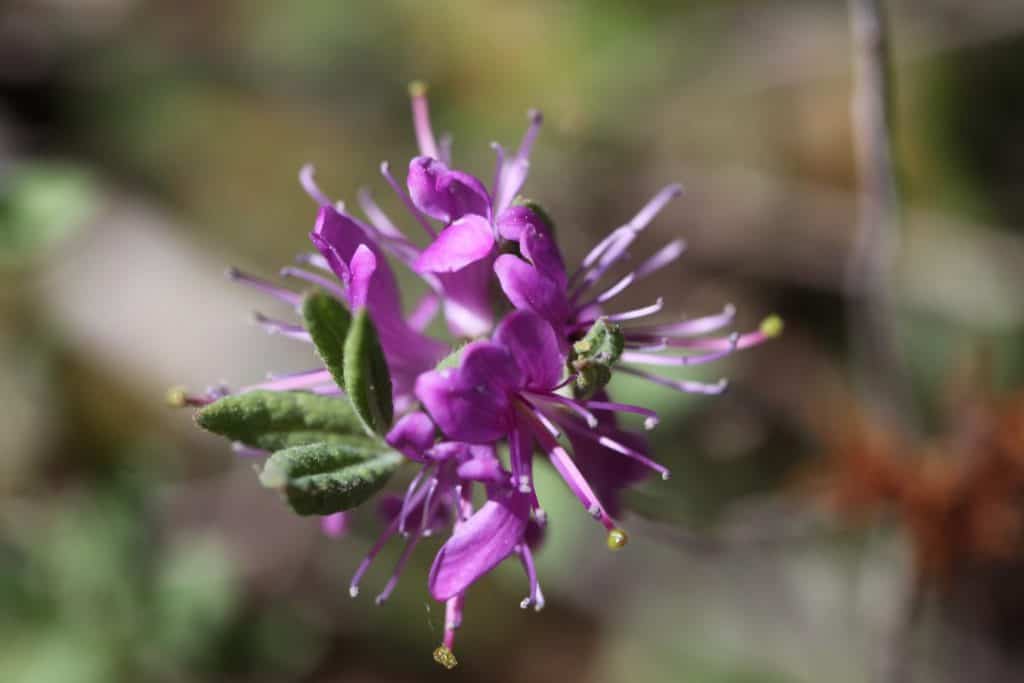 I also checked on the plant growth expected in ten years. These shrubs are expected to grow two feet in ten years, or 2.4 inches per year. That sounds about right.
When considering the question -how fast do rhododendrons grow- for the Rhododendron canadense, the answer is -not very fast at all.
How To Make Rhododendrons Grow Faster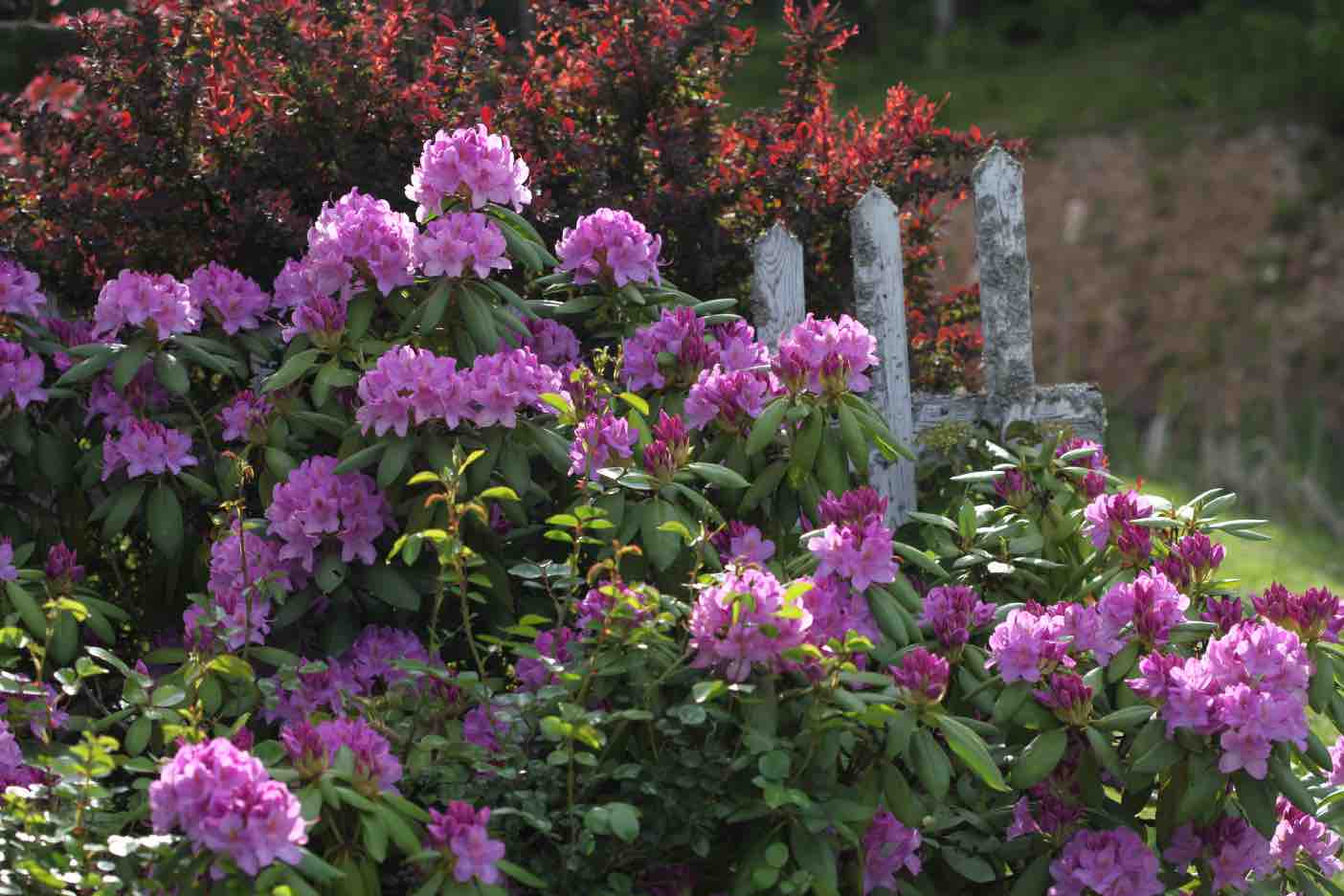 If you want your rhododendrons to grow faster, plant them in an ideal location under great growing conditions.
Remember however that they will only grow to the maximum yearly amount expected for that particular species or cultivar.
Knowing in advance the maximum yearly growth expected for any given rhododendron is wise in planning the placement of your rhododendrons.
That way you will hopefully not find yourself digging them up and transplanting them into a new location in ten years time.
By giving them great growing conditions you will be giving them a great head start to reach their maximum growth patterns in a timely manner.
Have you grown rhododendrons in your garden or landscape? Have you wondered how fast your rhododendrons will grow as you were planting them into their garden spot?
Be sure to leave a comment down below and share your experience. We would love to hear from you!
Other Posts You May Like:
HOW TO PLANT QUEEN OF THE PRAIRIE
HOW TO GROW PEONIES ~ PLANTING, CARE AND CUTTING
PERENNIAL BACHELOR BUTTONS IN THE GARDEN
See the Web Story on How To Know How Fast Rhododendrons Grow!
PIN IT FOR LATER!